16 Ways to See South America
The fascinating continent has much allure for vacationers
By Jennifer Davoren and Alexis Hilts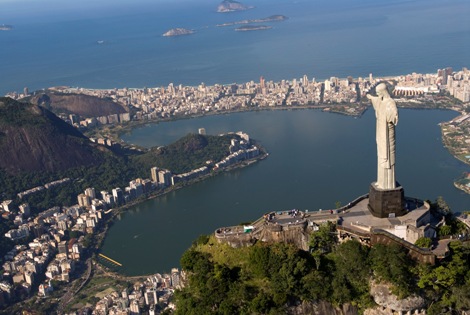 Beto Garavello/Brazil Tourism Board
(Scroll down to see a slide show.)
F
rom sultry beaches and Amazonian jungle to sizzling cities and Patagonian fjords, South America serves up a kaleidoscope of sights. Explorations here reveal Incan treasures, ancient mysteries, exciting food and wine scenes and a tapestry of cultures infused by indigenous and European influences.
There are many ways to sample South America. Here are 16 ideas to get you started. To learn more about these vacations, visit the linked websites or contact travel discounter Vacations To Go: for cruises of South America, (800) 338-4962, and for easy-to-budget tours, (800) 680-2858. To price a resort stay, call (800) 680-2858.
Immersed in the culture.
Delve into history and native traditions with the eight-day "
Classic Ecuador and Amazon Adventure
" hosted by
Gate 1 Travel
. Guests see 16th-century colonial sites, a craft market run by the Otavalo Indians (above) and the twin artisan towns of Cotacachi and Peguche, known for leather goods and colorful weavings. From $659 per person, without airfare, this vacation also visits a Quechua family, indigenous descendants of the Incas.
On a culinary adventure.
From tasting Peru's signature ceviche (above) and lomo saltado, a spicy steak-and-potato dish, to riding the Tren del Vino, a steam-engine locomotive connecting Chilean vineyards, South America is rich in wining and dining experiences. Try a
Gap Adventures
tour that includes cooking classes, like "
Culinary Peru
" (four days, with prices from $259 per person) or "
Chile and Argentina Culinary Adventure
" (10 days, from $1,749) to bring new flavors home to your own kitchen.
From a room with a view.
Iguazu National Park and its namesake waterfall, a two-mile stretch of river that actually offers 275 individual cascades, are just too big and breathtaking for a one-day visit. Try a stay at the
Sheraton Iguazu Resort and Spa
, where 176 rooms boast views of the water or surrounding rain forest, home to capuchin monkeys, coatimundi and roughly 400 tropical bird species. A three-night weekend stay in mid-October would average about $625 per person, based on double occupancy.
Along the Amazon.
Traverse the world's largest river through exotic jungle teeming with life. Oceangoing
cruise ships
allow passengers to experience this diverse ecosystem as part of longer itineraries that also visit Caribbean isles such as St. Lucia, the Grenadines and Barbados. These liners venture into the Lower Amazon, sailing the waterway between the Atlantic Ocean and Manaus, Brazil. Some smaller vessels can travel to the Upper Amazon tributaries in Peru. Rates for 14-day trips on large cruise ships start around $3,000 per person.
On a volunteer vacation.
Give back on a Gap tour with a service component. Options include staying with an indigenous family during nine-day "
Project Ecuador Highlands
" (from $729 per person), spending time at a Peruvian children's center on 14-day "
Project Cuzco Kids
" (from $779 per person), or helping Argentine youth learn life skills as part of the weeklong "
Project Argentina
" (from $909 per person). These prices do not include airfare.
From the fairway.
Perfect your swing while staying at the all-inclusive
Iberostar Praia do Forte
resort in Brazil's historic "capital of happiness," Salvador. Nestled among the coastal sand dunes, its par-72 course rewards golfers with serene scenery, culminating in three holes overlooking the Atlantic Ocean. Other amenities of this golf haven include six pools, tennis courts, a spa, an aquagym and 10 bars and restaurants. A four-night fall stay for two adults runs about $1,038 per person.
By train.
Wind through the chiseled majesty of the Peruvian Andes on the comfortably outfitted Vistadome train, whose large windows and glass roofs frame churning rivers, verdant slopes and mountain communities. At the end of the route lie the superb remains of Machu Picchu, hugged by clouds at nearly 8,000 feet above sea level.
Collette Vacations
totes guests to the 15th-century Incan site via the Vistadome on its "
Peru: Ancient Land of Mysteries Featuring Machu Picchu and Lake Titicaca
" itinerary, boarding the train in Ollantaytambo in the Sacred Valley for a 1.5-hour ride. Land-only prices for the 12-day deluxe trip start at $2,449 per person.
On your own.
Independent tours combine solo sightseeing with the pricing perks of group travel. From
Monograms
, the 12-day "
Brazil, Argentina and Chile
" for instance, offers hotel rooms in Rio de Janeiro (right), Buenos Aires and Santiago, plus half-day guided sightseeing tours and the services of local hosts in each city, daily breakfasts and a trip to Iguazu Falls, complete with a train ride through the surrounding nature preserve. Departures are available through March, with prices from $1,969 per person, plus airfare to South America; flights between the featured cities must also be purchased.
By land and by sea.
Get an in-depth look at the continent's lures on a
cruise tour
, which combines a seagoing vacation with a hotel-and-sightseeing program, all packaged by the cruise line. Options ashore can include explorations of the Machu Picchu ruins, the thundering waters of Iguazu or the cities of Rio, Buenos Aires, Santiago or Lima (above). The up-front rate covers the cruise and all its amenities, plus lodging, guided tours, transportation and some meals in the land portion. Itineraries are offered December through March, and rates start around $3,200 per person for 17-day vacations.
In Carnaval colors.
A seven-day tour from
Intrepid Travel
, "
Rio Carnaval II
" offers samba beats, eye-catching costumes and parties galore. Planned excursions, from a cable car ride up Sugarloaf Mountain to a sunset cruise of Guanabara Bay, also highlight city icons. Departing Feb. 17, 2012, this vacation costs $1,290 per person without airfare. For an extra fee, Intrepid will help you rent a costume of your own and secure your place in an official Carnaval parade.
While getting your caffeine fix.
Sip sumptuous roasts on Gap's 14-day "
Colombia Coffee Trails
" tour, traveling round trip from Bogota through the Cafe Triangle, recently declared a UNESCO World Heritage Site. Devotees of this energizing brew spend nights on a coffee farm in Armenia, tour a plantation in Salento and soak in the hot springs of Santa Rosa de Cabal. Monthly tours run through December 2012; land-only, per-person prices start at $2,289.
On foot.
"
Patagonia Trekking
" a 10-day Intrepid tour, tackles the "W" route of Torres del Paine National Park (left), which zigzags between mountains, snow-fed rivers and campsites beneath starry Chilean skies. This vacation also includes panoramic views of Perito Moreno Glacier and free time in Santiago and Buenos Aires. Departures are offered through March 2012, with prices from $2,585 per person without airfare.
Close to nature.
Guests who choose to stay at Posada Amazonas must journey along the Tambopata River to reach their jungle accommodations. As part of the four-day "
Peruvian Amazon Eco Lodges
" from
General Tours
, travelers fall asleep to the sounds of nature in this 30-room, open-air sanctuary. Days are spent exploring the rain forest with the guidance of naturalists. From $909 per person, based on double occupancy, not including airfare.
On an all-inclusive escape.
This type of vacation haven wraps your room, meals, alcoholic and nonalcoholic drinks, a host of planned events and a few water sports into one low price that's paid in advance, freeing you to enjoy your getaway without the worries of day-to-day budgeting.
Breezes Resort and Spa - Buzios
, on the Brazilian coast 105 miles from Rio, offers a few unique perks, including miniature golf and bowling, as well as five restaurants, a nightclub and organized activities for tots and teens. A four-night stay in mid-October for two adults and two children would run around $541 per person when booked through Vacations To Go.
To ride the waves.
Between famed Ipanema -- where the girls are "tall and tan and young and lovely" -- and bustling Copacabana, there's a stretch of sand favored by surfers. Known for its prime swells, Praia do Arpoador is the site of the action on Gap's "
Brazil Learn to Surf
" a four-day Rio de Janeiro stay with surfing lessons plus time to explore the city -- future host of both the World Cup and the Olympics. Twice-monthly departures run through the end of this year, starting at $209 per person, without airfare.
Round the Horn.
Check a rite of passage off your travel list by
cruising
down one side of South America and up the other. This route takes you around Cape Horn, in the rocky Tierra del Fuego archipelago at the southern tip of the continent, where Pacific and Atlantic currents meet. Once treacherous for merchant ships and explorers, these waters still can be a bumpy ride, even on modern-day ocean liners. The payoff: following in the wake of Ferdinand Magellan, who passed through here in 1520 during the first circumnavigation of the globe. Nowadays, Celebrity Cruises, Holland America Line and Princess Cruises specialize in Cape Horn sailings, with rates starting around $1,300 per person.
The information in this story was accurate at the time it was published in September/October 2011. Please visit
Vacations To Go
or call (800) 680-2858 for current rates and details.
Send This Article to a Friend
Bookmark this Content
Digg it!
Reddit
Furl
del.icio.us
Spurl
Yahoo!