Travel Tech
Quantum of the Seas kicks off a new season of cruising innovations,
but keep an eye out for handy gadgets at your favorite hotels, too
By Jennifer Davoren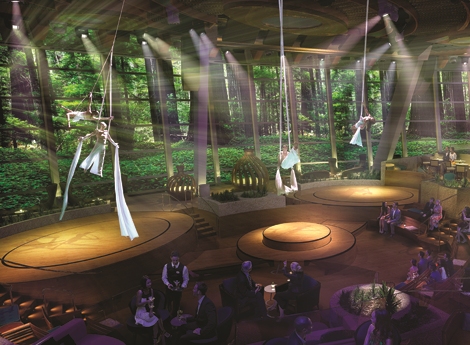 Royal Caribbean International
quantum
, adjective
Large, significant.
A quantum improvement
.
quantum leap
, noun
An abrupt change, sudden increase or dramatic advance.
F
or a few of us, the name calls to mind a certain time-traveling television show. But the
Quantum of the Seas
has more than earned its sci-fi handle, passed down from parent company
Royal Caribbean International
to mark the start of a new era in shipbuilding.
Bumper cars. A skydiving simulator. An extendable capsule that carries cruisers 300 feet above the ocean for unprecedented panoramics. These are just three of the "first-at-sea" perks touted by Royal Caribbean as it puts the final touches on the 4,905-passenger Quantum this fall.
And then there are the robots. What's a futuristic venue without robots?
At Bionic Bar, mechanical arms -- not unlike assembly line helpers at an automotive plant, or even Tony "Iron Man" Stark's workshop assistant -- will fetch ice, crush mint, squeeze citrus and shake up a variety of cocktails as guests customize their orders on tabletop tablet computers. Joining the automated margarita-makers are the robotic performers of Two70, a 540-seat, multilevel theater topping Quantum's entertainment roster.
Here, six 100-inch "roboscreens" twist, spin and align to create eye-catching graphics and give video performances a unique pop. The screens are joined by a nearly three-story bank of windows that lend the space its name -- guests enjoy 270-degree views of the sea when the floor-to-ceiling glass isn't being used as a backdrop for a state-of-the-art digital display. Add live performers, including aerial acrobats, and the Quantum has created one of the most arresting spectacles at sea.
But Royal Caribbean tech doesn't just entertain.
Looking past the Quantum's November debut
, company officials promise the speediest check-in of any cruise line -- from sidewalk to ship in 10 minutes, according to the most recent estimates. Guests start the process at home as they upload ID photos, generate boarding documents and receive confirmation info; now without forms to fill out at embarkation, guests have no lines or reception counters to navigate.
Aside from a short stop for curbside luggage drop-offs, where bags will be tagged to allow tracking by their owner's smartphone, there's little standing between cruisers and their quarters, or even that first poolside cocktail.
Other innovations on the water:
>>> Windowless inside cabins can be cozy, comforting spaces for some, but claustrophobic challenges for others. Special screens broadcasting real-time sailing footage bring the outdoors in on select ships from Royal Caribbean and
Disney Cruise Line
.
Already in place aboard the 3,990-passenger
Navigator of the Seas
and soon to debut on the
Quantum of the Seas
, "virtual balcony" staterooms use 80-inch LED televisions to create the illusion of a floor-to-ceiling window overlooking upcoming ports of call, gentle waves and even sunrises and sunsets shining on the water. Select Disney cabins, meanwhile, offer "magic portholes," small, circular screens that mix a live cruising feed with occasional guest appearances from favorite cartoon characters. (Familiar faces from "Finding Nemo" are common, befitting the sea theme of your vacation.)
>>> Free apps for mobile phones and tablets can help cruisers with a variety of tasks, from booking spa appointments and last-minute shore excursions (Norwegian iConcierge, exclusive to five Norwegian Cruise Line vessels) to keeping tabs on costumed characters for family meet and greets (Disney Cruise Line Navigator, found on all four ships operated by the House of Mouse).
MSC Cruises
' web app (available for the line's three newest additions, the
Divina
,
Magnifica
and
Preziosa
) offers weather forecasts, daily deals at shipboard boutiques and a way for large groups to stay connected and organized for meals and other activities.
And Celebrity Cruises' translation app, Cruise Lingo, expands your vocabulary on the go with more than 1,000 phrases in 11 different languages, including introductions to local slang in featured ports of call. Check out the index of commonly asked questions
("Is there a nice restaurant nearby?" and "How do I get back to port?" are especially handy), and keep conversations flowing with the voice-to-voice translation feature.
>>> Scenic Cruises, launched in 2008 as
the river-going arm of Scenic Tours
, explores European waterways like the Danube, Rhine and Seine as well as the Neva and Volga rivers of Russia. Its fleet of 12 "space-ships" were named for their roomy interiors, but the moniker applies to the satellite-enhanced tech tricks found on board, too. Guests use hand-held devices to plug into Scenic Riverview, a GPS-linked audio tour that supplies commentary on passing points of interest. Each ship also supplies free Wi-Fi, should you seek additional information on your favorite destinations.
Scenic Tailormade serves as your GPS-aided tour guide in port. If you decide to break away from the crowd for some independent sightseeing, your portable audio player is at the ready, preloaded with more than 100 lectures on culture, local customs and even cuisine. (You also can download the Tailormade app to your iPhone or iPad, should you prefer using your own gadgets.) Sensing your location, the device instantly will offer personalized information about your surroundings -- a jaunt through art history while strolling Rembrandt's Amsterdam, for instance, or an exploration of belle epoque architecture in Vienna. Scenic Cruises' ships even loan out electric bicycles for quicker connections to top attractions.
A Futuristic Florida
In the 1940 film short "The Sorcerer's Apprentice," Mickey Mouse speeds through his daily chores after borrowing a spell-weaving hat. MyMagic , introduced to Walt Disney World Resort guests this spring, also encourages simplicity through handy accessories.
This multipronged technology system revolves around the MagicBand, a flexible, hypoallergenic wrist wrap that serves as the key to your
Disney hotel room
as well as entry to the theme park. Tap the band to Mickey-shaped sensors throughout the park, and you also have access to perks like your list of "fast pass" ride options and a bank of photos taken of your family during their Disney day. Feel free to leave wallets behind, too, because you can use your MagicBand to charge food and Disney World merchandise back to your hotel room.
Though MagicBands can be purchased on-site for $12.95, MyMagic benefits are meant to begin at home, well in advance of your park visit. My Disney Experience is a website and smartphone app that connects you with all members of your travel party and shares plans (handy for multigenerational getaways); links purchased tickets and reservations, including character meet and greets, in one place for better tracking; and, on park property, helps you make schedule changes on the fly -- should you want to switch a "fast pass" and use it for a different ride, for instance.
Online shopping also allows visitors to preorder and customize their MagicBands. They currently are available in seven eye-catching colors, though Disney is in the process of releasing special edition bands celebrating favorite animated tales, including the company's latest blockbuster, "Frozen."
Once at the park, set the little ones loose in a gift shop to choose detachable charms they can snap to their bands. A tiny trinket honoring Sorcerer Mickey is an appropriately magical choice.
Other property perks:
>>> A fleet of apps await download, from
Ritz-Carlton
's GPS-rigged wonder (providing location-specific deals and advice, including insider's travel tips from the company president) to the
St. Regis New York
's E-Butler (guests can arrange almost every aspect of their trip through a real-time chat with hotel staff). Worn out after a night in Sin City? Perk up with room service ordered through the
Caesars Palace Las Vegas
app. New to the eastern Caribbean? MyViceroy, developed for guests of the
Viceroy Anguilla
, offers currency exchange rates and restaurant ratings for this enchanting island. Tap into
InterContinental Hotels and Resorts
Kitchen Cookbook, where recipes crafted by a global roster of chefs will recall your recently completed vacation.
>>>
Aria Resort and Casino
is approaching the fifth anniversary of its debut on the
Las Vegas Strip
, but this 61-story tower still shines like new. The largest building in the world with LEED gold status, it's an eco-friendly anchor of the state-of-the-art CityCenter complex, joined by sister resorts like the
Mandarin Oriental
and
Vdara Hotel and Spa
. It's also a gadget-lover's paradise: Every one of its 4,004 rooms is outfitted with a groundbreaking automation system.
Your accommodations will "greet" you upon your arrival, sensing that this is your first time at the hotel and making all the necessary arrangements: electronically parting curtains to expose floor-to-ceiling windows, adjusting overhead lighting and turning on the TV to introduce a list of room controls. A 7-inch bedside touch screen allows you to regulate air conditioning, set up entertainment systems and make front-desk requests, including wake-up calls.
Gamblers and other guests coming home in the wee hours will love the "good-night button," which dims lights, shades windows and switches off the stereo as you drift off to some much-needed sleep. The
Aria
even keeps an eye out for repeat visitors: The hotel's data system stores setting preferences for its registered guests, from ideal temperatures to favorite television channels.
>>> Ever wished your Roomba did more than vacuum? Meet the Botlr, the newest employee of
Aloft Hotels
. Recently introduced at the company's 123-room location in Cupertino, CA, and expected to be in place at every Aloft in the U.S. by the end of 2015, this automated bellboy shuttles towels and other necessities between human staff and guests. With a series of beeps, boops and whistles that give the 3-foot machine an R2-D2 charm, the Botlr serves as a unique ambassador for the Aloft brand while freeing up other employees for the more complicated aspects of guest service.
Aloft Cupertino's robo-steward -- a small nameplate on his custom-printed "uniform" introduces him to new users as A.L.O. -- can be summoned to guest rooms, the fitness center and other public areas. He uses cameras and finely tuned sensors to navigate the four-floor property, even taking the elevator with ease. Once his task is complete, A.L.O.'s touchscreen will ask guests for a review, performing a little "dance" in exchange for high marks; tips, meanwhile, can be offered in the form of a friendly tweet to #MeetBotlr.
The information in this story was accurate at the time it was published in November/December 2014. Please visit
Vacations To Go
or call (800) 338-4962 for current rates and details.
Send This Article to a Friend
Bookmark this Content
Digg it!
Reddit
Furl
del.icio.us
Spurl
Yahoo!