Time to Take a River Cruise
Staterooms, dining and onshore experiences
are better than ever
By Alexis Hilts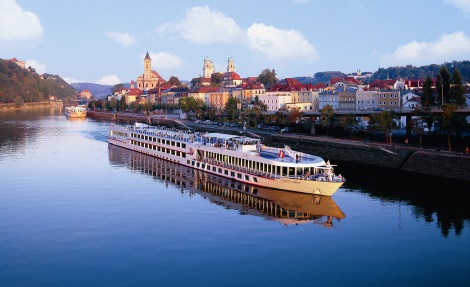 Viking River Cruises
R
iver cruise ships offer travelers something the big ocean liners can't: the ability to navigate a country's interior waterways, gliding by historic landmarks and often stopping within walking distance of top sights. But the industry's vessels weren't always as glamorous as the cities they visited. Cramped cabins, lack of outdoor space and limited dining options were drawbacks of river travel, but no longer. Both on board and on shore, river cruise lines are stepping up their game with new and amenity-filled ships, more itineraries and expanded land programs.
Fueled by competition with oceangoing companies, river operators are decking out their ships with larger suites, better views and more cuisine choices. While unable to compete with the megaships' exciting onboard attractions (think waterslides and zip lines), intimate river vessels offer passengers "those experiences they can't have on a big ship, with the ability to have some of the big-ship comforts," says Patrick Clark, managing director of
Avalon Waterways
.
For starters, 2011 has been the industry's best year yet for balcony lovers. River ships are small -- they must be able to pass through locks and under low bridges. These size restrictions have led to an ongoing debate on the best way to accommodate passengers' desires for balconies without sacrificing cabin square footage. Until recent years, travelers usually had to settle for French balconies -- sliding glass doors fronted by a railing with little to no room to step outside.
Two lines introduced innovative concepts this spring. The
Avalon Panorama
, the first of the company's new "suite ships," debuted in May with a space-saving solution in its 200-square-foot suites: a wall-to-wall, panoramic window that opens a full 7 feet. Suites are further transformed by tables that can be elevated for all-day, in-room dining and beds that are turned to face stunning river views. "It creates an 'indoor balcony' in your suite, so you can actually be lying in bed and have the same sense that you're on a big balcony," says Clark.
Uniworld Boutique River Cruise Collection
chose to give guests in the upper-deck veranda staterooms of its newest ship, the 164-passenger
S.S. Antoinette
, the ability to close the outdoor area to the elements. By pressing a button, passengers can raise a glass panel, which seals the space for use in any weather condition. "I think it solves the problem as to whether an open-air balcony is better than a French balcony because you get, really, the best of both worlds," says Guy Young, president of Uniworld.
Scenic Tours
will offer a similar conservatory effect -- the company calls it a "sun lounge" -- on its 169-passenger
Scenic Crystal
, launching in 2012. All balcony suites will have this element -- a whopping 85 percent of Crystal's cabins. The operator's existing five ships already boast high percentages of accommodations with private verandas.
Viking River Cruises
also is giving guests more viewing space on its new "longships" next year. On the
Viking Freya
,
Viking Indun
,
Viking Njord
and
Viking Odin
, which are bound for European waterways, three-quarters of the staterooms will come with verandas, French balconies or both. On the
AmaCerto
, an
AmaWaterways
riverboat debuting in April on "tulip time" trips in the Netherlands and Belgium, suites will feature the line's signature "twin balconies," both traditional and French-style.
But onboard developments reach beyond balconies. Rooms are larger than ever: Avalon's Panorama and future ships
Vista
and
Visionary
have accommodation minimums of 172 square feet, and Viking's longships will bring some of the roomiest suites to European river cruising, at 445 square feet. Flat-screen TVs, free Wi-Fi access, marble bathrooms and expanded fitness facilities also are becoming more common on new builds. Other amenities adding luxury to the market include the AmaCerto's swim-up pool bar and the S.S. Antoinette's surround-sound movie theater.
Uniworld's Antoinette set a new standard for interior design, marked by opulent details such as the lobby's 10-foot Baccarat chandelier, adorned with sapphire prisms and originally displayed in New York City's famous Tavern on the Green restaurant. Inspired by the French palace of Versailles, the lavish Antoinette combines antique and handcrafted furnishings with modern comforts like a heated swimming pool.
While most cruise lines have gone for a contemporary look, Uniworld has emphasized a "very rich design theme," according to Young. By collaborating with its sister company, luxury boutique chain Red Carnation Hotels, the operator has crafted distinct visual elements for each vessel. "Not one of our ships is the same," says Young.
River cruise dining also keeps getting better. Vegetarians and health-conscious eaters have access to lighter fare, and some companies have added more dining times as well. Avalon's eating schedule has seven different time slots, from an early-riser option at 6 a.m. to night fare at 10:30 p.m.
There are more meal venues, too. Like its sister ships
AmaBella
and
AmaVerde
, the AmaCerto will provide an array of eateries, including a chef's table restaurant where guests watch as a tasting menu is prepared. Passengers aboard ships in the Scenic fleet can opt for the alternative onboard Italian restaurant, Portobello's, which seats 30 people. Open-air options are popular as well, and each of the top lines' 2012 European ships offers al fresco dining.
While ocean cruising often tends to be ship-focused, river vacations are all about the destination, and sightseeing tours led by local guides have always been part of the all-inclusive package. Travelers can sail famed European waterways, spotting towering Gothic cathedrals on the
Rhine
or
Danube
, or choose a more exotic route, perhaps past the mist-shrouded peaks along the
Yangtze
in China. Looking to capitalize on these magical locales, river cruise companies are developing additional onshore experiences that give guests more options while the ship is docked.
"In the last year or so we've challenged ourselves to look at the other components of our vacation experience," says Young of Uniworld, which had focused most of its energy on fine-tuning its ships.
For 2012, Uniworld will roll out three categories of in-port experience: Choice is Yours for seasoned travelers seeking lesser-known sights, Go Active for outdoor lovers and Gentle Walking for those wanting relaxed city tours. All are covered in the cruise fare. Young says these shore selections are examples of "where we can be more innovative off the ship as well."
Scenic created its new FreeChoice concept to cater to passengers' varying interests. "Some people want to go to museums, some people want to go to the spa. ... In just the European waterways programs, there are 24 different FreeChoice options," says Scenic spokesman Tom Russell.
No matter what you choose, it's included in your up-front price. Scenic also will introduce a stop in a small German village on next year's "Jewels of Europe" itinerary. "People are now looking for more in-depth personal experiences where they can actually meet people and see what life is really like," Russell says.
Themed vacations are another way the industry is attempting to enrich the river cruise. This year, AmaWaterways featured Jewish heritage cruises along the Danube and harvest-time wine trips, complete with tastings and lectures, on the Rhine,
Moselle
and Danube. In 2012, Avalon will host trips focused on art, wines and music -- including itineraries that incorporate the summer jazz festival in Vienne, France -- as well as a Jewish heritage experience from Budapest and a European history and politics theme on some departures in July and August.
For gardening enthusiasts, several companies will visit the 2012 Floriade, a world horticulture exposition held every 10 years in Venlo, the Netherlands. The event spans April 5 to Oct. 7 in a park divided into five themed areas: Relax and Heal, Green Engine, Education and Innovation, Environment and World Stage.
During the turmoil in Egypt that led former President Hosni Mubarak to step down earlier this year, several lines -- including Avalon, Uniworld and Viking -- canceled their sailings in the region. But as stability takes hold, travel to Egypt seems to be making a comeback. Uniworld returned to the country this fall, and next year Avalon will launch three new itineraries along the
Nile
and Lake Nasser aboard the 148-passenger
Mayfair
and the 130-passenger
Kasr Ibrim
.
"The Nile and Egypt is such a draw for tourists that we're seeing bookings coming in for 2012," says Avalon's Clark. "Despite some of the headlines that continue, the interest is there."
But the up-and-coming hot spot is the
Mekong River
. Still a relatively new tourist attraction, the waterway through Vietnam and Cambodia offers an enticing mix of experiences.
"The people are wonderful and gracious, the food's interesting, the sights are really fascinating," says Clark. Some of the attractions captivating travelers here are floating markets, Vietnam War sites and the ancient Angkor Archaeological Park, home of famed Angkor Wat, with its Khmer Empire remains.
This year, renovations that began in the 1960s were finally completed on Angkor's 11th-century Baphuon temple, and it has reopened to the public. AmaWaterways -- which added the new 124-passenger AmaLotus along this route in September -- has announced it will visit Baphuon.
Avalon sets sail on the Mekong for the first time next September with the 32-passenger
Avalon Angkor
. The intimate vessel, with only 16 cabins, will be able to sail from the heart of Ho Chi Minh City all the way to Siem Reap, gateway to Angkor, saving an estimated five and a half hours of motor coach travel.
Uniworld also is venturing into Southeast Asia in 2012, debuting the 60-passenger
River Saigon
. The cruise line began selling the Mekong trips this summer and, due to the high level of interest generated, has already decided to sail a second ship here in 2013.
Stateside, American Cruise Lines hopes to fill a void in
Mississippi River
cruising. Before its collapse in 2010, Seattle-based Cruise West had planned to unveil two itineraries in the region. Now ACL is stepping in to offer a brand-new option on this historic waterway, building the 140-passenger
Queen of the Mississippi
. The sternwheeler will be a twist on the classic riverboat, able to travel faster and equipped with modern amenities. The Queen, which will traverse the Mississippi and Ohio rivers on eight-day cruises, is scheduled to hit the water in August 2012.
These efforts to meet customers' high standards of comfort and enrich their onshore experiences are just the latest reasons to try a river cruise. More and more travelers pick these vacations each year, in part for their high value. Perks such as wine with dinner, gourmet meals, daily guided sightseeing and cultural programs are included in the price.
Russell, who worked with luxury ocean vessels before representing Scenic, says of river cruising: "I've been all over the world -- I've been in cruising for a long time -- and it's my favorite vacation experience."
For more information on sailing the world's rivers, call Vacations To Go, (800) 510-4002. You also can browse itineraries from top companies, with departure dates and rates, on the
river cruise website
.
The information in this story was accurate at the time it was published in September/October 2011. Please visit
Vacations To Go
or call (800) 338-4962 for current rates and details.
Send This Article to a Friend
Bookmark this Content
Digg it!
Reddit
Furl
del.icio.us
Spurl
Yahoo!