The Private Escapes of the Cruise Lines
These stunning stops offer amenities exclusive to seafarers
By Michelle Chumbley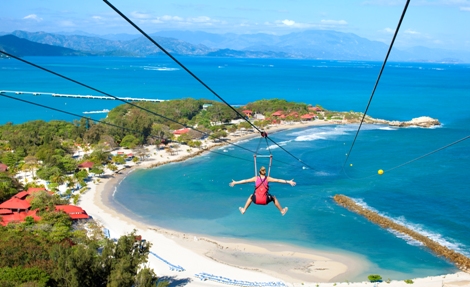 Royal Caribbean International
A
t some point, perhaps as a team-building exercise at work or an ice breaker at a party, you might have faced the impossible question: If you were stranded on a deserted island, what item would you bring? The practical often opt for a box of matches or a first-aid kit, while idealists usually select a favorite book of poetry or a camera for capturing memories.
"Stranded" aside, there's something dreamy about the idea of lazing in solitude on a quiet strip of land with nothing but the waves for a neighbor. Six major cruise lines have brought this vision to life, offering exclusive port calls in private destinations, each highlighted by rustling palm trees and azure waters that meld seamlessly into clear skies.
Most of these spots are in
the Bahamas archipelago
, though one rests on a Haitian peninsula in
the Caribbean Sea
. Ships dock for several hours while in the region, and cruisers find barbecue buffets, rows of lounge chairs and rental stands packed with floats, boats and boards at their service.
The best part? As the "deserted island" question proposes, you have the opportunity to mold the day into your own idyllic experience, whether that means high-flying thrills, soothing massages or up-close encounters with indigenous wildlife.
Check itinerares online
to pick your perfect day on a cay, then contact a Vacations To Go cruise specialist at (800) 338-4962 to book your trip.
The beach:
This isle in the northern Bahamas
is both family-friendly and eco-conscious.
Disney Cruise Line
visitors cool off with tasty ice cream cones and don snorkel gear to look for angelfish while, behind the scenes, solar panels soak up rays to power water heaters and researchers work to keep surrounding coral reefs vibrant.
For alone time:
Head to Serenity Bay Beach, the designated adult area, for seaside yoga classes, open-air massages and frozen concoctions at the bar. Disney provides mobile phones (two per stateroom, with more available for a fee) that also work on Castaway Cay, allowing parents to stay just a call or text away during a kid-free afternoon.
Disney counselors supervise squealing youngsters as they splash in geysers and pop-jet fountains at the Scuttle's Cove play area. Teens challenge each other to foosball matches in a game pavilion and fly down twisty floating slides at Pelican Plunge, a short swim from the shore. Rental huts offer inner tubes and aqua trikes for the ocean and bikes for rides on tropical trails.
Cruise:
Three- and four-night itineraries
from
Port Canaveral, FL
, on the 4,000-passenger
Disney Dream
usually spend at least eight hours on the island and drop anchor in
Nassau
, the capital of the Bahamas.
A Dec. 4 trip
costs $591 for three nights in an inside cabin.
Hop on the
Disney Fantasy
from the same starting port for one of
several weeklong options
to the Caribbean that hit Castaway Cay,
the Cayman Islands
,
St. Maarten
,
Jamaica
and more. Prices start at $1,330 for departures scheduled through the end of the year.
The beach:
The exclusive peninsula
of
Royal Caribbean International
sits on Haiti's northern coast. Cruisers can stick to shady hammocks or sightsee on a coastal catamaran trip past fishing villages, the hilltop Citadel fortress and ancient landmarks left behind by the native Arawak.
For adventure:
Heart-pumping experiences are ample here, from breathtaking parasail excursions 400 feet in the air to high-speed rides on inflatable boats. Touted as the world's longest zip line over water, the Dragon's Breath Flight Line zooms down a mountainside over cresting swells at speeds up to 50 miles per hour. Purchase day passes for endless trips on a bobsled-style roller coaster or a 300-foot-long water slide.
For a break from the action, grab a Labaduzee, a signature frozen drink, and wander the locale's "neighborhoods." Nellie's Beach has complimentary loungers, and Labadee Town Square bustles with Haitian music and craft vendors. Guests of select suites can access the exclusive Barefoot Beach Club with its 20 rental cabanas.
Cruise:
On top of
year-round, weeklong vacations
from Florida ports, Royal Caribbean will visit Labadee on
10-night trips from Baltimore
between November and April 2016. Two different paths that pause in places like
Cozumel, Mexico
, and
St. Thomas in the U.S. Virgin Islands
are available from $641.
The beach:
Part of the Berry Islands chain in the Bahamas, Royal Caribbean's second private offering,
CocoCay
, is surrounded by colorful coral. Scuba diving adventures, a floating aqua park and a straw market for tropical souvenirs all are available at the 140-acre retreat.
For relaxing:
Swaying hammocks along the coast beckon beach bums for a nap cooled by gentle breezes. Traveling with family or friends? Park your gang at the Oasis Cabana Club's thatched-roof huts for a day of shady lounging. The rental fee can be split among cruisers and comes with plush chairs, floats, snorkel gear and water bottles. Here, you can munch on upgraded lunch options and sip a chilly Coco Loco beverage while enjoying stunning Atlantic views.
Join a leisurely hike to explore historical ruins, spot lazing iguanas, see exotic palm groves, learn about the medicinal properties of indigenous plants and hear tales of pirates and drug runners. The excursion ends at a quiet stretch of sand where you can unwind after the nearly mile-long walk.
Cruise:
Royal Caribbean's
Freedom of the Seas
hits CocoCay, St. Thomas and St. Maarten in the Lesser Antilles on
year-round, seven-night sojourns
from Port Canaveral. Prices from $499 include three at-sea days to try out the newly enhanced ship's wine bar, gourmet cupcake shop and mini-golf course.
Three-night Bahamian jaunts
from Miami and Port Canaveral take off on Fridays, ideal for those in need of a long weekend away. Fares open around $200 and include a stop on the private isle.
The beach:
Eleuthera, in the Out Islands of the Bahamas, is home to
Princess Cruises
' 40-acre spot,
Princess Cays
. More than a mile of shoreline provides the perfect place to join a volleyball match or savor a midday hamburger.
For culture:
Tours of this storied isle -- settled in the 1640s by the Eleutheran Adventurers, a group of English Puritans migrating from Bermuda -- explore its maritime heritage, supposedly haunted ruins, native flora and more. You might catch a Junkanoo-style show featuring flashy costumes, hop on a dune buggy to visit the 18th-century Anglican Church of the Assumption or cruise along coral reefs while listening to sailor's tales. Climbing to the top of the old beacon on Lighthouse Beach lends stunning vistas across the narrow isle and its pink sands.
Calypso and reggae tunes amp up the Bahamian atmosphere on the beach. Families can rent budget-friendly clamshell tents for shade or upgrade to air-conditioned bungalows painted in bright greens, pinks and blues. Adults munch on Caribbean gazpacho and sip cocktails in the kid-free Sanctuary area, an onboard concept carried over to the island. Supervised child care is available in the Pelican's Perch, complete with a replica galleon for imaginative play.
Cruise:
Princess kicks off its Bahamian escapes in the fall, with sprees to Princess Cays as low as $399 for
a four-night, Nov. 21 sailing
from
Fort Lauderdale, FL
. Weeklong
Caribbean voyages
from the same port are hosted by the
Emerald Princess
and
Regal Princess
; both ships call on the island and, depending on the route, spots in
the U.S. Virgin Islands
, Mexico's
Yucatan Peninsula
and
the Turks and Caicos
. Prices through the end of the year begin at $579.
The beach:
Holland America Line
and
Carnival Cruise Line
share access to
Half Moon Cay
, named for its crescent shape. Lounge chairs and tents line 2 miles of sand, while a 5-kilometer running path loops around the isle. Two-story luxury rental villas come with air conditioning, a misting shower, hot tubs and fresh fruit.
For animal encounters:
Just 2 percent of Half Moon Cay is developed, with the rest serving as a reserve for wild birds. Bahama pintails can be seen here, as well as roseate terns, a federally endangered seabird. Join a hiking or biking excursion to explore flora and fauna on land or take a glass-bottom boat ride to see living reefs teeming with fish and coral. You might catch a glimpse of the lemon sharks, bonefish and sea urchins that populate these waters.
At Stingray Cove, guests snorkel alongside the namesake fish in their natural habitat after learning about feeding habits and behaviors. Equestrians can sign on for an elevated trail ride with views of neighboring islands. The scenic trek ends with a horseback romp through the waves.
Cruise:
Holland America's 1,918-passenger
Zuiderdam
visits Half Moon Cay on its way to make a partial transit of the
Panama Canal
, also taking time to call at
Aruba
and
Curacao
. Round trips from Fort Lauderdale between November and April 2016 start at $899 for 10 nights.
Budget-friendly itineraries to the Bahamas
from Carnival depart East Coast cities from New York to Miami. A weeklong jaunt to Half Moon Cay from
Charleston, SC
, can be found for as low as $409
on Nov. 28
.
The beach:
Used as a defensive base by American troops during World War II, the 250-acre
Great Stirrup Cay
is thought to have been inhabited as early as A.D. 106 by Lucayan Indians.
Norwegian Cruise Line
purchased the island in 1977, and today it is filled with swaying coconut palms and calypso music.
For water sports:
From floating mats to zooming WaveRunners, there are boundless ways to enjoy the ocean here. Take a two-person kayak on an adventure to look for brightly colored fish or hop on a stand-up paddleboard to explore Bertram's Cove, named for a British naval officer who once lived there. High-speed watercraft tours venture to Great Stirrup Cay's controversial 1863 lighthouse, protested by locals who thrived on salvaging shipwrecks.
See sunken treasure chests, cannons and swords firsthand while snorkeling the site where a vessel disappeared in the 1690s -- destroyed by the sea monster Lusca, according to legend. Less intimidating creatures fill the onboard touch tanks during pontoon catamaran rides with naturalist guides. Learn about the Bahamas' ecosystem while keeping your eyes peeled for lurking sharks and stingrays.
Cruise:
Year-round journeys with Norwegian to the Bahamas from
Miami
and
New York
span
three to 14 nights
, with the shortest vacations starting around $200.
Weeklong holidays
from the Sunshine State to Great Stirrup Cay,
Cozumel
,
Grand Cayman
and
Jamaica
pick up in November; host ship
Norwegian Getaway
, introduced in 2014, offers a showstopping 28 eateries and cutting-edge studio cabins for solo travelers. Prices open at $609 for an inside stateroom on
a departure on Jan. 17, 2016
.
The information in this story was accurate at the time it was published in July/August 2015. Please visit
Vacations To Go
or call (800) 338-4962 for current rates and details.
Send This Article to a Friend
Bookmark this Content
Digg it!
Reddit
Furl
del.icio.us
Spurl
Yahoo!