The Dog Owner
Opt for a getaway with man's best friend
By Jennifer Davoren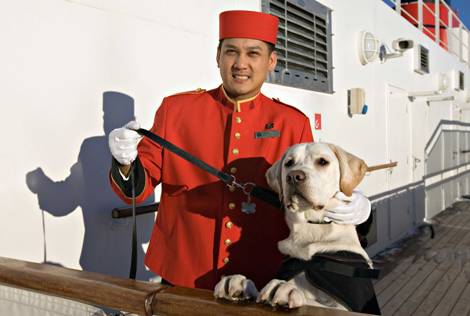 Cunard
Sit, stay around at Fairmont Hotels and Resorts
At the
Fairmont Washington, DC
, in the capitol's historic Georgetown neighborhood, the VID (Very Important Dog) program starts at reception with a homemade dog treat.
Fairmont Miramar Hotel and Bungalows
, in Santa Monica, CA, loans out beds and food bowls and offers a range of animal-friendly spa treatments. And babysitting is a standard service at the
Fairmont Banff Springs
in Alberta, Canada, but petsitting also is available for a Fido-free night on the town.
If your little buddy can't make the trip, consider a stay at a Fairmont equipped with its own "canine ambassador." Dogs on the company payroll include Marcus, a golden lab at the
Fairmont Chateau Lake Louise
, who joins guests for walks along the hotel's namesake waterfront in western Canada.
Walkies over the Atlantic
The Queen Mary 2
, the stately flagship of
Cunard Line
, pampers pooches with a unique kennel program on trans-Atlantic crossings between New York and Southampton, England, the cruiser's gateway to London.
Four-legged guests receive welcome bags stuffed with toys and Cunard-branded trinkets as well as easy access to their human companions, who visit as often as they like throughout the cruise. A full-time "kennel master" supervises kibble distribution and potty breaks. The ship's kitchen provides freshly made biscuits. And, no slouch when it comes to safety, the QM2 comes equipped with pet-size life jackets.
Trans-Atlantic sailings
can be as short as seven nights, but paperwork involved with international pet travel can take months to arrange. Look into summer 2015 voyages, including
a Brooklyn, NY, departure on Aug. 4
with per-person prices from $1,461.
The information in this story was accurate at the time it was published in January/February 2015. Please visit
Vacations To Go
or call (800) 338-4962 for current rates and details.
Send This Article to a Friend
Bookmark this Content
Digg it!
Reddit
Furl
del.icio.us
Spurl
Yahoo!