The Adventurer
Investigate a new corner of the world,
and maybe get an adrenaline rush along the way
By Rebecca Matheson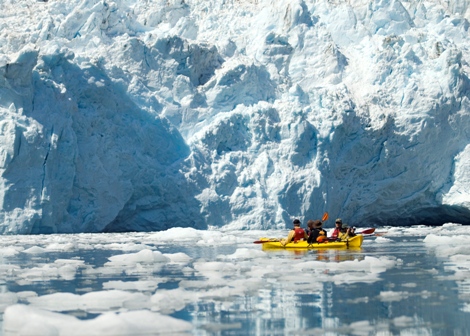 Brian Adams/State of Alaska
Discover the Galapagos Islands
A journey to
the Galapagos
is like stepping into a prehistoric world. Active volcanoes join a stunning array of wildlife, from the giant tortoises of Santa Cruz Island to the "hideous-looking" marine iguanas (an assessment made by famed naturalist Charles Darwin) found on beaches and bobbing in the surf.
Observe Darwin's finches and trek lava formations on the seven-day "
Galapagos Escapade - Northern Islands
" from
Intrepid Travel
, starting at $2,188 per person before airfare, with departures through May. A motorized yacht helps guests island-hop as they delve into local pirate lore, meet sea lions and blue-footed boobies, snorkel and lounge on black-sand beaches.
An Arctic mission
Expedition cruises
are an ideal mode of travel for hungry explorers. These trips seek beautiful and often remote parts of the world, immersing travelers in unique global cultures and fascinating stories from history. Guests can follow in the footsteps of the Vikings and other renowned seafarers, albeit with more comfortable accommodations. And these journeys often benefit from onboard naturalists and other experts who provide in-depth looks at upcoming ports of call.
From
Antarctica
to
the Arctic Circle
, this vacation style has a destination for everyone with a passion for adventure. Prices vary, too -- while a high-tech trek to the North Pole can cost as much as $70,000 per person (including the chance to make a phone call from the top of the world), "
In Search of the Northern Lights
" six days with
Hurtigruten Cruises
, crosses the Arctic Circle and navigates the Norwegian coast from $879 per person, without airfare. Departures are available through March 20.
Tackle Alaska on an active shore excursion
Set off for
the Last Frontier
with
Holland America Line
and find thrilling shore excursions that showcase glaciers, seek wildlife and delve into Native American culture.
Round-trip, seven-night jaunts from Seattle are available through September
. They follow Alaska's Inside Passage to
Juneau
, where glaciers are scouted by helicopter ride, icy hike or kayak;
Sitka
, for dry suit snorkeling in its namesake sound; and
Ketchikan
, with a 250-foot mountain slide at the Bear Creek Zip Line Adventure. Prices start at $799 per person for
a May 2 journey
aboard
the Westerdam
.
The information in this story was accurate at the time it was published in January/February 2015. Please visit
Vacations To Go
or call (800) 338-4962 for current rates and details.
Send This Article to a Friend
Bookmark this Content
Digg it!
Reddit
Furl
del.icio.us
Spurl
Yahoo!