Take the Family on a Cruise
Look to the high seas for a no-hassle, budget-friendly vacation
that will please everyone
By Elizabeth Armstrong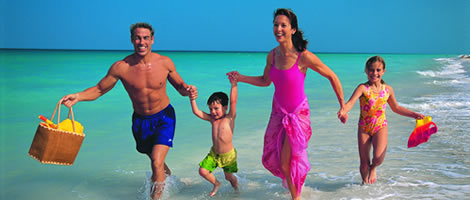 Holland America Line
W
here can you find pizza parties and wine tastings, finger painting and art auctions, and Sony PlayStations and soothing spa treatments, all in the same place? At sea, aboard the amenity-filled cruise ships of major cruise lines.
Loaded with innovative features designed to please passengers of all ages, cruise ships offer a hassle-free, easy-to-budget family vacation. Accommodations, meals, entertainment and activities are included in one rate you pay upfront, so you'll encounter few out-of-pocket expenses. Age-appropriate, structured children's activities and trained youth counselors are found on most mainstream lines, with ships often dedicating thousands of square feet of deck space to kids' areas.
Youth programs are complimentary. Hourly babysitting, either in a group setting or individually in cabins, usually is offered for a fee; however, many ships hold one or more kids-only nighttime events per sailing, freeing parents for a romantic dinner or moonlit stroll around the deck. Some lines also hand out pagers to parents so that they can be summoned if needed. If you are planning to travel with very young children and need high chairs, booster seats or cribs, notify your travel agent at the time of booking.
We've outlined the children's programs of six cruise lines below, highlighting some of the creative elements and activities that will delight younger children and captivate restless tweens and teens. Note that some of these features may not be offered fleetwide or year-round, so check with your travel agent if you have specific concerns about availability.
The youth program of
Holland America Line
, called
Club HAL
, divides activities among three age groups. There are storytelling sessions, arts and crafts, ice cream sundae parties and drawing contests for youngsters ages 3 to 7, and scavenger hunts, disco parties, Sony PlayStations and arcade games for cruisers 8 to 12. But it's the 13 to 17 set that will feel really special in two spaces created just for them. Cool and contemporary, The Loft was designed to resemble a New York artist's loft and features music, a video karaoke system, big-screen television for watching music videos and movies, and sound and laser systems for dancing. The party here lasts until midnight.
From The Loft, kids can follow a special passageway to a private entrance that opens onto The Oasis, a teens-only sundeck. Here they can lounge in hammocks and deck chairs and cool off in a 9-foot waterfall or the wading pool. (The Oasis is not available on all Vista-class ships.)
Disney Cruise Line
passengers ages 3 to 7 can interact with beloved Disney characters at the
Oceaneer Club
aboard the
Disney Magic
and
Disney Wonder
. They might dance with Snow White, follow the clues to Tinkerbell's hiding place and meet the sprite herself, sit down to a tea party with Peter Pan's pal, Wendy, or get a visit from Goofy at an evening pajama party.
Also on both ships, the
Oceaneer Lab
for 8- to 12-year-olds throws a little science and technology into the fun. Participants can build a volcano, learn animation techniques, make a personalized mouse pad and take charge of filming, directing and acting in their own television commercial. They can also hit the stage for a Disney game show, go camping aboard the ship (complete with tent) or learn more about the seafaring life during a question-and-answer session with the captain.
On Disney Magic, kids can settle into the captain's chair at Ocean Quest, a replica of the ship's bridge with LCD-screen "windows" that let them look out over the real bridge via a live video feed. Teen-only spaces on Disney vessels are outfitted with plasma-screen TVs, MP3 players, Internet access and a soda bar serving soft drinks and smoothies.
Aboard the "fun ships" of
Carnival
, the
Camp Carnival
program for young passengers is divided into five specific age groups: toddlers 2 to 5, juniors 6 to 8, intermediates 9 to 11, and two teen groups -- 12 to 14 and 15 to 17. Activities range from finger painting, puppet shows and picture bingo for little ones to talent shows, make-your-own-pizza parties and late-night movies for the older kids.
Club O2 -- just for 15- to 17-year-olds -- is designed to keep teenage sulkiness at bay. Activities are a bit more relaxed, and older kids can hang out with new friends and watch movies, listen to music or play video games. Many Carnival ships have lounges just for teens, and the line also offers special teen-only shore excursions, giving young adults a sense of freedom from their parents as they explore ports with their peers.
Several vessels in the
Norwegian Cruise Line
fleet have "kids' cafes," where young cruisers will feel right at home with pint-sized tables and chairs and their own buffet of sandwiches, hot dogs, french fries, cookies and, yes, a smattering of fruits and vegetables. On the
Norwegian Dawn
,
Star
and
Spirit
, themed wet areas with splash pools, slides and squirters are located well away from the main pools where adults congregate.
Norwegian has a supervised youth program called
Kid's Crew
. Among its many activities are treasure hunts for ages 2 to 5, painting and storytelling for ages 6 to 9, and sports events, pool parties and video games for both the 10 to 12 set and the 13 to 17 group.
Princess Cruises
offers youth and teen centers on nearly all its ships (the exceptions are the
Tahitian Princess
and the
Pacific Princess
). Supervised
Fun Zone
activities are divided into two age groups, 3 to 7 and 8 to 12. Available on select seasonal cruises, the Edutainment curriculum challenges young minds with interactive science activities -- kids can build and race sailboats, take part in coral reef and marine biology studies, and conduct chemistry experiments. On Alaska sailings, they'll learn about glaciers and endangered wildlife and earn a coveted National Park Service Junior Ranger badge.
Teens on Princess cruises can kick back in their own spaces equipped with Sony PlayStations, giant-screen televisions, pingpong tables and jukeboxes. On the
Grand Princess
and
Golden Princess
, teens have a separate sundeck area with Jacuzzi.
Royal Caribbean International
Royal Caribbean
offers a five-tiered
Adventure Ocean
program that is geared to children ages 3 to 17 and often focuses on science, culture and the arts. Kids might learn about fossils, meteors or the mysteries of the ocean, or get together to make kites, masks or pottery. Budding actors learn to use their bodies, voices and imaginations at Adventure Theater by Camp Broadway, which employs games, vocal and physical exercises and activities to help unleash a young person's creativity.
Royal Caribbean hasn't forgotten the littlest cruisers, either.
Aqua Babies
and
Aqua Tots
offer interactive playgroups for 6- to 36-month-olds and their parents. Giggles and smiles are guaranteed at these 45-minute sessions, which were designed by Fisher-Price and emphasize music, rhythm, movement, numbers, shapes, colors and social and physical development.
Information:
To learn more about cruises aboard these family-friendly lines, visit
Vacations To Go
or call (800) 338-4962.
The information in this story was accurate at the time it was published in March/April 2007 . Please visit
Vacations To Go
or call (800) 338-4962 for current rates and details.
Send This Article to a Friend
Bookmark this Content
Digg it!
Reddit
Furl
del.icio.us
Spurl
Yahoo!