Tailor Your Trip With a Theme Cruise
Sports pros, star chefs and even murder mysteries
add spark to these sailings
By Alexis Hilts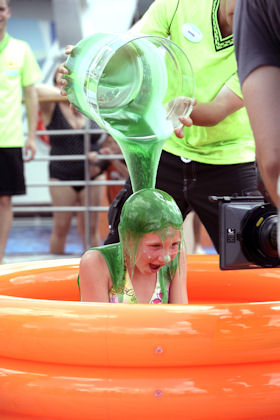 Nickelodeon
Y
our dream vacation may take you across the ocean to explore tropical islands or historic cities, but you don't have to leave your passions at home. In addition to classic itineraries, several cruise lines have designed programs that cater to travelers' hobbies through special theme cruises.
Guests can delve into featured topics like food and wine, baseball, golf and even crime solving while traversing the seas. A range of theme cruise options is available in destinations across the globe. We've highlighted some that piqued our interest below.
The rates we show for these itineraries came from Vacations To Go, a company that specializes in offering deeply discounted cruises. For more information, call (800) 338-4962 or visit
Vacations To Go
.
Once baseball season has ended, many devotees of the sport find themselves passing the winter months by trading statistics and nursing bruised egos or, for the lucky ones, basking in the glow of their team's championship win. If you are one of those fanatics who can't wait until spring training for more of America's favorite pastime -- or would just love to meet a sports legend -- then
MSC Cruises
has the ideal escape.
On four Caribbean sailings from December through February, MSC brings fans and former Major League Baseball stars together as part of its
Baseball Greats
series. Planned onboard activities include player-hosted trivia games, guest pitching contests and free autograph sessions. Other highlights are the often-comedic storytelling sessions and the instructional clinics, where passengers can get valuable tips from players in their area of expertise.
"It's interesting. Every player has a little different take on things," says Stan Bahnsen, former pitcher for teams including the New York Yankees and the Chicago White Sox. Some guests videotape the lessons or take notes for their kids or grandkids.
Since the program's inception several years ago, the baseball-oriented cruises have built up a following. "It's a program that people call the cruise line about now," says Bahnsen, who helps organize activities and is aboard all Baseball Greats departures.
To make the cruises as fun as possible for the fans, Bahnsen picks retired players with name recognition and an approachable quality. "The people always comment about how friendly the players are, how genuine they are," he says.
Whether during the scheduled ship activities or on shore excursions, the guests' favorite part is connecting with the players. "You can get up close and personal with these guys. You can't do that anywhere else," says Bahnsen.
Among the famed ballplayers scheduled are Graig Nettles, Dave Campbell and Vida Blue on
Dec. 5, 2010
; Andre Dawson and Bruce Kison on
Jan. 9, 2011
; Rick Burleson and Rick Wise on
Jan. 23, 2011
; and Ken Griffey Sr. and Art Shamsky on
Feb. 6, 2011
.
The seven-night Eastern and Western Caribbean itineraries on board the
MSC Poesia
travel round trip from Fort Lauderdale, FL, with prices starting at $349 per person for the Dec. 5 departure.
Another option for sports fans comes from
Fred. Olsen Cruise Lines
.
Flagship Golf add-on packages
on select sailings allow guests to work on their swing throughout their vacation. Golf aficionados get four rounds played at unique courses along the ship's route (including green fees and transfers), up to five lessons with a PGA pro and practice time in the onboard golf nets.
Flagship Golf is offered on several Fred. Olsen cruises, heading to ports in the Mediterranean, Canary Islands, Caribbean, United Kingdom and Baltic region. Itineraries are nine to 16 nights long, with per-person prices for inside cabins ranging from $1,368 for a Morocco and Canary Islands sailing departing
Dec. 7, 2010
, to $2,572 for a Baltic cruise on
June 24, 2011
, excluding the golf package price. Packages are $676 per person in the Caribbean and $597 per person in other destinations.
If, instead of sports highlights, your DVR is filled with "SpongeBob SquarePants" and "iCarly" episodes, then consider getting your Nickelodeon fix on the next family trip. In 2011
Norwegian Cruise Line
will host two cruise vacations for the ultimate Nick fans. The seven-night journeys -- setting sail on
Feb. 20
and
July 24
-- will provide passengers with a variety of activities related to the popular kids' network.
From meet and greets with Nick stars like Dora the Explorer to screenings of never-before-seen episodes of hit shows, these Nickelodeon All Access cruises are designed to go above and beyond NCL's regular
Nick programming
. "The goal is complete immersion. A completely Nickelodeon immersion," explains Patrick Mitchell, the cruise line's vice president of global sales strategy and planning.
Each day on board brings poolside entertainment and interactive games with a focus on family fun. Little ones can start each morning at breakfast with Nick characters, and tweens might get starstruck when meeting the actors of their favorite live-action shows. So far, the lineup includes Jennette McCurdy, who plays Sam Puckett on "iCarly," on both sailings and her co-star Nathan Kress, better known to fans as Freddie Benson, on the July trip.
And Mitchell believes the Nick-themed vacations will appeal to more than the youngest of the bunch. "The brand itself is not just attractive to any particular age demographic." He adds, "Lots of adults think 'SpongeBob' is absolutely hilarious."
The best part for many loyal Nick fans? "On All Access, everybody on the ship is going to get slimed," Mitchell says.
NCL's first All Access adventure in February will take place on the
Norwegian Jewel
, which travels for seven nights from New York to the Bahamas and back. Prices start at $949 per person. July's weeklong cruise -- on the new
Norwegian Epic
-- sails round trip from Barcelona to a variety of Mediterranean ports, with prices starting at $1,349 per person.
If hanging out with cartoon characters and getting doused in green goop sounds a little too rambunctious for your next vacation, maybe a cruise featuring gourmet food and choice wines would interest you. Luxury line
Crystal Cruises
provides culinary celebrations on its Wine and Food Festival cruises to the Mediterranean, Alaska, Mexico, South America and other spots around the globe.
The cuisine-and-libation-themed journeys are an extension of Crystal's highly rated onboard fare. "We pride ourselves on a strong, creative culinary program," says Julie Dibble, public relations coordinator for the cruise line.
In addition to Crystal's main dining selections, passengers will be able to sample dishes from menus designed by guest chefs. Past cruises have boasted culinary delights such as butter-poached lobster served with corn-stuffed vanilla crepes, tapioca-crusted Thai snapper and roasted banana souffle with toasted cinnamon ice cream.
Big names with planned appearances on wine and food sailings next year include cooking superstars Heinz Beck, Jon Ashton and Andre Soltner and wine expert Alexis Kahn. Tony Abou-Ganim -- the mixology mastermind behind Crystal's recently revamped cocktail program, which combines premium liquors with fresh fruit purees and juices -- is a regular on these cruises.
Beyond indulging in specially created spreads, vacationers can participate in wine tastings, cooking demos and, often, gastronomy-related shore excursions. Dibble says that the foodie-friendly program is "increasing as culinary trends and culinary interests increase," citing mixology lessons and pastry- and sushi-making classes as new diversions added in the last two years.
One reason vacationers choose Crystal's wine and food cruises is to get an interesting perspective on a culture. "They want to really experience the destination, and the culinary program is a great way to do that," says Dibble. "Who doesn't want to explore another country through food?"
Crystal will mark its 15th year of culinary cruises in 2011. Seven departures are scheduled next year to destinations including Mexico, Alaska, the Mediterranean and South America. Prices per passenger range from $2,926 for a 10-night
Dec. 11
sailing to Mexico to $7,712 for a 14-night Scandinavian excursion starting
June 13
. A cruise to Mexico this year, departing
Dec. 12
, starts at $2,890.
For those traveling unattached, national cruise discounter Vacations To Go offers hosted
singles cruises
. Exclusive scheduled events throughout the trip -- such as theme parties, ice-breaker games, dance lessons, group shore excursions and cocktail parties -- bring solo cruisers together to mix and mingle. "You can go alone, but you don't have to be alone," says Shannon Richards, a Vacations To Go team manager and one of the company's singles cruise hosts.
Itineraries are generally a week long and stop at ports in the Caribbean, Alaska, Mediterranean and Mexican Riviera. In 2011, new trips will be available in
Northern Europe
and
New England and eastern Canada
.
Most participants, Richards says, join hosted singles cruises for the camaraderie they provide. Solo cruisers often are looking for like-minded travel companions, she says. And some find something more. "There was a couple that met on my very first cruise," recalls Richards, who says the two guests began dating and later returned for the third cruise she hosted. "He proposed to her on board," she says.
Richards says that Vacations To Go hosts, like herself, make an effort to keep in touch with past guests and look forward to updates on their lives -- especially any news about connections made during the trips.
While romance does happen, Richards emphasizes that the cruises are less about hooking up and more about finding people who share a love of travel. She says that singles cruise participants often stick together long after their vacation. "They may have a completely different circle of friends at home, but they find these travel buddies for life," she says.
At press time, hosted singles cruises for 2011 ranged from a Mexican Riviera Halloween cruise (
Oct. 30
) on board the
Carnival Splendor
for $542 per person to a Caribbean sailing for 40-plus singles on the
Ruby Princess
for $1,058 (
April 17
). The cruise lines impose a supplemental charge on singles traveling solo in a cabin, but participants who want to avoid the single supplement can bring a friend or use Vacation To Go's Match Program to be paired with a fellow traveler of the same sex in one stateroom.
Shauna Hoffman, president of Whodunit Productions, says that her
crime-solving cruises
with
Royal Caribbean International
also are great for singles, though they appeal to everybody from mystery buffs to families on reunion getaways. "It's really a cross section of people," Hoffman says.
On the three- to seven-night cruise vacations, participants are given a role to play and actors set the scene for a murder mystery at sea. As the drama unfolds, Whodunit's performers stay in character and guests are tasked with looking for clues to uncover the killer, the murder method and the motive.
Passengers receive cryptic notes and strange phone calls that keep them guessing and, Hoffman reports, the temporary detectives love the interactive element of the experience. Having been on 180 cruises herself -- including almost all the Whodunit sailings since partnering with Royal Caribbean in the early 1990s -- she says that mystery cruisers most enjoy being part of the action. "What's amazing is that once they're given a role to play, people come out of their shell," Hoffman says.
In the coming year, there are five Whodunit cruises from April through December on Royal Caribbean ships heading to the Caribbean, Alaska, Bermuda and Bahamas. Storylines vary; depending on the itinerary, mayhem could include corporate espionage or old-time pirates, for example. Pricing starts at $229 for a
three-night Bahamas sailing
, and there is an extra fee for inclusion in the Whodunit entertainment program, about $110 to $130 per person.
As to why vacationers opt for a theme cruise as opposed to a more traditional vacation, Hoffman says, "Many people have cruised before and want a new experience. They want an added dimension."
Vacations To Go's Richards mentions that many travelers like the idea of cruising with a more personalized roster of activities. "You can tailor it to what your preferences are. If there's a specific interest that you have, it's definitely more enjoyable if you can incorporate that into your vacation," she says.
The information in this story was accurate at the time it was published in November/December 2010. Please visit
Vacations To Go
or call (800) 338-4962 for current rates and details.
Send This Article to a Friend
Bookmark this Content
Digg it!
Reddit
Furl
del.icio.us
Spurl
Yahoo!