Spoiled by SeaDream
Savor casual elegance while sailing to Caribbean hideaways
By Elizabeth Armstrong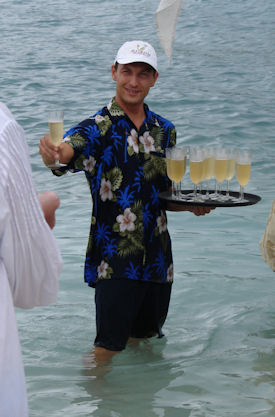 Elizabeth Armstrong
(Scroll down to see a slide show.)
O
ften, it's the little gestures that make the biggest impressions.
I was reminded of this soon after boarding
SeaDream II
in
Old San Juan, Puerto Rico
, at the start of a Caribbean cruise. After dumping the carry-ons in my stateroom, I headed to the open-air Top of the Yacht Bar and secured a glass of Champagne from the affable Clint.
I wandered well beyond the bar to a quiet spot and snuggled into a lounge chair. Other than Clint and me, there wasn't another person in the vicinity. Or so I thought.
Twenty minutes later, a different crew member popped around the corner, bottle in hand. "May I offer you more Champagne?" he asked.
Why, certainly.
Where did he come from? How did he know I was back here? And more importantly, how did he know I wanted a refill?
The folks who staff SeaDream II have a knack for predicting just what you might need to make life a little sweeter -- or easier. When bartender Zoltan observed me rubbing a tissue over the smudged LCD screen of my camera, he retrieved a microfiber cloth from behind the counter, the kind used for eyeglasses, and gave my Sony a good polish.
At breakfast, veteran SeaDream waiter Werner would bring me his "special coffee," a strong brew made partly with espresso beans. The ship's hotel manager, Peter Rima, knew that I loved to dine outdoors and always had a table ready for me on deck.
SeaDream II is one of two identical, sleek vessels operated by
SeaDream Yacht Club
. At 4,300 tons, it would take more than 51 SeaDreams to balance the scale against Royal Caribbean's behemoth,
Oasis of the Seas
, currently the largest cruise ship afloat. The 14.3-foot drafts of SeaDream I and II allow them to visit yachting grounds and harbors that big ships can't reach. Carrying just 112 guests each, they promise personalized service from a staff of 95 and an elegant yet low-key atmosphere.
And SeaDream aficionados wouldn't have it any other way. They relish the SeaDream experience for its blissfully unstructured days, intuitive staff, "yacht casual" dress code and inclusive pricing. The fare includes wine or beer with lunch and dinner and an open bar of premium brands. Gratuities and the use of onboard water-sports equipment and mountain bikes also are covered.
SeaDream guests are encouraged to savor their time at sea and make their own discoveries. You might perch in one of the captain's chairs at the back of Deck 6, grab the nearby binoculars and scan the horizon for ships or marine life (or do as I did and spy on neighboring yachts). Soak in the pool or Jacuzzi, or put in some hard time at the fitness center.
Indulge in a massage on deck, accompanied by sea breezes and the lull of the waves. The spa is staffed by seven petite but powerfully strong Thai women. I was charmed to learn that before every itinerary's departure, these women, who are Buddhists, tie flowers to SeaDream II and pray for the safety of the ship, its passengers and its crew.
Or, borrow a hardback from the well-stocked library and sneak up to one of the Balinese Dream Beds on Deck 6. They're positioned above the railing for unobstructed views. Built for two, the beds can be made up with linens, pillows and duvets if you wish to sleep under the stars. There are eight aft beds adjacent to the stack, not far from the Top of the Yacht Bar. For something a little more quiet and private, try to snag the ninth extra-large bed at the front of the deck.
The one-page daily program does list a few scheduled activities, like morning yoga, stretch and tai chi classes, and evening movies or concerts shown on a large poolside screen. For many guests, the nightly routine starts with cocktails and hors d'oeuvres before dinner and ends in the piano bar. Across the way from that hangout is a blackjack table (cruisers who need the bells and whistles of a Vegas-style casino would do well to look elsewhere).
Most accommodations are 195-square-foot Yacht Club staterooms; each has a small living area, Belgian linens, a heavenly multijet shower, Bulgari toiletries, a flat-screen TV and a CD/DVD player. Commodore Suites are double the size, with two baths and two closets. The Admiral and Owner's suites are the roomiest digs, measuring 375 and 447 feet respectively. All staterooms have ocean views.
Our first port of call was Cruz Bay on
St. John in the U.S. Virgin Islands
. Two-thirds of St. John has been preserved as national parkland since 1956, and many beaches are near coral reefs that shelter the waters and provide optimal snorkeling conditions.
We tendered ashore to the ferry dock, where car and scooter rental concessions were at hand, as well as open-air safari cabs, which are trucks with beds that have been converted to hold bench seating. I took the $6 ride to Trunk Bay, where I followed the undersea markers of a snorkeling trail. The entry fee to this beach is $4, and you can rent equipment and a locker for your valuables.
Schedule your St. John beach time in the morning. I shared the stretch of sand with a handful of people until about noon, when crowds started to arrive. That afternoon, I explored Mongoose Junction, an attractive complex of shops, eateries and bars. Check out Under the Sun for works by St. John artists like Caroline Rogers, a marine ecologist and photographer who captures underwater scenes of stunning clarity.
The next day we called at tiny
Saba in the Netherlands Antilles
. When I first laid eyes on Saba, it struck me as an inhospitable hunk of rock, all steep mountains and cliffs rising from the sea. Its two main villages are The Bottom -- which is nowhere near the bottom -- and Windwardside.
Dutch engineers balked at the idea of building a road on Saba, so native son and carpenter Josephus Hassel, born in 1906, took a correspondence course in road construction. With the help of fellow islanders, he installed Saba's first thoroughfare. Prior to that, inhabitants got around via a series of steps carved into the hillsides. The isle still has only one road.
Saba doesn't offer much in the way of beaches, but it boasts some very fine dive sites and multiple hiking trails. I joined the "Saba Sights" excursion, which provided a good introduction to this island of 1,500 souls.
We drove past low stone walls and flaming mimosa trees to cozy communities of whitewashed homes with green shutters and red roofs. We met Jo Bean, who opened a studio and gallery in Windwardside in 1992. Bean is a master of the craft known as lamp-work, and we watched her manipulate thin rods of Venetian glass over a 2,000-degree, gas-fueled flame to create exquisite beads that would later be fashioned into jewelry.
In a shop behind the Queen of the Holy Rosary Church, we browsed the wares of Saba's lace-makers. Saba lace, also called Spanish work, once was a staple of the local economy. In the 1870s, a young Saban woman was sent to live in a Venezuelan convent, where she learned the needlework skill from nuns and brought it back to Saba. When regular postal service connected Saba with the outside world in 1884, it helped catapult Saban lace-making into a successful mail-order cottage industry. Women here still practice the craft, and their finely wrought linen-and-lace napkins, tablecloths and dresses can be purchased in several stores.
Later that day we headed to
St. Barthelemy
-- St. Barts or St. Barth for short. By 5 p.m., SeaDream II joined dozens of pleasure boats in the harbor of Gustavia, including the $300 million superyacht known simply as A. Owned by Russian oligarch Andrey Melnichenko, the highly secure vessel resembles a submarine with its beaklike prow and lack of railings, designed to make it difficult for modern-day pirates to board.
After we dropped anchor, SeaDream's water-sports platform opened. It's equipped with kayaks, snorkel gear, a banana boat and Zodiacs for water skiing. New toys were recently added to both SeaDream ships: four glass-bottom kayaks, two Laser sailboats (a type of small sailing dinghy) and one Hobie Cat on each.
Early the next morning, a few of us joined activities director Amy Boothman for a walk around Gustavia's U-shaped marina and a rigorous climb to a vantage point overlooking Shell Beach. Our efforts were rewarded with a refreshing dip in the lovely aquamarine cove.
Wanting to sample the cuisine in this French West Indies enclave, I headed to Wall House, a restaurant near the marina entrance. It's about a 10- to 15-minute walk from where SeaDream's tenders unload passengers. Wall House is a casually stylish spot, with canvas chairs that match the white tile floors, cheery red tablecloths and splashy abstract paintings. One side of the dining room is open to the outdoors.
A trio of chilled soups -- gazpacho, green pea and vichyssoise -- were the perfect antidote for a hot afternoon, while a slice of something called a conversation tart, almond filling topped by a sheath of crispy meringue, had me contemplating seconds. Wall House also has a lunchtime plat du jour, or special of the day, for about $14. It's a bargain in pricey St. Barts, which caters to the jet set.
I enjoyed my experiment in onshore dining, but the culinary creations that came out of SeaDream's galley had me looking forward to every onboard meal. Open-seating dinners were served in the Dining Salon or al fresco in the Topside Restaurant. Menus for the week featured quail seasoned with Thai chilies and garlic, beef carpaccio dressed with shaved parmesan and orange-spiked olive oil, and duck breast accompanied by pink pepper-braised carrots and potato blinis filled with foie de canard.
Executive Chef Robert van Rijsbergen designed an eight-course tasting menu on the evening we left Marigot, St. Martin. Standouts included a pumpkin and tarragon veloute, lamb prepared three ways and an Earl Grey tea souffle paired with creme fraiche ice cream.
That meal was a sophisticated end to an adventurous day. Eleven of us had traveled from
St. Martin
(the French half of the island) to
St. Maarten
(the Dutch half) for the opportunity to race one of the multimillion-dollar boats of the America's Cup. Participants are assigned crew positions based on how active they want to be, and they're given instructions on what commands to expect and how to perform their tasks.
No prior sailing experience is necessary, but if you're feeling less than confident in your abilities to process nautical orders, volunteer for the bartender position. This consists of ensuring your shipmates are well supplied from an ice chest at hand.
A flip of a coin put us on the Stars & Stripes, and we competed against another team on the Canada II. We lost, but it was an exhilarating ride as we sliced across the water while the sails snapped overhead.
The scheduled stop for our fifth day was Anguilla, but this was scratched due to rough waters that would have made disembarking dangerous. Instead, we heeded the siren song of the British Virgin Islands, a playground for boaters and beach bums.
I opted for a snorkeling trip that spent time at The Indians, four tall rock formations that jut from the sea, and the Caves at
Norman Island
. Long-ago pirates hid their cache at Norman Island, and it's thought to be the inspiration for Robert Louis Stevenson's "Treasure Island."
I fell in love with the underwater dreamscapes populated by mosaic-like stoplight parrotfish, luminous yellowtail damselfish and rainbow-hued princess parrotfish. There also were sapphire-blue species sporting turquoise polka dots, and schools of thin, silvery swimmers.
Later, I joined fellow passengers who were spending the afternoon at another part of Norman Island known as the Bight. This is a castaway's paradise, with an unspoiled beach and laid-back restaurant and bar. Sailors bring their private vessels to this anchorage for the day. At 4 p.m., a bar employee sets off a miniature cannon, signaling the start of happy hour.
The Bight is also a nice spot for a bit of snorkeling, and the salty seawater makes one incredibly buoyant. I was tickled to find I could bob like a cork in depths that would otherwise be over my head.
On our last full day, SeaDream II glided past low, forested islands into North Sound at
Virgin Gorda
, another star in the British Virgin Islands constellation. This would be the site of a much-loved SeaDream tradition: the Champagne and Caviar Splash. At a private beach, a large silver bowl of caviar and all the appropriate accompaniments were loaded onto a surfboard that was carefully carried into the water. Bartenders waded into the shallows with trays of plastic glasses filled with bubbly. At precisely 12:30, SeaDream II blew its horn. This marked the official start of the beachside revelry.
For the next few hours, we floated in the cerulean sea, feasted on grilled meat and seafood from the barbecue buffet, and sipped Champagne until it was gone. Eventually, just a dozen or so of us lingered, determined to enjoy every last minute. "More Champagne!" cried a passenger lounging in waist-deep water.
A staffer hopped into a tender and motored to SeaDream II. A few minutes later he was back, carrying full bottles.
I turned to a crew member next to me. "Did that guy really go back to the ship just to get more Champagne for us?" I asked.
"Of course," he answered, with the merest hint of a twinkle in his eye.
Throughout the trip, I marveled at the crew's eagerness to utterly pamper us. I was especially impressed by their ability to recognize guests by name. One afternoon I asked Rima, the hotel manager, just how they were able to manage that. While Rima conceded that there was a special system to remembering names, he remained politely mum on the details.
That night, a few of us floated some ideas as to what that system might be, and I think we came up with one or two solid theories. But, far be it from me to spill any
SeaDream
secrets here.
The information in this story was accurate at the time it was published in September/October 2010. Please visit
Vacations To Go
or call (800) 338-4962 for current rates and details.
Send This Article to a Friend
Bookmark this Content
Digg it!
Reddit
Furl
del.icio.us
Spurl
Yahoo!