Shooting the Last Frontier
Follow these tips from the pros
for memorable photos of your Alaskan cruise
By Alexis Hilts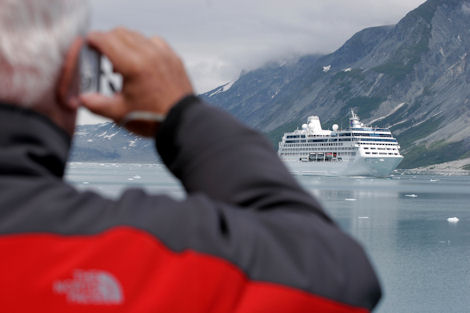 Brian Adams/Alaska Travel Industry Association
(Scroll down to see a slide show.)
W
ith its dramatic and rugged landscape, impressive wild-life and colorful towns filled with unique culture and intriguing individuals, Alaska is a photographer's dream.
Cruises
that meander through the Inside Passage or skim the Gulf of Alaska coast offer myriad chances to capture the state's spirit and scenery on camera, from Native American art and legends of the gold rush to massive glaciers jutting from the sea. The opportunities for breathtaking images are endless.
But there is nothing worse than spending your vacation frustrated with your lack of photography skills and returning home with disappointing pictures of an amazing journey, so we asked three professionals with experience shooting Alaska to spill some of their best tricks of the trade.
While each photographer had specific pointers, they all mentioned a few general rules to keep in mind. No. 1 on that list? Be prepared for various weather conditions.
"It could be four seasons in one day," says Ellen Barone, a travel writer and photographer who has led photo tours in Alaska. For great pictures in rough conditions, she packs a camera that can withstand virtually anything: It's freeze-proof, waterproof, drop-proof and shockproof.
"Dress warm, always have a raincoat, and get really good gloves," adds Brian Adams, a photographer who grew up in Alaska. "You'll miss a lot of your photographs by spending all your time inside, trying to keep warm."
In addition to preparing for weather, the experts say it's also important to make sure you have everything you need before heading out to shoot. Back-up batteries and extra memory cards are a must.
Beyond readying yourself with the right attire and supplies, there is one principle that all our photographers agree you should know: the rule of thirds. Often, less experienced picture-takers put their subject in the center of the shot. Instead, imagine the photo is divided into thirds by horizontal and vertical lines, then place the subject along these lines. "That's just one quick way to improve photos in every category, no matter what your subject," says Anchorage-based photographer Wayde Carroll.
In the excitement of the moment, novices often pay attention to getting their subject right but forget to craft their image as a whole.
"Look around the entire frame and make sure it's filled up with something important. If it's not, get a little closer," Carroll says. Barone adds: "Sometimes I think effective photography is more what you leave out than what you put in."
Below are excerpts from our conversations with Barone, Adams and Carroll.
What to Look for in a Camera
Even if you lack the budget or skills necessary for a single-lens reflex (SLR) camera -- the type used by advanced photographers -- these days there are many reasonably priced point-and-shoot cameras on the market that take high-quality pictures and offer a variety of features that help bridge the gap between the pros and the average photo taker. Image stabilization, exposure compensation and good optical zoom are all essentials to look for in
a camera. If you're planning on buying new equipment before your Alaskan cruise, here are some things to consider.
Ellen Barone:
I would be looking for a durable sort of point-and-shoot that has as many manual features as possible for when you do want to get creative and you do have more time, but is also fully automated so that when things happen fast ... you're prepared.
Brian Adams:
I'm all about lenses. If I know it has good glass, I know it's probably going to take a decent picture.
Wayde Carroll:
I just think it's really important to at least learn some of the major controls on your camera before you take it out and start shooting.
Get comfortable with your camera before you take it into a situation where you really wish you knew what you were doing.
Strategies for Photographing Wildlife
Bald eagles above, black bears on the shore, seals and giant whales swimming in the sea. With 33,000 miles of coastline and two-thirds of the state designated as public lands -- including Glacier Bay and Denali national parks -- Alaska is a refuge for all kinds of animals. And for many travelers, capturing these creatures on film is the highlight of the trip. Because you will probably never get as close to those star subjects as you'd like, the professionals say that having a good zoom lens is a crucial tool for snapping wildlife. Here are their other thoughts on getting standout shots of animals in their element.
EB:
Wildlife happens quickly. Have your camera ready, have it handy. Some of the best images happen when you least expect them.
BA:
The main thing is having your finger on the trigger and just being patient.
WC:
Get tight on wildlife if you can, but don't overlook the environmental shot either. If you have a bear walking along the beach and you've got this beautiful forest and mountains in the background, don't be afraid to have the bear a little smaller, just because it's a nice overall scene.
Get the Perfect Whale Picture
Specific challenges arise when trying for one of the most sought-after images: a breaching whale. For those nature lovers who want to get that ultimate, majestic whale shot, the experts weigh in.
EB:
Most of the ships have onboard naturalists or marine biologists who live, sleep and eat and love the marine life in Alaska, which is very rich and very prolific. So, I would say, be out on the decks as much as you can. Be accessible to the marine biologists or the naturalists. Listen for the announcements they make on board that there is activity in a certain area. They do give you a heads-up. But you have to be listening.
BA:
(Be) looking around where you think it's going to happen so you can compose your photograph before it breaches.
WC:
Instead of trying to focus on the whale as it's jumping out of the water ... you do something like prefocus on a spot for wildlife. If you know it's going to be in a certain area, you can focus your camera right there, then take the auto-focus off and snap away when he jumps out of the water, because your camera's not trying to find the focus in that critical second.
Capture the Beauty Of the Landscape
Alaska's landscape is unlike any other. The combination of snowcapped mountains, lush forests and deep blue sea punctuated by mighty glaciers adds an element of grandeur to any photograph. For beginners, however, sometimes it can be tough to translate that vibrant scenery to a two-dimensional image. One mistake vacationers commonly make, the pros say, is to try and include the entire scene. Instead, focus on the details that interest you, they suggest. Here are other tricks for stunning shots of the outdoors.
EB:
Ask yourself, what is the emotion you're feeling in this landscape? Don't try to maybe capture the whole landscape, but capture what portion of that landscape reflects that emotion.
BA:
The best light is sunrise or sunset. The direction of the sun, where it's at, is always a big issue for me. Shooting toward the sun is never a good idea, just because you'll get a lot of lens flare.
WC:
What I try to tell everybody is either eliminate the sky altogether or just have a little sliver of it at the top of your frame, because your eye goes right to the brightest spot of a photograph, and if you've got this great scenery down below but you've got a ton of white sky, it's going to really take away from your photo.
Make That People Picture Interesting
Everyone has that typical vacation picture at home, the one where you and your family are posed in front of some iconic landmark, representing your destination of choice. While these obligatory images are fun -- and great to have in your photo album -- many travelers are looking for ways to make their people shots more engaging. For starters, the professionals say, try getting the shot from a different angle. Bend your knees and shoot from below or take the picture from the top of a staircase. Here are some other suggestions for uncommon family photos.
EB:
I think the most powerful people pictures are the ones where they're engaged and immersed and happy and loving the moment, not the posed ones, necessarily.
BA:
Framing your photo within another photo has always been fun to me. Find the right spot that will have everything focused in on your subject.
WC:
The best suggestion is to get closer on that person. Get really close on that person and then show something interesting off to the side or in the background so you get a sense of place.
Gear Up for an Action Shot
Most cruise lines offer adventurous shore excursions, such as sea kayaking, zip lining and dogsledding. These activities are exhilarating, but the added element of motion presents a challenge for those who want to capture the moment on camera. Know how to use your sports or action mode, the experts say. This setting on your camera has fast shutter speeds to compensate for extra movement. Here are some additional considerations when snapping an action sequence.
EB:
The beauty of these cameras these days is that when a scene calls for video, you can just turn the dial and get it on video. You have the tools in your pocket, basically, to do all those things -- from sophisticated shutter speeds to automatic sports settings to video, where you get the full experience of sound and motion.
BA:
As far as composing, it's just trying to think ahead of where your subject's going and being there either before they get there, or panning with them. If you pan with them, your subject will be very nice and crisp but the background could be a little blurry, which is great. It shows that action.
WC:
Take more than one photo of something, especially if you're talking about wildlife or people. If you take several photos, you get different expressions, different movements. Some people are in the habit of taking a photo and then moving on ... but if you spend some time with a subject, you'll end up with better photographs.
Shoot Alaska From Above
Flightseeing tours are a great way to get a unique perspective on Alaska's dramatic terrain. Whether up close with North America's tallest peak, Mount McKinley, or hovering above the jagged blue edges of a glacier, you will want to do these awe-inspiring views justice.
EB:
If no one wants the co-pilot seat, I'll be the first to say I'd love to sit there,' because I can include the pilot in my pictures with his headphones on, and I can get the windscreen and the effect of being in those tight quarters. The very back seat of some of those small planes is like a bucket seat, and there's usually only room for one person. When the view is better on the left side you can slide over to the left window, and when the view is better on the right side, you slide over to the right window. Just being aware of seat position, when it's being chosen, can help you a lot.
BA:
Ask politely if you can open a window, but if you have to shoot through the window, I always keep my lens as close to it as possible, because the farther you back up, the more obvious it's going to be that you're shooting through a window.
WC:
A warming filter will make your photos look a little warmer, not so cool and blue.
Booking your Alaksa cruise
The
Alaska cruise season
starts in May and end in September, and cruise lines offer two types of itineraries. Inside Passage routes are round trip, typically starting in Seattle or Vancouver, British Columbia, and navigating southeastern channels as far north as Skagway or Juneau. Gulf of Alaska ships sail the Inside Passage and along the coast toward Seward, the port for Anchorage. They are one way, with ships traveling in either direction.
Cruise discounter Vacations To Go sells both types of cruises from all major lines, at greatly reduced rates. For more information, visit them
online
or call (800) 338-4962.
The information in this story was accurate at the time it was published in January/February 2011. Please visit
Vacations To Go
or call (800) 338-4962 for current rates and details.
Send This Article to a Friend
Bookmark this Content
Digg it!
Reddit
Furl
del.icio.us
Spurl
Yahoo!