Savor the Med
Cruising connects guests to the destination
as well as its renowned culinary traditions
By Jennifer Davoren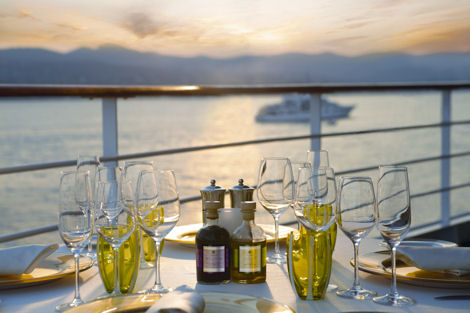 Silversea Cruises
T
he Mediterranean is as treasured for its scenic shores -- from Spain's Costa del Sol and the French Riviera to the Dalmatian coast of Croatia -- as it is for its sauces. Oils pressed from Greek olives and infused with the juice of sun-ripened lemons join Italy's slow-simmered marinara, Spanish red pepper romesco and creamy hollandaise (one of the five "mother sauces" of French cuisine). They complement hand-cranked pasta, spicy chorizo, roasted lamb or the catch of the day, depending on your port of call.
Use a cruise
to explore the beauty of this region and its lavish cuisine in a single indulgent getaway. Gourmet delights stretch from ship to shore, with specialty dining and chef-led lessons on deck and family-owned restaurants, culinary schools, farmers markets and more on land.
When choosing a food-focused ship with itineraries in the Med, look for a company with local ties.
Silversea Cruises
, launched in 1994 by the Lefebvre family of Rome, honors its Italian heritage in a variety of ways, according to Rudi Scholdis, the company's culinary director.
The connection begins with onboard dining venues. Found on five Silversea ships, La Terrazza is a restaurant rooted in the slow food movement, with extra care taken in the production and preparation of Italy's renowned cuisine.
"We take pride in supporting slow food's mission to link pleasure and food with awareness and responsibility," Scholdis says. "We want our guests to rediscover the joys of eating and understand the importance of caring where their food comes from, who makes it and how it's made."
Passengers also benefit from the line's connection to Relais & Chateaux, a confederation of gourmet restaurants and international hotels with an eye on quality control. "As Silversea's preferred culinary partner, Relais & Chateaux has
collaborated with us on an exclusive collection of inspired dishes, culinary-themed cruises, a specialty restaurant (the wine-centric Le Champagne) and customized land programs," Scholdis says.
The gourmet group's L'Ecole des Chefs cooking school will lead two foodie itineraries in the Mediterranean aboard the
Silver Wind
this November, with cooking demonstrations, wine pairings and market tours. The
Nov. 19 voyage
calls at ports in Italy, Malta, Tunisia and Spain (from $2,850 per person), while a
Nov. 26 departure
lingers in Spain, Morocco and the Canary Islands (from $3,050).
These sailings, like Silversea's commitment to slow food, seek to educate as well as indulge. "Our culinary-themed cruises and cooking school voyages always draw on the destination for inspiration," Scholdis says. "On certain voyages, when the itinerary permits, we offer a market-to-plate experience that provides an escorted tour of a local market followed by a cooking class, and a culinary outing, an instructor-escorted excursion to a local restaurant, hotel or other venue where guests can enjoy a unique culinary exploration."
A summer cruise
of Italy, Croatia, Greece and Slovenia aboard the six-star
Silver Wind
spends two days in
Venice
, allowing time for "Italian Cooking With Countess Lelia Passi," a shore excursion Scholdis considers a must. Participants learn the finer points of Italian cooking with hands-on instruction amid the 16th-century majesty of the Palazzo Tiepolo. Prices for this nine-night cruise, which kicks off in Rome on Aug. 16, begin at $4,150 per person.
Keep an eye out for Silversea itineraries that dock in
Marseilles
for another "don't miss" suggestion from Scholdis: "Exclusive Cooking Class a la Provencale," a culinary adventure in the tiny, vineyard-wrapped village of La Cadiere d'Azur. Guests are welcomed to the private home of a local chef, Rene Berard, for a tour of the grounds, herb picking in his expansive garden and an exploration of provincial recipes. The French port city is featured on the
Nov. 2 departure
of the
Silver Spirit
(Rome to Barcelona, from $2,850).
Oceania Cruises
offers a gourmet enrichment program built in large part by its executive culinary director of 10 years, Jacques Pepin. The French-born cookbook author, television host and master chef lent a hand with menus across the line, but his signature restaurant -- Jacques, on the
Marina
and
Riviera
, Oceania's newest vessels -- is a tribute to Parisian bistro dining. Normandy mussels, coq au vin, duck leg confit and chocolate mousse are just a few of the delicacies available.
In addition to its Med-centric onboard venues, Oceania organizes an assortment of theme cruises that celebrate the region's culinary contributions.
Join Pepin on a hosted sailing
on the Riviera this fall, departing Barcelona on Sept. 19 to call on five additional Spanish ports, the British territory of Gibraltar, Casablanca in Morocco and Lisbon, the capital of Portugal. He'll drop by Jacques to welcome diners and take part in cooking demonstrations and a Q-and-A with Oceania's culinary team. Prices for this 10-night sailing start at $4,849 per person.
Be sure to book an Oceania Culinary Discovery Tour. Excursions available in the Med include "Discover Traditional Cretan Cuisine," an exploration of Greek cooking styles (on the island known as the legendary birthplace of Zeus, no less) and "Livorno Food Markets and Tuscan Cooking Class," which begins with a walking tour and moving feast of prosciutto, pecorino, chickpea frittata and other specialties.
Culinary Discovery Tours heading out from the Marina or Riviera include hands-on instruction at the shipboard Bon Appetit Culinary Center, featuring 24 workstations with access to convection ovens and induction stove tops. Sailing with the smaller
Nautica
or
Regatta
? Guests instead will be treated to cooking lessons on land, either in a notable culinary school or an authentic local restaurant.
Celebrity Cruises
hopes to engage more than your taste buds with its Mediterranean offerings. The line's Excite the Senses program -- available on select sailings in 2013 and inspired by the Celebrity-produced cookbook of the same name -- organizes chef demos, top-deck tastings, wine- and beer-pairing dinners and more.
Look for events hosted by Celebrity's foodie officials and a range of guest experts. The company's culinary director, James Beard Foundation Award nominee John Suley, often is on hand, as is Junior Merino, known as "The Liquid Chef" for his unique "molecular" cocktails. Dominique Gamba is a Provence-educated cook, longtime restaurant manager and host for gourmet cheese tastings. Pastry chef Ronald Sioson is a frequent contributor; make room for his Valrhona chocolate cake, a layered, French-inspired sweet.
An Excite the Senses sailing in the Med departs Barcelona on
Oct. 20
and heads to ports in France, Italy, Montenegro and Croatia. Cabins aboard the
Celebrity Equinox
, a Solstice-class ship launched in 2009, start at $1,199 per person when booked through Vacations To Go; additional fees may apply to onboard and land-based activities associated with the culinary program. Additional Med-inspired amenities to explore on the Equinox include Cafe al Bacio and Gelateria, with Italian coffees and desserts; the Tuscan Grille, where rustic country dishes lean heavily on steak and seafood; and Murano, offering an upscale twist on French cuisine.
The twin ships of
Azamara Club Cruises
, the 694-passenger
Azamara Journey
and
Azamara Quest
, ply the Med like seafaring boutique hotels. Their small size means personalized attention for guests and access to some unusual destinations, from Sete, a French fishing port famed for its mussels and oysters, to
Hvar
, a Croatian resort island and vintner's capital. Foodies find plenty of regionally inspired options on board, including Aqualina, specializing in seafood, and Windows Cafe, where buffet-style meals often incorporate an Italian or Spanish theme. A wine list that, by Azamara's count, draws on an 8,000-bottle reserve of rare and small-batch selections enhances the dining experience and fuels sommelier workshops.
Add to that Azamara's immersive shore excursions, especially those under the line's new AzAmazing Evenings heading. Available when ships are docked overnight at select destinations, these complimentary activities explore European traditions and one-of-a-kind attractions. Enjoy a wine-cellar tour and appetizers at a Michelin three-star restaurant in Spain's
Basque Country
, attend a waterfront street celebration in
Crete
or taste
Sicilian wine and food
-- like swordfish rolls stuffed with pine nuts and currants -- in a 17th-century castle.
An upcoming
Cote d'Azur itinerary
with stops in France and Monaco includes an evening excursion to Marseilles' Palais du Pharo, a former imperial palace built by the first president of France (also known as Napoleon III, nephew and heir of Emperor Bonaparte). Azamara Journey guests will sample Provencal food and wine, explore the estate's manicured grounds and play petanque (a French cousin of bocce ball) while enjoying the soothing sounds of a local band. Departing Barcelona on July 21, this seven-day sailing is available from $1,599 per person.
A
second Journey voyage
leaving Rome on Aug. 4 for the western coast of Italy, Sicily, Malta and Greece includes a Sorrento garden party complete with traditionally costumed dancers and musicians and wood-fired Neapolitan pizzas. Ocean-view cabins start at $2,699 for this weeklong cruise.
The information in this story was accurate at the time it was published in May/June 2013. Please visit
Vacations To Go
or call (800) 338-4962 for current rates and details.
Send This Article to a Friend
Bookmark this Content
Digg it!
Reddit
Furl
del.icio.us
Spurl
Yahoo!