Save or Splurge at Sea
Choose to pinch pennies or indulge every whim
while cruising these five tempting regions
By Jennifer Davoren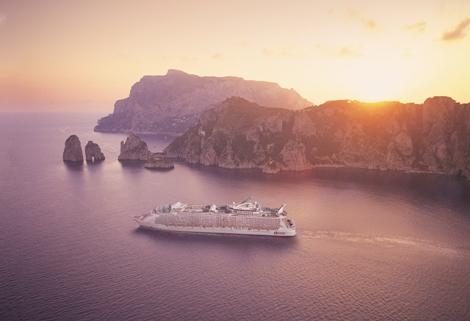 Michel Verdure/Royal Caribbean International
W
hen settling on a single cruise itinerary exploring the Scandinavian kingdom of Norway, it often comes down to your ideal illumination. Do you prefer skylights or nightlights?
In winter, great bands of green ripple overhead as the peaceful chill and darkness of a December night are interrupted by the aurora borealis. In summer, trips above the Arctic Circle encounter the midnight sun and 24-hour periods of uninterrupted rays.
But you have another choice ahead of you. When choosing any oceangoing vacation, you have to set a price point. Will you go for broke on your getaway, throwing caution and major denominations to the wind in pursuit of relaxation? Or will you cling tightly to your wallet, warning the family away from add-on expenses?
Norway-bound vessels
offer the best of both worlds.
Bargain hunters should investigate
Hurtigruten
, a cruise line operating coastal routes in the region since 1893. This September, travel between
Kirkenes
, a spot for nesting puffins and king crab dinners in the northern reaches of Scandinavia, and
Bergen
, a launching point for mountain and fjord hikes,
for as little as $1,343 for five nights at sea
. In between your embarkation and end points, you'll discover Viking artifacts, photograph reindeer herds, test your culinary bravery in a "cured cod capital" and more. Your host for the journey: the 1,000-guest
Midnatsol
, with deck-top whirlpools to keep you warm even in near-Arctic climes.
Expedition cruises present a pricier option for northern jaunts, but expect an engrossing return on your vacation investment. The luxurious, 132-passenger
Silver Explorer
sets sail on July 2 from
Tromso
, a seaside city inhabited since the waning of the Ice Age. Bound for
Svalbard
, a chilly archipelago claimed by Norway, guests will delve into a pristine wilderness for polar bears, snow-white foxes, beluga whales and seabirds.
Prices start at $8,150 for ocean-view suites aboard
this 10-night Silversea voyage
, but Silversea's "all-inclusive, nothing extra" policy means complimentary shore excursions led by the expedition team, innovative cuisine, alcoholic and nonalcoholic beverages shipwide, white-glove customer service and gratuities are folded into that fare. Choose this cruise and you'll also have a few destination experts at your disposal -- marine biologists, a maritime historian and "bear guards," should the toothy locals get a little too close for comfort.
The following are four more cruise regions offering both bargains and opportunities to spoil yourself.
Consult the oceangoing experts at Vacations To Go
, (800) 338-4962, for more information.
Mediterranean charm
Their food and wine are the envy of the world. Their foundations -- often the result of clashes between the Greeks, Romans, Persians and other ancient empires -- still fascinate some 2,500 years later. And their beaches, stretching from Spain's Costa del Sol to the pristine isles of the Aegean Sea, are a sight to behold from the decks of an approaching ocean liner.
Meet the alluring cities of the
Mediterranean
. This region seems tailor-made for cruise vacations, which allow guests to skim sought-after coastlines while sampling several countries in one convenient trip.
Save:
Royal Caribbean International
rates start as low as $518 for weeklong, round-trip sailings departing Rome
July 12
and
Aug. 9
and
23
. Skirt Sicily to seek sun-dappled Greek islands like
Crete
and
Santorini
, then press on to the historic ports of Turkey:
Ephesus
, a center of trade inhabited as early as 5000 B.C., and
Bodrum
, home to a museum of underwater archaeology boasting treasures mined from the sea.
Fares drop to $549 for
a seven-night, Nov. 21 jaunt
aboard the
Splendour of the Seas
; upgrade to balcony accommodations, all the better for prime (and private) views of upcoming destinations, for just $900. Travel round trip from canal-laced
Venice
and, in addition to stops in Greece and Turkey, you will visit the Dalmatian Coast of Croatia for historic walking tours, winery visits and water sports.
Splurge:
Voyages to Antiquity
melds the perks of small-ship cruising with an in-depth, all-inclusive approach to shore excursions. The company's 378-guest boutique vessel, the
Aegean Odyssey
, will explore the Med this summer and fall on a series of vacations ranging from nine to 26 nights in length.
Prices start at $1,795
for the shorter adventures, but your fare covers both an onboard lecture series hosted by destination experts and guided sightseeing tours while in port.
An 11-night cruise departing Rome on Oct. 16
lingers in
Palermo, Sicily
, for more than a day, then moves on to
Malta
, a former conquest of Napoleon Bonaparte, and
Tunisia
, where the ruins of mighty Carthage still stand. You'll visit four cities in Spain, including your disembarkation port of
Seville
, and sightseeing will be fueled by the knowledge of accompanying experts like Dr. Paul Roberts, keeper of antiquities at Ashmolean Museum in Oxford, England. Prices start at $3,760.
Alaska's wild side
Invading miners tried to coax wealth from the very earth in the late 19th century. Modern visitors wielding cameras plead for cooperative wildlife -- the well-timed breach of a humpback whale, a still moose, a low-flying eagle. This is
the Last Frontier
, a destination that has captivated the imagination since the Klondike Gold Rush and continues to invite ambitious visitors.
Save:
Holland America Line
, claiming more itineraries in Alaska than any other cruise outfit, is a natural choice. Passengers with just a week's worth of vacation time and less than $700 to spend can board
a round-trip journey from Seattle
and explore the peaceful Inside Passage on the way to
Juneau
,
Sitka
,
Ketchikan
and
Tracy Arm
, an icy fjord set against the Sawyer Glaciers. More than a dozen of these seven-night trips are available between June and September, with prices topping out at $1,099;
a June 7 departure
offers inside cabins as low as $649, while a balcony room can be had for $1,599.
Have a bit more time to spare? Look into Holland America's
two-week sailings
from Seattle or
Vancouver, British Columbia
. Depart the latter on
Aug. 23
and travel as far as Anchorage with stops in
Skagway
, on the edge of former Gold Rush country;
Haines
, home to a bald eagle preserve;
Glacier Bay National Park and Preserve
, visited twice by this itinerary; and much more. Prices start at $1,649.
Splurge:
Join cultural anthropologist and guidebook author Terry Breen aboard the
Seven Seas Navigator
, a six-star vessel plying Alaskan waters through August. In addition to seeing icons like
Hubbard Glacier
-- at 76 miles long, it's the largest collection of tidewater ice in North America --
Regent Seven Seas Cruises
guests are treated to Breen-hosted lectures on indigenous people, Alaska's earliest explorers and more.
Cabins start at $4,949 for
July 1
,
15
and
29
departures, but review Regent's list of inclusions before balking at the expense. Fine dining, open cocktail bars, all-suite accommodations and unlimited shore excursions are just a few of the perks wrapped in your fare. You can indulge in hikes through ancient rain forests, seal-spotting tours by kayak and culinary classes featuring wild salmon, Dungeness crab and other local specialties without once reaching for your wallet.
Call of the Caribbean
Sugar-sand beaches, sun-warmed snorkeling waters, monuments to pre-Columbian cultures and the thrill of modern life among the islands -- these are just a few of the advantages of
a Caribbean cruise
. Little wonder, then, that it's the most popular region for oceangoing vacations, with more than 30 companies exploring this intriguing sea each year.
Save:
Carnival Cruise Line
is hard to beat in terms of cost, convenient departure ports and sheer coverage in the Caribbean. At press time, more than a dozen sailings from
Miami
--
all round-trip, four-day itineraries
with stops in quirky
Key West, FL
, and
Cozumel, Mexico
-- offered per-person prices under $200. Other itineraries embark in cities as varied as
Baltimore
,
New Orleans
and
Galveston, TX
, or from your choice of Floridian coast: Atlantic (
Port Canaveral
), Gulf of Mexico (
Tampa
) or Caribbean-adjacent (
Fort Lauderdale
).
And Carnival ships go as far south as
Aruba
, as far east as
Barbados
and west again to skim the Central American coast with little pressure on your wallet. Sailing
eight-night round trips from Fort Lauderdale
through December, the
Carnival Conquest
visits four isles in a single vacation, with berths as low as $429.
Splurge:
Sample the yachting lifestyle with
Ponant
. This French line uses its small-scale luxury vessels to visit unique ports around the globe, but itineraries in the Caribbean launch aboard the polished decks of
Le Ponant
, a three-masted pleasure cruiser accommodating just 64 passengers. Add pampering provided by a generous staff-to-guest ratio -- one crew member for every two tourists -- and you've got the atmosphere of a practically private craft complete with refined customer service.
Other onboard perks include a dining program and complimentary wine pairings inspired by Ponant's continental roots. At the aft of the ship, a water sports platform connects you to wave-front fun. And, when it comes to ports, Le Ponant's weeklong trips departing
Martinique
explore the ultimate in wishlist destinations: the aptly named
Paradise Beach of Grenada
, the pristine
Grenadines
and beyond. Prices start at $4,060 for ocean-view accommodations aboard
February 2016 departures
.
Fall foliage
It might be prized for its springtime contributions to pancake syrup, but the sugar maple tree is an autumn favorite, too, its riot of gold, molten orange and scarlet leaves adding to the fiery seasonal display that sets
New England and Canada
aglow each year. East Coast cruises make the most of Mother Nature's flamboyance while delighting in historic ports along the way, from the Colonial haunts of
Baltimore
to one of North America's oldest cities,
St. John's
of Newfoundland and Labrador.
Save:
The forests of southern Maine usually reach peak autumn color in early October. Steer into
Portland, ME
, on Oct. 8 aboard the
Norwegian Gem
for seaside lobster bakes, lighthouse tours, strolls through a thriving arts district and, of course, leaf-peeping excursions that celebrate the season's high point. This
weeklong round trip
from
Norwegian Cruise Line
departs
New York City
on Oct. 3 and makes additional stops in
Boston
and the Canadian Maritime Provinces of
Nova Scotia
and
New Brunswick
. Prices start at $659 for inside cabins, but balcony lodgings overlooking coastal woods can be had for $1,289.
Splurge:
Consider a company specializing in more intimate getaways.
Blount Small Ship Adventures
offers
a series of six-night sailings this September
that will focus on scenic New England isles like
Nantucket, MA
, and
Block Island, RI
, aboard the 88-passenger
Grande Caribe
. Included in your fare -- $1,649 for ocean-view cabins -- are a selection of engaging shore excursions, like sightseeing around the Gilded Age mansions of
Newport, RI
.
Closer to peak foliage season are a handful of 13-night vacations with a very different approach to cruising the Northeast. Traveling between
New York
and
Montreal
, Blount ships skip the Atlantic Ocean in favor of the Hudson River, Erie Canal,
St. Lawrence Seaway
and other inland waters. Explore Cooperstown, NY, in the foothills of the colorful Catskill Mountains;
Quebec City
, on the outskirts of Jacques-Cartier National Park; and other destinations brimmed with fall's signature hues on
one of four October departures priced from $3,469
.
The information in this story was accurate at the time it was published in May/June 2015. Please visit
Vacations To Go
or call (800) 338-4962 for current rates and details.
Send This Article to a Friend
Bookmark this Content
Digg it!
Reddit
Furl
del.icio.us
Spurl
Yahoo!