Sailing Silversea in the Mediterranean
A six-star cruise showcases coastal gems
in Greece, Montenegro, Croatia and Italy
By Elizabeth Armstrong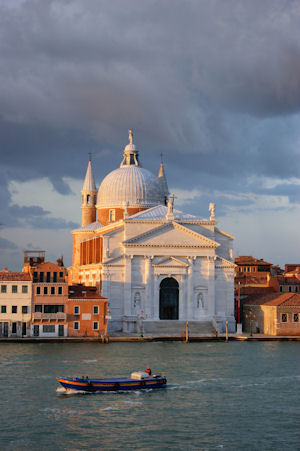 Elizabeth Armstrong
(Scroll down to see a slide show.)
O
n my list of life's loveliest moments, cruising into the Giudecca Canal ranks high. At dawn on an early September morning, I stood on the balcony of my suite aboard the
Silver Spirit
as it glided toward the dock in
Venice
. Under a pearl-gray sky, the distinctive Gothic, Moorish and Byzantine architecture shimmered in dreamy hues of rose, alabaster, terra-cotta and verdigris. Boats bobbed at their moorings, and a few citizens walked along the quays, getting an early start on their day in this city on Italy's northern Adriatic coast.
I dressed and scuttled up to Deck 9, where among the few souls out and about at that hour was a smiling waiter who offered me a flute of Champagne from the tray he was carrying. It seems the folks at
Silversea Cruises
also think that one's arrival in Venice is worth celebrating.
Venice was the ending point of a sailing that visited destinations in Greece, Montenegro and Croatia. Completed in 2009 and carrying up to 540 guests, the Silver Spirit is the newest and largest vessel in Silversea's six-star family. Its suites, all with ocean views, are the roomiest in the fleet, and most of them have private balconies.
The company attracts seasoned travelers who seek elegant surroundings, the camaraderie of a small ship, highly personalized onboard service and enriching experiences ashore.
Silversea's all-inclusive formula is especially appealing; you don't need to track daily bar tabs or calculate tips for the staff. Wines, Champagne, spirits, specialty coffees, bottled water and soft drinks are included in the cruise fare and served throughout the vessel. Gratuities also are covered.
The weeklong sailing began in
Athens
, a common starting point for voyages in the
Eastern Mediterranean
. I was traveling with my best friend and travel buddy, Cheryl, and we elected to fly in a day early and explore the Greek capital. Through recommendations, I found an excellent guide in Nikos Loukas of Private Greece Tours. Loukas arranged our transfer from the Athens airport to the Electra Palace Hotel for 55 euros (about $74), and the next morning he gave us a private, half-day tour of Athens, followed by transportation to the pier, for 180 euros (about $240).
It was well worth the expenditure to have the gracious, well-informed Loukas show us around his city. His itinerary hit the high points: the Acropolis (wear sturdy, rubber-soled shoes and tread carefully); the fifth-century Temple of Zeus; the Panathenaic Stadium, which hosted the first modern Olympic Games in 1896; and the Tomb of the Unknown Soldier, where our visit was perfectly timed to catch the changing of the guard. We ended the excursion in the Plaka, the oldest section of Athens. He gave us plenty of time to explore the picturesque neighborhood on our own. We wandered the pedestrian avenues, stopped for drinks and a snack at an al fresco cafe and spent time amid the ruins of the agora -- the heart of ancient Athens -- before returning to Loukas for the drive to the ship at Piraeus.
After a smooth check-in (one of the advantages of a small ship is that one rarely has to wait in line for anything), we were escorted to our accommodations, 376-square-foot veranda suites.
Down duvets and soft linens cloak the beds, and guests have their choice of nine pillow types. Each bathroom, outfitted in Italian marble, has a full-size tub that's separate from the shower. The walk-in closet provides ample hanging space, a chest of drawers and a safe.
Everything you could need for cocktail hour is supplied: corkscrew, Champagne cap, crystal tumblers and flutes, and swizzle sticks. Linen napkins, silverware and plates are placed alongside a basket of fresh fruit. Other amenities include a pair of binoculars, full-length mirror and 463 on-demand movies played on high-tech TV screens that have been seamlessly embedded in the mirrors of the bedroom and sitting area.
The line has found many ways to indulge its guests, but one of the greatest perks is the butler who will take care of you throughout your vacation. This person can unpack and pack your suitcases, make dinner reservations at the specialty restaurants, keep your bar and fridge supplied with favorite beverages, discuss any food preferences with the chef, arrange private sessions with a fitness instructor, polish your shoes, take care of laundry requests and stock the bathroom with your desired brand of toiletries (on my cruise, either Bulgari, Ferragamo or Neutrogena).
My butler, the always cheerful Rizza, nudged me toward wakefulness each day when she delivered my morning breakfast with a singsong "Good morning, Ms. Armstrong!" She provided plates of hors d'oeuvres for a small, in-cabin cocktail party and made sure that I always had a bottle of bubbly on ice.
Our first full day on board was spent at sea, giving passengers a chance to learn about their home for the coming week. Cozy nooks include a card room, a library and the Connoisseur's Corner for cigars and cognac. Deck 11 houses the Observation Lounge; I rarely came across anyone else there and found it to be a peaceful place to take in the view.
The main spots for socializing are The Bar, an Art Deco retreat near the reception desk, and the Panorama Lounge, perfect for watching the sunset or listening to after-dinner live music. There's a casino, an Internet cafe, a well-equipped fitness center and an 8,300-square-foot spa that offers blissful treatments like a coconut and frangipani body wrap and massages with heated basalt stones. The Silversea Chronicles -- the daily dispatch describing the day's activities -- listed tempting spa specials, such as a sampler of three treatments for $139.
Senior cruise director Fernando de Oliveira was the master of ceremonies for onboard diversions, whether he was leading classes in beginning Greek, Spanish and French or presenting a three-part lecture series on the grand luxury liners of the past. De Oliveira, who hails from Portugal and has been working in the cruise industry since 1974, estimates that he has about 8,000 vintage ship brochures.
La Terrazza serves buffet-style breakfast and lunch, as well as an elegant afternoon tea. At night, it's transformed into a romantic Italian a la carte restaurant, one of six dining options on the Silver Spirit. It's here that I sampled an incredible spaghetti alla carbonara that I dream about to this day, prepared with pasta made in the ship's galley.
Le Champagne offers a six-course tasting menu designed around a specific food item -- like asparagus, lobster or foie gras -- or region, such as France's Burgundy or Bordeaux. Stars recalls the glamorous supper clubs of the past, where a series of small bites is served to the sounds of a jazz band or singer. Seishin specializes in Asian fusion, sushi and sashimi. The open-seating main restaurant offers signature dishes created exclusively for Silversea by Relais & Chateaux chefs, and it always has vegetarian and low-calorie choices.
Without a doubt, the Hot Rocks experience at The Grill provides the most dinnertime fun. At outdoor tables, guests can cook their seafood or meat themselves on a heated slab of volcanic rock. Order lobster tail, prawns, filet mignon, New York strip or Australian lamb chops and let them sizzle away to the desired doneness.
Our first scheduled port of call was
Itea, Greece
, from where most cruise visitors take excursions to the ruins of Delphi. But a bridge repair near Itea's harbor made it impossible for the ship to pass. Capt. Marco Sangiacomo rerouted us to
Katakolon
, the gateway to another famed archaeological site, Olympia. Cheryl and I decided that we had filled our quota of crumbling columns and marble friezes in Athens, so we walked from the ship to the tiny waterfront town.
I had been to Katakolon in 2008 and was eager to pay a visit to my favorite jewelry shop there, Selini Jewels, owned by American Carolyn Walden-Giatras. It's on Latsis Street, set apart from the main drag (where aggressive merchants hawking their wares outside their shops are an unfortunate distraction). Walden-Giatras, an ABC journalist who met her Greek husband while on assignment in Cuba, has an eye for the unique and stocks her store with artistic pieces made of beads and semiprecious stones. Her collection of glyptic jewelry, which reproduces the ancient Greek art of engraving on gemstones, is especially striking.
The next morning, silvery slopes rising from gunmetal seas came into view as we cruised to
Corfu
, where we joined a group of fellow passengers for the "Taste of Corfu" excursion. Also called Kerkyra, this is the northernmost of the Ionian Islands. A narrow channel separates it from the western coast of the Greek mainland and a sliver of southern Albania.
We followed the eastern coast, past hills studded with salmon-colored homes. The touring bus turned west, cutting across an interior carpeted with cypress trees, oleander bushes, almond and fig trees, and olive groves. Now on Corfu's western edge, we caught glimpses of secluded, deep-blue coves, and we passed low-key tourist hamlets comprised of small hotels, scooter rental shops and grocery stores.
We spent time at the 13th-century Paleokastritsa Monastery, built on a high, rocky perch and still inhabited by monks -- as well as a few scrappy cats. Fuchsia bougainvillea climbed the walls, and clusters of grapes hung from pergolas in the terraced gardens.
Next, we headed to Kinopiastes for lunch at Taverna Tripa, which claims to count Francois Mitterand, Jane Fonda, Aristotle Onassis and Anthony Quinn among past guests. The eatery has been in business since 1936, and looks the part. Dusty old bottles line the shelves, yellowing snapshots cover the walls, and an old Victrola phonograph sits in a corner. Waiters brought us a steady stream of hearty Greek comfort food: grilled pork sausages, the stuffed grape leaves known as dolmas, green salad, slabs of feta cheese and tzatziki, a tangy dip of yogurt, garlic and cucumber. As we ate, a young man and woman in traditional costumes performed folkloric dances.
Continuing its northbound course, the Silver Spirit reached the Dalmatian coast, where it would call at two cities:
Kotor
in Montenegro and
Split
in Croatia.
Montenegro is one of the six republics that formed Yugoslavia. When that country finally dissolved in 1992, Montenegro and another state, Serbia, remained together as part of a smaller Yugoslav federation. Montenegro gained full independence on May 21, 2006. "Our hope for the future," said our guide for the day, Dukan, "is to build tourism."
The country, which would fit inside Connecticut, boasts five national parks, mountains, lakes, rivers and a pretty coastline punctuated with gems like Kotor, whose beautiful medieval architecture earned it a spot on the UNESCO World Heritage Site list. Dukan noted that the nation's tourism leaders hope to turn Montenegro into a luxury getaway. "It's easier to build five five-star hotels than 20 three-star hotels," he said.
Streets and alleys of polished flagstones weave through the attractive, walled old town, which was built from the 12th through the 14th centuries. Around every corner there seemed to be an oddly shaped little plaza occupied by cafe tables. Some of the squares are named for the commodity that was once produced or sold there: the Square of Weapons, the Square of Milk, the Square of Bread.
Highlights of our two-hour walking tour included the Romanesque Cathedral of St. Tryphon, with its 14th-century frescoes, and a maritime museum housed in Grgurina Palace. This introduction helped us get oriented in Kotor, so that afterward we could wander on our own and stop in a cafe for a glass of Niksicko, the national beer. The Silver Spirit docked right outside the city fortifications, so it was an easy stroll back.
We pulled into Split at 8 a.m. the next day, joining several ferries from the Jadrolinija company, which carry vacationers from Bari and Ancona, Italy, to the Croatian islands. The region's history as an alluring place of leisure can be traced to A.D. 295, when Roman emperor Diocletian began constructing his vast retirement palace here. Visitors can walk the palm-lined seaside promenade, called the Riva, or explore the old town, which lies within the walls of Diocletian's retreat.
Sixteen Silversea passengers chose an active excursion that day: canoeing the crystal-clear waters of the Cetina River. The three-hour trip provided ample thrills for a novice like me, slipping over rapids of first- and second-degree levels of difficulty. A picnic lunch on the riverbank followed, where we filled up on sausages, pork chops, grilled zucchini and peppers and thick slices of country bread, with Croatian beer to wash it down.
About 227 nautical miles later, we arrived at the San Basilio dock in Venice. Knowing that shore excursions typically offer immediate entry to highly popular sites, allowing cruisers to avoid long lines, Cheryl and I signed up for a guided visit to the Doge's Palace and St. Mark's Basilica. A private boat picked up our group near the ship and delivered us to our guide, the engaging Emanuela, who brought Venetian history to life.
She painted a vivid picture of Venice during the time it was a powerful maritime republic, from the Middle Ages through the Renaissance. According to Emanuela, this was a time of intrigue, duplicity and competition. She described an elaborate system of checks and balances that prevented any one person from wielding too much power. "Everybody was controlling everybody, and nobody trusted anyone," she said.
Built in the 14th century, the Gothic-style Doge's Palace was the home of the duke who served as leader of the Venetian Republic. He too came under close surveillance and could not open mail, receive visitors or travel without his counselors present.
At the palace, Emanuela pointed out the gargoyle-like, marble mail slots that once received
denontie secrete
, secret denunciations made by Venetians against their fellow citizens. She asked us to look closely at a painting that depicted its subjects amid rich brocades, silks, gold, jewels and glass. This was carefully planned marketing for the city, she said, intended to convey to visitors the wealth and power of Venice.
Next we entered St. Mark's Basilica. In the year 828, two Venetian merchants stole the remains of St. Mark from the Egyptian city of Alexandria and transported them back to Venice, where they rest today in the famous basilica of the same name. Emanuela noted this as the beginning of Venice's long history of trying to one-up Rome, which possessed the remains of St. Peter.
The basilica's interior is glorious, covered in 75,000 square feet of gold tile and mosaics. But here, too, the Venetians could not pass up a chance to outdo Rome: While the green marble bishop's pulpit is more ornate, the doge's pulpit is actually the more expensive one, made of a costlier red marble.
It sounds like the nobility of Venice faced their fair share of tribulations. Fortunately, the pampered set of passengers aboard the Silver Spirit had no such concerns. On our last evening aboard the ship, we dined on six-star cuisine, delighted in being remembered by name by the attentive staff, and drained the last drops of our complimentary Champagne. We reveled in the luxury of being a Silversea guest, knowing it might be a long time before we were so superbly cared for again.
Information:
The
Silver Spirit
begins the year with a 120-night
world cruise
that departs Los Angeles on Jan. 20 and ends in Southampton, England, on May 19. Passengers can book
segments of the voyage
that range from 12 to 60 days.
Following that, it will resume regular sailings of the
Mediterranean Sea and Greek Isles
through October, then move to the
Caribbean
for cruises through December. Leading travel discounter Vacations To Go offers attractive pricing for Silversea departures, slashing brochure rates by 50 percent and more. For information, visit
Vacations To Go
or call (800) 338-4962.
The information in this story was accurate at the time it was published in January/February 2011.
Send This Article to a Friend
Bookmark this Content
Digg it!
Reddit
Furl
del.icio.us
Spurl
Yahoo!