Sailing Celebrity Solstice
This ship wins fans with its superb culinary offerings
and thoughtfully designed staterooms
By Dai Huynh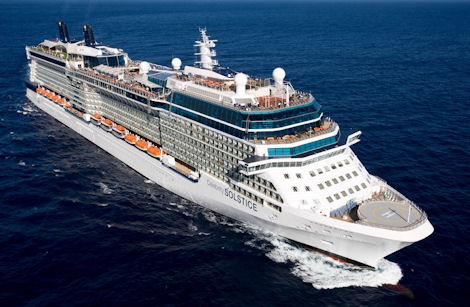 Michel Verdure/Celebrity Cruises
(Scroll down to see a slide show.)
T
he Celebrity Solstice departed from Fort Lauderdale, FL, for the Eastern Caribbean on a cloudless, 91-degree Sunday afternoon. Anticipation thickened the air as the German-built, 122,000-ton
Celebrity Cruises
ship cleared the dock at Port Everglades amid cheers and whistles. I craned my neck to watch my fellow passengers revel in privacy on their balconies as palm-lined Florida glided by.
While boarding, the first thing I had noticed was the abundance of balconies wrapped around the
Solstice
. A whopping 85 percent of staterooms boast verandas, and two decks below, 30-something friends were toasting the start of their journey with Champagne. Nearby, a floppy-haired toddler pealed with laughter as his father pointed to an osprey snatching a fish from its watery depth. With the sun high overhead, the sea sparkled like sapphires, and I could have whittled hours away staring at whitecaps. But it was well past noon, and my stomach was growling.
I was eager to explore all 10 Solstice dining venues. Celebrity has had a stellar food reputation ever since the cruise line hired chef Michel Roux to supervise its menus in 1989. Roux and older brother Albert revolutionized food in England at Le Gavroche, the first British restaurant to capture three Michelin stars. The younger Roux also is credited with helping start the trend of acclaimed chefs teaming up with cruise lines. Nowadays it is commonplace, with Nobuyuki "Nobu" Matsuhisa overseeing some of the menus for
Crystal Cruises
and Jacques Pepin, as executive culinary director, supervising the gourmet offerings aboard the four-ship deluxe line
Oceania Cruises
.
In 2007, Roux passed the baton to Jacques Van Staden, who was nominated for a "Rising Star Chef of the Year" award from the James Beard Foundation. As Celebrity's vice president of food and beverage operations, the South Africa native is the culinary force behind the Solstice class of ships.
After launching with fanfare in the fall of 2008, Celebrity Solstice garnered accolades from travel critics for innovation and personalized service. "Wow" and "spectacular" were how writers described the ship. I wanted to see for myself. Two more Solstice-class vessels have debuted since the Celebrity Solstice's maiden voyage:
Celebrity Equinox
in 2009 and
Celebrity Eclipse
in 2010.
Celebrity Silhouette
will debut in July 2011, with an inaugural sailing from Hamburg, Germany, to Civitavecchia, Italy, the port for Rome. A fifth, final Solstice-class ship is scheduled for 2012.
Through next April, Celebrity Solstice will tour the
Eastern Caribbean
, with a few forays to the
Western Caribbean
worked into the schedule. For most of May through October, it will circle
Europe
. Because the turquoise-blue seas of the Eastern Caribbean were uncharted territories for me, I chose that sun-splashed itinerary with stops in
San Juan, Puerto Rico
;
St. Thomas, U.S. Virgin Islands
; and
Philipsburg, St. Maarten
. But before our first port of call, a day of sailing allowed me to decompress from hours of flying from Houston to Fort Lauderdale.
With the Solstice traveling at about 24 knots, or roughly 28 miles per hour, Fort Lauderdale was a speck by the time I went foraging for food. I bypassed the buffet lines at the Oceanview Cafe on Deck 14 for Bistro on Five, a casual crepe and sandwich shop next to dessert-and-coffee hub Cafe al Bacio and Gelateria on Deck 5. I wouldn't have known to go there if it weren't for some insider information from Harry Shattuck, former travel editor of the Houston Chronicle and a veteran cruiser who has sailed on the Solstice. "Everybody is going to be at the Oceanview Cafe until they get acclimated with their dining choices, which there are many," he said. "But few will think of making the creperie their first stop, so you'll be able to breeze right in and avoid the crowds."
I was grateful for the solitude of Bistro on Five, populated by just a handful of diners. As I sat at a window-side table, losing myself in the waves, tensions unraveled like a spool of thread. Occasionally, I turned my attention to the crepe maker spreading batter onto two large, round griddles with a long aluminum spatula. In the Brittany region of northwest France, where crepes originated, a lunch of a savory crepe with a glass of juice would run me about $15. Here, for a $5 service charge, I could have a salad, one or more crepes, dessert and coffee or tea. It was a bargain, and my deftly seasoned crepe arrived oozing mozzarella cheese and stuffed with juicy roasted chicken, sun-dried tomatoes and basil pesto.
Later that evening, I dined at Blu, billed as a "clean cuisine" restaurant. Reserved for guests staying in the 130 AquaClass staterooms, this elegantly designed venue borrows from spa cuisine, using minimal cooking oils and creams to allow flavors of fresh ingredients to shine. Baby vegetables are lightly poached and anointed with lemon oil. Meats are grilled or sauteed. The streamlined approach is set against a stunning backdrop, dominated by a singular white rose sculpture that appears to emerge from the wall. This rose-in-bloom motif is amplified at the entrance, where floor-to-ceiling cubbyholes are stuffed with fresh white roses.
While Blu emanates cool elegance, the main dining room, Grand Epernay, soars with Hollywood glamour. It evokes ballroom grandeur, shimmering with silvery pillars and an Art Deco-inspired elliptical chandelier. A spectacular two-story crystal wine tower contains more than 1,100 bottles. Futuristic and majestic, the dining room offers a menu that showcases timeless dishes from around the world, such as France's coq au vin and Italy's osso buco.
Complementing the all-you-can-eat multicultural buffet at the Oceanview Cafe (my favorite for late-night noshing) and Grand Epernay, four specialty restaurants are conveniently clustered at the rear of Deck 5. In addition to Blu, there's Murano, which emulates four-star Manhattan dining and white-glove service to go with updated French classics. The four-course meal I had with the sauteed Muscovy duck breast and raisin-apple compote was on par with many high-end restaurants. The difference was that I paid $35 on the Solstice, compared to three times that much in New York.
The same can be said of Silk Harvest, which charges $25 per person. The attractive lantern-lighted eatery blends Chinese, Thai and Japanese aesthetics to reflect the various Asian cuisines fused on the menu. And a favorite of several fellow passengers was the Italian steak house Tuscan Grille, for $30 per person. This handsome restaurant takes up the aft of Deck 5 and boasts an incredible view of the ocean. I found myself here on my last night, forking into the most tender veal parmigiana while watching the ship create complex wake patterns in the deep blue sea. The relaxing tempo mirrored my first morning aboard the ship, when I enjoyed breakfast in bed.
I'm not a morning person, preferring sleep over breakfast. But during my seven-day sailing, I made a point to get up for room service. No one can deny that eating is a major activity on a cruise ship, and for me, it was morning, noon and night. At about 9:30 a.m., I would hear a soft knock on my door. Moreno, the attendant assigned to my stateroom, would greet me with a cheery "Good morning, ma'am!" as he expertly balanced a tray stacked high with fresh fruits, croissants, bagels with smoked salmon and cream cheese, crispy bacon, sausages and eggs.
I indulged extravagantly because there was no limit to how much I could order, but the thing I looked forward to most was the pot of freshly brewed coffee, which arrived steaming hot every morning. Yes, it was that good, and even when I decided to peruse the breakfast buffet at the Oceanview Cafe, I always ordered coffee to be delivered before I ventured off. Most days, however, I had breakfast on my 54-square-foot veranda, watching the waves catch the morning light.
The hearty breakfast jump-started days spent sightseeing ashore. In Puerto Rico, the cobblestoned streets of
Old San Juan
teem with restaurants and shops. A fellow passenger told me that he visits the city once a year because of its large concentration of art galleries and museums. Our second stop, St. Thomas, boasts breathtaking beaches, and I was especially enamored by the clear, turquoise-blue water at Sapphire Beach, an intimate enclave on the island's east end.
French
St. Martin
and Dutch
St. Maarten
share an island, and the most famous stretch of sand here is Orient Beach, where clothing is optional. The Solstice anchored in Philipsburg, St. Maarten, where some visitors took their chances at the casinos. I opted for a 20-minute taxi ride to Marigot, capital of the French side, which is famous for Creole restaurants and ornate homes that resemble precious wedding cakes. Looking for lunch suggestions after a little outdoor shopping at the Marigot Market, I walked over to the taxi stand, where all the characters seemed straight out of central casting. After a few rounds of jokes, the drivers pointed to Enoch's Place across the street. There were several restaurants on the block, but this spot on the corner with the blue-and-white-striped awning seemed busiest. After sampling the fried sweet plantains, curried goat and grilled snapper fresh off the boat, I could see why tourists and locals come here for genuine Caribe cuisine, particularly the homemade rice and beans.
On sea days, I roamed the Solstice, familiarizing myself with the layout. The ship can carry up to 2,850 guests, and this particular cruise was near capacity, said Capt. Yannis Berdos. I was surprised, because often, I wondered where everybody was. In the huge fitness center, spa, dining venues, bars, pools and 18 shops, passenger flow was smooth. I was especially impressed with the staterooms, designed with input from a group Celebrity dubbed its five "leading ladies," including a frequent cruiser and a first-time cruiser. This panel suggested large, well-lighted bathrooms with lots of storage space. They also pushed for floor-to-ceiling glass doors for the shower. Celebrity listened and even built a leg-shaving ledge.
I was concerned about packing too much, having been warned about the tight closet space on cruise ships. There was plenty of room to accommodate my belongings and dozens of toiletries. The AquaClass staterooms were designed for spa-minded individuals and are located just below the spa and fitness area. AquaClass guests have access to Blu, which serves dinner and healthy continental breakfast. Passengers booking these accomodations also can use the Relaxation Room, which overlooks the ocean at the front of the ship. Other perks include an AquaClass-dedicated TV channel of soothing, meditative tunes recommended by music therapists. These guests also receive daily complimentary bottled water, afternoon canapes and iced tea, along with fresh fruits and flowers.
The fitness center boasts state-of-the-art equipment, along with a staff to answer questions. Celebrity Solstice places emphasis on health and well-being, and there were plenty of free self-improvement classes, such as an introductory seminar on acupuncture and daily morning stretches. You also can pay for private lessons or sign up for one of many group programs for a minimal fee. I learned, however, that the classes fill up quickly, and by the end of the first day, almost all were full.
A concern of mine was that I might have too much time on my hands. That was never the case. There were plenty of ways to keep busy during the weeklong sailing, and in the blink of an eye, we were back in Fort Lauderdale all too soon.
One of the most unique aspects of the Solstice ships is the carpet of grass on Deck 15, developed to withstand salt, wind and temperature variation typical of sea voyages. Upon hearing about it, I waved it off, giving it little thought. What's a little patch of grass? But on board, the splendor of the greenery was undeniable in the evenings when I took off my shoes and felt the cool blades between my toes. The scent of grass and briny air was a pleasant and foreign juxtaposition. In daytime, families gathered upon the lawn to play bocce ball and toss beanbags, their laughter ringing across the half-acre expanse, while avid golfers practiced their swing on the putting course. Nearby, the artisans for the daily Hot Glass Show geared up for the evening event, a collaboration with the Corning Museum of Glass.
Come nighttime, when temperatures drop and sea breezes cool warm cheeks, this show attracts a large crowd. Arrive early for a seat and watch a master glassblower create something wonderful.
A lanky young man pours bags of broken glass into the furnace. With temperatures soaring to 2,100 degrees Fahrenheit, the shards quickly morph into liquid lava. The blower, also known as the gaffer, deftly collects melted glass onto his blowpipe. It first resembles a lightbulb, glowing hot red. Fluidly, the gaffer rolls the pipe and blows through the hollow steel tube to form the desired shape. He manipulates the glass, using graphite paper to protect his hand, and reheats it in the furnace several times until the object takes form, perhaps as a candy bowl or a goblet.
The nightly shows last about an hour, and the best part arrives at the end, when the finished product is given to a delighted member of the audience. I was never one of the lucky ones, but I still consider myself lucky to have sailed on the Solstice.
Information:
The
Celebrity Solstice
will sail round-trip weeklong
Eastern Caribbean cruises
from Fort Lauderdale until late April 2011. Some
Western Caribbean itineraries
also are available. At press time, cruise discounter Vacations To Go offered rates as low as $599 per person for an inside cabin, based on double occupancy, for several departures this year. Beginning in May 2011, the Solstice will sail 12-day
Mediterranean cruises
round trip from Barcelona, Spain, and it returns to the Caribbean in November. For information on upcoming Solstice trips, visit
Vacations To Go
or call (800) 338-4962.
The information in this story was accurate at the time it was published in September/October 2010. Please visit
Vacations To Go
or call (800) 338-4962 for current rates and details.
Send This Article to a Friend
Bookmark this Content
Digg it!
Reddit
Furl
del.icio.us
Spurl
Yahoo!