Modern Cruising on the Norwegian Epic
Sample the extraordinary entertainment
and cutting-edge spirit of this blockbuster ship
By Alexis Hilts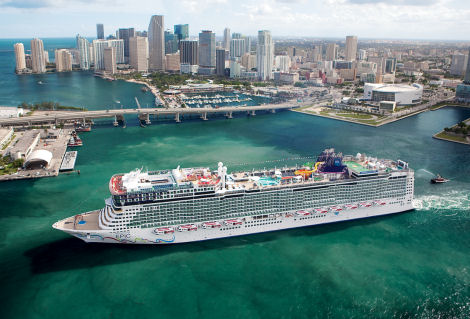 Norwegian Cruise Line
(Scroll down to see a slide show.)
B
y the time we were covered in reams of toilet paper, I was ecstatic. I had never seen Blue Man Group, but the excited chatter at the start of the show signaled that others in the audience had, and loved it. The painted trio made its debut at sea on the much-anticipated
Epic
from
Norwegian Cruise Line
, and even before this night's show reached the one-minute mark, passengers were cheering.
Initially dubious of what seemed to be an overeager crowd, soon I, too, was giggling and clapping, eyes wide as neon paint splattered the stage, taken in by the fun factor of the performance. What made Blue Man Group so engaging, I would later realize, was also what made the entire Epic cruise a success: It was so well-orchestrated it could accommodate spontaneity without missing a beat.
As two first-time cruisers, my fiance, Rob, and I didn't know what to expect when we booked a weeklong
Western Caribbean
trip aboard the 4,100-guest Epic. I imagined my journey across the high seas as part of a long tradition of maritime exploration, only with better sanitation and pina coladas.
But from the moment I glimpsed NCL's newest and most elaborate vessel awaiting us in
Miami
, it was clear: This was a floating metropolis. Sailing for the first time in the summer of 2010, the 19-deck Epic has 20 dining venues, many bars and lounges, three waterslides, two bowling alleys and a rock-climbing wall, for starters. The Epic also has set a precedent for cruise-ship productions by snagging widely acclaimed acts such as the above-mentioned Blue Man Group, the dueling pianists of Howl at the Moon and the aerialists of Cirque Dreams, creating a little slice of the big time at sea. In the words of production manager John Lowe, "This ship is built for entertainment."
And I would have to agree. Passengers can select the act that matches their mood for the evening, from soulful blues at cozy Fat Cats to The Second City comedy improv troupe at Headliners (on Caribbean sailings only). We saw five performances on our trip and felt we barely scratched the surface. But it is not just the showtime lineup or the number of restaurants that give the Epic its cosmopolitan appeal -- it's the efficiency of its design and operation.
Within 20 minutes of stepping out of a cab at the Miami cruise terminal, we found ourselves lounging on the ship, drinks in hand. Once the announcement came that the cabins were ready, we made a beeline for
Deck 12
and our new digs. Cruise ship staterooms can be notoriously low on space, especially storage, but the Epic's sleek accommodations had more than enough room for our belongings, with two closets, a set of drawers and extra capacity under the bed. Curved walls and mod colors made the quarters feel clean and contemporary, and the feather-quilted bed got the insomniac's seal of approval when Rob awoke on Day 2 and proclaimed his first sleep at sea "felt like heaven" (no exaggeration).
In this city on the ocean, our balcony was the place where I most felt the call of the sea. Before breakfast or late at night, I'd slip out and watch the waves swirling beneath us, miles stretching without land in sight. The marvel of the modern cruise experience is that you can feel you're at the center of activity while you're actually so far away from it all.
It was during our first full day at sea that I discovered I have two cruising vices: eating and gambling. Having been warned about the diet-busting, all-you-can-eat environment on ships, I was sure I'd be able to exercise some self-control. Part of NCL's draw is the freestyle approach to dining -- you eat when you want, where you want. But somewhere between the mozzarella sticks at O'Sheehan's Bar and Grill and the sundae setup at the Garden Cafe, I realized that I might return home a little heavier than I'd intended. I just didn't plan on cruise food being so good.
In an attempt to burn off a few calories, I put on my workout gear and headed straight to the gym. Well, not straight to the gym so much as straight through the casino, where I was derailed by a sudden lucky feeling. I quickly became fixated on spinning cherries, hardly noticing my money decreasing in five-cent increments. Tip: Hitting the casino can be a fun part of your vacation, just plan a budget beforehand to avoid the awkward moment when you must inform your fiance that you lost $90 in two hours of nickel slots.
All was forgiven by the next morning when we got off the ship in
Costa Maya
, a Mexican port built specifically for cruise ship visitors. In this brightly colored tourist enclave, passengers can nap in a hammock, browse souvenir shops, grab a bite to eat and hang out in a pool with a swim-up bar, all right at the end of the dock. But we were bound and determined to have our first onshore experience farther afield, so we boarded a bus headed for the beach.
Despite a persistent drizzle, we took advantage of our first opportunity to wade into the ocean, sugary soft sand between our toes. It had been a while since my last tropical vacation, and I'd almost forgotten how pleasant it is to soak in the Caribbean Sea.
The pretty patch of Costa Maya, however, was just a warm-up for the stunning stretch at our next port of call,
Roatan
. Roughly 40 miles off the coast of Honduras' mainland, the largest of the Bay Islands is blessed with dazzling turquoise waters and a piece of the second largest barrier reef in the world, the Mesoamerican Reef. We opted to spend the day at the Mayan Princess Resort along West Bay Beach, where we immediately accepted a local guide's offer to take us snorkeling.
We hopped in his small speedboat; the ride to the reef was just long enough to strip to our suits and slip on a pair of fins. I jumped in, felt the refreshing cool engulf my body and peered through my mask at the scenes below. The water was so clear I could see the spines of a flame-colored starfish resting at the sandy bottom. We glided over a lunchtime feast attended by all the local stars: elegant French angelfish, colorful clown-faced parrotfish and skittish peacock flounder mingling with four-eyed butterfly fish and bright blue chromis.
Submerged in the resort's hot tub after our excursion, we found ourselves hatching a plan to sell all our possessions and open a simple dive shop on the beach. Roatan has the kind of dreamy scenery that makes it hard to imagine going back to real life.
Though we didn't immediately have to return to our day-to-day pace, we did need to make our way back to the ship, where we'd reserved a spot at Cagney's Steakhouse. Thick curtains, wood trim and black-and-white photographs of Chicago's urban landscape gave the impression of a chic supper club, a romantic spot for a midtrip date night. Soon after we made our selections from the menu, though, the onset of a migraine sent Rob fleeing back to our room in search of meds.
After a few minutes, the assistant maitre d', Vaz, noticed I was alone and came to check on me. Once I informed him of the last-minute snafu in our plans, he stayed to keep me company with stories of his onboard adventures. In a second act of chivalry (or just really good customer service), my waiter, Virgilio, brought a phone so I could make sure my date had not passed out from pain.
The friendly service paralleled the cuisine. I savored my dish of perfectly cooked filet mignon, along with a glass of wine and, eventually, my revived companion upon his return.
We set aside the next at-sea day for our own personal rejuvenation rituals, me in the spa and Rob in our room with a Gibson guitar. One of Epic's unique perks is the Check In and Rock Out program, where you can rent an electric guitar, headphones and amp for your own private jam session.
After arriving at the spa, I was whisked to a cozy room where a massage therapist prepared for my treatment. "This is usually something we do for football players," she said, brandishing the thick wooden rod she would use for my bamboo massage. Noticing my slight look of concern, she suggested a combination of kneading and lighter bamboo techniques for my hourlong treatment. Agreeing that this was probably best, I lay down and let the stress flow from my body.
The Mandara Spa is the largest at sea, boasting more than 31,000 square feet of tension- and calorie-combating space. Rows of elliptical machines, treadmills and stationary bikes, as well as weight-lifting equipment, stability balls and a punching bag await cruisers hoping to fend off the effects of all-day eating. And for those looking for pampering, the spa area offers 24 treatment rooms, two private couple's villas, steam rooms, hydrotherapy and a full-service salon.
By the time we docked in
Cozumel
the next morning, our vacation was winding down and we were looking for something laid-back and low-key. Naturally, we chose Senor Frogs during spring break. In our defense, neither of us had ever been to the famous party spot, so we did not know that our "beer or two" would turn into several yard-long frozen margaritas consumed next to a conga line of college students getting tequila poured down their throats. Needless to say, we inhaled a huge plate of nachos and I ended up on the dance floor with our waiter.
Back on the ship, after a power nap and a gallon of water, we were refreshed and ready for our final big night out. Our specialty dining choice for the evening was the Epic Club, a glittering gourmet venue reserved for guests in suites and two-bedroom family villas. Here, a lounge with oversize chairs, plush fabrics and metallic accents leads to a more sedate, upscale eatery. Among the offerings are a delectable butternut squash soup and a dessert called "a tasting of chocolate," with white chocolate creme brulee, chocolate and praline cake and a tiny milkshake. The club also serves complimentary cocktails.
Our hunger sated, we made our way to the Epic Theater for the last production of our cruise vacation, Legends in Concert. Originally a Las Vegas act, the tribute revue now is an international sensation. I'm not normally inclined to sign up for a night filled with celebrity impersonators, but I felt that -- outside of Sin City -- the Epic might be the best place to check it out. And sure enough, when DeNita Asberry stepped out, it was vintage Aretha Franklin, straight from the 1960s. There is only one Queen of Soul, but Asberry's voice had a power that was so striking I found myself wondering how I had not heard of her earlier.
The other two acts were equally expert at their craft. Karin Lawson nailed the high-energy dance moves that made Janet Jackson's music videos so hot in the '80s and '90s, and Will Paul brought on the charming cheese of Neil Diamond, resplendent in blue sparkles and bell-bottoms.
As we marveled at one final rock medley, lithe dancers pouring onto the stage behind the uncanny artists, it struck me that at the same moment the Epic was setting a course for home. Later, as we cuddled up with a movie and curbed our late-night munchies with room service, the vessel was steadily navigating the seas, unhindered by the darkness of nightfall or vast stretches of solitude.
Epic Cruising
The
Norwegian Epic
will sail round-trip, weeklong
Western Mediterranean cruises
from Barcelona, Spain, until mid-October. At press time, cruise discounter Vacations To Go offered discounted rates starting under $800 per person for an inside cabin, based on double occupancy.
On Oct. 23, the Epic will make a 13-night
trans-Atlantic trip
from Barcelona to Miami, where it will embark on seven-night
Caribbean sailings
through early April 2012. It returns to
Europe
the following month. For more on upcoming Epic voyages, call (800) 338-4962 or visit
Vacations To Go
.
The information in this story was accurate at the time it was published in July/August 2011. Please visit
Vacations To Go
or call (800) 338-4962 for current rates and details.
Send This Article to a Friend
Bookmark this Content
Digg it!
Reddit
Furl
del.icio.us
Spurl
Yahoo!