Make the Most of Your Megaship
Industry experts have the inside scoop on the best events
and amenities aboard these resorts at sea
By Brent Stoller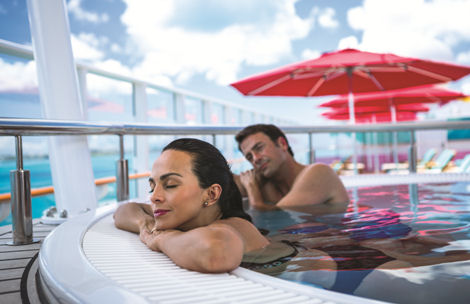 Steve Beaudet/Norwegian Cruise Line
H
igh-wire ziplines. Signature steak dinners. Productions worthy of a Broadway marquee. Sunset cocktails amid cool ocean breezes. Today's megaship cruises offer every type of experience imaginable, from heart-thumping adventure to blissful serenity. There's never been a better time to be a passenger, because once you set sail, you can do anything you want.
On the other hand, you can do anything you want, which makes it that much harder to decide what to do. As ships have gotten bigger, so has the challenge of determining how to organize your time at sea. There are more restaurants to try, more friends to meet, more activities to enjoy, more fun to have.
With so much to do and so little time in which to do it, where do you even begin?
As with any journey, it starts with devising a plan. According to Rai Caluori,
Princess Cruises
' executive vice president of guest experience and product development, the first step of that plan is, counterintuitively, resignation. "You have to accept that you're not going to be able to do everything, because there's too much to do and too much to see," he says.
The
Royal Princess
and
Regal Princess
, which comprise the line's Royal class, accommodate 3,560 passengers each but were constructed to seem more intimate. "A big ship with a small feel -- that was our methodology," Caluori says. "We designed smaller spaces, so you never feel overwhelmed."
While these megaships' layouts won't intimidate, their menu of activities and amenities might. And that's what makes step two of the plan so critical: prepare ahead of time.
"Part of the beauty of the vacation is planning it," says Andy Stuart, president and chief operating officer for
Norwegian Cruise Line
, whose Epic-, Breakaway- and Breakaway Plus-class ships feature exhilarating water parks and first-class casinos. "There are great opportunities to look at all the choices and think about how to enjoy them before the cruise."
Vicki Freed, senior vice president for sales and trade support and service at
Royal Caribbean International
, suggests identifying your trip's purpose. "What are the most important things you're trying to get out of this vacation? What do you like to do the most?" she says. That could be sunbathing by the pool, rejuvenating at the spa or attending nightly theater productions.
That also could be exploring the cities where you dock. The 3,936-passenger
Carnival Vista
from
Carnival Cruise Line
, for instance, debuts this spring with sailings that visit
Rome
,
Barcelona
, the Croatian resort city of
Dubrovnik
and other European gems. "There's a lot of port time," says Butch Begovich, Carnival's manager of entertainment experience. "Being able to plan and pre-book your shore excursions will ensure you get on the experiences you want."
Wherever your desires lie, reviewing your cruise line's pre-trip communications will help you prioritize how you're going to spend your time and what reservations need to be made. This establishes the structure and pace for your sailing. When Freed takes her annual family cruise over the holidays, she makes sure to book a table for New Year's Eve at Chops Grille, Royal Caribbean's premier steakhouse.
"It's a little bit like going to a city -- nobody would fly to Paris without doing research," Stuart says. "You'd look at restaurant choices. You'd look at different entertainment options. You'd look at what's available to make the most of your stay. These big ships are no different."
Experts recommend continuing this research even after you've set sail. In addition to daily bulletins outlining onboard activities, events and other information, major cruise lines like
Princess
,
Norwegian
and
Royal Caribbean
offer downloadable apps that keep you abreast of shipboard happenings, let you communicate with fellow travelers and allow you to manage dining and entertainment reservations. Carnival's Hub app, Begovich explains, can be filtered so that it highlights opportunities that most interest you. "If you're a person who likes the spa, or specialty restaurants, or who likes to shop, you can favorite these different topics, and it will personalize a daily schedule for you," he says.
Because of the diverse offerings of larger liners, Caluori says, the traditional schedule of dinner in the main dining room and entertainment in the big theater is simply one option -- not the only option.
For foodies, specialty spots like Norwegian's tapas-style Food Republic dot the to-do list, providing world-class cuisine in an atmosphere befitting birthday and anniversary celebrations. Celebrity chef Michael Schwartz, a James Beard Award winner, brings seasonal tasting menus and wine pairings to Royal Caribbean's Oasis-class ships at 150 Central Park, while Princess' Royal-class passengers feast on zesty pastas and seafood at Sabatini's Italian restaurant. On the Carnival Vista, Ji Ji Asian Kitchen satisfies appetites with fusion dishes such as braised pork belly and slow-cooked duck.
Not surprisingly, travelers of all ages have no trouble keeping busy between meals. Onboard children's centers accommodate everyone from infants to teens, providing recreation and designated hangout areas. Supervised by trained staff, kids enjoy rock climbing, scavenger hunts, dance parties, cake decorating and more, all with peers within their age group. Stuart urges parents to register for these programs first thing, so children can participate as much or as little as they'd like throughout the cruise.
Begovich calls the
Carnival Vista
the line's most family-friendly ship, with attractions like SkyRide, a strap-in bike course that circles above SportSquare, a one-stop shop for billiards, mini-golf, pingpong and other good-natured competitions.
Thanks to its partnership with DreamWorks Animation, Royal Caribbean features parades starring Shrek and his fellow movie characters as well as, on the Allure of the Seas, The Madagascar Aqua Show and How to Train Your Dragon Ice Show. In the Illusionarium, located on the
Norwegian Getaway
, magicians and mentalists wow audiences with reality-defying sleight of hand and special effects.
"We've started to shift away from typical cruise ship entertainment to something that could be well received in Las Vegas or Broadway," says Stuart of Norwegian's theatrical slate, which includes acclaimed musicals "Rock of Ages" and "After Midnight." Royal Caribbean showcases can't-miss classics "Mamma Mia!" and "Grease," and Freed suggests reserving one night for the high-diving, aerial acrobatics displays in the AquaTheater on the Oasis vessels.
As if dueling pianos in Crooner's Lounge and Bar weren't electrifying enough, Princess turns to its guests to hit the high notes. Inspired by the popular reality series, "The Voice of the Ocean" competition is staged on the final night at sea to identify the best singer on the ship. "It's a passenger talent show on steroids," Caluori says. "The buildup is entertaining, because we hold auditions throughout the cruise via karaoke sessions."
Laughter fills the air in Carnival's Punchliner Comedy Club, with shows influenced by the line's "comedy curator," celebrity stand-up George Lopez. Begovich also recommends attending any activities spearheaded by the cruise director. "Whether it's the welcome aboard show, the Love and Marriage' game show or the deck parties they host, it's sure to be a fun time and draw a big crowd," he says.
Though some travelers prefer a get-up-and-go vacation, others relish the chance to downshift from the daily grind. That might seem difficult to do given these megaliners' constant activity, but there are places dedicated to the concept of peace and quiet.
Complimentary adults-only zones like Royal Caribbean's Solarium commonly are filled with comfortable loungers, calming waterfalls, light snack fare and the sound of (near) silence. Or, for a nominal fee, more relaxation awaits inside a host of exclusive retreats;
Norwegian Escape
passengers visit the Vibe Beach Club to soak in the oversize hot tub, then refresh with water spritzers and cocktails from the full-service bar. At The Sanctuary, amid vibrant foliage and ocean views, Princess stewards serve healthy refreshments, frosty face towels and personal MP3 players as massage therapists knead away your stress in private cabanas.
"If you're a spa person," Freed says, "you want to make at least one specialty reservation in advance," because prime appointment slots fill quickly, especially on sea days. Couples massages in Princess' Lotus Spa and Royal Caribbean's Vitality Spa are a great way for partners to reconnect, while Norwegian's Snow Room, an arctic alcove chilled between 21 and 32 degrees Fahrenheit, boosts immune systems and blood circulation. Cloud 9 Spa on Carnival offers treatments like facials, body wraps and acupuncture, as well as a thermal suite, where you can dial in your preferred levels of dry heat and restorative humidity.
Not all quiet time requires a reservation. Begovich directs travelers to the secluded nooks on the outdoor lanai on the Carnival Vista's Deck 5 or to The Library Bar, an ideal spot to play cards while having a glass of red served from the automated wine dispenser. When Freed isn't reading a book on her cabin's balcony, she's people-watching at Starbucks, which has locations on Oasis-class ships.
Should you prefer sweating in solitude, Caluori suggests the 360-degree track and fitness area atop Princess' Royal-class liners. "It's quiet up there, it's not too windy, and you feel like you're sailing in the clouds," he says.
Though the most popular attractions are the most popular for a reason, some of the best spots on board are found off the beaten path. "We have some small, intimate boutique restaurants, and unless you know about them, you're not going to find them," Freed says.
Royal Caribbean's Wonderland fits this description, where diners are treated to a multicourse meal of shareable plates, ranging from crispy crab cones to molten chocolate cake. It has just 62 seats, and Freed advises securing a reservation prior to departure.
Stuart says not to overlook The District Brew House, an addition to the
Norwegian Escape
that delights suds lovers with more than 50 bottled beers and another 24 on draft. One of Caluori's favorite places is Princess' top-deck Outrigger Bar, which serves up fresh Mexican cuisine, your morning bloody mary and a dozen specialty margaritas beginning at lunch.
It's hidden treasures like these that highlight the importance of staying informed, both before and during your sailing. If you're not diligent, you might miss something that could make your cruise complete. Do your research, check the apps and onboard communications and consult the staff when you require further guidance.
"You never want to leave with regret," Stuart says. "You want to leave feeling you did everything you could, and you maximized the opportunity."
What qualifies as maximizing the opportunity? Ultimately, that's up to you. That's the beauty of it. It's your trip, and you can do with it as you wish. There's no need for pressure, and there's no need for expectations.
"You don't have to plan every second, because that creates a bit of stress," Freed says.
Caluori echoes this sentiment. "Take everything as it comes, and don't feel an imperative to do everything. Just let things happen," he advises. "You're there for a vacation."
The information in this story was accurate at the time it was published in May/June 2016. Please visit
Vacations To Go
or call (800) 338-4962 for current rates and details.
Send This Article to a Friend
Bookmark this Content
Digg it!
Reddit
Furl
del.icio.us
Spurl
Yahoo!