In the Med with MSC Yacht Club
A private lounge, secluded pool and personal butler
are just a few of the perks of this exclusive enclave
By Elizabeth Armstrong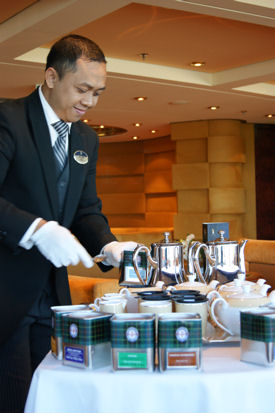 Elizabeth Armstrong
(Scroll down to see a slide show.)
M
idway through a
Mediterranean
voyage aboard the
MSC Fantasia
this May, I wondered where I had left my brain. "I'm not going to know how to do anything for myself when I get home," I said to my best friend, Cheryl, who was my travel buddy for this weeklong sailing.
She understood. From the moment we stepped out of our taxi at the embarkation pier for
MSC Cruises
in Barcelona, we had been pampered beyond anything we could have imagined. Cheryl and I were traveling in Fantasia's Yacht Club, an enclave of exclusive privileges and unparalleled service.
This ship-within-a-ship concept, introduced by MSC Cruises aboard the 3,959-passenger Fantasia (pronounced fan-tah-SEE-ah) and
MSC Splendida
, and now on the brand-new
MSC Divina
, provides a luxury experience that's normally associated with much smaller vessels. The Yacht Club inhabits prime real estate -- the forward part of the top three decks. It's comprised of 71 suites, an expansive pool deck, a 24-hour concierge desk and the elegant Top Sail Lounge. All of this can be accessed only by travelers possessing a Yacht Club card key.
Yet for those who desire, the big-ship lures of the Fantasia are easily at hand, from a casino, disco and shows to themed bars, shops, a sports center and aqua park.
For Yacht Clubbers, the royal treatment starts when you arrive at the pier. A white-gloved butler greeted us and zipped us through check-in -- no waiting in line. He escorted us aboard the Fantasia and to the Yacht Club lobby, where we met Dani Agung, our own butler for the week.
From Indonesia, Dani is the embodiment of the high level of service expected of MSC's butlers. A gentle soul and always accommodating, he unpacked luggage, brought us tabloid-size editions of our daily hometown paper, made dinner reservations and accompanied us on the 330-meter walk each night to L'Etoile restaurant. This specialty dining venue is reserved for Yacht Club travelers. Wines, spirits, sodas, still and sparkling bottled waters and specialty coffees consumed in all Yacht Club sections are included in the up-front fare.
The perks continued. We had private access to the Aurea Spa, where the thermal suite was complimentary. Suite amenities include balconies, 24-hour room service and a minibar stocked with gratis liquor, beer, soda and juice. A bathroom with full tub, Egyptian cotton sheets by Italian company Mascioni and a pillow menu are among the benefits of Yacht Club cruising.
Dani escorted us off the ship each day -- to the shore excursion buses in
Marseille
and
Palermo
, to the private guide awaiting at the pier in
Tunis
and to the ticket office for the
Capri
hydrofoil in
Naples
(where he handed us an umbrella before leaving, suspecting there may be a hint of rain).
On the first dawn of the cruise, I popped into the Top Sail Lounge for a sunrise breakfast as the Fantasia neared Marseille, France. I requested a caffe latte and grapefruit juice; on subsequent mornings, these two items would magically appear before me, a sign of the intuitive service. Smoked fish, cheeses, cold cuts, fruit, pastries and breads are on offer. Those who want eggs or waffles can find them at L'Etoile.
We joined an excursion to the university city of Aix-en-Provence. As we drove past fields sprinkled with red poppies and yellow broom, our guide offered her narrative in English and German for the motor coach passengers. This took some time to get used to but was not surprising for a line that attracts a diverse European clientele.
"Aix" is derived from Aquae Sextiae, or "waters of Sextius." Roman consul Sextius Calvinus settled the site in 122 B.C., drawn by thermal springs. Modern-day visitors will find ornate fountains, cobbled courtyards and Cours Mirabeau, a broad avenue edged by leafy plane trees. Art scholars may recognize Aix-en-Provence as the birthplace of Paul Cezanne.
Outdoor markets take place every day in Aix. We came upon one that displayed fruits and vegetables, another selling flowers and yet another showcasing handicrafts, like soaps made of Provencal olive oil. For a local specialty, pick up a box of calissons d'Aix, diamond-shaped, iced confections of ground almonds and candied fruit.
MSC follows a system known as interporting, which means that cruisers can start their round-trip sailing from any one of multiple cities along the itinerary. Most passengers choose to do so in
Genoa
, our next stop. Not wanting us to get caught up in the sea of disembarking guests, Dani kept an eye on gangway activity and advised us when the crowds had thinned out.
To get to Genoa's historic heart from the cruise terminal, walk for about 15 minutes along the waterfront, past sidewalk vendors selling knockoff designer purses, to the Aquarium of Genoa in the Porto Antico, the old port. This is one of the largest aquariums in the world, with 70 tanks replicating marine habitats. Just beyond, cut away from the harbor and head up Via San Lorenzo. You'll soon reach the black-and-white facade of San Lorenzo Cathedral, which is guarded by a couple of sad-eyed marble lions. Construction of the Romanesque-style edifice began in the 12th century, and it houses the ashes of St. John the Baptist, Genoa's patron saint. Behind the church is an enticing warren of shop-filled alleys.
Collectors of culinary experiences can drop by Zeffirino. It occupies No. 20 on Via XX Settembre, the main shopping drag. Founded in 1939, the family-owned restaurant has won hearts and appetites with its rendition of pesto, feeding luminaries from Sophia Loren to popes John Paul II and Benedict XVI. A waiter will show you scrapbooks filled with photos and letters from Vatican City to proprietor Gian Paolo Belloni, who has been knighted the Pope's Pesto Maker. A three-course, prix-fixe lunch goes for about $75; allot at least two hours for a leisurely midday meal.
The Top Sail Lounge was our haven after a long day of exploring cities like Genoa. We could treat ourselves to a libation from the extensive complimentary drinks menu, like a tall mojito, a flute of sparkling wine or a caffe corretto, coffee spiked with grappa. Top Sail enjoys a superb position above the Fantasia's bow. It's lovely for sunsets and perfectly suited for observing an approach to port.
The next morning, these panoramic windows framed Naples, which spills down hills and spreads along the coast. This part of southwest Italy is rich in sightseeing possibilities: Should one join the excursion to ancient Pompeii, preserved by the catastrophic eruptions of Mount Vesuvius in A.D. 79? Or perhaps the jewels of the Amalfi Coast beckon, like Sorrento and Positano, clinging to the bluffs above the ocean.
We chose to heed the call of Capri, reached by ferry or the faster hydrofoil, which is a short walk from the cruise ship dock and costs about $20 each way. A 45-minute ride delivered us to Capri's Marina Grande, where a funicular whisked us up the mountain to Capri Town. Here we took in the sumptuous sea views, investigated twisting lanes, trespassed through inviting hotel gardens and walked partway down the Via Krupp, a stone-paved footpath that switchbacks down a cliff to cerulean water.
It's the sweet smells of Capri that stay with me, an intoxicating blend of ocean and flowers, lemons and herbs. The Carthusia perfumery uses centuries-old techniques to harness the island's scents and bottles more than a dozen types of fragrance. Sniff as many as you like in one of the three shops on Capri -- the staff is very accommodating and takes great care in wrapping your purchases into pretty parcels. Fiori di Capri is the top seller, with lily of the valley, wild carnation, sandalwood and oak. I picked up a bottle of Mediterraneo, as I thought its fresh, citrusy notes would remind me of the sun-filled day spent here.
From Naples, the
Fantasia
set out for Palermo, the largest city on the island of Sicily. Due to its strategic position in the middle of the Mediterranean, it has endured numerous conquests by outsiders: Romans in the third century B.C., Arabs in the 800s, Normans in the early 12th century, then Spain and France, and so on.
We signed up for an outing to one of Sicily's sacred sites, the Santa Rosalia Grotto. Born in 1130, Rosalia was the daughter of a Norman count. At the age of 18, she traded privilege for piety and retreated to a cave, where she lived as a hermit and died in 1166. It's said that nearly 460 years later, as a plague raged through Palermo, her spirit appeared to a hunter and showed him where her bones rested.
She ordered him to carry her remains back to Palermo in a procession. He did so, and the pestilence ceased. Thankful citizens built a chapel in the cave in her honor. It's a cool, eerily lighted place of hushed voices and reverence. Rock walls frame the altar, and a maze of metal gutters collects the condensation that naturally occurs and deposits it into a stone font.
After our Palermo pilgrimage, I headed to the One Pool and Bar, a secluded and tranquil deck reserved for Yacht Clubbers. A breeze mellowed the Mediterranean sun as I stretched out on one of the black rattan loungers. In addition to the pool and bar service, there are Jacuzzis, umbrella tables and a small buffet for midday repasts.
I could have nibbled rather happily all day on the food offered in the front-of-the-ship Yacht Club areas. Hors d'oeuvres, pastries, cheeses, olives and other goodies rotated constantly through the Top Sail Lounge. But that would have deprived me of the six-course affairs presented nightly in L'Etoile at the other end of the vessel. They started with an amuse-bouche to spark the appetite and ended with a tiered tray of miniature sweets. In between, star plates included pappardelle with duck ragu, truffled pumpkin risotto and osso buco on saffron polenta. One meal showcased dishes conceived by a Michelin-starred chef, like a delicate starter of sea scallop, ginger and grapefruit.
A tiny marching band and a parade of camels welcomed the Fantasia to
La Goulette
, the port for Tunis and our final stop before returning to Barcelona. North Africa was a new and exotic destination for me, and I wanted to make the most of every moment in the Tunisian capital. We hired a private guide and driver through the Yacht Club concierge. The cost for a four-hour tour was about $365 for the two of us. Our extremely knowledgeable guide, Mohamed Oussama Ben Yedder -- Sammi for short -- gave us insights and access that we would not have achieved on our own or during a group tour.
Our first stop was the village of Sidi Bou Said, an eye-catching place of dazzling white walls, blue doors and colorful bursts of bougainvillea. It's named for a 13th-century holy man who is buried here. Today, it's a shopping spot that's prominently featured on organized shore excursions, so Sammi took us here before the busloads of tourists arrived.
He showed us doors elaborately decorated with metal studs, pointing out patterns of the evil eye and the hand of Fatima, both symbols of protection. He gave us fragrant corsages of orange blossoms, plucked from a basket carried by a strolling street vendor, then led us into a teahouse for small glasses of hot, sweet mint tea topped with pine nuts.
Next on the schedule was the Bardo Museum, an extensive collection of Roman mosaics. Among the prized works are a masterful depiction of Ulysses resisting the Sirens and a checkerboard-style piece of plant and animal life, including an artichoke, peacock, panther and gazelle.
We traveled to the North Africa American Cemetery and Memorial, where the United States' World War II losses in the region are represented by 2,833 white crosses and by 3,724 names of the missing in action etched on a wall. Our tour ended in the Medina, the ancient Arab quarter, where stones salvaged from the nearby ruins of Carthage were used as building materials. It's the site of a thriving souk, or market, and carpets, jewelry, pottery and souvenirs are among the dizzying array of items on display. Some of the salesmen were a bit aggressive, and it was nice to have Sammi as a buffer.
The last full day of the cruise was spent at sea, and I savored the final few hours of being spoiled. I remembered our welcome bottle of prosecco, still in the minifridge, and pulled it out along with some apricot juice to mix a cocktail, hoping this would take the bitter edge off the dark duty of packing.
Meanwhile, the Fantasia sliced through the sea toward
Barcelona
, where I would board a plane for home -- to a place where I have to fetch my own coffee, tiny wrapped Italian chocolates never appear on my pillow and there is no Dani to help ease my way through the day.
Information:
Three vessels offer Yacht Club suites and service: the Fantasia, Splendida and Divina. For discounted departures, contact the cruise specialists at Vacations To Go, (800) 338-4962.
Click here to browse itineraries for these ships
.
The information in this story was accurate at the time it was published in July/August 2012.
Send This Article to a Friend
Bookmark this Content
Digg it!
Reddit
Furl
del.icio.us
Spurl
Yahoo!