Highlights of Hawaiian Cruises
Uncover the spirit of aloha
on these unique shore excursions
By Elizabeth Armstrong and Jennifer Davoren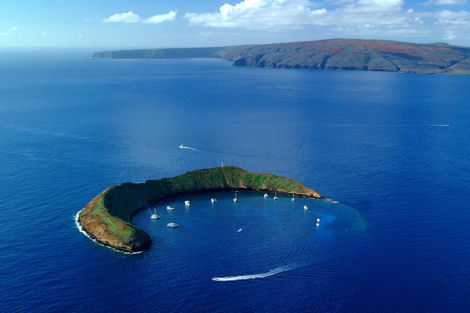 Ron Garnett/Hawaii Tourism Authority
W
ith its gorgeous beaches, abundance of fragrant flowers and lush interiors laced with shimmering waterfalls, the Hawaiian Islands may be as close to paradise as it gets. These Pacific Ocean outposts also have intriguing stories to tell, from Polynesian legends and plantation-era chronicles to its World War II history and later role as a favored locale for Hollywood filmmakers.
A cruise is an ideal way to take it all in, as you hop from island to island aboard a well-appointed ship. Dozens of shore excursions allow you to customize your vacation, whether you seek a bit of adventure, a gourmet getaway or simply the most beautiful spots to capture in photos.
Below are nine shore trips that showcase the best of the Aloha State, from five companies that offer regular sailings in Hawaii. And while we've spotlighted specific cruise providers for each activity, most of these outings are offered by multiple lines. Just check the shore excursion listings for your itinerary to find an onshore exploit tailored to your tastes.
To browse deeply discounted voyages in Hawaii, visit
www.HawaiiCruises.com
or call the travel specialists at Vacations To Go, (800) 338-4962.
Gourmet Volcano Trek
The best of the Big Island awaits on this escapade. After a wake-up cup at Hilo Coffee Mill, guests head to Hawaii Volcanoes National Park for a guided tour of geologic wonders, from dormant lava tubes to the burbling steam vents of Halemaumau Crater. A stop at the park's Jaggar Museum examines ongoing seismic activity -- a central peak, Kilauea, has been erupting almost continuously since 1983 -- and rolls footage of past blowups. A leisurely picnic lunch is followed by a trip to the Volcano Winery for a group tasting and dessert at Big Island Candies, known for its boxed confections as well as its freshly baked macadamia nut cookies.
Sign up for this foodie's delight in
Hilo
on weeklong sailings aboard the
Pride of America
from
Norwegian Cruise Line
; prices start at $169 per person.
Secret Waterfalls of Kohala
Ola i ka wai a ka opua -- "there is life in the water from the clouds." Learn about the significance of rain cycles on the Big Island's northern Kohala coast, where showers nourish streams, waterfalls and pastures. You'll gain entry to private, gated property and board an all-terrain Pinzgauer for a short but rugged ride to a trailhead. Follow the 1.5-mile path past taro fields and the remains of irrigation ditches, blasted out of the rock by early 20th-century plantation owners. You'll come upon seven waterfalls, and at the last, there's time for a cool dip under the cascade, followed by a deli-style lunch.
Norwegian
provides this refreshing retreat during port calls in
Kailua-Kona
, starting at $169 per person.
Hawaiian Culinary Home Tour
An agricultural sweet spot on the western coast of the Big Island, the Kona District is an ideal host for brunch. Its name is a totem among caffeine fiends; mainland coffee drinkers pay hefty prices for Kona's sweet, signature beans. Enjoy the local brew, juices squeezed from fresh fruit and a host of seasonal delicacies with this shore excursion, a progressive meal hosted by three local families. Freshly baked pastries, organic salad topped with shrimp and lomi-lomi salmon -- a marinated, ceviche-style dish -- also are served up, while home and garden tours and cooking demonstrations offer a slice of island life.
This experience is offered by
Princess Cruises
in
Kailua-Kona
and starts at $159 per person.
Hollywood in Hawaii
The stunning scenery here has doubled as a backdrop for a host of movies and television shows, from the wartime musical "South Pacific" to campy hits like "Gilligan's Island." This tour caters to fans with visits to top filming locations -- the first stop is Wailua Falls, which some might recognize from the opening credits of "Fantasy Island" -- and stories from behind the scenes. Participants also pause for lunch in beachy Hanalei, where George Clooney filmed his award-winning drama, "The Descendants," and delve into Hawaiian history and Polynesian mythology with experienced guides.
Request this
Royal Caribbean International
excursion, with prices from $148 per person, while docked in
Nawiliwili, Kauai
.
Adventure to Hana
It's a word that's overused by travel planners, but "adventure" is an apt description of this Maui excursion. Guests will travel the 52-mile-long Road to Hana, famed as much for its hairpin turns, one-lane bridges and 1,000-foot drop-offs as its remarkable vistas. (Acrophobes, prepare yourselves: You won't see a lot of guardrails here, as they'd clutter up the awe-inspiring view.) This tour also makes time for the "seven sacred pools" of Oheo, fed by a series of pristine waterfalls; a stop at the grave of aviator Charles Lindbergh on a serene bluff overlooking the sea; shopping at Hilo Hattie's, a souvenir superstore; and a casual, Polynesian-style lunch at Hana Ranch.
This
Holland America Line
offering, priced from $170 per participant, is available on cruises that dock in
Lahaina
for a full day.
Hanalei Valley
This option reveals the beautiful north end of Kauai, where golden beaches give way to verdant, cool valleys and farmland. From the Hanalei Valley Lookout, view an emerald patchwork of taro fields cradled between mist-shrouded mountains; the heart-shaped crop is used to make poi, a starchy staple of Hawaiian meals. Then make your way to Haena State Park, famed for its wet and dry caves. Island mythology says that Pele, the volcano goddess, dug out the sea caverns in her search for a new home. End your Garden Isle exploration at the Kilohana Plantation. Here visitors can wander through the mansion built by sugar baron Gaylord Wilcox in 1936, tour a working farm on a vintage train and sample pineapple and papaya straight from the fields.
Celebrity Cruises
provides this half-day sojourn during stops at
Nawiliwili
; prices start at $90 per person.
Molokini Crater Snorkel
Board a catamaran at Maalaea Harbor and zip across a channel to the isle of Molokini, a state-protected marine life and bird conservation district about three miles off Maui's southwest shoreline. The crescent-shaped sliver rests on the southwestern rift zone of the Haleakala volcano. It rises 160 feet above waters filled with coral and 250 types of tropical fish; look for lemon-yellow tangs, shimmering aqua parrot fish and zebra-striped Moorish idols. Next, make a stop at Turtle Arches, where curious green sea turtles may mingle with your group. A light breakfast, lunch and refreshments are provided on this six-hour trip, along with snorkeling gear.
The introduction to Maui's underwater world starts at $119 per person and is available when
Norwegian
calls at
Kahului
.
Pearl Harbor and WWII Military Bases
U.S. involvement in World War II began on Dec. 7, 1941, with the bombing of military installations surrounding Oahu's Pearl Harbor. This immersive shore excursion relives "a date which will live in infamy" with a number of unique touches, from guided tours led by costumed historians to radio reports and footage of the attack. Visits to the USS Arizona Memorial, Punchbowl National Memorial and Home of the Brave Museum honor lives lost, while stops at modern-day outposts explore the Army's current contributions to the islands. Guests also will tour Iolani Palace, former home of the Hawaiian royal family.
Princess
provides this history-filled outing during
Honolulu
calls from $179 per cruiser.
Makapuu Beach Native Plant Restoration
Less than 2 percent of Oahu's coastal plant ecosystems are intact, and what remains is threatened by invasive species. This four-hour jaunt at the Makapuu Beach Native Coastal Plant Preserve allows eco-minded cruisers to help save the fragile network. Equipped with gloves, tools and ice water, volunteers pull the weeds that steal sunlight, space and nutrients from local flora. Expert guides will help you identify the endangered plants, and as you work together they'll also share insight into the island's geology, birdlife and history. Comfy, loose clothing and a hat and sunglasses are recommended, as well as sturdy shoes for the uneven terrain.
Celebrity
offers this shore excursion from $34 per person during ship visits to
Honolulu
.
The information in this story was accurate at the time it was published in September/October 2012. Please visit
Vacations To Go
or call (800) 338-4962 for current rates and details.
Send This Article to a Friend
Bookmark this Content
Digg it!
Reddit
Furl
del.icio.us
Spurl
Yahoo!