Happy Birthday, Panama Canal
Join the celebration as an innovative waterway
marks 100 years of service
By Michelle Chumbley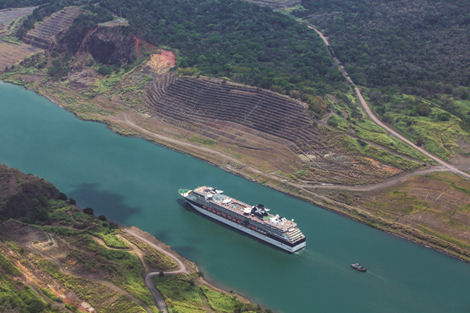 Michel Verdure/Celebrity Cruises
O
n Aug. 15, 1914, the steamship SS Ancon sailed its way into the record books as it made the first official passage through the
Panama Canal
.
Travel between the Atlantic and Pacific oceans once meant charting a long and often dangerous course around the tip of South America. The Ancon made its journey through the 48-mile canal in nine hours and 40 minutes, ushering in a new era of worldwide commerce -- as well as pleasure cruising.
Canal cruises mostly take place
from September to April
, which coincides with the region's tourist-friendly dry season, typically between mid-December and mid-April. Guests can choose
partial transits
, sailing to the halfway point of Gatun Lake before making a U-turn and exiting to the ocean they entered from, or
complete transits
, one-way jaunts from coast to opposite coast that can spend up to two weeks exploring both sides of the Americas.
In honor of the Panama Canal's centennial celebration, we explore the storied history and look to the future of this famed shortcut. To learn more and find competitive rates on cruises,
click here
or call the specialists at Vacations To Go, (800) 338-4962.
Reflecting on the past
The opening of the
Panama Canal
marked the fruition of an idea dating to the early 1500s, when Spanish conquistadors first encountered the Continental Divide as they made their way through Central America to see the Pacific coast. For the next several centuries, the only options for connecting commerce between the world's two largest oceans were to sail thousands of miles south to skirt Chile's Cape Horn or, as early explorers often did, heave cargo over dry land.
In the 1880s, after the success of the impressive Suez Canal in Egypt, the French began construction of a similar sea-level passage through Panama. Though advancements in excavation were made, tropical diseases, financial difficulties and faulty plans halted the project. Armed with a fresh engineering approach and a healthy support system for incoming workers, the U.S. took over in 1904 and completed the passage 10 years and $387 million later.
The design includes a dam to control the imposing Chagres River, man-made lakes and a series of locks to account for elevation changes between the oceans. As they traverse the canal, ships rise as high as 85 feet on a simulated tide that carries them up and over the Continental Divide. About 52 million gallons of water are used in each transit, which takes an average of eight to 10 hours from coast to coast.
On a partial transit:
Walk like a conquistador in Old Panama City, the first European outpost founded on the west coast of the Americas and an important trade stop before it was destroyed by pirates in 1671. Among its ruins and the neighboring,
rebuilt colonial city
, explore cathedrals, palaces, military structures and monuments to canal-building efforts on "Scenic Drive & Walking Tour of Old Panama City," a shore excursion from
Princess Cruises
.
The 1,974-passenger
Coral Princess
and her sister ship, the
Island Princess
, were specifically built for Panama Canal voyages and feature luxurious spas with seaweed wraps and acupuncture treatments, European-themed casinos and more than 700 balcony staterooms for optimal viewing of the lush, tropical surroundings.
A series of 11-night, round-trip sailings from Fort Lauderdale, FL
, depart between October and April 1, 2015, and include stops in
Aruba
,
Colombia
and
Costa Rica
as well as a partial transit of the canal. Prices start at $999 per person before airfare.
On a complete transit:
Spanish fortifications dating to the 17th and 18th centuries once protected Portobelo, a key city for Panamanian commerce, from gold-seeking pirates. See the now-silent cannons and mossy walls on "Portobelo and Gatun Locks," an excursion with
Celebrity Cruises
that also includes a guided tour of the eastern entrance to the canal.
Two 15-night cruises between San Diego and Fort Lauderdale
are available in November and
two additional jaunts
are offered in spring 2015 aboard the 2,170-passenger
Celebrity Infinity
. Ship amenities include a gelato spot and a Mediterranean-inspired restaurant that boasts "clean cuisine" like chilled lemon and avocado soup topped with poached shrimp. Cabins start at $1,544 per person for the
April 13 departure
that skims the west coast of Central America before crossing the canal and stopping in
Cartagena, Colombia
.
Focusing on the future
The canal
has seen several developments in its 100 years of service, from World War II battleship traffic in the 1940s to the transfer of administration in 1999, when the U.S. passed operations to Panama. But a $5.25 billion expansion, which will increase traffic flow and accommodate modern-day vessels built wider than the "Panamax" benchmark (the maximum dimensions for transiting the canal), is the largest project attempted in the region since the canal's construction.
A third lane, anticipated to be completed in 2015, will allow passage for vessels up to 160 feet wide and 1,200 feet long and more than double the current cargo limits. Conservation basins on each lock level will recycle 60 percent of the water used during passages.
On a partial transit:
Your Panama Canal cruise will celebrate man-made ingenuity, but take time to appreciate the surroundings, which remain full of natural beauty and native creatures.
Holland America Line
guests can catch a glimpse of sloths, howler monkeys and colorful parrots and toucans on "Aerial Tram and Ecological Encounter," an excursion from Gatun Lake through the 55,000-acre Soberania National Park, near the banks of the canal.
Back on board the 1,918-passenger
Zuiderdam
, outfitted with elegant artwork and the hands-on Culinary Arts Center, many staterooms are equipped with private balconies.
Round-trip, 10-night voyages from Fort Lauderdale
start at $899 per person and include
stops in the Caribbean and Bahamas
.
On a complete transit:
Compare the existing locks to the new additions on "Expansion of the Panama Canal -- The Present and the Future," an optional excursion in
Colon
for
Royal Caribbean International
passengers. The sightseeing starts with a firsthand look at the Atlantic locks and a lesson on their operation. An observation platform surrounded by tropical flora and fauna provides views of Gatun Lake and the construction site from more than 150 feet above the canal.
One-way voyages between Fort Lauderdale and San Diego
depart in November and next spring on the 2,076-passenger
Legend of the Seas
. Guests choose from eight lounges and bars, including one with a 1960s vibe, and eateries that range from a signature steakhouse to an Asian-fusion restaurant with hand-rolled sushi delights. Prices start at $913 per person for a
15-night sailing on April 29, 2015
, with port calls in Mexico, Colombia, Costa Rica and, of course, Panama.
The information in this story was accurate at the time it was published in July/August 2014. Please visit
Vacations To Go
or call (800) 338-4962 for current rates and details.
Send This Article to a Friend
Bookmark this Content
Digg it!
Reddit
Furl
del.icio.us
Spurl
Yahoo!