Grand Cities of Northern Europe
Hunt for historic treasures and revel in Old World elegance
in these stunning cruise ports
By Jennifer Davoren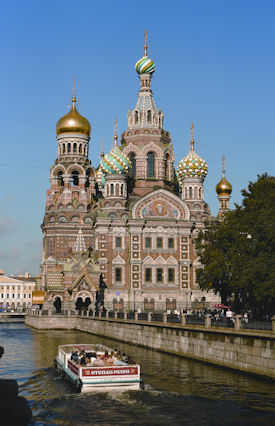 Danny Lehman/Celebrity Cruises
R
ome? Paris? Madrid? These capitals can be crowded in high season. If you're eyeing a European vacation this summer, you might want to set your sights a little higher -- say, at least 300 miles north.
Cruises in
Northern Europe
-- often called
Baltic
or Scandinavian cruises -- see a different side of this oft-visited continent. These trips call at some stunning ports, from sprawling capital cities to smaller, up-and-coming tourist destinations with hidden cultural attractions. Itineraries that start in London, for instance, might make a stop in tiny Torshavn, a town surrounded by waterfalls and found in Denmark's Faeroe Islands.
But eight cities stand out among the rest.
Cruises of Northern Europe often depart
Amsterdam
, the canal-laced capital of the Netherlands. Taboo seekers know this city for its distinctive brand of "coffee shops" and tourist-heavy red-light district, but those with a less myopic view will find countless cultural attractions at the ready. The Van Gogh Museum traces the painter's progression from strict depicter of dull landscapes to creator of the "Sunflowers" series and other landmark post-Impressionist works. And one of the world's most beloved books was written in Amsterdam between 1942 and 1944 -- tour the Anne Frank House and its secret annex to see that pivotal diary, and the Netherlands' tragic occupation during World War II, in a new light.
Amsterdam also suits the relaxed traveler. Canalside cafes offer the perfect place to people-watch on a sunny spring afternoon. Shops scattered throughout the city rent bikes on the cheap, giving cruisers a laid-back, windblown way to tour the streets. Those in need of pre- or post-cruise accommodations may appreciate Amsterdam's unique lodgings: Houseboat rentals introduce visitors to a unique subset of the local culture and might help landlubbers transition between cruise
ship and terra firma.
Iceland's capital city,
Reykjavik
, also is featured on cruises of Northern Europe. This is an energetic destination, powered as much by its residents -- nearly two-thirds of Iceland's population is found here -- as the geothermal current that bubbles underground and heats the local mineral springs. The European cruising season coincides with several citywide events, including May's Reykjavik Arts Festival and June's Festival of the Sea. It's not unusual for a ship to pull into
port and be met by a parade or to have its passengers lured to shore by the distant strains of an outdoor concert.
Reykjavik is an outdoorsy city, where summers are filled with long hikes and horseback rides along glacial streams and verdant mountain valleys. Visits to the Krysuvik Geothermal Area or Heidmork Nature Reserve lead to boiling mud springs, craggy lava fields and other geological wonders. Catch a ferry to Videy Island for an invigorating walking tour or bike ride past archaeological digs, or to see the striking collection of outdoor basalt sculptures by American artist
Richard Serra. The isle also is the site of Yoko Ono's "Imagine Peace Tower," a column of light that's projected into the night sky from Oct. 9 through Dec. 8, the dates of Beatle John Lennon's birth and death.
Whale-watching tours are popular along the Icelandic coast, home to minke and humpback species as well as white-beaked dolphins, harbor porpoises and dozens of puffin colonies.
An Old World cruise itinerary also can start in
Oslo
, the fjord-tip capital of Norway. Here, seafaring travelers meet their match: The "Viking City" is home to heritage sites and countless guided tours dedicated to these historic Norse adventurers. Museums abound, from the Norwegian Museum of Magic to the Munch Museum, dedicated to the Expressionist painter of "The Scream." In Oslo, a stop at the Nobel Peace Center can connect you to world leaders; follow up with a visit to the Royal Palace to perhaps catch a glimpse of the local VIPs or, should King Harald V be unavailable, the colorful changing of the guard, a ceremony that takes place at 1:30 each afternoon.
A sunny day in Oslo should be spent outdoors. This city takes great pride in its parks, planting more than 150 species of plants, including Norway's largest collection of roses, in shady Frogner Park. Vigeland Sculpture Park, meanwhile, pays tribute to the life's work of a favorite local artist with more than 200 bronze, cast-iron and granite designs. After a walk through Oslo's greenbelts, find a table
outside a traditional Nordic restaurant and request your server's favorite dish. In this city wrapped by glacier-chilled fjords and hilly forests, fresh seafood and wild game are an integral part of the regional diet.
Another cruise-friendly destination is
Copenhagen
, Denmark. Scandinavia's largest capital offers visiting passengers a cruise information center and lounge, complete with free tourist information and complimentary coffee or tea, on the fifth floor of the Magasin department store on Kongens Nytorv square. Copenhagen's graceful mascot, a bronze, seaside statue inspired by Hans Christian Andersen's "The Little Mermaid," offers her own welcome at the city's harbor.
It's tempting to linger in Copenhagen's lovely harbor area, especially amid the colorful, 17th-century homes and traditional wooden sailing fleets of the Nyhavn neighborhood. But those who head into town will find royal sites, a sprawling amusement park and the scenic Stroget, known as the world's longest pedestrian promenade and lined with high-end shops and cafes and capped by the gilded, oft-photographed City Hall Square.
As the Little Mermaid can attest, Copenhagen is a land of fairytales, where children can explore Hans Christian Andersen's Wonderful World, a museum dedicated to the author's life and work. Imaginations also run wild at attractions like the Experimentarium and Mystic Exploratorium, kid-friendly attractions with interactive exhibits and demonstrations focused on science and the natural world. Visiting families can end their day of educational excursions at the Denmark's
Aquarium, home to more than 300 species and some innovative conservation initiatives.
No cruise through Scandinavia is complete without a stop in the Swedish capital,
Stockholm
. This is an unusual destination, spread across 14 islands separated by the Baltic Sea and neighboring Lake Malaren. More than 50 car and pedestrian bridges link Stockholm's diverse neighborhoods, though tourists are likely to hop a ferry when taking a tour of the city. Their first stop often is the Gamla Stan, or Old Town, which preserves some of Europe's most stunning medieval structures. And, though Copenhagen boasts its own laureate center, Stockholm offers the Nobel Museum and its comprehensive library.
Cosmopolitan Stockholm is a mecca for art and design buffs, home to dozens of shops specializing in independent fashion and streamlined home decor. Glassware is a popular souvenir, purchased at markets like Konsthantverkarna -- a mouthful for tourists in need of directions, but well worth the effort. This is Stockholm's oldest artists' collective, where silversmiths and potters have worked side by side for more than 50 years.
Travelers in search of big-name artists also find refuge in Stockholm. Works by Dali, Matisse and Picasso are found at the Moderna Museet, a museum specializing in contemporary art. The Nationalmuseum offers a more historical perspective, displaying some 16,000 pieces crafted since the 14th century. Favorites here include Degas, Gauguin, Goya, Rembrandt and Renoir.
Often overshadowed by Russia, its colossal neighbor to the east, Estonia rarely tops travelers' lists of must-see European destinations. But its charming capital and primary port of call,
Tallinn
, is working to boost the country's cachet. History buffs are treated to some unusual sights in this nearly 900-year-old city, including a sprawling palace complex and onion-domed orthodox cathedral built by Tallinn's early czarist rulers. Old Town, a medieval district protected by a 14th-century stone wall, is anchored by Town Hall Square, a quaint, cobblestoned plaza that plays host to outdoor concerts, medieval festivals and holiday craft markets.
Estonian history is further explored by Tallinn's Museum of Occupations. Here, visitors can explore the country's proud tradition of underground resistance in the face of decades-long German and Russian military invasions. Looking for a tastier introduction to the local culture? Park yourself at the nearest cafe table and sample some traditional Estonian dishes. While the stout of heart can order
jellied pork or salty marinated eel, a tourist with a sweet tooth should be on the lookout for chocolate and marzipan treats made by Kalev, Estonia's top confectioner.
The czars also left their mark on
Helsinki
, Finland. An enduring symbol of the city is its Lutheran cathedral, built to honor Russia's Nicholas I and crowned by tributes to the 12 apostles. It joins neoclassical structures like the University of Helsinki, the National Library and the Government Palace along Senate Square, a scenic jumping-off point for explorations of the city.
Helsinki is swimming in history, and this city is eager to share its heritage with visitors. Cruise ships might pass the Suomenlinna fortress on their way into port. If not, passengers should disembark and head straight for this UNESCO World Heritage Site for a peek at ancient artillery. Or, do as most Helsinkians do and settle down for an afternoon picnic by the sea. At the Seurasaari Open-Air Museum, more than two centuries of Finnish folk traditions are on display in a
collection of carefully preserved homes. Costumed guides lead groups through crofters' cottages and upper-class manors.
Need a spot to relax before ending your port call and heading back to your cruise ship? Finland is famed for its saunas, and a number of public steam rooms are available to soothe those aching muscles.
Found at the far eastern end of most cruise routes through Northern Europe,
St. Petersburg
offers the perfect cap to vacations in the region. Though the city lost its status as Russia's capital in 1918, it still holds untold treasures -- a top attraction, the State Hermitage Museum, is bursting with more than 3 million works of art and historic artifacts. The baroque-style Winter Palace, the main draw of the museum complex, also fell out of favor after the Russian Revolution, but its towering facade still inspires lovers of intricate architecture.
St. Petersburg was once home to the Greats -- Peter and Catherine among them -- and the city honors their memory with monuments like "The Bronze Horseman." Fyodor Dostoyevsky also spent much of his life here, and his statue seems to study tourists as they pass the Vladimir Cathedral. Ayn Rand, Marc Chagall and politicians from Lenin to Putin are just a few of the famous names seen on plaques throughout town.
And the city once known as Leningrad, one that endured a 900-day siege by German forces at the height of World War II, seems to celebrate life itself. Surviving centuries of war has turned St. Petersburg into a cultural mecca, where classical music and ballet venues stand beside jazz halls and underground punk clubs. The "Venice of the North," perched on the shores of the winding Neva River, is a picturesque alternative to its southern namesake.
Cruising Northern Europe
Northern Europe's proximity to the Arctic Circle means long hours of summer daylight, a cooler climate and a short cruising season. Ships sail in this region from May through August, and itineraries typically last from seven to 14 nights.
Learn more about cruises in Northern Europe by calling (800) 338-4962 or visiting
Vacations To Go
.
The information in this story was accurate at the time it was published in March/April 2010.
Send This Article to a Friend
Bookmark this Content
Digg it!
Reddit
Furl
del.icio.us
Spurl
Yahoo!