Get into Character
Kids connect with favorite screen stars
at resorts and on cruise ships
By Van Sheridan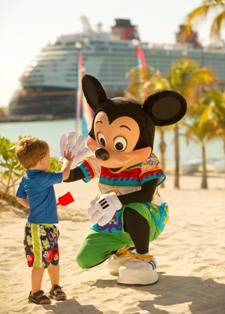 Kent Phillips/Disney Cruise Line
S
ome people like their breakfast omelet with cheese, others with mushrooms and onions. At
Beaches Resorts
, they can get their eggs with Elmo, Cookie Monster and the rest of the "Sesame Street" gang.
The Sesame Street Character Breakfast is among dozens of themed activities at the four Beaches Resorts in
Jamaica
and the
Turks and Caicos
. But Beaches isn't the only place bringing childhood favorites to life. Several resorts and cruise lines offer kids a chance to meet a colorful cast of characters.
Your little traveler can strike a pose with Goofy and Mickey Mouse on the brand-new
Disney Fantasy
, show Shrek their dance moves on select
Royal Caribbean International
vessels, or serenade Dora the Explorer aboard one of three
Norwegian Cruise Line
ships.
While parents relax by the pool, children are engaged in delightful adventures and educational workshops with costumed characters from an animated movie or TV show. Over the years, cruise lines and some resorts have amped up their character-themed menu -- and the fun.
Earlier this year, prompted by the enormous success on the
Norwegian Epic
and the
Norwegian Jewel
, Norwegian Cruise Line expanded its Nickelodeon family programming to include the
Norwegian Gem
.
"Having the characters on board enhances the guest experience," says Norwegian Cruise Line spokeswoman Amanda Graham. "Families with younger children now have entertainment that they can relate to. These characters are like rock stars to the kids. The idea that SpongeBob or Dora the Explorer is on the same ship as them is very exciting."
On the Norwegian Gem, guests can participate in Nickelodeon-themed interactive shows in the main theater or join the games during Nick Live Poolside. Other programs include Nick Jr. Story Time and a sing-along with Dora.
Breakfast with the Sesame Street crew is a popular event at Beaches Resorts, which partnered with the beloved PBS children's show in the 1990s to bring the spontaneity of Big Bird and gleeful delight of Elmo to the all-inclusive chain.
What started as a few test-pilot programs has morphed into an itinerary of themed activities to keep moods cheerful and eradicate tiny tot tantrums. "Our 'Sesame Street' programming has evolved tremendously," says Joel Ryan, director of Group Entertainment and Youth Activities for Sandals Resorts International, Beaches' parent company. "We went from four characters to nine characters. There are five to six activities daily that focus on the characters, not to mention we have 'Sesame Street' characters constantly strolling around the property, so you'll always have an opportunity to interact with the characters. What's neat when this happens is that you not only see the joy in the children's faces, but their parents' faces light up, too."
"Sesame Street" is about educating kids while having fun, and it's no different at the four Beaches Resorts, where children learn about the islands through diversions like bird-watching with Big Bird. Kids look for the colorful creatures of the Caribbean and craft feathered headbands to wear in the Big Bird parade. They also can learn more about their surroundings by tagging along with Grover on nature walks and scavenger hunts.
Recently, precocious Abby Cadabby joined the Beaches cast. This adorable, pink-haired, wand-toting ingenue leads an adventure-filled treasure hunt and helps kids create their own treasure chests to commemorate their stay on the island. She also hosts a tea party, where kids may pick up a few pointers in table etiquette. Meanwhile, Cookie Monster heats things up in a baking class for kids and adults.
"Kids get to wear their mini chef hat and roll out the dough," Ryan says. "It's engaging, and parents and kids love it. It's also a chance for parents to share in some of the fun that their kids are having."
Another cast of TV characters keeps the family entertained at the all-inclusive
Melia Hotels & Resorts
properties in Mexico and the
Dominican Republic
. These beach destinations transport youngsters to the Stone Age, with Fred and Wilma Flintstone and Barney and Betty Rubble as their guides. While moms and dads take time out -- perhaps for massages and facials at the on-site spa -- little ones are having a yabba-dabba-doo time as they participate in games, costume parties and music workshops.
The Bamm-Bamm Club for ages 5 to 8 boasts its own game room and playground. Here, your kids have opportunities to go camping, learn magic tricks and explore their inner artists with T-shirt painting and costume making. Meanwhile, their older siblings ages 9 to 13 can go rock climbing, practice their swing in a batting cage, fine-tune their tennis game or make slam dunks on the basketball court.
Children's characters have made a big splash on the high seas in recent years, and nowhere is it more apparent than on the vessels of
Disney Cruise Line
, which many industry watchers credit with reinventing onboard programming. From sunrise to sunset, the four Disney ships --
Magic
,
Wonder
,
Dream
and, soon,
Fantasy
-- set the stage for nonstop family entertainment with a dizzying cast list, from Mickey Mouse and Donald Duck to Tinker Bell and Pumbaa. Disney passengers -- tall and small -- can immerse themselves in a magical floating world of imagination, starting with the sail-away celebration on embarkation day, where Disney personalities in seafaring outfits lead a song-and-dance procession.
A lineup of Broadway-style shows highlights every sailing. On the Disney Fantasy, scheduled to
debut on March 31
, guests can watch "Disney's Aladdin -- A Musical Spectacular" unfold in the elegant Walt Disney Theatre, along with "Disney's Wishes," a 45-minute musical journey about three best friends. On the Disney Magic and Disney Wonder cruise ships, Peter Pan, Aladdin, Cinderella and other favorites come together to teach a young girl the power of aspirations in "Disney Dreams -- An Enchanted Classic." The roster of shows goes on, as do character-driven activities like a buccaneer bash on deck that features a fireworks extravaganza choreographed to music from the "Pirates of the Caribbean" movies.
Royal Caribbean introduced the DreamWorks Experience on the
Allure of the Seas
in December 2010. Since then, it has launched the program on the
Oasis of the Seas
,
Freedom of the Seas
and
Liberty of the Seas
. In May, Royal Caribbean will roll out the DreamWorks Experience on the
Voyager of the Seas
.
Guests can enjoy the 3-D magic of DreamWorks films in the ships' theaters and watch special DreamWorks programming on their stateroom TVs. Pint-size passengers will be able to get their pictures taken with Shrek and Po, aka Kung Fu Panda. Some of the line's
Adventure Ocean youth programming
centers on the characters, including story hours and dance parties. On Royal Caribbean's newest ship, Allure of the Seas, there is an ice-skating spectacular with stars from the movie "How to Train Your Dragon" and an aquatic show with key figures from "Madagascar."
"It's been a huge success," says Charly McDonald, director of guest activities for the cruise line. "Royal Caribbean has always been innovative with its programming, but this has added a whole new layer to our entertainment. People connect with the stories and the characters. What DreamWorks has been able to do is to allow these great characters -- Kung Fu Panda and Shrek -- to be seen in a different format. People want to interact with them and see them come alive."
Just as they do with the Sesame Street gang at Beaches and the Nickelodeon bunch on Norwegian Cruise Line, kids simply love these charming characters.
"But you know what?" says McDonald. "As many adults as kids walk up to get their pictures taken with Shrek and Kung Fu Panda."
Information:
Learn more about the kid-friendly offerings aboard the ships of Royal Caribbean International, Norwegian Cruise Line and Disney Cruise Line by visiting
www.FamilyCruise.com
, a website from leading cruise discounter Vacations To Go. The company offers rates slashed by up to 75 percent. Or, call (800) 338-4962 to speak to an agent.
Click through for more information about the all-inclusive properties of
Beaches
and
Melia Hotels & Resorts
, or call the resort specialists of Vacations To Go, (800) 998-6925.
The information in this story was accurate at the time it was published in March/April 2012. Please visit
Vacations To Go
or call (800) 338-4962 for current rates and details.
Send This Article to a Friend
Bookmark this Content
Digg it!
Reddit
Furl
del.icio.us
Spurl
Yahoo!