Find the Unique at Sea
Avoid the ordinary on your next cruise
with these eight onboard activities and attractions
By Jennifer Davoren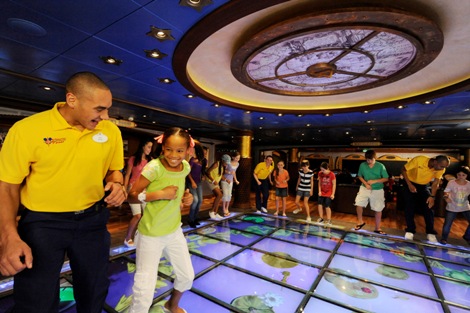 Diana Zalucky/Disney Cruise Line
(Scroll down to see a slide show.)
S
ide-by-side comparisons of your favorite cruise ships likely will turn up some similarities. Waterslides and splash parks, specialty kids' clubs, casinos, discos and sports courts are pretty standard around the industry, known for nurturing a "floating resort" atmosphere that caters to passengers of all ages.
But inspiration and innovations await for those in need of a new spin on their preferred mode of travel. Below, we've featured eight enticements. Tap the cruising experts at
Vacations To Go
or call (800) 338-4962 for more information on these and other one-of-a-kind attractions at sea.
Seeing stars aboard the Queen Mary 2.
This recently refurbished,
five-star ship
from
Cunard Line
is home to the world's only oceangoing planetarium, Illuminations. Explore the night sky with a variety of presentations, including those that highlight the ancient navigation techniques of the Vikings and other early seafarers. As a special bonus, Cunard's expansive enrichment program means experts from the Royal Astronomical Society often are on hand to provide further insight.
And, while most cruise lines advertise live, Broadway-style entertainment each evening, Cunard's affiliation with the Royal Academy of Dramatic Art -- with graduates ranging from Peter O'Toole and Vivien Leigh to Clive Owen and Kenneth Branagh -- offers your best chance to see a future big-screen talent take the stage. The works of classic and modern playwrights are adapted for Queen Mary 2 audiences, with selections edited to one-hour showcases.
Lights, camera, Crystal Cruises.
Bring your Apple products and Hollywood dreams along for a trip with the
six-star line
's 940-passenger vessel,
Crystal Symphony
. Professors and alumni of the University of Southern California's School of Cinematic Arts provide a complimentary seminar for leisure learners, "Digital Filmmaking: The iPad iMovie Video Course." Guests will shoot a short documentary in the style of their choosing, receiving instruction and advice on editing their work and adding music, graphics and other effects. This five-hour tutorial also will cover the basics of film theory, from camera angles and scene composition to molding movies for a specific audience.
Finished films, as well as teaser trailers created with the help of USC instructors, will be screened for friends and family back home through social media. "Digital Filmmaking" will expand to the Symphony's sister ship,
Crystal Serenity
, early next year.
In depth with Lindblad Expeditions.
A partnership with National Geographic separates
this company
from the cruising pack. Stressing educational ventures, Lindblad's small-group sailings tackle destinations from Alaska to Antarctica and utilize some state-of-the-art equipment in the process. Two members of the fleet, the 148-passenger
National Geographic Explorer
and 96-passenger
National Geographic Endeavour
, each employ a waterproof camera mounted on a remotely operated vehicle, or ROV, to capture one-of-a-kind images, even floating under glaciers and impassable ice packs on Arctic and Antarctic adventures. Lindblad's team of undersea specialists -- experienced divers who also shoot photos and video beneath the waves of destinations like the wildlife-rich Galapagos -- end each day of surf and shore excursions by screening their favorite footage over predinner cocktails.
Interactive adventures from MSC Cruises.
Take the wheel of a replicated Formula One racer aboard the line's four Fantasia-class ships:
Fantasia
,
Splendida
,
Divina
and, making its debut in March 2013,
Preziosa
. These simulators are modeled after the fastest cars and most challenging courses on Earth, bringing the adrenaline rush of the Grand Prix to even the most novice drivers. Hug Monte Carlo's famous curves or tackle Monza, Italy's "temple of speed," for 8 euros per trip (about $10).
A 10-seat, 4-D theater also awaits on these
MSC
Fantasia vessels. Specialty headphones add an engrossing audio element to three-dimensional visuals, with experiences ranging from "the ultimate cosmic coaster" to a twisting, freewheeling plunge through a haunted mine. Tickets are 6 euros (about $8) per showing, but guests aren't treated to a movie so much as a day at the amusement park -- minus the stomach-churning heights.
Feel the Thrill.
Not to be outdone by MSC's entertainment offerings, the newest addition to the
Carnival Cruise Lines
fleet boasts its own multidimensional movies. The 3,690-passenger
Breeze
, sailing weeklong Mediterranean itineraries since its June inauguration (and headed to the Caribbean Sea this November), sends passengers on a 5-D joyride with its 24-seat Thrill Theater. Guests hold on tight as their seats jiggle, dip and shift according to what's on screen, as well as what appears to be popping off the screen -- 3-D glasses bring the action into the audience while wind, water and the occasional bubble onslaught add an interactive element.
Each cruise itinerary will offer a mix of eight short films, with two back-to-back shorts per showing. Expect guest appearances by your favorite movie and TV characters, including the dancing penguins of "Happy Feet," mammoths and saber-toothed tigers from "Ice Age" and Bikini Bottom's own SpongeBob SquarePants and friends. The Thrill Theater's entrance fee is $7.95 per show, or $14.95 for an unlimited pass good for the duration of your cruise.
Doodles by Disney Cruise Line.
The four ocean liners powered by the
House of Mouse
are ideal showrooms for the company's cartoon prowess. Each is equipped with a state-of-the-art restaurant, the Animator's Palate, where diners receive personalized greetings from Disney's CGI (computer-generated imagery) icons. On
Disney Fantasy
, they can watch their own drawings spring to life on a high-def screen. The
Disney Dream
and Fantasy continue the enchanted art theme with a series of motion-activated works scattered throughout the ship; some detect a guest's approach and present a short animated scene, while other pieces double as interactive children's games played with key cards doled out by staff. Additional innovations aboard the nearly 2-year-old Dream and 2012 Fantasy include the Magic Play Floor -- a touch-screen, group gaming attraction -- and virtual portholes, mock windows with television screens that provide real-time exterior views to occupants of inside staterooms.
The hottest show on water.
An exclusive partnership with the Corning Museum of Glass brings a fiery art form to the
Solstice
,
Equinox
and
Eclipse
from
Celebrity Cruises
. Shaded, ship-top studios house the complimentary Hot Glass Show, where gaffers, as Corning's master crafters are known, demonstrate their preferred techniques. Accompanying narrators, meanwhile, explore the history and science of this age-old trade as well as recent advances in the medium.
Vases, stemware, scaly fish and more take shape from molten balls of glass pulled from a furnace and spun, twisted and clipped with metal pincers, all as passengers watch from the breezy comfort of seating on the ships' Lawn Clubs, carpeted in real grass. And collectors should note that the best glassworks are put up for auction at the end of each cruise, with the proceeds used for glassblowing scholarships at Corning's acclaimed studio in upstate New York. Winning bids help nuture promising artists for the future, thanks to Celebrity's program.
Chills on the Norwegian Epic.
This
4,200-passenger vessel
sticks to warm-weather destinations -- island havens in the Caribbean and summer ports of the Mediterranean, mostly -- but an onboard hot spot offers a distinctive dip in temperature. The Svedka Ice Bar is, by
Norwegian Cruise Line
estimates, one of just 14 such cocktail stations in the world, and the only one at sea. All glasses, tables and seating are carved from ice, while frozen blocks line the walls for an igloo effect. They're kept solid by the steady temperature of the sealed room, which never rises above 17 degrees Fahrenheit. Guests don loaner gloves and faux fur-trimmed coats before entering to enjoy a selection of vodka-based cocktails (or nonalcoholic treats, including milkshakes) by the soft glow of neon filtered through an array of ice sculptures. There's a $20 entrance fee for this attraction, but it covers the cost of your first two drinks.
The information in this story was accurate at the time it was published in November/December 2012. Please visit
Vacations To Go
or call (800) 338-4962 for current rates and details.
Send This Article to a Friend
Bookmark this Content
Digg it!
Reddit
Furl
del.icio.us
Spurl
Yahoo!