Explore Canada's Maritime Provinces
Wayfarers find fresh seafood and rich heritage
in seaside retreats
By Alexis Loyd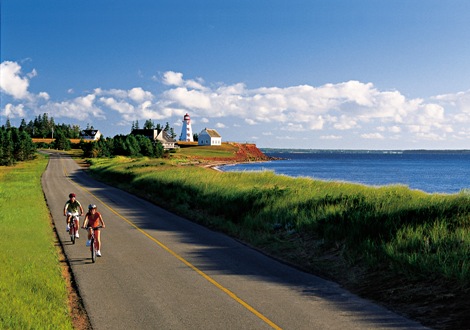 John Sylvester/Tourism PEI
A
land and culture shaped by the sea, the Maritime Provinces on Canada's east coast provide safe harbor for enduring European and native heritage and a long history of seafaring traditions. It's all set against a landscape of rugged cliffs, flourishing forests and sandy coves.
Here are our favorite activities in picturesque Nova Scotia, New Brunswick and Prince Edward Island -- offered on cruises and tours. They introduce travelers to the military history, gourmet fare, natural attractions and cultural highlights of the region.
For more information on escorted tours,
contact travel discounter Vacations To Go online
or call (800) 680-2858; for sailings, (800) 338-4962 or
click here
. Tour and cruise prices are per person, excluding airfare. Shore excursions are available for an additional fee.
Step back in time
By land:
The eight-day "
Nova Scotia & Prince Edward Island
" with
Gate 1 Travel
heads to Nova Scotia's Cape Breton Island for an adventure straight out of the 18th century. Re-enactors re-create the world of the Fortress of Louisbourg, a stronghold built to secure the harbor for France. Founded in 1713 and destroyed by the British in the 1760s, the reconstructed settlement gives modern vacationers a glimpse into the past through more than a dozen authentic structures including King's Bakery and L'Epee Royale inn.
Rates start at $1,499 for this trip, which also visits Peggy's Cove and Baddeck in Nova Scotia and Charlottetown in Prince Edward Island. A handful of departures are available from the end of May through the beginning of October.
By sea:
Royal Caribbean International
visits Nova Scotia's capital
Halifax
for its "Highlander Experience -- A Parks Canada Interactive Tour," where passengers are greeted by a "soldier" of the 19th-century 78th Highland Regiment. Halifax Citadel National Historic Site of Canada, a former naval station for the British Empire, serves as a backdrop for soldier-for-a-day activities such as trying on a uniform, witnessing the changing of the fortress guard or assisting the cannon crew.
From late August through October,
Royal Caribbean ships
venture to ports in the Maritime Provinces on round-trip itineraries from
Quebec City
,
Baltimore
,
Boston
and
Bayonne, NJ
. Rates begin at $669 for a weeklong sailing.
Sample something savory ...
By land:
Play the part of fisherman with "
Highlights of the Canadian Maritimes
" from
Cosmos
. This nine-day journey, traveling round trip from Halifax, includes a cruise in Moncton, New Brunswick, to lure any lobster lover. While aboard the boat, travelers will help haul in a trap, learn cooking techniques and watch how cracking is done before digging into a complete lobster dinner.
Other highlights entail a visit to the farmhouse that inspired L.M. Montgomery's "Anne of Green Gables" in Prince Edward Island and Nova Scotia's Fisherman's Life Museum. Rates start at $1,523; there are several trips available from June through early September.
By sea:
Pick up gastronomic tips in a locale known for its fresh and succulent seafood.
Celebrity Cruises
guests can partake in a lesson from one of Prince Edward Island's renowned chefs when stopping in
Charlottetown
. Culinary master Kurtis Ellis leads the "Sensational Seafood Cooking Class" for those looking to learn how to select and prepare seasonal catches such as lobster, mussels, scallops, oysters and clams. Then, reap the rewards of your work with a sit-down meal and recipes to take home.
The
Celebrity Summit
explores America's East Coast and Canadian sites on
two-week, round-trip sailings
departing from Bayonne, NJ, on Sept. 7 and 21 and Oct. 5. Prices start at $1,399.
Or something sweet
By land:
Guests of the 12-day "
Enchanting Maritimes
" from
Trafalgar
, traveling round trip from Boston, take time to sample the sweet life. At a stop at the Prince Edward Island Preserve Company in New Glasgow, vacationers learn how fruit spreads are made (flavors include lemon and ginger with amaretto and raspberry Champagne) and enjoy a dinner of local cuisine. The fruit infusion continues in Moncton, an 18th-century Pennsylvania Dutch settlement: Visit a local winery to sip the city's famed fruit wines.
Rates start at $3,175; there are more than a dozen departures from June through September.
By sea:
About 33,000 acres of sweet, antioxidant-rich blueberries grow in New Brunswick. Sample these native fruits on a
Norwegian Cruise Line
shore excursion, "Wild Blueberry Tour and Tasting," available at the port of
Saint John
. Head to family-owned Granite Town Farms to meet local growers, learn about the plant's history and production and taste some of the site's gourmet treats, like blueberry pie, jam and chutney.
During the months of September and October, the
Norwegian Gem
and
Norwegian Dawn
offer various
one- and two-week itineraries
traveling between Boston or New York and Canada. Rates start at $499 for seven-night cruises.
Seek out natural attractions
By land:
The 12-day "
Canadian Maritimes
" with
Tauck
spends three nights at Keltic Lodge Resort and Spa, nestled cliffside on scenic Cape Breton Island. A naturalist offers insight into the local ecosystem and indigenous species, while free time at Ingonish Beach provides the perfect excuse to dip your toes in the Atlantic Ocean. But the panoramic highlight is a drive on the famed Cabot Trail, which winds through mountains and along the coastline.
Guests on this tour also visit the Hopewell Rocks in New Brunswick and cruise Halifax Harbour. Rates start at $4,190; several departures are available from late June through September.
By sea:
Swooping through the air at speeds of up to 200 mph, ready to catch prey with sharp, curved talons, the saker falcon is a creature capable of stunning agility and aggression. Passengers of
Holland America Line
have the chance to see this endangered predator and other graceful raptors on "Family Fun With Falcons," a daytrip from Prince Edward Island's
Charlottetown
. Witness expert Jamie Stride as he trains the birds of prey and even don a handler's glove yourself and act as a perch for a souvenir snapshot.
Holland America Line offers
extensive Canadian cruising options
through mid-October. Passengers can choose
a weeklong sailing
between Boston and Quebec City that includes stops in Prince Edward Island and Nova Scotia, starting at $499.
Delve into cultural heritage
By land:
Dig into the traditions and history of eastern Canada's early inhabitants on the 11-day "
Maritimes Coastal Wonders
." In Millbrook, Nova Scotia,
Collette
guests visit the Glooscap Heritage Centre, named for the first human, created from a bolt of lightning according to Mikmaq legend. Peruse artifacts and study the language of what once was the largest of the North American Indian tribes occupying the region. Another stop lets travelers try to make a hooked rug at a museum dedicated to the Acadian community, descended from 17th-century French settlers.
This tour also traverses Prince Edward Island and New Brunswick. Rates start at $2,949, with monthly departures from June through October.
By sea:
Inhabited in the 18th century by Highland Scots, Nova Scotia's
Cape Breton
remains a North American enclave of Gaelic culture. Explore the region's roots through its music with "Celtic Heritage: Sounds of Cape Breton," an option with
Princess Cruises
sailings that stop in
Sydney, Nova Scotia
. Take in the roughly 60-foot-tall, 10-ton fiddle along the waterfront before attending a performance complete with fiddler, singer and dancer.
In September and October, Princess Cruises sails the waters of New England and Canada, with the
Royal Princess
making
weeklong jaunts round trip from New York
and the
Ruby Princess
sailing
10-night journeys between New York and Quebec
. Weeklong itineraries start at $849.
The information in this story was accurate at the time it was published in May/June 2014. Please visit
Vacations To Go
or call (800) 338-4962 for current rates and details.
Send This Article to a Friend
Bookmark this Content
Digg it!
Reddit
Furl
del.icio.us
Spurl
Yahoo!