Disney Magic Still Enchants
A mother and her 4-year-old daughter
explore Disney Cruise Line's recently refurbished ship
By Lindsay Lindquist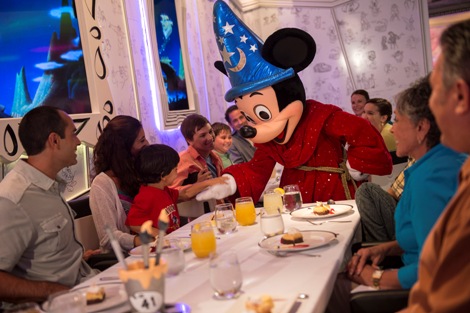 Matt Stroshane/Disney Cruise Line
(Scroll down to see a slide show.)
"T
here it is, Mommy!"
My daughter spotted two red funnels emblazoned with the Mickey Mouse emblem on the
Disney Magic
, docked at Miami's cruise terminal. The first of
Disney Cruise Line
's vessels, launched in 1998, the Magic recently had undergone a five-week dry dock to be "reimagined" and brought in line with the brand's newer ships. We were on board for a special preview, a two-night jaunt through the
Bahamas
.
Our weekend girls' getaway started with some frustrating travel delays, so when we finally stepped on the ship and made our way to the Adventures Away deck party, I took a moment to revel in my 4-year-old's joy at seeing her favorite characters. I have cruised before, but this was my first Disney voyage, and I immediately noticed that everything felt like a celebration. The meals, the entertainment, the character appearances -- all were conducted with joy by every crew member involved.
Here's a look at the
Disney Magic
experience.
Diverse dining
Our nightly dinner rotation placed us in the Animator's Palate restaurant on our first evening, and what a treat it was. The experience here is more about the show than the food. The large dining space is decked out with digital canvases, and everything, including the servers' uniforms, starts out in black and white. During the meal, elements of color gradually are introduced to the room.
The highlight of Animator's Palate is a new, spectacular audiovisual show, "Drawn to Magic." Classic and contemporary Disney characters come to life, delighting young and old. It ends with an appearance by Sorcerer Mickey, who takes a quick tour of the room and stops for a few high-fives.
What was Parrot Cay is now Carioca's, a Brazilian-themed restaurant with a festive ambience and superb food like my main dish, Jose Carioca's -- a beautifully plated, delicious trio of lamb, tenderloin and Brazilian sausage with ample sides. Topsider Buffet has been expanded and renamed Cabanas, offering plenty of seating in a beachy atmosphere and a spacious outdoor patio. We enjoyed a casual lunch and breakfast here; the Mickey-shaped waffles were a particularly big hit with my daughter.
Visit Lumiere's for breakfast, lunch or French-inspired dinner, or grab a slice at Pinocchio's Pizzeria or lighter fare at Daisy's De-Lites. Palo -- Disney Cruise Line's popular adults-only, upscale Italian restaurant -- received a face-lift with fresh artwork, floors and fixtures all inspired by Venice.
Day-to-night entertainment
This is what
Disney
does best. The schedule of daily activities for kids of all ages is daunting. The ship offered so much that my daughter needed a crash course in prioritizing -- choosing between attending a ball with Cinderella or meeting Minnie Mouse was particularly hard. She chose the ball, but luckily was able to have her picture taken with Minnie later that day.
Be sure to look through the detailed Personal Navigator that is delivered to your stateroom each evening. Using this handy guide, you can discuss and plot out the next day's pursuits.
My daughter most enjoyed the diversions at Disney's
Oceaneer Club
. With a large, central library (where we heard Princess Tiana tell the story of "The Princess and the Frog") surrounded by four distinctly themed rooms, the Oceaneer Club is a prime spot for kids ages 3 to 12. Guests can register their children while in the cruise terminal or on board. It's designed for kids to enjoy playtime and planned activities while the adults are in other parts of the ship, but there are open house opportunities for parents to explore the Oceaneer Club with their children.
It was hard to get my daughter to leave the Toy Story-styled space, where everything is oversized. Andy's Room allows you to glide down a larger-than-life Slinky Dog slide, change the features on a giant Mr. Potato Head and stash large coins in Hamm, the piggy bank.
We made our own virtual fairies in Pixie Hollow, where mushroom-shaped stools and Tinker Bell's teapot house conjure up the world of sprites. Mickey Mouse Club is full of crafts and games in a classic yellow, black and red setting.
In the Oceaneer Club's much-touted Marvel's Avengers Academy, young superheroes can use fun technology to become Iron Man and virtually try on and test out his famous suit. Kids can participate in special missions and see the Avengers' equipment, like Captain America's shield and Thor's hammer. Costumed superhero characters make surprise appearances.
The ship is packed with tons of other amenities, like Disney's Oceaneer Lab,
a pirate-themed space where kids can watch movies, work on art projects, take part in science experiments and play on navigation simulators, maneuvering a ship through the Caribbean.
The AquaDunk is a three-story waterslide best suited to daredevils. For those looking for more subdued water play, the AquaLab is a shallow pool and splash area that my little one loved. Game shows and other family-friendly entertainment take place in D Lounge, and at Edge, preteens can enjoy video games, television and themed activities. For the smallest cruisers, It's a Small World nursery offers age-appropriate play and child care by specially trained crew members for an additional charge.
After a day of catering to the kids, drop them off at their youth club or nursery and head over to After Hours -- the adult-exclusive section of Disney Magic. Whether you want to dance, relax at a bar or take in a show, there's a spot in After Hours that fits the bill.
For example, Fathoms is an ocean-themed nightclub offering karaoke, games and late night dance parties. Keys piano bar is perfect for a laid-back evening of sipping specialty cocktails. For sports lovers who can't miss the big game, O'Gills Pub broadcasts live televised sports events.
The show in the Walt Disney Theatre ranked as our favorite part of each day. "Twice Charmed: An Original Twist on the Cinderella Story" was wonderful. The singing, staging and costumes were very well executed and delighted the audience. "Disney Dreams -- An Enchanted Classic" especially was a treat for my daughter and me. It's an imaginatively staged tale about not giving up your hopes and ambitions, chock-full of classic Disney tunes from "Peter Pan," "Lion King," "Aladdin" and more.
A new look for staterooms
All staterooms on the
Magic
have received fresh furnishings and a nautical motif. The linens and pillows were as plush as any luxury hotel -- in fact, many guests commented on the comfort of the beds. We were happy in our veranda room, but I would book two adjoining rooms if we returned to the Magic with my husband and son. Four people plus luggage, souvenirs, toiletries and such would make for a pretty cramped trip.
That said, Disney does a good job of maximizing storage space. The beds are elevated, allowing guests to stow suitcases underneath. A built-in chest of drawers has enough space for clothes, and the split bathroom is a nice touch. Disney introduced the split bath to the cruise industry; it provides a small powder room with a toilet and sink and a second larger bathroom for the tub, shower and another sink.
From our first encounter with a crew member as we boarded the ship, straight through every meal, activity and show, our short time on the reimagined Magic was just that -- magical. My daughter has amazing memories of our time on board and asks if we can go on "the Disney boat" just about every weekend. I assure her that we most certainly will sail on the Disney boat again.
Sailing on Disney Magic
The 2,500-passenger
Disney Magic
sails three- and four-night
Bahamas vacations
through spring from
Port Canaveral, FL
. The itinerary includes a day at
Castaway Cay
, Disney's private island.
The vessel embarks on four- to 12-night
Greek islands and Mediterranean voyages
from
Venice
and
Barcelona
in the summer, then transitions to weeklong
Caribbean itineraries
from Port Canaveral and
San Juan, Puerto Rico
, in the fall and winter.
To learn more about itineraries and pricing, visit
Vacations To Go
or contact a Disney cruising specialist at (800) 338-4962.
The information in this story was accurate at the time it was published in March/April 2014. Please visit
Vacations To Go
or call (800) 338-4962 for current rates and details.
Send This Article to a Friend
Bookmark this Content
Digg it!
Reddit
Furl
del.icio.us
Spurl
Yahoo!