Culinary CuisinArt
Savor hydroponic produce on an Anguillan resort vacation,
then look into these six additional farm-fresh spots
By Jennifer Davoren and Madison G. Welch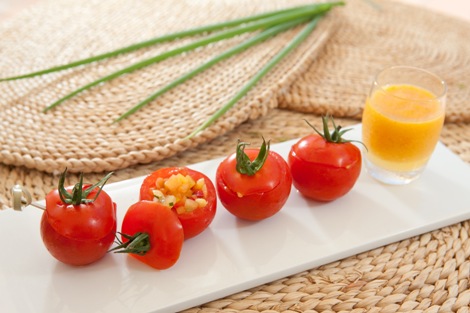 CuisinArt Golf Resort and Spa
N
ovember is prime time for a trip to
CuisinArt Golf Resort and Spa
.
You couldn't ask for better weather. Hurricane season winds down as winter nears, and this Eastern Caribbean property is rarely a target for rain. CuisinArt owes its sunshine to its host island,
Anguilla
, a tiny territory of the U.K. Without the mountainous terrain of its neighbors -- Saba,
St. Barts
and the half-and-half isle of
St. Martin
/
St. Maarten
, to name a few -- flat, arid Anguilla misses most tropical thunderstorms. Beachgoers find steady rays and temperatures in the mid-70s.
And November is a busy time for Dr. Howard M. Resh, CuisinArt's resident horticulturalist. Vine-ripened tomatoes, plump eggplants and a rainbow array of bell peppers spill from the resort's 18,000-square-foot hydroponic greenhouse in the first big harvest of the season. Fruit, veggie and herb production remains high through May, with a host of ingredients fueling CuisinArt's on-site restaurants.
Fans of the farm-to-table movement will feel most at home here, as few vacation resorts make this kind of locavore commitment. With a climate too harsh for traditional agriculture, Anguilla imports most of its basic foodstuffs from North America or Europe. Rather than rely on ingredients left wilted or stale by a long trip, CuisinArt turned to Resh 14 years ago for help in growing its own.
Competing resorts have shown an interest in hydroponics, but it's an expensive venture. "A lot of people really like the idea, but when it comes to the corporate chain hotels, they just look at the bottom line. If it doesn't save them money directly, they're not really interested," Resh notes. "It actually costs us about 30 percent more to produce it ourselves than if we bought it from Europe or through St. Martin, but there's a big difference in quality."
And quality control is a priority here, especially where food is concerned. CuisinArt is primarily a culinary escape, named for the top-shelf brand of kitchen appliances and bakeware. (Both are owned by U.S. billionaire businessman Leandro Rizzuto, as are Conair and Rusk beauty products.) Resh even preaches the hydroponic gospel on his website,
www.HowardResh.com
, which encourages people to start their own greening systems back home with free growing tips and mail-order seed kits.
Visitors have plenty of options for enjoying CuisinArt's produce, including cooking classes and specialty tastings. The resort's weekly activity calendar offers everything from sushi rolling with a local chef to sampling Caribbean rum. Whip up a passion fruit vinaigrette for hydroponic greens, toss tuna ceviche with coconut grown along the resort's main entry or satisfy your chocolate cravings with a sweet souffle -- topped with a banana rum sauce, of course, adding an Anguillan twist to a dessert staple. You'll find most CuisinArt classes hosted in the resort's "kitchen stadium," where students gather around a stainless-steel setup worthy of a Food Network competition.
For a more leisurely introduction to the farm-to-table journey, grab a seat at a resort restaurant and let
CuisinArt
live up to its name. Le Bistro at Santorini, the main eatery, earned Anguilla's first AAA Four Diamond Award in 2008. Fairly new to the property is Tokyo Bay, the island's first authentically Japanese restaurant, with sushi and teppanyaki dishes drawing from local seafood and other tropical fare. And, should your stay fall on a Tuesday, turn out for the resort's World Delicacies Barbecue. You'll have a full buffet at your fingertips, but make a dash for the grill and grab as much Anguillan crayfish as you can carry. This small cousin to the lobster needs nothing more than a little butter and lemon to highlight its natural flavor, and its delicate texture demonstrates how often the phrase "melts in your mouth" is misused to describe other, lesser entrees.
Looking for the perfect pairing? CuisinArt's on-site wine cellar holds 3,600 bottles, and the resident sommelier can recommend vintages from around the globe. And two bars on opposite ends of a trailing pool spin Caribbean-made rum into the cocktail of your choice.
CuisinArt offers plenty of opportunities to work off those extra vacation calories. It's an intimate property, just 93 guest rooms and suites, so a stroll across the beach and through the gardens is just a warm-up. In addition to massage and beauty treatments, the Venus Spa hosts toning and conditioning programs, with activity levels ranging from morning yoga classes to boot camp intensity. An 18-hole, Greg Norman-designed course welcomes golfers. Tennis courts await, bicycles are available for rent and staffers can arrange windsurfing and catamaran sailing lessons on
Rendezvous Bay
.
In this season for giving thanks, guests will find themselves grateful for CuisinArt's skill in adding and subtracting calories.
Click here for more information
or call Vacations To Go at (800) 998-6925. --
Jennifer Davoren
Food Explorations
Around the world, there are many options for travelers seeking farm-fresh food and gastronomic activities. Peruse a few of our favorites below.
Green retreat
. The all-inclusive
El Dorado Royale by Karisma
in
Playa del Carmen, Mexico
, claims the Riviera Maya's largest greenhouse, measuring 150,000 square feet. Now in its seventh harvest, the greenhouse yields 12 tons of vegetables and herbs each month. Guests and local residents are invited for interactive tours and tastings of hydroponic tomatoes and habanero peppers right off the vine.
Hotel honeybees
. For more than 20 years,
Fairmont Hotels and Resorts
has served vegetables and herbs from its own gardens. As part of an environmental initiative, many Fairmont locations -- in
San Francisco
and
Vancouver, British Columbia
, for example -- have added honeybee hives to their rooftops, terraces or backyards to help combat colony collapse disorder. The resulting sustainable honey sweetens dishes and drinks served on-site.
Sunshine and seasonings
. From breakfast in bed and private luncheons to cocktail parties and a cook-off, the Spices of the Caribbean event at
St. Lucia
's
Jade Mountain
resort offers a variety of flavorful fun. Explore the regional spice box as you pick from the resort's garden and participate in classes for a personalized farm-to-table experience. Enjoy this getaway Dec. 13-16.
Sushi and sake session
. Try your hand at sushi rolling with Nono Shigetomi, head sushi chef at
Newport Beachside Hotel and Resort
's Kitchen 305 in
Miami
. After a sushi-making class and mixology session, students are rewarded with a three-course dinner and sake pairing, all for only $35.
To market we go
. Aina Gourmet Market, proud purveyors of pure
Maui
coffee, exemplifies the "100-mile market" concept by sourcing its eggs, meats and organic produce from nearby farms and businesses. Even its construction utilized local materials, such as kiawe wood from Olowalu. Located at
Honua Kai Resort and Spa
on Kaanapali North Beach, the rustic cafe also offers paninis, gelato, fruit smoothies and more. Drop by for breakfast, lunch or dinner.
Cook and cruise
.
Oceania Cruises
' newest sister ships, the 1,258-passenger
Marina
and
Riviera
, cater to foodie patrons with nine restaurants (including Jacques Pepin's namesake spots), food-focused excursions and a hands-on cooking school at sea -- the Bon Appetit Culinary Center. The venue features 12 cooking stations for two and instruction from expert master chefs. Tempting classes this winter include Mexican Fiesta, Passage to India, Thai-Asian Fusion and Southern Comforts. --
Madison G. Welch
The information in this story was accurate at the time it was published in November/December 2013. Please visit
Vacations To Go
or call (800) 998-6925 for current rates and details.
Send This Article to a Friend
Bookmark this Content
Digg it!
Reddit
Furl
del.icio.us
Spurl
Yahoo!