Cruising the Indian Ocean: Part 2
An African adventure concludes with a tour of volcanic wonders
and exhibitions of local music and dance
By Alan Fox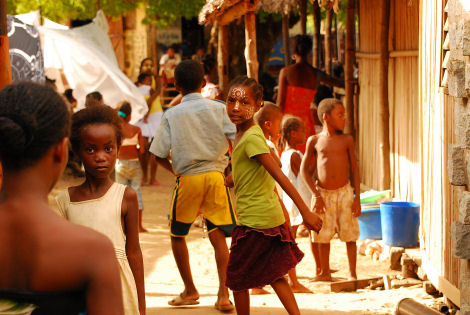 Alan Fox
Madagascar, Reunion Island and Mauritius
We rose from the edge of the ocean, our headphones muffling the roar of the rotors, and set out for the far side of the island. Our helicopter climbed steadily, and the tidy developments near the coast soon turned to mountains and valleys and sheer cliffs.
We entered a canyon -- a box canyon -- with steep, green peaks rising far above us to the left, right and dead ahead. Our speed was unabated as we approached that last sheer wall. Something had to give, and of course, it was us.
We banked sharply, up and to the right, feeling very heavy in our seats, as the waterfall out my window seemed to turn and plunge sideways. The pilot was talking to us through the headphones, alternating languages for his German and American passengers, but his French accent was so strong I could not tell which language he was speaking. I might have suggested he just CONCENTRATE ON FLYING, but he had wisely not given microphones to his guests.
Every time our chopper crossed a mountain peak or the edge of a cliff, an updraft of warm air sent a shudder through the six of us, bouncing our flying box up and down, just as the ground beneath us fell away, for hundreds or thousands of feet.
Welcome to
Reunion Island
, east of
Madagascar
, en route to the most active volcano on Earth.
* * * * * * * * * *
We arrived in Madagascar five days ago, dropping anchor in sight of the main island but just offshore the much smaller island of
Nosy Be
. Visits from outsiders are well-noted here, and as we approached, it seemed that everything on the island that could float was being paddled in our direction.
A flotilla of parents and grandparents, children and teenagers, some carrying fresh fruit or trinkets to sell or trade and others simply looking for donations, pulled alongside the
Silver Wind
.
They called to passengers and crew on decks and balconies and tenders, and along with cash they were keenly interested in plastic bottles, presumably because they could be reused indefinitely.
We tendered to shore in Nosy Be and were met by local boats for a scenic ride to the nearby island of
Nosy Komba
, a lovely sliver of isolation not awarded so much as a dot on a world map.
We grounded our boat on the sand and stepped off to find the entire village waiting for us. We were led down a dirt path flanked by one-room shops and open-air stalls, filled with carvings and pottery of surprisingly high quality. Long rows of embroidered tablecloths were suspended from ropes tied between trees. Choirs of young children, with faces painted, clapped and serenaded their visitors.
Madagascar is a nature-lover's paradise, with thousands of species of plants and animals that can only be found there. By far the most interesting of them all -- to me -- are lemurs, those cute, cuddly and endangered little critters with perpetually surprised looks on their faces.
Lemurs come in all shapes and sizes and colors, nearly 100 species in all, but Nosy Komba can boast of only one, black lemurs, which have large, orange eyes. We found them on a hillside at the end of the shopping path, hopping from tree to tree like overgrown squirrels, always on the go and not at all wary of humans.
While lemur populations are under pressure from development on the main island of Madagascar, here they are protected by the villagers, who recognize the financial benefits they bring to the local economy.
After a too-short visit with these beautiful creatures, we retraced our steps back down the shopping path (emerging heavily laden on the far end) to the beach, for local music and dance and a cold Three Horses Beer, the local brew of choice.
We took a boat to the island of Nosy Be and visited the main town, Hellville, named after a former French governor, Adm. Anne Chretien Louis de Hell. We roamed the streets and the local market, passing old colonial buildings and small boutiques.
The Silver Wind weighed anchor in the late afternoon, and our next two sea days took us around the northern tip of Madagascar and then south to Reunion Island.
Reunion is an overseas department of France, and the roads, towns and facilities on the island are comparable to those in France. Reunion is known for coffee, sugarcane and vanilla, but its rugged beauty and mild climate attract tourists from Europe and South Africa.
On our helicopter ride, we soared over Piton de la Fournaise, a volcano that erupts almost every year, at 8,600 feet. Another volcano, the extinct Piton des Neiges, is the highest point in the Indian Ocean, at 10,070 feet. Between the two there are calderas (collapsed volcanoes) and canyons that afford breathtaking views from the air and lure hikers and mountain bikers.
After our helicopter excursion, we explored the seaside town of St. Gilles, built around a marina and home to the island's prettiest beaches and numerous open-air restaurants.
Yesterday, we arrived on the island of
Mauritius
, an independent republic that is thought to be the peak of a sunken chain of volcanoes stretching from the Seychelles to Reunion Island. This is the last port on our itinerary, so we said goodbye to newfound friends and sadly disembarked the Silver Wind.
We took a car to the Intercontinental Mauritius, just north of the port on the coast, and I waded into the lagoon by the sea to reflect on the cruise just ended.
Mauritius offers a stunning landscape of volcanic lakes and craters, rugged mountains and fine beaches in the Indian Ocean. The colored earths of Chamarel, rolling sand dunes in seven different hues, draw tourists and geologists from around the world.
We had planned to stay for three nights and see all the sights of Mauritius plus nearby Ile aux Cerfs, off the east coast, which some claim is home to the most beautiful beach in the region.
Unfortunately, there is a cyclone north of us, and heavy rains moved in last night. With nothing but rain in the forecast, we are cutting our trip short and will navigate through that storm tonight on our flight to Dubai, then home to Houston tomorrow.
We saw no pirates on this trip, though obviously no one could guarantee that up front. Two days after we rounded the northern tip of Madagascar, a hijacked vessel being used as a pirate mother ship, MV Zoulfecar, was spotted in the area. The vessel and its 29 crew members and passengers were pirated in November of last year.
The last two ports on our itinerary, Reunion Island and Mauritius, are generally considered to be south of the area where pirates operate.
The
Silver Wind
delivered on the promises inherent to a six-star vessel -- great food, flawless service and attention to every detail.
Silversea
always draws an interesting mix of nationalities, and on this sailing the largest groups were Brits, Germans and Americans, in that order. It was as congenial a group as you could hope to find on vacation.
From the splendor of
Dubai
to the squalor of
Mombasa
, and from the peaks of Reunion Island to the underground slave chambers of
Zanzibar
, this is a fascinating and poignant part of our planet.
St. Augustine famously said, "The world is a book, and those who do not travel read only one page."
To me, the world is more like a puzzle, and if we do not travel, we
see only one piece.
To view photos or a slideshow from this leg of my journey, please click here.
Sailing Silversea in the Indian Ocean
Various Silversea itineraries will stop at East African islands and ports while cruising the Indian Ocean this winter. The
Silver Wind
spends three nights in the
Seychelles
on a
17-night voyage
from
Dubai
to
Mahe
that begins Dec. 4; also featured are destinations in
Oman
,
India
,
Sri Lanka
and
the Maldives
. On Jan. 4, 2012, the Silver Wind calls at Reunion Island and
Madagascar
en route from
Mauritius
to
Cape Town, South Africa
, on a
10-night trip
. Sister ship
Silver Whisper
does the same itinerary in reverse, starting Feb. 5, 2012.
For more information on all of Silversea's six-star vessels and itineraries, call the cruise specialists at (800) 338-4962 or visit
Vacations To Go
.
If you have questions about cruising in Africa, cllick to learn more.
To read part 1 of Cruising the Indian Ocean, click here.
The information in this story was accurate at the time it was published in July/August 2011. Please visit
Vacations To Go
or call (800) 338-4962 for current rates and details.
Send This Article to a Friend
Bookmark this Content
Digg it!
Reddit
Furl
del.icio.us
Spurl
Yahoo!