Cruising the Deluxe Lines
This emerging niche offers value-seeking vacationers
an upscale experience and little-known ports
By Dai Huynh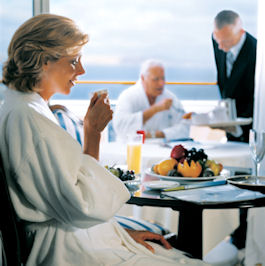 Oceania Cruises
W
hen former Houston Chronicle travel editor Harry Shattuck stepped into the lobby of
Azamara Journey
, he was greeted by white-gloved waiters bearing trays of chilled champagne and hors d'oeuvres.
He realized then that this was no ordinary ship. Instead of sitting in a big terminal waiting for a card key to his cabin suite, the veteran cruiser was escorted to a cozy lounge, where a harpist played music. The tone was set for the rest of the cruise, he thought, and at a surprisingly affordable price -- less than many ultraluxury lines. The 593-foot ship was small in size, but not in style and scope.
Outfitted for 694 passengers, Azamara Journey is one of two ships operated by a division of
Celebrity Cruises
. The line, recently rechristened
Azamara Club Cruises
, appeals to travelers seeking an upscale experience, but with a price tag that can be up to 40 percent less than the cost of high-end luxury lines.
Azamara Club Cruises and
Oceania Cruises
are spearheading a niche that's been coined by industry experts as "deluxe." Still in its infancy, this emerging category falls between mainstream and luxury cruise lines.
Like luxury lines -- such as the
Yachts of Seabourn
and
Silversea Cruises
-- Azamara Club Cruises and Oceania Cruises offer polished, attentive service. Azamara provides English-trained butlers for guests in all staterooms. Oceania offers butler service for guests in the Owner's, Vista and Penthouse suites.
Size is another commonality. Most deluxe vessels are high-caliber, moderately sized ships with fewer than 700 passengers. This translates to higher space-to-guest ratios and two-to-one guest-to-staff ratios. Take Oceania's
Regatta
,
Nautica
and
Insignia
, for example. These ships accommodate just 684 guests, cared for by 400 crew members.
Stateroom amenities also are of high quality, with many personal touches such as designer linens and bath products. Elemis products, personal stationery, a daily fruit basket, afternoon canapes and fresh-cut flowers grace all staterooms on Azamara Club Cruises. There's also complimentary shoe-shine service.
On Oceania Cruises, comfortable furnishings and wood accents add to the luxurious feel of all cabins, which are outfitted with plush cotton robes and slippers. Suite guests are pampered with a bottle of champagne, cashmere lap blankets, therapeutic bath salts, and Hermes and Clarins toiletries.
Really, the only differences between deluxe and luxury cruise lines, Shattuck says, is that deluxe cruise lines, like mainstream lines, don't include all alcoholic beverages and shore excursions in the upfront rate (although starting in April, Azamara will offer a more inclusive experience). Deluxe cruise lines are laid-back, more of a country club atmosphere than black coat and tie. In other words, no
tuxedo is required, even in the poshest restaurants on board Azamara and Oceania.
"The atmosphere on our ships is that of a luxurious private residence," says Bob Binder, president of Oceania Cruises. "We combine that with incredible dining, service and comfort."
Fans of deluxe cruise lines are loyal. "Deluxe cruises are very popular among clients that know them. While clients of most cruise lines book three to five months before sailing, clients of Oceania Cruises book nine months to a year in advance," says Emerson Hankamer, president and chief operating officer of Houston-based
Vacations To Go
, a clearinghouse for discounted vacations.
But given the scope of the global cruise industry, Oceania and Azamara still are relatively undiscovered among mainstream cruisers. "That said, word of the tremendous value and upscale cruising experience offered by deluxe lines is starting to spread," Hankamer says. "Oceania Cruises is expanding their fleet, and Azamara Club Cruises is experiencing more demand than ever. I expect this to be a fast-growing segment of the industry in the years to come."
The formula has been a winner for Oceania Cruises. "Most of our cruises sell out seven to nine months in advance, and we're eager to expand the fleet and add additional capacity," Binder says.
Oceania Cruises plans to debut its first custom-built ship in early 2011. The new
Marina
holds almost twice as many guests as its siblings Insignia, Regatta and Nautica. The trio are nearly identical ships that originally were constructed for now-defunct Renaissance Cruises. They boast impressive 1,000-square-foot Owner's Suites. Marina's Owner's Suites are even more palatial, running 2,000 square feet. Appointed with furnishings and fabrics from Ralph Lauren Home, the luxury suites possess a private fitness room, two Jacuzzis and three flat-screen televisions.
Scheduled for its inaugural cruise next January, the 1,258-guest Marina houses 10 dining venues, including Jacques, the first namesake restaurant for Oceania culinary director and world-renowned chef Jacques Pepin. The chef has penned more than a dozen cookbooks and hosted several popular cooking shows, including PBS' "Jacques Pepin: More Fast Food My Way."
Jacques' contemporary bistro menu will showcase such updated classics as coq au vin and steaks with pommes frites. Upon entering a dining room swathed in rich fabrics and lined with antiques, guests will be greeted by the succulent aromas of duck, veal and chicken roasting in a glass-and-brass rotisserie. The cuisine reflects Pepin's passion for the food of the bistros of Paris and Lyon, France. The restaurant's decor mirrors his personality and includes artwork by the chef.
Dining choices are numerous on Oceania's new flagship. For contemporary Asian, there's Red Ginger. Polo Grill serves timeless steak house signatures, Privee offers a seven-course degustation menu for just 10 guests each evening, and Toscana ladles up recipes from the grandmothers and mothers of the Italian culinary staff.
Oceania Cruises has always prided itself for having some of the best cuisine at sea, Binder says. While onboard culinary demonstrations are common, his company has taken it one step further with a state-of-the-art culinary studio that gives Marina's guests hands-on experiences.
"There will be 24 stoves, where guests can create their own dishes with the chef," says Binder. "Our guests will also have the opportunity to go to the local markets and bring back ingredients they'll use."
Food and wine comprise one of the key building blocks that Azamara Club Cruises banks on to attract guests to its 694-passenger sister vessels, the
Journey
and
Quest
. In April, Azamara, which brands itself as an "upmarket" cruise line, will start serving complimentary house wines at lunch and dinner; specialty coffees and bottled water also will be included in the fare. Along with two specialty epicurean restaurants, Aqualina and Prime C, there is complimentary 24-hour room service, afternoon tea and evening hors d'oeuvres.
Another major draw of deluxe cruise lines are the more exotic destinations and longer cruise lengths. Most itineraries range from 10 to 14 nights, and trips of three weeks or more also are available. For travelers with less time, Azamara offers some seven-night cruises in the Mediterranean. Deluxe sailing aficionados also are attracted to more overnight stays in port, which allow more time ashore. They can golf 18 holes, go horseback riding or hit the beach one day and explore museums, shops and restaurants the next.
"We're destination specialists. On key ports, we may stay two or three nights. On most standard voyages, the ship arrives at 8 or 9, and you're back at the ship at 4:30 p.m.," says Larry Pimentel, Azamara Club Cruises president and CEO. "The problem is, St. Tropez doesn't 'happen' until night. We offer destination immersion, and this enhanced experience has been exceedingly well received."
Deluxe cruises uncover hidden gems not frequented by mainstream lines. So, while many cruisers may be familiar with
Dubrovnik, Croatia
, the walled city that's featured on numerous Eastern Mediterranean cruises, they may not have heard of
Korcula, Croatia
, an unspoiled island off the Dalmatian coast.
And, deluxe cruises are ideal for experienced travelers who are seeking deeper exploration of other cultures. For example, guests on Azamara's Asia cruises can purchase a three-night overland tour that starts with a traditional Chinese lunch in
Beijing
, followed by an extensive culture-and-art program in the city and a flight to Xian, where guests will get a glimpse of the ancient Indian scriptures that launched the Buddhist movement in China.
"We've opened the bandwidth to allow people to see a destination in a different way," Azamara's president Pimentel says. "This year, we're visiting 50 countries and 140 ports, which is rather aggressive. It also implies that we don't have a home port. But that's because our port is the world."
Azamara sails the globe, with an emphasis on Europe, Asia, Mexico, the Middle East, the Panama Canal and the Caribbean. Oceania's ships frequent Europe, Asia, Africa, South America, the Panama Canal, the Middle East and the Caribbean. Both lines offer trans-Atlantic crossings. But deluxe sailing isn't for everybody.
"It's tailored for a mature audience that wants to get away from the crowd," says Shattuck, who has boarded more than 160 cruise ships. "So you're not going to find all-night discos or a hairy chest contest."
Also, don't expect lavish entertainment on deluxe ships, where the hallmark is quality. "If there's a magician, it'll be a better magician than what you will find on most premium ships," Shattuck says. "And while the singing troupe may be smaller in size, the singing will probably be better, more intimate."
Cruising the Deluxe Lines
Vacations To Go
offers the deluxe cruising experience of Azamara Club Cruises and Oceania Cruises at deeply discounted rates. For example, a search of the company's Web site revealed a
12-night Black Sea
sailing aboard
Azamara Quest
for $2,999 per person -- half the original brochure price of $5,998. The ship departs Istanbul on June 20 and calls at ports in Ukraine, Bulgaria, Turkey and Greece, including Yalta, once a popular seaside retreat for Russia's czars, and Kusadasi, a gateway to the impressive Greek and Roman ruins of Ephesus.
A
12-day South American itinerary
aboard Oceania Cruises'
Insignia
skims the coasts of Brazil, Uruguay and Argentina and includes overnight stays in Rio de Janeiro and Buenos Aires. At press time, Vacations To Go offered the Dec. 21 trip for $2,349 per person, a remarkable savings over the original rate of $9,198. All rates are based on double occupancy in an inside cabin.
For more information, call (800) 338-4962 or peruse Vacations To Go's
Azamara
and
Oceania
pages.
The information in this story was accurate at the time it was published in March/April 2010. Please visit
Vacations To Go
or call (800) 338-4962 for current rates and details.
Send This Article to a Friend
Bookmark this Content
Digg it!
Reddit
Furl
del.icio.us
Spurl
Yahoo!