Cruising the Bahamas and Caribbean
From cheap three-night trips to leisurely sailings amid exotic isles, this region offers enticing escapes
By Alexis Hilts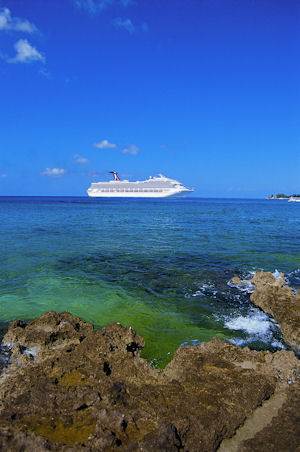 Carnival Cruise Lines
S
ometimes you just have to get away. You want to sip a daiquiri, lie on the beach and let the sun warm your skin. Or maybe you're looking for something a little more energetic -- kiteboarding or ziplining, perhaps?
But just as you conjure up images of bathing suits and bongos, you remember your jam-packed schedule, tight budget or both. Before you let your dreams of a balmy island escape drift away, consider a cruise to the
Bahamas
or the
Caribbean
.
Whether you're looking for a fun long weekend or a two-week jaunt to exotic surroundings, cruise vacations in these tempting regions are the answer. With destinations close enough for quick, budget-conscious tropical escapades or far enough to accommodate those looking for uncommon adventures, vacationers of all kinds can find a deal that suits their needs.
Cruises have long been a vacation favorite for their unmatched value, wrapping meals, snacks, onboard activities and entertainment and transportation between ports into one fare. And by taking advantage of greatly reduced prices negotiated by cruise discounters such as
Vacations To Go
, a 26-year-old company based in Houston, you can get the best deals on that much-needed break.
Sailing the Bahamas
The proximity of the
Bahamas' 700 islands
to Florida makes for a convenient retreat for travelers looking to cure their tropic fever in less time. This former British colony supplies its guests with a sampling of island features: temperate climate, clear waters, a variety of wildlife and a strong cultural heritage.
Ships usually depart on short trips of three to five nights from Florida cities like
Jacksonville
,
Miami
,
Fort Lauderdale
and
Port Canaveral
. Seven-night itineraries to the Bahamas leave from
Baltimore
,
New York City
and
Galveston, TX
.
Charleston, SC
, is the home port for the
Carnival Fantasy
, which embarks on five-night voyages.
In addition to the smorgasbord of activities available on board, passengers can enjoy shore excursions in Bahamian ports, like the capital,
Nassau
. Georgian-style buildings and a pirate-filled past dominate this city's character, and bargains on jewelry, perfumes and local craft items make it a preferred stop for souvenirs.
Several cruise lines also provide built-in beach time with stops at private island retreats. Exclusively reserved for cruise ship passengers, these secluded beaches offer lounge chairs, food and drink service and shaded hammocks, plus plenty of recreation such as snorkeling, kayaking, horseback riding and hiking.
While these beach escapes are similar in many ways, each has its own perks. On
Princess Cays
, Princess Cruises' piece of Eleuthera Island, guests can play in the turquoise sea with water toys (maybe sail a Hobie Cat or ride an aqua bicycle built for two), or grab a snorkel and some fins and check out the schools of colorful fish inhabiting the surrounding coral reef.
CocoCay
is Royal Caribbean's islet, where an aqua park and a sunken replica of one of Blackbeard's ships are popular attractions. In Disney fashion,
Castaway Cay
in the Abaco Islands is brimming with costumed characters like Mickey, Minnie and, of course, pirate Jack Sparrow to entertain the little ones. But a kids-free beach with a bar, massages and yoga makes it fun for adults, too.
Bird lovers and naturalists will appreciate
Half Moon Cay
, a hideaway shared by Holland America Line and Carnival Cruise Lines that is situated on a 2,400-acre bird sanctuary on Little San Salvador. Horseback riding along the beach and bicycle tours with doses of local history are a couple of the things that make this a passenger favorite.
Norwegian Cruise Line, the first to purchase a private island, has begun a renovation of its
Great Stirrup Cay
. On tap are an expanded beachfront, more dining options, private cabanas and a play area for kids. These changes -- and the addition of new shore excursions, like an eco-cruise and stingray encounter -- are scheduled to be in place by the end of 2011.
A great deal:
Trips start at three nights and are priced from less than $200 per person, providing an opportunity for first-time cruisers to test their sea legs without making a big commitment. At press time, for example, Vacations To Go featured
three-night sailings
from Miami to Nassau and Great Stirrup Cay aboard the 3.5-star
Norwegian Sky
starting at a discounted rate of $149 per person.
Vacations To Go also offers
three-night trips
on
Carnival Imagination
from $159 per person. Another 3.5-star ship, it docks in Nassau for more than 20 hours, giving passengers time to experience the city day and night.
Cruising the Caribbean
The best thing about sailing the
Caribbean
-- besides the therapeutic nature of basking in the sunshine and cooling off in lapis seas -- is that just about anyone can find an itinerary that fits their personal picture of paradise and works within their budget and schedule. Consisting of three regions --
Western
,
Eastern
and
Southern
-- the Caribbean has a great mix of locales, from well loved to off the beaten path. Ports for these tropical journeys often overlap, so you might stop at destinations in different regions on the same sailing.
A few ships will be sailing the Caribbean for the first time this year. New arrivals from Holland America and Norwegian, the
Nieuw Amsterdam
and the
Norwegian Epic
, will traverse the Caribbean Sea from Florida ports. Silversea Cruises'
Silver Spirit
offers seven- to 14-night itineraries from Fort Lauderdale and Barbados. And Royal Caribbean International's second 5,400-passenger ship,
Allure of the Seas
, launches island-bound trips from Fort Lauderdale in December.
The Western Caribbean
If you're looking for cruises that pack high value into a short span of time, this part of the tropics is ideal. Of the three defined regions, the Western Caribbean is the closest to the U.S. and the most popular. While you won't find many six-star luxury liners in these waters, there are plenty of options in state-of-the-art vessels. Trips last four to seven nights, and ships depart from Galveston, New Orleans and Florida ports.
Passengers can venture to places in Mexico, Jamaica, the
Cayman Islands
,
Costa Rica
and
Honduras
, mostly well-traveled spots with broad appeal. Here are a few highlights.
The largest of the three British-influenced Cayman Islands, located 450 miles south of Miami,
Grand Cayman
is brimming with restaurants, shops and luxury hotels. With some of the most translucent waters in the Caribbean (visibility is clear at depths up to 120 feet), it boasts optimal conditions for snorkeling and scuba diving. Sunken wrecks and ornate walls of coral draw underwater devotees, while wildlife enthusiasts can splash in the shallows with the friendly denizens of Stingray City or head to Cayman Turtle Farm, a conservation center for the area's green sea turtles.
Browse for duty-free gifts in George Town, the Cayman capital, or grab a taxi to the island's western coast and explore Seven Mile Beach, famous for its long stretch of silky white sand and turquoise waters.
Nestled on Jamaica's northwestern coast, friendly
Montego Bay
, or Mo' Bay, pulses with energy. This colorful town is popular among all kinds of tourists, making it less a peaceful Caribbean idyll and more a fun place to hang out. Cruise visitors can enjoy live music, sip rum cocktails and browse souvenir shops against a backdrop of beaches and colonial architecture.
Away from the main "hip strip," lush greenery surrounds natural attractions like Dunn's River Falls, where 600 feet of cool water cascading over stone platforms offers visitors a memorable climb. Fans of local history will be intrigued by the spooky Rose Hall Great House, still haunted by the legend of Annie Palmer, said to have killed several husbands and plantation slaves in the early 19th century.
Roughly 35 miles off the coast of Honduras in the Bay Islands,
Roatan
is one of the most serene nature-oriented stops on Western Caribbean cruise itineraries. Sea, land and sky are filled with life here. Colorful critters -- from purple and yellow fairy basslets to giant spotted whale sharks -- occupy reefs just offshore. Iguanas and monkeys wander the island, and vibrant parrots and hummingbirds fly the skies.
Head to the west side of the island for low-key excursions, such as a relaxing morning on the unspoiled beaches of West Bay or a stroll through the charming fishing village of West End.
A great deal:
Vacations To Go offers
weeklong sailings
on the four-star
Carnival Conquest
from $389 per person, reduced by more than 75 percent from the brochure rate of $1,669. The ship leaves Galveston and heads to Montego Bay, Grand Cayman and Cozumel, Mexico.
Eastern Caribbean
The Eastern Caribbean is largely celebrated for its scenic ports, historic architecture and great shopping. Its quaint towns exude charm, and soft, sandy seashores sprinkled with hidden bays and coves provide serene escapes.
Because ships must travel farther, cruises to this part of the Caribbean usually range from seven to nine nights. Most Eastern Caribbean cruises depart from sunny Florida ports, and a few leave from East Coast cities like New York City and Baltimore, although itineraries from these cities are seasonal and usually last longer.
Ports commonly found on Eastern Caribbean itineraries include
Puerto Rico
, the
U.S. Virgin Islands
, the
Dominican Republic
and the
Turks and Caicos
.
The largest of the U.S. Virgin Islands,
St. Croix
has a diverse landscape of rolling hills, verdant rain forest and sandy coastline. The remains of sugar plantations and 18th-century churches dot the landscape, while modern boutiques and eateries can be found in the two main towns, Christiansted and Frederiksted.
There's much to explore here, from the Whim Plantation Museum to the protected waters of Buck Island Reef National Monument, but the vibe is more laid-back than some other popular cruise ports. Golf courses and the Cruzan Rum Distillery are other lures on St. Croix.
A hike through cool, damp forest to the peak of Sage Mountain on
Tortola
affords travelers an inspiring view of this lush 10-square-mile escape, fringed with stunning beaches, and its sisters among the British Virgin Islands. Scenic drives capitalize on this picturesque paradise, which offers a slow pace and mellow vibe.
Boating is well loved in Tortola, and cruise passengers can venture out on a smaller vessel for a tour. The glasslike waters of Cane Garden Bay are optimal for a leisurely dip, and nearby
Norman Island
rewards snorkelers with incredible water clarity, exotic fish and hidden caves.
An authentic island experience -- complete with fantastic examples of West Indian architecture, lively music and great beaches -- awaits in
St. Kitts
. It's home to the vast 18th-century compound known as Brimstone Hill Fortress, one of the largest forts in the Caribbean, and shore excursions often focus on the island's colonial history.
Fertile land provides for rich biodiversity, and nature walks, snorkeling and biking are the best ways to learn about the isle's flora and fauna. Of course, some may choose to spend the day relaxing at Friars Bay. You can opt for the calm Caribbean waves on one side of the bay, or the livelier surf of the Atlantic side.
A great deal: At press time, Vacations To Go slashed the rate of a
nine-night Eastern Caribbean trip
aboard the 4.5-star
Norwegian Dawn
from $1,599 to $649 per person, departing in October and November. The Dawn sails round trip from Miami to the Dominican Republic, Tortola, Antigua, Barbados and St. Kitts.
Southern Caribbean
Fewer tourists and a distinctive selection of ports characterize the Southern Caribbean, where a string of alluring islands stretches all the way down to South America at the Venezuelan coast. Passengers immerse themselves in cultural heritage and a lush environment at each stop.
If you board a Southern Caribbean cruise in Miami or Fort Lauderdale, you're usually in for a voyage of at least nine nights. Many trips last a leisurely two weeks. Travelers with less vacation time to spare can fly to
San Juan, Puerto Rico
, or
St. Thomas
in the U.S. Virgin Islands to pick up a ship sailing seven-day trips.
Those looking for a luxury Caribbean vacation will find the most six- star vessels in this region, with Regent Seven Seas Cruises, Silversea Cruises and the Yachts of Seabourn all having a presence here. Smaller ships, like those of SeaDream Yacht Club and Windstar Cruises, specialize in itineraries to these less-traveled destinations.
Francophiles will delight in
Martinique
in the French Antilles. The sophisticated "Isle of Flowers" presents a sensual combination of French and Caribbean cultures. Delectable cuisine, designer fashions and charming cafes are complemented by sunny beaches and secluded lagoons.
Hikers will want a guide when trekking the 4,600-foot Mont Pelee -- still smoldering long after it destroyed the isle's former capital, Saint-Pierre, in 1902 -- but the panoramic vistas from the summit of the volcano are the sweet reward for the steep climb.
Set 100 miles east of the rest of the Lesser Antilles,
Barbados
is a floating hideaway of caverns and underground lakes. Flowering, fragrant gardens make this a horticulturalist's haven, while championship golf courses and submarine excursions provide more diversions.
Before he became an American president, George Washington visited Barbados on his only trip outside the U.S.; the house where he stayed is just one of the historic sites worth checking out on the island.
Unspoiled, verdant and peaceful,
St. Vincent
and the nearby
Grenadines
are among the least touristy of the Caribbean ports. Eco-adventurers marvel at the exotic beauty here, and traversing the Vermont Nature Trail in search of the endemic St. Vincent parrot is just one way to take it all in.
Join a boat tour past black-sand beaches and small fishing villages to the Falls of Baleine for freshwater swimming and snorkeling, or immerse yourself in the island lifestyle on the cobblestoned streets of the main city, Kingstown.
A great deal:
At press time, Vacations To Go offered
10-night journeys
on Holland America's five-star
Noordam
from $899 per person (marked down from rates starting at $1,049). The Noordam sails from Fort Lauderdale and calls at St. Maarten, St. Lucia, Barbados, Martinique, St. Thomas and Half Moon Cay.
Information:
To learn more about cruising in the Caribbean and Bahamas, call Vacations To Go, (800) 338-4962. You can browse itineraries and discounted rates with Vacations To Go's
Bahamas
and
Caribbean
sites.
The information in this story was accurate at the time it was published in May/June 2010.
Send This Article to a Friend
Bookmark this Content
Digg it!
Reddit
Furl
del.icio.us
Spurl
Yahoo!