Cruising Southeast Asia
Fresh from a multimillion-dollar refurbishment, the six-star
Crystal Symphony sails to Indonesia, Malaysia and Singapore
By Alan Fox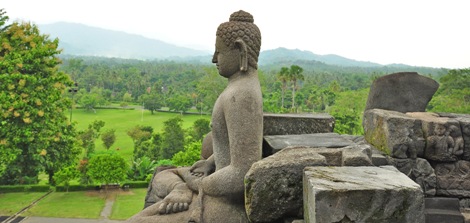 Karen Fox
I
've wanted to see
Bali
and
Singapore
for many years, so I was thrilled to find the beautiful, six-star
Crystal Symphony
visiting both places on the same sailing. As an added bonus, the cruise began at one and ended at the other, making it easy to spend a few extra days in each place.
In between these two world-famous destinations, our itinerary visited
Semarang
and
Jakarta
in Indonesia and
Kuala Lumpur
,
Penang
and
Langkawi
in Malaysia. Here are a few impressions for anyone considering a cruise to this part of the world.
Exploring Indonesia
Bali
is one of more than 17,000 islands that make up Indonesia and is the country's most popular tourist destination. While 87 percent of Indonesians are Muslim, 92 percent of Balinese are Hindu, which forms the basis of their unique culture and everyday life.
Balinese Hinduism is influenced by Buddhism and animism, the belief that everything in nature -- animals, plants, rocks, streams, wind, thunder, etc. -- possesses a soul or spiritual essence. There are 20,000 temples and shrines on the island, not counting the private temples in almost every house, where families make daily offerings to their ancestors and the gods.
Bali is mostly lush and green, with rice paddies that attest to the ample rainfall and mountains topping out at almost 10,000 feet. Our flight arrived just ahead of a storm, and we spent the first day and a half hunkered down at the Banyan Tree Ungasan, a resort on the southern coast.
When the storm subsided, we ventured out to Tanah Lot Temple, a popular attraction on the coast, and to Ubud, the main tourist and cultural center on the island. There we photographed long-tailed macaques in the deep and dark Sacred Monkey Forest Sanctuary before heading to Mount Agung, an active volcano that is the highest point on the island and considered holy by many Balinese.
The locals I met lived up to their billing as kind and gentle people. They smile when they are happy or sad or frustrated or upset. Upon meeting someone, the Balinese place their hands close together in a prayerlike position and bow their heads, with smiles so sincere I felt my own greeting could use a makeover.
At the root of this inner peace is the Balinese philosophy of Tri Hita Karana, loosely translated as "three causes of happiness." It is through the pursuit of harmony with God, with man and with nature that our lives become balanced and serene.
Many may disagree, but I think Bali's reputation for beaches is a bit overblown. The island certainly is scenic, with some great surfing spots that draw Aussies and others from around the world, but the beaches I saw do not compare well to the best of the Caribbean, Hawaii, French Polynesia or the Seychelles, and probably many other places.
It is her people that make Bali worth a visit.
After our hotel stay in Bali, we boarded the
Crystal Symphony
and sailed to
Semarang, Indonesia
, on the island of Java. With 135 million inhabitants, Java is one of the most densely populated places on Earth, a condition that visitors will not fail to notice.
Semarang's main claim to fame is that it is the closest port to the world's largest Buddhist shrine, Borobudur, about 45 miles away. Intrigued by onboard lectures, we resolved to make the trip.
With ferocious traffic most of the way, our shore excursion would not have been possible in a single day if not for our police escort in both directions. Sirens wailing and lights flashing, he waved cars in front of us to the side of the road and led our convoy of motor coaches down the wrong side of the street to pass ubiquitous traffic jams. The trip still took two and a half hours, each way.
Borobudur was built of stone in the ninth century and stands nine levels high with a large dome on the top. Each level represents a different stage of enlightenment. Buddhist pilgrims begin at the base of the temple and follow a path through stairs and corridors around and up the monument, passing dozens of statues of Buddha and more than 2,600 reliefs that tell an extended narrative.
For anyone curious about Eastern religions, the place is worth the trip.
Next, we sailed to
Jakarta
, Indonesia's capital city. There are 28 million people in the greater metropolitan area, and at any given time, I estimate that at least 27.9 million are stuck in traffic.
We visited the National Museum, the National Monument and the "old city," built by the Dutch when they ruled the country. We also passed rivers and canals choked with garbage, breathed smog that blocked the sun and stared out our windows at heartbreaking slums.
And if the city did not already have enough problems, it's sinking at a rate of 5 to 20 centimeters per year. At the current pace, large sections of northern Jakarta, including the airport, could be underwater in 20 years. Government officials are considering building a dam to hold back the sea.
Back in the industrial port of Jakarta, we climbed aboard the gleaming white
Crystal Symphony
and let the events of the day sink in. I like to think that every problem has a solution, but Jakarta's will take some time to sort out.
For a slideshow of photos from this leg of the trip,
please click here
.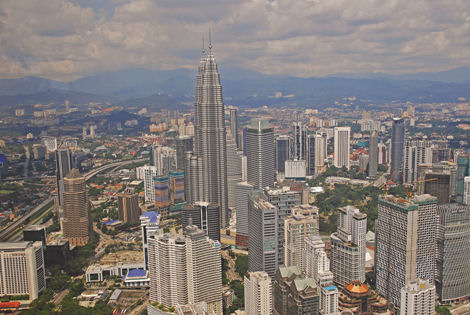 Alan Fox
Malaysia and Singapore
After two relaxing and luxurious days at sea, which included an equator-crossing ritual, we began our visit to the country of Malaysia in its capital city,
Kuala Lumpur
. Malaysia is more prosperous and less populous than Indonesia, and nowhere is the difference more striking than in the capitals.
Kuala Lumpur is modern and bustling but clean and orderly, with an impressive skyline that includes the Petronas Towers, once the world's tallest office buildings and still the tallest twin towers. The lower floors of both towers combine to form one of Malaysia's premier shopping malls.
Also notable is the KL Tower, used primarily for communication but containing an observation deck 1,100 feet above the ground, the highest viewpoint in the city that is open to the public. We visited all three structures and strolled through Chinatown and the Central Market.
We stopped at an Indian diner to witness traditional tea pulling, where strong, hot tea mixed with condensed milk is poured between pitchers until the right amount of froth and the ideal temperature are achieved. We drank our pulled tea with dosa, a fermented crepe that we dipped in fish curry.
The population here is primarily Malay, Chinese and Indian with the corresponding mix of Muslim, Buddhist and Hindu cultures. We visited a small Chinese temple on the edge of Chinatown filled with smoke from incense, candles and burning paper prayers (the smoke carries the prayers to the heavens).
In the central city, we explored the wildly loud and colorful Hindu temple, Sri Mahamariamman, where gongs, bells and drums rang out.
We finished our shore excursion with an opulent buffet lunch at a luxury hotel, where we sampled many local delicacies, including jellyfish salad and raw squid.
The next morning, we arrived in
Penang
with plans to take a boat to a monkey-filled national park for swimming and a barbecue. However, my stomach was a bit on edge (I am not pointing fingers at the raw squid), so we rode the ship's free shuttle into town and explored on our own. Having seen very little of Penang, I don't have a strong impression of the place but it was friendly enough.
Then we were on to
Langkawi
, an island just off the coast from the Malaysia-Thailand border, which has become a regional tourist destination. Lush and verdant, Langkawi is sparsely populated and home to a growing number of upscale resorts. The sun was out as we drove into the countryside, where we parked on the banks of a saltwater river and traded our motor coach for small powerboats that held six guests.
After a short ride upstream, we climbed out of the boats and into a pitch-black cave, where the guide's flashlight revealed a ceiling covered with twitching bats just above our heads. Then we returned to our boats and raced through a maze of rugged islands jutting almost straight up from the sea. We stopped to watch eagles swooping low to snatch bits of food being tossed on the water by another boat's captain before continuing on to the Strait of Malacca.
Langkawi is the largest island of about 100 that make up the Langkawi Archipelago. It's a beautiful place, and we enjoyed being in nature after several days of urban experiences.
Then we were off to our final destination, the crown jewel of the cruise,
Singapore
.
Singapore is a tiny (12 by 22 miles in size), safe and immaculate country with a soaring skyline. The country is one of the world's largest banking centers and home to headquarters and regional headquarters of numerous multinational corporations.
Separated from Malaysia by a narrow channel, Singapore was purchased by the British soon after Thomas Stamford Raffles arrived in 1819, when there were only about 1,000 inhabitants. Singapore suffered a brutal occupation by the Japanese in World War II, became part of Malaysia for two years starting in 1963 and became fully independent in 1965.
Since that time, the country has gone through an amazing transformation. Today, more than 5 million people call Singapore home, and the country is so desperate for space that it is buying sand from neighboring countries and expanding into the ocean. It is estimated that Singapore's land reclamation projects have increased the country's total land area by 21 percent.
The country's low personal income tax rates and booming economy are not only creating wealth but attracting a wave of millionaires and billionaires from around the world. An astounding 1 in 6 families in Singapore has a net worth exceeding 1 million dollars -- not counting the value of real estate, businesses and luxury goods.
We spent one night docked in Singapore on the
Crystal Symphony
and three more nights at the Four Seasons to make sure we had ample time to see everything.
We visited the futuristic Marina Bay Sands -- three 55-story hotel towers connected by a rooftop terrace with a 492-foot-long infinity pool -- to watch the sun set over the city. We tried Singapore Slings where they were invented, at the famous Long Bar at the Raffles hotel, and spent a morning exploring the Singapore Botanic Gardens. We enjoyed a lavish Sunday brunch at the Fullerton Hotel, followed by a stroll along the Singapore River. At night the restaurants and bars there come alive, and the skyscrapers are illuminated with lights that change color and design.
We explored Chinatown and Little India on foot and visited the aquarium on Sentosa Island. The aquarium was the only disappointment we experienced, with such cramped tanks my wife and I would have gladly helped every creature escape into the ocean if we could have.
The Singapore airport -- the world's highest-rated airport in many frequent-traveler polls is an attraction unto itself, with beautiful artwork, extensive shopping and restaurants, swimming pool, nature trail, butterfly garden and movie theaters. The airport has become a big draw for local residents.
Of all the places I have seen in my life, Singapore is outdazzled only by Dubai, which is financed by vast oil production, while Singapore has no natural resources of any consequence.
Some say that Singapore's biggest single advantage is its educational system. Children are enrolled in school at an early age and taught to smile, study hard and respect their teachers. There is constant pressure to work hard in order not to be left behind.
Students take standardized tests on a regular basis, and the best and brightest are channeled into programs for the gifted and talented. A high percentage of families pay for private tutoring for their children after the public school day ends. Admission into the best universities and ultimately the best jobs go to those with the best performance, without regard to the family one is born into, race, religion or nationality.
The country is a meritocracy with a can-do spirit.
Singapore's government has been criticized for making drug traffickers eligible for the death penalty, for caning graffiti "artists" and vandals and for banning nonmedicinal chewing gum. The punishment for smuggling gum into the country is a year in jail and a $5,500 fine.
As a deterrent, there's no question the laws are effective. The country has one of the lowest rates of drug abuse in the world and no one is pushing drugs on the street. We did not see any graffiti, gum or litter of any sort. But do these activities merit the punishment?
Each side of this argument has its supporters. Most Singaporeans are in favor of the penalties and believe that their government is doing a good job.
There are many things to admire about Singapore, some to ponder and perhaps a few that would be better changed, as in any country.
Singapore is an eyeful. Visit if you get a chance.
Please click here
for a slideshow of photos from this leg of the trip.
On Board Crystal Symphony
A decade has passed since my first cruise on the six-star
Crystal Symphony
, and at the time I felt that the onboard experience was the finest I had ever encountered. Last year,
Crystal Cruises
completed a $65 million redesign of every public area and stateroom on the already spectacular ship. I revisited this grand vessel for our voyage in Southeast Asia, and I am pleased to report that it is, quite literally, better than ever.
From the moment we stepped on board in Bali, we felt welcome and pampered. And by the time we disembarked in Singapore, we knew we would genuinely miss our smiling room stewardess, Sheetal; our energetic butler, Teo; and our always-happy-to-accommodate-special-requests dining room waiter and assistant, Ilija and Murat -- plus the many other kind people who took such good care of us.
The folks at Crystal know that a happy crew makes for happy guests, and the hardworking staff seems to enjoy what they do. They also have an uncanny way of anticipating what you need or want in advance and making sure it's there before you ask for it.
While the redesign has helped the Crystal Symphony set new standards for luxury and beauty, the service and the food are now as they were then, simply off the charts.
*****
What is it about being on vacation in general -- and at sea in particular -- that whets the appetite?
I'm lucky if I take time to swallow four ounces of yogurt for breakfast on a workday, but somehow on a cruise I find room for eggs, bacon, potatoes, tomatoes, smoked salmon, fruit, sweet rolls and juice.
That's about 10 percent of what is available in the Lido Cafe on the Crystal Symphony but still a lot to work off, so it helps to become familiar with the bikes, treadmills and dumbbells in the Fitness Center. On sea days, we found it emptied out near lunchtime, so we'd slip in around 11:30 to pay our dues.
It's always more fun to travel with friends, and on this cruise we were accompanied by two dear friends from Houston. Most evenings, we came early and stayed late at the Crystal Dining Room, enjoying the fine food and the conversation with our waiters.
Every few days, we ventured out to try one of the other dinner venues: the incredibly popular Silk Road and The Sushi Bar, which was 100 percent booked for the entire sailing prior to embarkation, or Prego, the stylish Italian restaurant.
A word to the wise: Book your dinner reservations at these specialty restaurants as soon as you book your cruise.
The
Crystal Symphony
boasts numerous inviting places to linger over coffee or cocktails, including the sophisticated, panoramic-view Palm Court and the clubby and intimate Avenue Saloon. The centrally located Crystal Cove became our go-to spot for a predinner sundowner and meeting up with other passengers.
My favorite venue on the ship was, of course, the Crystal Spa. There is nothing more relaxing than a massage at sea, and the therapists on Crystal are among the very best.
Like many people, I work at a computer all day, and over the years I have developed a few posture-related aches and pains that help me rationalize spa treatments as mostly medicinal in nature.
My wife indulges me in this dubious characterization, and in return, I encourage her to visit the ship's boutiques to buy anything she "forgot to pack." In biology class, we called this symbiosis.
Crystal's enrichment lectures are always strong and topical, and with so many guests eager to learn about Buddhism, Hinduism and the history and culture of the places we were visiting, there was not an empty seat in the house at any lecture I attended. The cultural anthropologist from Outward Bound, Jim Rowe, was particularly interesting. He told us that the Indonesians have a smile for every emotion and occasion, which I can now confirm.
We enjoyed the nightly entertainment in the Galaxy Lounge, especially two brilliant performances by the UK pianist-singer-comedian Jon Courtenay. And when the day was done, we loved retreating to the luxury of our stateroom, with decor that was fresh and new and attractive.
Crystal is now all-inclusive, meaning that gratuities, fine wines and premium spirits are included in the upfront price. With a capacity of 922 guests and 566 crew, the Crystal Symphony's guest-to-crew ratio is among the best in the cruise industry.
I had been in the travel business more than 15 years before I had the opportunity to sail a six-star ship, and they are never inexpensive, but considering all that is included, they are by far the best value available in luxury travel.
Crystal Cruises
has won more "world's best" awards than any other cruise line, from a long list of consumer and trade travel publications. It's not a surprise to me that this cruise line dominates whichever category it is in.
The information in this story was accurate at the time it was published in September/October 2013. Please visit
Vacations To Go
or call (800) 338-4962 for current rates and details.
Send This Article to a Friend
Bookmark this Content
Digg it!
Reddit
Furl
del.icio.us
Spurl
Yahoo!