Cruising Solo
Savor your independent escape through the peaceful solitude
of a studio cabin, hosted singles sailings and more
By Lucy Spicer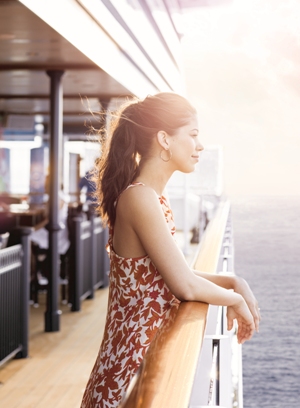 Norwegian Cruise Line
A
t first glance, the world of travel seems to be made for pairs. Between double-occupancy rooms and added fees aimed at singles, what's an independent adventurer to do?
Thankfully, cruise companies are catching on to the solo travel trend and adjusting their accommodations and amenities to be more inclusive of individuals. Singles cabins aboard both oceangoing and river ships, reduced or waived single supplements, roommate-matching programs and hosted theme cruises are helping to shed light on the joys of traveling solo.
A room of one's own
With the increasing popularity of solo travel, both
oceangoing
and
river cruise
companies are adding singles cabins to select vessels. These accommodations usually are limited in number and sell out fast, so it's best to book them far in advance. The following four cruise lines and two river cruise companies cater to individuals with coveted single rooms.
Royal Caribbean International
offers studio interior staterooms on three of its ships: the
Anthem of the Seas
,
Ovation of the Seas
and
Quantum of the Seas
. A high-tech solution provides outside views: Each room is equipped with a Virtual Balcony, a wall-mounted, high-definition screen that displays real-time footage of the water and passing sights. At 101 square feet and with a full bed, these quarters are a bit of a squeeze, but they also come with a full bathroom, TV, mini-fridge and safe.
Traditional verandas await in Royal Caribbean's studio ocean-view staterooms, available on the same vessels. These cabins measure 119 square feet, with an additional 55 square feet of balcony space.
The studio accommodations on five
Norwegian Cruise Line
ships also hover around the 100-square-foot mark but include the added perk of exclusive access to the Studio Lounge. With complimentary coffee and nibbles, TVs and plenty of seating, the lounge is a place to relax and socialize with other single passengers on your cruise. Solo travelers can take advantage of this bonus on the
Norwegian Breakaway
,
Norwegian Epic
,
Norwegian Escape
,
Norwegian Getaway
and
Pride of America
. Indulge in these amenities on a
seven- to 14-night cruise
aboard the newly introduced Norwegian Escape, which calls at beachy locales in
the U.S. and
British Virgin Islands
,
the Bahamas
and more between now and April 2018.
For a particularly luxurious crossing, consider sailing with
Cunard Line
, whose fleet now carries single cabins on all three of its vessels, including the recently renovated
Queen Mary 2
. Ocean-view staterooms bask in natural light thanks to windows almost large enough to be called floor-to-ceiling. On the
Queen Elizabeth
and
Queen Victoria
, the single accommodations are located in the center of the action -- close to the Royal Court Theatre, an elegant multideck venue for musicals and movies, and the Queens Room, which hosts dazzling ballroom dances.
Holland America Line
has met the demand for single-occupancy cabins with the
Koningsdam
, which made its debut voyage in April and boasts 12 ocean-view solo options. These rooms, which range from 127 to 172 square feet, welcome the independent traveler with complimentary fresh fruit upon request, turndown service, luxurious terry-cloth bathrobes and more. As the Koningsdam currently is the only Holland America cruise ship with single cabins, these accommodations are sure to sell out early on upcoming voyages. Explore
a series of Caribbean sailings
departing Fort Lauderdale, FL, this winter bound for ports in the
Cayman Islands
,
Turks and Caicos
,
Puerto Rico
and the
U.S. Virgin Islands
.
Two big names in river journeys supply solo-friendly sanctuaries.
Viking River Cruises
provides single staterooms on two of its ships frequently used along the
Danube
: the
Viking Prestige
and
Viking Legend
. Most single rooms feature floor-to-ceiling glass doors that lead to French balconies. Since the beds in these quarters are convertible sleeper sofas, the 150-square-foot space can be maximized during the day by folding the mattress back into storage.
American Queen Steamboat Co
. plies the mighty
Mississippi River
and has single accommodations on both of its iconic vessels. The
American Queen
, the largest steamboat in the world, has inside lodgings as well as outside staterooms with French doors that open to the ship's deck. The
American Empress
, which navigates the
Columbia and Snake rivers
in the Pacific Northwest, features one outside stateroom for singles with a private veranda. While all rooms are quaintly adorned with period decor, the inside staterooms only measure 80 square feet. The Queen's outside-facing rooms are 140 square feet.
Supplement Solutions
Found an itinerary you love only to discover that all the single-occupancy spaces are taken? That means making do with a double room, which occasionally leads to the dreaded single supplement. When calculating these fees, your cruise line typically starts with a cabin's per-person rate based on double occupancy and adds 50 to 100 percent to the price, covering the cost of the absent passenger.
The experts at Vacations To Go have compiled
a list of oceangoing cruises with either deeply discounted or waived supplements for singles
. Itineraries reflecting zero single supplement include Mediterranean and Northern Europe trips aboard Cunard, Holland America and
Ponant Cultural Cruises & Expeditions
.
River cruise company
AmaWaterways
has waived single supplements for base-category cabins on all 2016 and 2017 departures in Europe, Asia and Africa, including journeys down the Rhine, Danube, Mekong and Chobe rivers. Solo guests also receive an invitation to dine at the captain's table.
Roommate matches are available on select lines to help you avoid the supplement. Holland America's Single Partners Program pairs guests of the same sex in a double cabin. If the line cannot find a suitable roommate for someone, that passenger is able to book accommodations built for two without taking on the extra expense. Additionally,
Holland America
hosts cocktail parties, group games, dance classes and more that encourage mingling among passengers.
The hosts with the most
Seasoned travelers likely have a few tricks for making new friends at sea, but what about those new to solo cruising?
"If you're traveling alone, you're not going to know anyone on the ship, and that may deter you from getting the most out of your vacation," says R.J. Hightower, manager of the singles department at Vacations To Go. "If you are traveling with a hosted singles group, there will be like-minded people who you can mingle with, and you can potentially make new friends that you can travel with in the future, and that happens quite often."
These
unique theme cruises
are led by enthusiastic and dedicated hosts who "help facilitate meeting new people and run our exclusive games and activities," Hightower says. That includes trivia matches, scavenger hunts, battle of the sexes contests and more. Cruise hosts also direct shore excursions, organize cocktail hours and costume parties (pirate night or an '80s bash, anyone?) and do everything they can to help singles feel included, even ensuring no one is left out at meal times. "Singles cruising is always a lot of fun," Hightower says. "Even our hosts get addicted."
The hosts' energy levels stay high thanks to their commitment to keeping the itineraries fresh. While a few familiar destinations might pop up each season, Vacations To Go engages a variety of cruise companies and ships to mix up venues, and new activities and theme parties often are introduced. Since no two singles cruise experiences are the same, the program has amassed repeat guests. "They end up coming back and traveling with us again and again," Hightower says. "We have a list for those people; they're called serial cruisers."
Vacations To Go's hosted singles cruises can attract anywhere from 60 to 500 participants. Halloween sailings have proved especially popular, and the company offers three separate singles trips to mark the holiday this fall. All depart on Oct. 30 from
Miami
;
Long Beach, CA
; and
San Juan, Puerto Rico
. Most voyages have no age specifications, though a handful -- including the Halloween jaunt from Miami headed for
Belize
, the Mexican isle of
Cozumel
and other tropical ports aboard the
Norwegian Getaway
-- are reserved for singles 40 and older.
Participants can sign up with friends and share a cabin, shell out the single supplement to secure accommodations of their own or use Vacations To Go's match program to be paired up with a roommate based on gender and smoking preference. Roommate matches not only help save money on a double occupancy stateroom, they also encourage passengers to socialize and make friends right from the start.
Experience the perks of a hosted singles cruise this summer during
a seven-night jaunt
to
Mexico
,
Jamaica
and the private beach retreat of
Labadee, Haiti
, with
Royal Caribbean
. Prices start at $877 per person, and your amenity-packed megaship, the
Allure of the Seas
, departs
Fort Lauderdale
on Aug. 21.
The information in this story was accurate at the time it was published in July/August 2016. Please visit
Vacations To Go
or call (800) 338-4962 for current rates and details.
Send This Article to a Friend
Bookmark this Content
Digg it!
Reddit
Furl
del.icio.us
Spurl
Yahoo!