Cruising Close to Home
Two companies use small ships to explore
U.S. waterways and charming ports of call
By Jennifer Davoren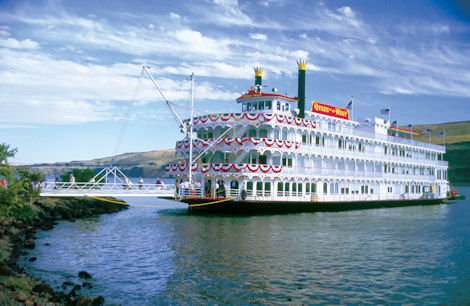 American Cruise Lines
L
uther Blount started his vacation cruise line in 1966 with a simple philosophy: His vessels, each accommodating fewer than 100 passengers, would "go where the big ships cannot."
They would navigate narrow waterways, call at unique ports and offer guests a different perspective on their favorite destinations. They also would aspire to a higher level of customer service, treating passengers to the kind of personal attention largely absent on oversize ocean liners.
The company now known as
Blount Small Ship Adventures
still works with its founder's mission in mind. It even employs a few of Luther Blount's ship-specific inventions -- including a bow ramp he patented for walking straight from ship to shore -- to give guests quick and easy access to waterfront locales.
Blount joins another travel provider,
American Cruise Lines
, in offering a variety of exceptional itineraries that tour top vacation locales around the United States. These two cruise lines navigate coastlines, rivers and even the Great Lakes to reach resort towns, historic sites and other lures across the country.
When not exploring ports of call, ACL passengers enjoy spacious staterooms stocked with flat-screen satellite televisions, DVD players and, in most cases, a private balcony. Blount's three ships, all refurbished in the last two years, have lounges with 180-degree views and sundecks, perfect spots to watch the scenery unfold.
Live musical performances and evening lectures on approaching destinations round out amenities for ACL and Blount guests. Onboard atmospheres are always casual, and there's no need to dress up for dinner.
Small-ship cruises of the U.S. are a boon for history buffs. ACL's eight-day "
Columbia and Snake Rivers
," for instance, uses a gingerbread-trimmed paddle wheeler to explore Lewis and Clark's western stomping grounds.
This Columbia River tour begins in Portland, OR, stuffed with modern amenities and heritage attractions alike. Before boarding your ship, the stately Queen of the West, you might look for travel guides at Powell's City of Books, a shop that occupies an entire city block, or sniff the blooms at the International Rose Test Garden, where fans grow new hybrids of their favorite flower.
Once on the river, guests should have their cameras at the ready. Their first stop is historic Astoria, OR, home base of Lewis and Clark's Corps of Discovery in the early 19th century. Sailing on through the Columbia River Gorge, an 80-mile-long canyon ringed by red-rock cliffs and misting waterfalls, guests will spot three famed mountains -- Hood, Adams and the volcanic St. Helens -- before reaching the Dalles, a Native American trading ground and a final stop for Oregon Trail pioneers, and Walla Walla, WA, a winemaker's hideaway.
Prices for this trip start at $3,695 per person without airfare, and a range of departure dates offer spring, summer and fall embarkations. Tourism officials are torn on the best time for a visit -- while spring means powerful waterfalls fed by melting snow, autumn means welcoming temperatures and some awe-inspiring foliage.
This type of vacation also can offer an in-depth look at U.S. seafaring history. Experienced cruisers and other sailing fans are drawn to vacations like "
Maine Coast and Harbors
," a seven-day ACL itinerary. Ports of call include two waterfront "capitals": Boothbay Harbor, "the boating capital of New England," and nearby Camden, where the towering masts of local vessels have earned it the nickname "the tall ship capital of Maine." Optional shore excursions to the Penobscot Marine Museum and other maritime heritage sites explore the state's fishing, whaling and shipbuilding industries, along with other aspects of a sailor's life in 19th- and 20th-century Maine.
This vacation also takes in the Greek Revival mansions built by traders in Belfast, and French and British colonial sites across the bay in Castine. Guests also can shake off their sea legs in Acadia National Park, either on a forest ranger-led tour or on a hike along its rocky shoreline. Rockland, ME, one of the final ports of call, offers the Maine Lighthouse Museum, where visitors learn about the U.S. Coast Guard; the Wyeth Center at the Farnsworth Art Museum, where three generations of American artists are honored; and the Project Puffin Visitor Center, dedicated to local wildlife conservation.
Five departures of "Maine Coast and Harbors" are available between June and September, with prices from $3,110 per person without airfare.
Coastal cruises of the Southern states offer Civil War battlefields, whitewashed antebellum homes and plenty of regional hospitality. But ACL vacations like the eight-day "
Historic South and Golden Isles
" also seek waterfront wildlife preserves and examine centuries of European influence.
Traveling between Charleston and Jacksonville -- you can choose a southbound or
northbound
route -- guests see notable sites ranging from Fort Sumter National Monument, where the first shots of the Civil War were fired, to Jekyll Island, a Georgia retreat for 19th-century millionaires. On South Carolina's Daufuskie Island, cruisers can learn about the unique culture of the Gullah, African-Americans who make their home in the Lowcountry but have preserved their ancestors' language and customs. Free time in genteel Savannah, GA, founded in 1733, could be spent on a guided walking or horse-drawn carriage tour of its cobblestoned interior.
One day is devoted to exploration of Florida's Amelia Island. This Isle of Eight Flags -- a former property of France, Spain, Mexico and both the Confederate and modern United States, among others -- is now a naturalist's escape, where 13 miles of beaches draw nesting sea turtles and a variety of birds. Many departures are available, though trips are suspended during the sweltering summer months. Prices start at $3,595 per person without airfare.
In addition to their enticing ports of call, river and coastal cruises of the U.S. can demonstrate how your host companies give back to their favorite destinations. Blount's six-day "
Islands of New England
" passes Prudence Island, where the cruise line's founder donated nearly 100 acres and a few million specimens for a local oyster regeneration project. While Blount itineraries in this region offer plenty of chances for fresh seafood, the company also does its part to replenish New England's overfished waters.
"Islands of New England" begins on Massachusetts' Cuttyhunk Island, "a place to do a whole lot of nothing" other than fish and relax, according to local tourism promoters. After a peaceful day among Cuttyhunk's sand dunes, Blount's guests are whisked to Nantucket, Martha's Vineyard and Newport, RI, three spots known for their megamansions as well as their scenic beauty. An add-on sightseeing excursion visits The Breakers, the 70-room "summer cottage" built by the Vanderbilt family in the 1890s.
There are stops in New Bedford, MA, where novelist Herman Melville worked as a whaler while completing research for "Moby Dick," and Block Island, RI, a haven for beachside bike rides and bird-watching. Four departures are available this August, with prices starting at $1,719 per person without airfare.
Military history is a highlight on "
Charming Chesapeake Bay
," an 11-day Blount cruise of an East Coast institution. After a welcome wine tasting in Baltimore aboard the Grande Caribe -- Blount's intimate 96-passenger vessel -- guests prepare for three days of sightseeing in Annapolis, MD, and Alexandria, VA. An optional excursion transports patriots to the country estate of George Washington, Mount Vernon, before the ship heads for Norfolk, VA, home of the world's largest naval base.
Colonial sites are next on the itinerary. Jamestown, Yorktown and Williamsburg in Virginia make up America's Historic Triangle, where England established its first permanent settlement in 1607 and lost its American holdings in a fierce Revolutionary War battle 174 years later. Three cities in Maryland follow, where local historians host walking tours of 19th-century architecture and the Chesapeake Bay Maritime Museum offers 18 acres of vintage boats and other artifacts. Blue crabs, a regional delicacy, are unearthed and enjoyed on a "picking" excursion.
Guests spend the last day of this vacation touring Baltimore at their leisure, followed by a farewell musical performance aboard the Grande Caribe. Blount offers just two departures, on June 16 and 28, with prices from $3,279 per person without airfare.
Lures along Lake Michigan range from Chicago shopping and nightlife to Milwaukee's brewing scene. But Blount's eight-day "
Magical Lake Michigan
" itinerary also promises a few Old World experiences, no passport required.
Sailing round trip from Chicago, the cruise makes its first stop in Holland, MI. This town borrows more than its name from its founders' homeland. Residents prize their Technicolor tulip blooms, family-owned Dutch restaurants and the unique products of the De Klomp Wooden Shoe and Delft Factory. Windmill Island Gardens, a 36-acre oasis of flowers and canals, offers a hand-painted carousel and De Zwaan, a windmill built in Amsterdam in the 18th century and moved to Michigan in the 1960s.
European influences also are found on Beaver Island, known as the U.S. Emerald Isle for its Irish accents (and briefly occupied as the private paradise of a self-proclaimed Mormon "king" in the mid-19th century), as well as in multicultural Milwaukee. This stop in Wisconsin's largest city offers an exploration of its French, Polish and German heritage, from a beer-and-cheese tasting at an art museum to a performance by local folkloric dancers.
Additional ports of call on this cruise include Mackinac Island, where Victorian architecture makes for postcard-perfect photos, and scenic Door County, WI, a waterfront recreational retreat. Visits to the Canal Station Lighthouse and the Door County Maritime Museum in Sturgeon Bay explore Lake Michigan's rich nautical traditions. Blount offers four departures this summer, and prices start at $2,379 per person without airfare.
Information:
Houston-based travel discounter Vacations To Go offers many
ACL
and
Blount
itineraries, along with money-saving specials. You also can call (877) 828-4774 to speak with a travel agent about trips from the Pacific Northwest to the mighty Mississippi.
The information in this story was accurate at the time it was published in March/April 2011.
Send This Article to a Friend
Bookmark this Content
Digg it!
Reddit
Furl
del.icio.us
Spurl
Yahoo!