Cruise for a New You
Use an oceangoing vacation to bolster your diet plan,
hone your workout and see the world
By Jennifer Davoren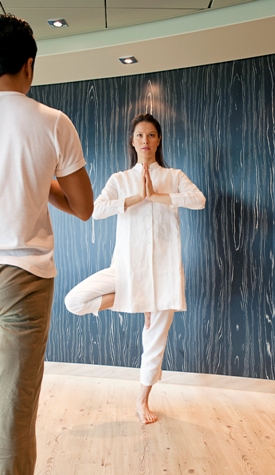 Stefano Scata/MSC Cruises
J
udging from my own experience, these first few weeks of spring are an ideal time for planning a warm-weather vacation and breaking New Year's resolutions. But it is possible to make the most of, while staying in shape for, swimsuit season.
Book a cruise getaway and you'll have your choice of health and wellness perks, from yoga, spin and Zumba classes at sea to vineyard bike rides, Caribbean kayak tours and Alaskan glacier treks in port. Acupuncture, gluten-free meals, ship-top jogging tracks and body-sculpting boot camps -- you can have it all on "floating resorts," venues that promote activity and energy one moment and wave-front leisure the next.
Spring brings new ships and state-of-the-art conditioning space to waterways worldwide. We highlight a few of our favorites here, including the
Carnival Sunshine
and
Norwegian Breakaway
, set to make their debuts in April. For more information on amenities aboard these and other vessels -- as well as sailings reduced by 75 percent or even more -- call the cruising specialists at Vacations To Go, (800) 338-4962, or
check itineraries online
.
Fitness Facilities
Gyms are a standard feature for the major cruise lines. Treadmills, stationary bikes and elliptical equipment cater to fitness buffs while adding an active element to days at sea on your travel itinerary.
But
Princess Cruises
has stocked the
Royal Princess
, a 3,600-passenger vessel making its inaugural sailing on
June 16
, with the latest in fat-burning equipment. The MyRide indoor cycling system inspires riders with a virtual reality experience, rolling video of breathtaking, real-world landscapes and adjusting the pedaling intensity accordingly. A batting cage and driving range will give ballplayers and golfers a little swing practice and loosen shoulders between port calls, while a top-deck jogging track offers two lanes -- one for walkers, another for sprinters -- as well as circuit training stations for muscle-building pauses in your workout routine.
Carnival Cruise Lines' 3,400-guest Destiny will undergo a $155 million, 49-day renovation this spring and be reborn as the Carnival Sunshine, scheduled to warm the Mediterranean on
nine- and 12-night itineraries
through October. The Sunshine's exercise options literally go above and beyond -- the SkyCourse dangles participants 12 to 15 feet above the ship's top deck as they scramble through a midair rope and obstacle course. This feature also is available on the
Breeze
and
Magic
, two new Carnival vessels outfitted with the SportsSquare, a massive outdoor recreation facility. Additional amenities include soccer, basketball and other sports courts, along with al fresco gym equipment to take advantage of those top-of-ship ocean views.
Feeling a little overwhelmed by your options? Look for ships with onboard experts to guide you through your workout. The 5-month-old
Celebrity Reflection
is the latest venue for
Celebrity Cruises
' stellar programs, including personal training, nutritional consultation and body composition analysis, which pair passengers with fitness professionals as they strive to meet their goals. These services are available at an extra cost, starting at $35 for a half-hour body composition meeting with personalized suggestions for exercises, and $85 for an hour with a personal trainer or dietician.
Engaging Activities
Norwegian Cruise Line
's newest recruit sets sail from London on
April 30
, cutting across the Atlantic on its seven-night inaugural journey to the U.S. The 4,028-passenger Norwegian Breakaway will be the largest vessel permanently based in New York City, sailing round trip to destinations in Bermuda, the Bahamas and the Caribbean.
There are amenities and attractions galore on board, but energetic guests will be drawn to the Breakaway's fitness programs. Try the Freestyle Fight Klub, a cardio-boxing class; Black-Light Spinning, a disco-tinged cycling session; Chi Balls, a group activity that combines elements of tai chi, yoga and meditation with a handheld aromatherapy device; and workouts personally designed by the Rockettes, made godmothers of the Breakaway in honor of the ship's homeport (expect some high kicking in those classes).
Step up your workout with kettlebell lifts, an intensive boot camp or TRX, a resistance training technique designed by a former Navy SEAL (also featured on other ships like the Royal Princess and Carnival Breeze). Available both indoors and on the top-deck fitness court, this course uses the balance of a participant's own body weight to tone and build muscle.
Norwegian also will introduce Zumba, the dance-fitness craze that claims to burn up to 1,000 calories per class, to every ship in the fleet this spring. Licensed instructors will tailor their programming to suit beginners as well as regulars, infusing each session with the salsa, merengue and hip-hop beats that embrace the movement's motto: Ditch the workout and join the party.
Royal Caribbean International
's Oasis-class ships --
Allure of the Seas
,
Oasis of the Seas
and a third, not-yet-named vessel ordered in 2012 and due in 2016 -- are the cruising industry's quintessential megaliners. Their 5,400-passenger capacity has fueled plenty of innovation, especially in active pursuits. There are ice- and in-line skating rinks, a swimming pool scuba program and more in the Sports Zone, one of seven onboard "neighborhoods."
Spa Programs
A massage can work out the kinks after a few hours in the gym, but some wellness menus can tone as well as pamper.
MSC Cruises
'
Preziosa
began service this spring, and it's the newest showcase for the line's Aurea Spa. You'll find Asian-influenced treatments here, from the four-handed method of Balinese massage to acupuncture sessions used to attack hypertension, joint pain and sleep disorders. You can book yoga and personal training through the spa or try something a little more daring, like a high-energy Latin dance class that sweats off that last five-course meal. There's also "passive gymnastics," a technique that puts electrodes to work on blood and lymph vessels while, devotees claim, those excess calories just melt away.
Celebrity
, another outlet for acupuncture, uses its quills to fight muscle tension and stress, and facial rejuvenation treatments promise to lift and smooth while painlessly promoting skin cell growth. The
Reflection
's AquaSpa boasts six experiences entirely new to the Celebrity line, including the hammam, which lays out guests on a heated stone slab to loosen the limbs; a room with seats, walls and floor chilled to 52 degrees and designed to tighten pores; and the infrared sauna, which simulates natural light to replicate its benefits -- improved circulation, reduced inflammation and pain prevention -- without the drawbacks and dangers of direct and prolonged exposure to the sun. The Reflection and its sister ships also use a variety of detoxifying wraps and body therapies to kick off a health-and-wellness journey at sea, leaching toxins and re-energizing clients for the trip ahead.
Spa facilities aboard the
Norwegian Breakaway
include space for salt room therapy, said to ease respiratory and skin problems while boosting the immune system. Mimicking natural salt caves that dot Eastern Europe, this is a crystal-lined venue for holistic healing and relaxation. A neighboring thermal suite harnesses heat to work on shoulders, backs and legs left aching after a long day of exploring ashore.
Healthy Dining
Fight the temptation of buffet binges with health-conscious specialty menus. Low calorie, low cholesterol, heart friendly, lactose- or gluten-free -- many new items are making their way to seafaring plates to keep up with passenger needs.
Luxury spa chain Canyon Ranch lends its body slimming expertise to
Oceania Cruises
,
Regent Seven Seas Cruises
and the
Queen Mary 2
, a five-star vessel from
Cunard Line
. Dishes forgo trans fats and artificial sweeteners, cut salt in favor of savory herbs and spices and boost heart-healthy ingredients like whole grains and omega-3 fatty acids. Look for items labeled as Canyon Ranch Spa Selections, including baked cod with mac and cheese and fig-topped, sausage-stuffed chicken -- both under 410 calories per serving -- in select restaurants, like the Princess Grill aboard the QM2.
Cruise cuisine also can be mindful of dietary restrictions.
Holland America Line
served up a new vegetarian menu last spring, available at no extra cost in the main dining room of all 15 ships. Now offering 52 meat-free starters and entrees, from a spicy lentil salad to an asparagus-and-zucchini torte, this fleet claims to have the largest vegetarian menu available at sea.
Vegans will feel at home with Holland, too, thanks to dishes that refrain from eggs, dairy and other animal-sourced products. These choices may come with organic ingredients, though passengers are urged to make their all-natural requests well before embarkation. Try the roasted butternut squash soup with accents of cinnamon and nutmeg and finished with a cranberry drizzle for a taste of Thanksgiving without the guilt.
Some ships provide separate dining spots for weight watchers. Vitality Cafe, found near the fitness centers and spas of Royal Caribbean's two Oasis-class ships, is perfect for a pick-me-up after a workout or massage treatment. Healthy snacks, smoothies and salads are doled out here, including grilled veggie wraps and low-fat banana bread. (Speaking of bread, keep an eye out for Royal Caribbean's gluten-free recipes, cropping up on menus across the fleet this year.) Celebrity, meanwhile, pursues "clean cuisine" with Blu, reserved for passengers booked in the spa-inspired AquaClass staterooms. This venue seeks lighter flavors for its fare, swapping heavy cream sauces and cooking oils for greens tossed in vinaigrette, grilled seafood, egg-white omelets and even ice cream, in both low-fat and no-sugar-added versions.
Active Shore Excursions
While your ship has plenty on offer, your ports of call are your true cruise pursuit. Find exploration and exertion within a group activity once you hit land.
Crystal Cruises
renovated its roster of shore excursions for 2013, adding more energetic choices for guests of the six-star line. Ships stopping in Hong Kong offer a hike along the Dragon's Back, a ridge trail that explores the hills of Shek O Country Park and overlooks the bustling city. In Reykjavik, the capital of Iceland, passengers can trek or ride on horseback across craggy lava fields.
Azamara Club Cruises
tests endurance with some of the line's tougher excursions. A 10-night Greek Islands sailing aboard the
Azamara Journey
departs Athens on
May 15
and offers "Journey to Lindos" in Rhodes, which requires participants to walk at least one mile of ancient cobblestoned streets and climb 292 steps before reaching the city's 2,300-year-old acropolis overlooking the Mediterranean. The line also offers a variety of hiking and biking excursions in its favorite ports of call; try a coastal trek and wine tasting while visiting St. Tropez, France, on a weeklong
Azamara Quest
itinerary starting
April 28
.
You'll find specialty excursions hosted by all your favorite cruise lines. The six-star liners of
Seabourn Cruise Line
, with their luxurious European voyages, help passengers explore pristine lakes and hidden mountain paths in Norway and beyond.
Princess
, with oodles of tour outfitters in Alaska, is big on glacier treks and even sells a few "heli-hiking" combos that whisk guests to often unreachable trailheads by helicopter. And
Carnival
, a frequent visitor to the Caribbean, books an array of hiking, biking, kayaking and snorkeling tours that combine the best of land and sea, all while making the most of their breathtaking tropical destinations.
The information in this story was accurate at the time it was published in March/April 2013. Please visit
Vacations To Go
or call (800) 338-4962 for current rates and details.
Send This Article to a Friend
Bookmark this Content
Digg it!
Reddit
Furl
del.icio.us
Spurl
Yahoo!