Cruise Hawaii's Hot Spots
Six sensational ports of call offer entrance
to a Pacific paradise
By Jennifer Davoren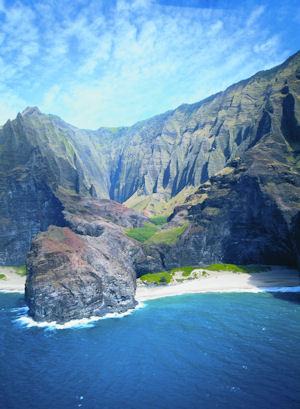 Robert Coello/Hawaii Tourism Authority
E
rnest Hemingway called it "the world's best beach." Stephen P. Leatherman, the environmentalist better known as "Dr. Beach," ranked it among his 10 favorite stretches of 2010. If anything, Hawaii's Hamoa Beach is certainly exclusive -- hidden inside a collapsed volcanic crater on Maui, these sunny sands are arrived at only by the "Road to Hana," a highway marked by perilous 1,000-foot drop-offs and very few guardrails. If you're a tourist preparing for an afternoon drive to Hamoa, leave your fear of heights at your hotel.
On the other hand, there's an easier way to enjoy the Pacific's most beautiful beaches.
Hawaiian cruises
not only wrap interisland travel, accommodations, meals and many activities into one low price that's paid up front, they also help passengers seek out those hard-to-reach spots on their vacation itineraries. Thanks to an assortment of ships, destinations and shore excursions, potential cruisers can explore the Aloha State with ease.
Many Hawaiian cruises depart from cities along the west coast of North America, like
San Diego
,
Los Angeles
and
Vancouver, British Columbia
. Offered by lines like
Princess Cruises
,
Holland America Line
and
Royal Caribbean International
, these trips last at least 10 days -- and often two weeks or more -- with several days spent at sea as the ship navigates the Pacific waters on a course toward Hawaii. Some oceangoing Hawaiian vacations even stretch south to French Polynesia, or southwest to New Zealand or Australia.
For those with less time to spare, Norwegian Cruise Line's
Pride of America
sails weeklong round-trip
Hawaii itineraries
from the islands' bustling capital,
Honolulu
on Oahu. It's easy to fly in and out of the city, and
pre-cruise stays
along Waikiki Beach can set the mood for your tropical getaway. This cosmopolitan port of call boasts some high-end amenities, from luxury spa hotels to top-notch golf courses, while simultaneously offering a crash course in the local culture. Celebrations of the ukulele and the hula are scheduled for July, while August's Made in Hawaii Festival honors local literature, food, fashion and handicrafts. You also can have dinner at a seaside sushi house or sample dim sum in Chinatown for a tasty exploration of Honolulu's Asian influences. If you prefer a lazy day at the beach, consider another top pick from Leatherman: Kahanamoku Beach in Waikiki is protected by a shallow offshore reef, which makes it a gentle swimming spot for families with children.
Shore excursions organized by your cruise line can include a culinary tour of Chinatown followed by lunch, or an afternoon at the Ko'olau Golf Club, where the greens edge rain forests and golfers have views of streaming waterfalls. Some guided sightseeing trips capitalize on Honolulu's history. Carnival Cruise Lines, for instance, offers a package tour that goes to Pearl Harbor, where travelers can board the USS Arizona Memorial; Punchbowl Crater, a dormant volcano that also is home to the National Memorial Cemetery of the Pacific; and Iolani Palace, residence of Hawaii's last royal ruler, Queen Liliuokalani. Other outings offer lighter fare, including surfing and snorkeling lessons for the kids.
East of Oahu, the island of Maui receives cruise ships at two destinations,
Lahaina
and
Kahului
. The arts haven of Lahaina, on the western coast, was once the playground of Hawaiian royalty. The city still serves an upscale clientele in search of tony galleries and unique cultural attractions; the ancient Olowalu petroglyphs, for example, pull history buffs to the Kilea volcano just five miles away.
But Lahaina also offers plenty of small-town artistic quirk, from a bimonthly fair held under the largest banyan tree in the U.S. to the ample live music venues on Front Street, the town's oceanside main drag. It's also a spot that appreciates homegrown fare, from farm-fresh produce to the fruit- and coconut-flavored beers of the Maui Brewing Co. Vacationers also are drawn to the Old Lahaina Luau, one of Zagat Survey's favorite feasts, which can serve more than 400 diners at a time.
On the northern coast of Maui, Kahului and its neighbor, Wailuku, are twin towns with plenty of dining, shopping and historical attractions for visiting cruise ship passengers. The region is shadowed by Iao Valley State Monument, where towering cliffs and moss-covered spires tempt hikers and rock climbers. Head south to visit the Maui Ocean Center, an aquarium specializing in Hawaiian flora and fauna as well as native cultural milestones. And speaking of sea creatures, visit the area between December and April and you'll find some of the best whale-watching in the world. Nearly one-third of the Pacific's whale population passes by the island during migration season.
Shore excursions that can be booked in either Kahului or Lahaina include plenty of sunset tours, from cocktail cruises aboard high-tech catamarans to photo ops at the 10,000-foot-tall Haleakala Crater, known as the "House of the Sun" for the way it captures day-end illumination. You can board a motor coach bound for Maui Tropical Plantation, a 60-acre farm on the outskirts of Waikapu, where crops include pineapples, papayas, mangoes and macadamia nuts; snag some free samples and eat lunch at an on-site restaurant. Some shore trips even brave the Road to Hana for breathtaking views of waterfalls and black-sand beaches.
Hilo
, the hub of the Big Island, Hawaii's largest isle, is another popular stop for Pacific-bound cruise vessels. It's known as the gateway to Hawaii Volcanoes National Park, one of the most popular tourist attractions in the state. Here, visitors trace 70 million years of geologic history while crossing moonlike fields of cooled lava and catching a glimpse of Kilauea, the park's central, continuously erupting volcano.
Air-conditioned activities also await in Hilo. The East Hawaii Cultural Center offers a number of exhibits and special workshops for those interested in the hula, lei-making or traditional island music. And the town boasts more bay-front park space than any other city in Hawaii, so feel free to grab a plate lunch -- the state's favorite midday meal, often consisting of two scoops of white rice, a dab of macaroni salad and a barbecued entree served in a takeaway box -- and find a sunny spot near the water for a lazy afternoon away from your cruise ship.
Rich, volcanic soil has turned Hilo and its Big Island neighbors into the state's agricultural hub. Many day trips highlight farms and ranches, including those growing vanilla and lavender and raising livestock. Local peaks afford unparalleled views of the night sky. The Imiloa Astronomy Center on the campus of the University of Hawaii at Hilo is a starry showcase with a state-of-the-art planetarium and a museum dedicated to the island's early immigrants, Polynesian tribes that arrived by dugout canoe.
From Hilo, cruise ships can skirt around the Big Island to
Kona
on the opposite side. Caffeine-happy cruisers know this city for its namesake export, a particularly rich brand of coffee. Pair a cup with another local specialty, chocolate-covered macadamia nuts, and you have the perfect fuel for a day of sightseeing.
Visiting golfers can head to the Kona Country Club for their pick of two challenging courses. Little ones will be delighted with a tour of Ocean Rider -- the only sea horse farm in the U.S. -- where visitors can feed the animals and learn about their unusual family dynamics. (Spoiler alert: It's the male sea horse that actually bears young.) Other family-friendly activities near Kona can be found at Kahua Ranch, an 8,500-acre cattle farm, where Hawaiian cowboys known as paniolos demonstrate roping and riding techniques before whipping up some campfire cuisine to share with their guests.
Expeditions on this side of the Big Island highlight the Great Outdoors. Options range from hikes and wildlife-watching in the Kona Cloud Forest Sanctuary to canoeing and rafting adventures down dormant lava tubes and through seaside caves. And no visit to the "Billfish Capital of the World" would be complete without a search for marlin and mahimahi; you can book a sportfishing trip through your cruise line, or find your own outfitter once your ship docks.
Hawaii's westernmost cruise port,
Nawiliwili
, is found on the "Garden Isle" of Kauai. This verdant escape is known for its magnificent scenery, featured in films and television series from "Jurassic Park" to "Gilligan's Island." The craggy majesty of the Na Pali Coast is an especially big draw for helicopter tours, but dedicated hikers also can explore the region's soaring cliffs and hidden waterfalls.
Shore excursions departing Nawiliwili emphasize the wilder side of the Aloha State. Waimea Canyon treks are popular, though the volcano-crafted colors of the "Grand Canyon of the Pacific" also can be admired from a 3,400-foot-high lookout. On the south side of the island, the Spouting Horn blowhole shoots seawater some 50 feet in the air; it's especially luminous at sunset. And pleasure cruises down the Wailua River reach the Fern Grotto, a natural amphitheater formed by ancient lava flows. Musicians often gather here to sample the acoustics and serenade passing boats.
Passengers heading from ship to sand often choose Kalapaki Beach, a favorite stretch for local surfers and sunbathers. Shopping and seafood are excellent in Lihue, the island hub found just beyond Nawiliwili Harbor. Meanwhile, those looking to embrace the "Garden Isle" spirit can visit a fragrant outpost of the National Tropical Botanical Gardens near Kauai's southern shores.
A Sampling of Hawaiian Itineraries
Hawaii cruises
range from seven-day sailings to voyages of more than two weeks. They depart from Honolulu and cities along the western coast of North America; some incorporate visits to French Polynesia, Australia or New Zealand. Below are five examples of alluring Hawaiian itineraries from national cruise discounter
Vacations To Go
. These rates were current at press time. Airfare to embarkation cities is additional.
Year-round, Norwegian Cruise Line's Pride of America offers
seven-night, four-island
Hawaiian cruises that begin and end in Honolulu. The lowest-priced itineraries currently offered by Vacations To Go depart in April 2011, with rates starting at just over $900 per person.
A
12-night cruise
aboard the Carnival Spirit departs Vancouver, British Columbia, on Sept. 14 and spends five days at sea before reaching Kona, the first of five Hawaiian port calls. Passengers leave the ship in Honolulu. Prices start at $1,459 per person when booked through Vacations To Go, a savings of 37 percent off the brochure rate.
The 710-passenger Royal Princess sails
12-night one-way cruises
between Honolulu and Papeete, the capital of Tahiti, with stops throughout the islands of Hawaii and French Polynesia. Departures are available September through next March, and prices start at $1,299 per person for an inside cabin; balcony accommodations start at $1,799 per person.
Cunard Line offers chic Hawaiian vacations aboard the Queen Victoria, which calls at Hilo, Honolulu, Nawiliwili and Lahaina on four
14-night round-trip itineraries
from Los Angeles next year. Rates start at $2,195 per person for a cruise boarding Feb. 17.
Holland America Line's Zaandam will sail a handful of
14-night cruises
from October through next March, sailing round trip from San Diego. Prices start at $1,299 per person.
Information:
For more information on Hawaiian cruise vacations, call Vacations To Go, (800) 338-4962, or visit the
website
and click the yellow "Show Me the Deals" button to peruse discounted rates.
The information in this story was accurate at the time it was published in July/August 2010.
Send This Article to a Friend
Bookmark this Content
Digg it!
Reddit
Furl
del.icio.us
Spurl
Yahoo!