Choose the Cruise Line that's Right for You
Seafaring vacations offer something for everyone, from fun-seeking families on a budget to naturalists and night owls
By Jennifer Davoren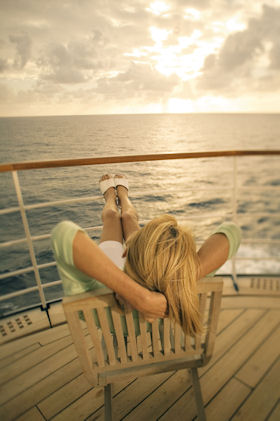 Roger Paperno/Regent Seven Seas Cruises
T
here's no such thing as a standard cruise vacation.
Every ocean liner covers the basics -- accommodations, meals and a host of onboard activities -- but that's where the similarities end. When you sit down to compare cruise companies, you'll see some big differences in price, port calls, passengers and amenities.
If you'd like to take to the high seas on your next vacation, first consider the options provided by this ever-growing mode of travel. Are you on a tight budget, or do you have some cash to spare on stateroom butler service? Is there an extended family to entertain, or are you looking for a couples' getaway?
Do you have a destination in mind -- a
Caribbean
island, a
European capital
or a spot a little closer to home? Are you a fan of the "floating resort," as the larger, amenity-stuffed cruise ships are known? Or would you prefer a compact vessel built for unusual and educational travel itineraries?
No matter your interests, this industry has something to offer you. The following cruise operators boast "come one, come all" philosophies, but a closer look reveals services suited to particular types of passengers.
Travelers on a budget, for example, can't go wrong with
Carnival Cruise Lines
. The company specializes in short, inexpensive vacations, and some of its most popular trips spend just three to five nights at sea. The
Carnival Imagination
offers a
four-night itinerary
that departs
Miami
to visit
Key West, FL
, and
Cozumel, Mexico
; discounted cabins offered by
Vacations To Go
sell for less than $200 per person.
For additional deals on
Carnival
cruises, visit the Web site of
Houston
-based travel discounter
Vacations To Go
. Click the "
90-Day Ticker
" button at the left side of the home page to find special prices for "last-minute" bookings.
Carnival
ships depart from many U.S. cruise ports, such as
New York City
,
Baltimore
and
Norfolk, VA
, on the East coast;
San Diego
,
Long Beach
and
Seattle
on the West coast; and
Miami
and
Fort Lauderdale
in
Florida
. Gulf coast departure points include
Mobile, AL
;
Galveston, TX
; and
New Orleans
. Most Americans are just a day's drive from a relaxing week at sea. And if you don't need to book a plane ticket to the nearest departure port, the price of your potential vacation drops even more.
Families looking for savings as well as summer fun might explore the ships of
Royal Caribbean International
. In addition to low-priced itineraries,
Royal Caribbean
offers climbing walls, simulated surf pools, ice-skating rinks, miniature golf courses and other unusual amenities. The company's newest megaships, the
Oasis of the Seas
and the
Allure of the Seas
, boast onboard carousels, ziplines and green, growing parks.
Royal Caribbean
's official Web site makes a good point: "Why should getting there be only half the fun?" This cruise line reaches a host of ports around the globe, but passengers often find that their ship is a destination in itself.
And kids are treated like kings aboard
Royal Caribbean
ships. Specialty clubs serve passengers from 6 months to 17 years old, providing everything from supervised babysitting and educational activities for tots to age-restricted lounges and arcades for freedom-seeking teens. Some
Royal Caribbean
vessels are equipped with kid-friendly chain restaurants like Johnny Rockets, a 1950s-themed burger joint, or an ice cream parlor scooping up Ben & Jerry's favorite
flavors. Hosted trivia games, karaoke contests, themed parties and family disco nights at onboard nightclubs also help your group bond between ports.
Those in need of a chic escape for two should try
Celebrity Cruises
.
Celebrity
often is the choice for the up-and-coming cruiser -- one who has sailed a time or two before, perhaps, but now seeks something a little more special.
Many shipboard amenities seem tailor-made for sophisticated couples, from trendy martini bars and high-stakes casino games to in-suite, his-and-hers massage therapies. Specialty restaurants put a stylish spin on standard cruise fare, with fresh
Mediterranean
flavors and Tuscan grill items among offerings. Thanks to
Celebrity
's extensive wine program, you'll have 300 to 450 sommelier-approved selections at your disposal, depending on the ship. And night owls, take note:
Celebrity
's onboard activities really warm up after sunset. Themed evening events range from wholesome sock hops to raucous Irish pub parties. Ships also make some inspiring port calls, from tropical beaches in the
Caribbean
to intriguing cities throughout Europe.
Cunard Line
, which celebrated the 170th anniversary of its founding in 2009, also caters to a chic clientele. The
Queen Victoria
,
Queen Mary 2
and the new
Queen Elizabeth
-- set to make its debut on Oct. 12 with a
sold-out sailing
to the
Canary Islands
-- embody the golden age of cruising, when white-glove customer service was the standard.
But along with formal dining events, gleaming marble ballrooms, 6,000-volume libraries and other nods to its storied past,
Cunard
provides the latest and greatest in cruising. Amenities aboard the
Queen Elizabeth
include Wi-Fi access and a 10,000-square-foot spa and fitness center. In short,
Cunard
ships offer an appealing blend of historic elegance and modern comforts.
Trans-Atlantic cruises were once the height of sophistication -- the perfect mode of transportation for socialites split between two continents. Travelers can recapture that classic era in cruising with
Cunard
's frequent ocean crossings, which emphasize shipboard fun over shore excursions. Sail from
London
to
New York
aboard the
Queen Mary 2
, for example, and you can take an acting, Pilates or watercolor class; nibble on canapes and petits fours during afternoon tea; attend a lecture on Beethoven, Shakespeare, romance languages or the history of piracy; or make a bubbly toast to your journey in the Veuve Clicquot Champagne Bar.
The fleet of
Windstar Cruises
also offers stylish travel. The
Wind Spirit
,
Wind Surf
and
Wind Star
are small by cruise industry standards -- the largest ship holds just 312 passengers -- but they make a big statement when pulling into port. They're motor-sail yachts, which prefer billowing canvas and strong sea breezes to noisy, oil-chugging engines. Pair those towering masts with the polished teak and shining brass accents of every
Windstar
ship, and passengers experience the next best thing to owning a private yacht.
Windstar
vessels offer the appearance of classic sailing, but looks can be deceiving. The sails are computerized and unfurl with the push of a button. Curious passengers will be pleased with
Windstar
's "open bridge" policy, which invites any and all on board to swing by the captain's perch for a tutorial. State-of-the-art cabins are outfitted with LCD flat-screen televisions, Bose sound systems and iPod docking stations. If you're looking for "vintage," your best bet is the wine list at the onboard restaurants. History also is covered by
Windstar
's popular lecture series; depending on your itinerary, you can join expert-led discussions on the lives of the ancient Greeks, religious turmoil in the Holy Land or the biodiversity of the nature preserves of
Costa Rica
.
For a truly luxurious cruise vacation, look into the ocean liners of
Regent Seven Seas Cruises
. This company elevates the all-inclusive experience.
Regent
vacations include shore excursions and, for those staying in a penthouse suite, your very own butler. Bottled water and select spirits and wine are complimentary.
This is a six-star cruise line, and
Regent
takes that status seriously. The staff-to-guest ratio is 1-to-1.6, so expect personalized service from the moment you board. Cuisine crafted with the help of
Paris
' Le Cordon Bleu culinary school sets a high standard for meals. All-suite accommodations have ocean views, and everyone on the
Seven Seas Voyager
and
Seven Seas Mariner
gets a private balcony. More than 300 ports of call on seven continents are reached through Regents' ships, so passengers are presented with just one dilemma: When I'm finally ready to leave the ship, which onshore adventure should I try first?
Those tempted by
Regent
's luxury but deterred by price can, once again, turn to travel discounter
Vacations To Go
. A 10-night jaunt aboard the
Seven Seas Mariner
, departing
Athens
on Aug. 26 to
cruise the Black Sea
, was priced from $6,795 per passenger at press time, a 59 percent discount off
Regent
's brochure price.
Additional adventures await passengers of
Hurtigruten Cruises
. This company specializes in port calls far from the beaten path, where nature lovers are treated to stunning views from the decks of their ship.
Hurtigruten
highlights destinations like the
Arctic
,
South America
,
Greenland
and the
Norwegian fjords
. Its midsized vessels have the ability to call at small, unique ports that can't handle the oversized ocean liners of the more popular cruise lines.
This summer,
Hurtigruten
will spend much of its time in the land of the midnight sun, skimming the Arctic Circle and making stops at Trollfjord and Geirangerfjord, two glacier-fed waterways known for their sweeping mountain scenery. Itineraries like the
five-night southbound journey
that departs
Kirkenes, Norway
, reveal stunning sights, from the impressive Oksfjord glacier to historic Batsfjord, which protects the remains of a Stone Age settlement.
Vacations To Go
offers up to 20 percent off
Hurtigruten
's brochure price for summer sailings of this trip, with starting rates from $1,067 per person.
Azamara Club Cruises
appeals to those looking for total immersion in fascinating destinations. This deluxe line preps its passengers between ports, offering onboard enrichment programs focusing on culture, cuisine, language and other topics pertaining to the travel itinerary. Expert lecturers answer pertinent questions before shore excursions. Once on land, you won't find the dune buggy tours and jet ski rentals pushed by the larger cruise lines. Instead, Azamara passengers might explore UNESCO
World
Heritage cities or join museum, gallery and craft market walks. And some cruises even offer extended land tours for further study, whisking passengers through mainland
China
or to Grecian antiquities that would otherwise be missed by a one-day port call.
Azamara caters to the mature traveler seeking a relaxed vacation with an educational bent. Azamara officials refer to its unique travel program as "destination immersion," and it's a fitting motto for a vacation provider -- and anyone else looking to lose themselves in a far-flung port of call.
Information:
To reserve a cruise with one of these eight lines, contact cruise discounter
Vacations To Go
at (800) 338-4962. Check the
90-Day Ticker
at the home page for specially priced cruises departing within the next three months.
The information in this story was accurate at the time it was published in May/June 2010.
Send This Article to a Friend
Bookmark this Content
Digg it!
Reddit
Furl
del.icio.us
Spurl
Yahoo!