Celebration Vacations
Mark a special occasion with a cruise to enticing ports
By Madison G. Welch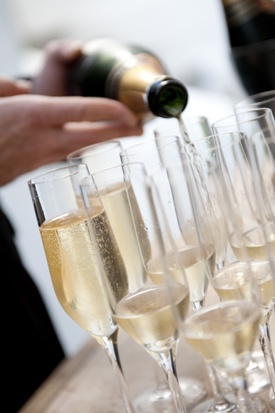 Cedric Helsly/Atout France
S
tudies show that a getaway creates longer lasting happiness than buying gadgets or even a new car, but sometimes you need an excuse to finally make that booking. Our suggestion? Set a goal in 2015 to mark one memorable occasion with a vacation. This prompt can range from a thinly veiled excuse (half-birthday, anyone?) to a more momentous event, like a wedding anniversary or extended family gathering.
Mary Lu Abbott -- the first editor of
Travel 50 & Beyond
and editor emeritus of its sister magazine,
Where to Retire
-- so far has taken five of her seven grandchildren on globe-trotting trips to celebrate their coming-of-age years or high school graduations. She has created lifelong memories by introducing them to places like Greece, Spain, France and Italy.
"I wanted it to be an opportunity to share my love of travel," she says, "and hopefully to ignite the same enthusiasm for learning and expanding horizons in them."
Abbott says she enjoyed spending one-on-one time with her grandkids and seeing some of her favorite places through their eyes. "What I've learned is while they may not say that much about it at the time, later on, their parents have told me that they do bring up things about the trip pretty often," she says. One grandson even used their tour of ancient Greece as part of a school project.
You never know what unexpected memories could come from your next escape, and traveling to celebrate a special event automatically makes the experience more meaningful. To get you started, we've rounded up a list of five occasions when an
oceangoing
or
river cruise
might be the best gift you can give someone else -- or yourself.
An Indulgent Birthday Bash
Take your next birthday dinner to the extreme with a food and wine festival from
Crystal Cruises
. Featuring master chefs and professional mixologists, these vacations place you and your taste buds on an unbeatable journey through regional flavors and gourmet cuisine.
Consider
a nine-night exploration of the Canary Islands
, departing
Lisbon, Portu
gal, and concluding in
Monte Carlo, Monaco
. The voyage begins Nov. 13, with prices starting from $2,960 per person for ocean-view accommodations. Shore excursions could introduce you to a rum distillery in
Madeira, Portugal
; fresh olive oil in
Malaga, Spain
; and wine and cheese combinations in Monte Carlo. On board, you'll learn from special guest Kevin Zraly, a wine expert and author.
And don't forget the best part about birthdays: dessert. Indulge in chocolate souffle cake with sesame ice cream and shiso syrup at Silk Road, a Crystal Cruises specialty restaurant by master chef Nobuyuki "Nobu" Matsuhisa. If chocolate isn't your fancy, the sample menu also features three flavors of creme brulee -- pink guava, passion fruit and sweet ginger -- or citrus custard with mango sauce.
The Anniversary to Remember
You could toast your relationship with a simple bottle of bubbly -- or you could travel to the elegant French region where Champagne (with a capital "c") was born. A river cruise through the countryside is an especially romantic way to experience the area and create memories with your better half.
European Waterways
offers "
A Classic Cruise in Champagne
" a seven-day journey from Cumieres, France, to Paris. The itinerary is subject to change but may include visits to the renowned Moet and Chandon cellars in Epernay, a cheese master in Coulommiers and family-owned wineries along the way.
Other highlights include World War I monuments and the 17th-century Chateau de Vaux-le-Vicomte, an estate that covers some 1,200 acres and has beautiful landscaping. As you arrive in Paris, you'll sail by the Notre Dame cathedral, the Louvre museum and the Eiffel Tower.
Six departures between August and October start from $4,975 per person.
A similar itinerary travels the reverse route
, from Paris to Cumieres, and departs May 31 with pricing from $5,250.
The Best Graduation Gift
Maybe a recent high school graduation should be rewarded with an introduction to the wider world. Mary Lu Abbott recalls that
a Mediterranean trip
accomplished this goal with her grandson.
"I think cruises are a great way to take grandchildren to new areas and yet have some familiarity if they're a little timid," she says. "A cruise ship gives them that comfort of coming back every day to the same room and whatever they want to eat that night and still exposes them to different cultures."
Norwegian Cruise Line
is a popular choice for Mediterranean discovery. Consider a four-night jaunt from
Rome
to
Barcelona
, stopping in
Florence, Italy
;
Cannes, France
; and
Palma de Mallorca, Spain
. Per-person rates for
a Sept. 16 departure
aboard the
Norwegian Epic
start from $599. Or, a weeklong voyage sailing round trip from
Venice
explores ports in
Croatia
,
Greece
and
Turkey
on the
Norwegian Jade
. Prices for
an April 25 itinerary
start from $669 per person.
A Family Reunion on the High Seas
When relatives have to travel across the country to see each other, it makes sense to combine the reunion with a vacation.
Ocean cruises
are an ideal option, offering activities that will appeal to all generations.
Check out the Oasis-class megaships from
Royal Caribbean International
. The
Allure of the Seas
and the
Oasis of the Seas
provide endless entertainment for youngsters, including a water park, surfing simulators, youth programs and teen hangouts. Parents and grandparents can enjoy a full-service spa, casino and adults-only Solarium retreat. The Boardwalk offers family fun with carnival games and a carousel. There's also a variety of dining options, ranging from a hot dog joint to premium steak at Chops Grille.
The Allure of the Seas will cruise the Caribbean from Fort Lauderdale, FL, through mid-April before repositioning to the Mediterranean.
A March 8 sailing
to
Haiti
,
Jamaica
and
Mexico
starts from $809 per person for seven nights. The Oasis of the Seas explores Caribbean destinations from Fort Lauderdale year-round. Per-person prices start at $739 for a weeklong trip to
the Bahamas
,
St. Thomas
in the U.S. Virgin Islands and
St. Maarten
, departing
Sept. 19
.
Culture for the Holidays
For your next Christmas or New Year's celebration, sample different cultural traditions with a river cruise through Germany, Austria or the southern U.S.
A-ROSA Cruises
' five-day "
Enchanting Christmas Markets
" sails round trip from Cologne, Germany, and visits three other German cities known for festive goodies like roasted chestnuts, gingerbread, brandy-filled chocolates, Advent garlands and hand-carved gifts. There are six departures in 2015, with per-person prices starting at $1,426.
Or, expand your holiday with the 11-day "
Enchanting Christmas & New Year's Cruise
" from
Uniworld Boutique River Cruise Collection
, traveling from Passau, Germany, to Budapest, Hungary. Highlights include a stop in Oberndorf, Austria, where "Silent Night" was first performed; a tour of holiday goodies in Vienna; and a New Year's Eve dinner and ballroom dance in Budapest. The cruise departs Dec. 23; per-person prices start from $4,899.
Explore Southern traditions on the Mississippi River with the eight-day "
Old Fashioned Holidays
" from
American Queen Steamboat Company
. You'll sail from Memphis, TN, to New Orleans on a cozy paddle wheeler with festive meals. You'll also see bonfires lit to guide Papa Noel, the Cajun Santa Claus, on his way. This itinerary departs Dec. 20, with per-person rates starting from $2,699.
The information in this story was accurate at the time it was published in March/April 2015. Please visit
Vacations To Go
or call (800) 338-4962 for current rates and details.
Send This Article to a Friend
Bookmark this Content
Digg it!
Reddit
Furl
del.icio.us
Spurl
Yahoo!