Castaway for a Day
Six lines have created secluded
tropical havens for their passengers
By Kimberly Garza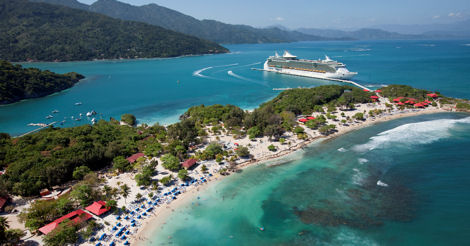 Michel Verdure/Royal Caribbean International
I
magine yourself on a palm-fringed island, where you can stroll a pristine slice of sand or kick back in a shaded hammock and drift away to the sound of the ocean. There are no high-rise hotels or sprawling concrete developments here, just some quaint and colorful buildings, thatched palapas, cozy cabanas and beckoning beach chairs.
A private island paradise like this is just a cruise away. Six major lines provide an exclusive oasis as a port of call during cruises of the Bahamas and Caribbean, giving guests a laid-back beach experience for a day. These tropical hideaways offer low-key bars, eateries and shops, as well as a variety of land and sea activities, from snorkeling, kayaking and biking tours to nature walks and oceanside massages. All offer a complimentary lunch, typically a barbecue and buffet spread.
We've described these retreats below, along with a sampling of deeply discounted cruises that are scheduled to visit these destinations during the winter months of early 2013. Pricing is from Vacations To Go, a Houston-based agency that secures the lowest cruise fares.
For information, call the cruise specialists at (800) 338-4962 or visit
Vacations To Go
. You can search for itineraries by departure date, company, ship and more by using the
Find a Bargain
tool.
Half Moon CayHolland America Line & Carnival Cruise Lines
At nine-and-a-half miles around and lined with a nearly three-mile, crescent-shaped beach that gives it its name,
Half Moon Cay
embraces an abundance of nature. For starters, the Bahamas National Trust has designated 98 percent of the island as a bird preserve.
Holland America
and
Carnival
cruise-goers can interact with local flora and fauna on several excursions, from horseback riding and hiking through the broadleaf-filled forest to snorkeling and deep-sea fishing in the clear, warm waters. Kids can romp at Stingray Cove and the aqua park at Half Moon Lagoon.
For a touch of luxury, rent your own cabana for the day, outfitted with air conditioning, refrigerator, ceiling fan and furniture, plus deck chairs and a misting shower on the terrace. Groups of up to 12 travelers can splurge on the Private Oasis, a 1,620-square-foot refuge with hot tub, sundeck, iPod music system, full wet bar, fridge and seating inside and out. It costs close to $1,500 to lease, and this includes a butler, personal chef, lifeguard and a variety of food and drinks, including alcoholic beverages.
Passengers access Half Moon Cay via tenders from the ship. This winter, four Holland America vessels visit the isle on
weeklong Caribbean trips
from Fort Lauderdale, FL. Aboard the
Nieuw Amsterdam
, for example, Vacations To Go offers starting rates around $400 per person.
Several Carnival liners head to Half Moon on trips that leave Charleston, SC, and Florida ports. Travelers can join the
Carnival Victory
on its
five-night Bahamas sojourns
from Miami. At press time, bargain fares started as low as $249 per person for the
Feb. 4 departure
.
Castaway CayDisney Cruise Line
Family fun is the name of the game at
Castaway Cay
, a port of call exclusive to
Disney
's seagoing guests. The Bahamian island is flanked by white-sand beaches dotted with lounge chairs, plus open-air barbecue dining spots, souvenir shops and 20 furnished, 325-square-foot cabanas available for rent on Castaway Family Beach or the adults-only Serenity Bay Beach, which also has opportunities for a shoreside massage.
Two water parks, a dance party with Disney characters like Lilo and Stitch and dozens of other port activities will keep kids occupied. Scuttle's Cove offers free child care under the supervision of Disney counselors. Even teens have a hub, the Hide Out. Ships pull up to a dock, allowing guests to walk directly onto the island, and getting around is easy thanks to tram transportation.
Disney Dream
and
Disney Wonder
provide
three- and four-night Bahamian breaks
with stops at Castaway Cay; most depart from Port Canaveral, FL. Pricing starts around $400 per person for several departures next January and February.
CocoCayRoyal Caribbean International
Royal Caribbean
cruisers find plenty of diversions at
CocoCay
, the line's adventure-filled haven in the Bahamas. It's known for a popular parasailing excursion that lets adrenaline seekers view the spectacular island from 400 feet in the air. Or, get a kayak or WaveRunner and explore the scenery along the coast, riding past sights like the Great Stirrup Cay Lighthouse.
Underwater wrecks and coral reefs will dazzle divers, and those looking for a more relaxed pastime can hike the recently added nature trails or sip cocktails in one of many beachside lounge chairs. Caylana's Castle Cove is a floating playground for energetic youngsters.
Royal Caribbean ships drop anchor offshore, and passengers tender to the isle. CocoCay is featured on many
three- to seven-night trips
from Miami and Port Canaveral, starting as low as $189 per person for a
four-nighter
on the
Monarch of the Seas
, with departures in January.
Weeklong trips
from Baltimore and Bayonne, NJ, also stop by the key; a
Feb. 10 trip
on the
Explorer of the Seas
from Bayonne featured pricing from $579 per person.
LabadeeRoyal Caribbean International
Another
Royal Caribbean
retreat -- this one carved from the Haitian coast --
Labadee
caters to cruisers with seven distinct neighborhoods. Those looking for an ocean escape, like WaveJet or snorkeling tours, can head to Buccaneers' Bay, where many water excursions meet. Dragon's Plaza offers views of the striking natural rock formation known as Dragon's Head, and Adrenaline Beach caters to the active with basketball, beach volleyball and a roller coaster. At Labadee Town Square, you can browse an artisan market and take in performances of Haitian music and folk dance.
Nellie's Beach tempts with chaise longues and rental cabanas that provide private access to the water. Barefoot Beach Club is an exclusive enclave open only to guests staying in Grand Suites or higher; its 20 cabanas, available for extra charge, include over-the-water bungalows. Meanwhile, Columbus Cove is a family-oriented destination, with an on-the-water park equipped with a floating trampoline, slide, log roll and "icebergs" that can be climbed.
Daredevils can take flight on the 2,600-foot-long Dragon's Breath zip line and soar 500 feet above sand and sea at breathtaking speeds.
In 2009, Royal Caribbean built a pier here to accommodate its twin 5,400-passenger megaships,
Oasis of the Seas
and
Allure of the Seas
; both visit Labadee regularly on
year-round weeklong jaunts
from Fort Lauderdale. The
Jan. 19 Oasis trip
and the
Jan. 27 Allure departure
start at $799 per person.
Princess CaysPrincess Cruises
Princess Cruises
' resort sprawls across more than 40 acres at the southern tip of Eleuthera, a Bahamian island known for its sugar-white beaches. Trek to the top of the observation tower to admire verdant forests and turquoise waters, then stroll along the walkways linking every facility to grab a bite or shop at the craft market. One excursion takes you on a driving tour of Eleuthera's 200-year-old churches, with stops at the town of Rock Sound and a dance party celebrating Junkanoo, the Bahamian masquerade tradition. Back at the beach, rent an air-conditioned bungalow for a romantic getaway or a family hangout; for the budget-conscious, "clamshell" tents for two are available for surfside privacy and shade without a major hit on your wallet.
Passengers ride tenders to
Princess Cays
from the ship. Three vessels --
Caribbean Princess
,
Grand Princess
and
Ruby Princess
-- make time for this haven on
weeklong Caribbean sailings
from Fort Lauderdale. We found 2013 departures on the Ruby priced from $499 per person at Vacations To Go.
Great Stirrup CayNorwegian Cruise Line
A long and lively history is bound within the shores of
Great Stirrup Cay
,
Norwegian Cruise Line
's exclusive 250-acre Bahamian escape. It's thought that Lucayan Indians settled here first and grew crops in sinkholes in the rocks. Seventeenth-century pirates looted trading ships nearby, and Union troops stowed provisions here during the Civil War. In 1977, NCL bought the island from an oil company and became the first cruise line to capitalize on private island offerings.
Great Stirrup Cay is undergoing a $30 million enhancement, with recent additions like the new Cabanas on the Cay adding a luxurious touch. Reserve your own fully furnished cabana just west of the island's main beach for a quiet oasis that comes with VIP service, a $50 food and beverage credit to use toward a specially selected menu and a large float.
Elsewhere, kiddos and adults alike partake in activities like shooting down the 175-foot-long inflatable waterslide or donning snorkels for a guided swim to stunning coral formations. Get an up-close look at a 250-foot blue hole (an underwater sinkhole) or kayak past the red mangroves that grow thick around the island. NCL ferries guests to its island paradise by tender.
This winter, Great Stirrup is highlighted on
seven-night itineraries
from New York City on the
Norwegian Jewel
and from Miami on the
Norwegian Pearl
. Those with less time to spare can opt for
four-night escapes
from Miami on the
Norwegian Sky
, which start at $169 per person in January.
The information in this story was accurate at the time it was published in November/December 2012. Please visit
Vacations To Go
or call (800) 338-4962 for current rates and details.
Send This Article to a Friend
Bookmark this Content
Digg it!
Reddit
Furl
del.icio.us
Spurl
Yahoo!