Carnival Works its Magic
The popular cruise line brings its brand of fun to Galveston
By Elizabeth Armstrong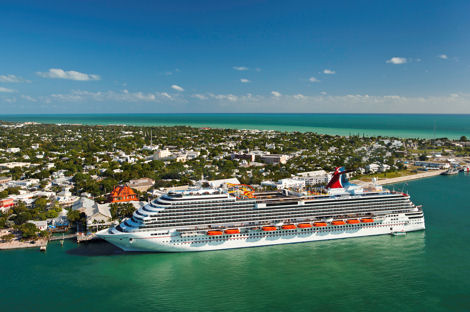 Danny Lehman/Carnival Cruise Lines
(Scroll down to see a slide show.)
A
Texas-size welcome greeted the
Carnival Magic
when it sailed into
Galveston
for its U.S. debut last November, fresh from an inaugural season in Europe. It's the first brand-new ship to regularly cruise from the Gulf Coast city, about an hour from central Houston. Homeported within walking distance of antique shops, art galleries and low-key bars in Galveston's historic downtown, the Magic tempts travelers year-round with three different itineraries -- two in the Caribbean and one in the Bahamas.
Legions of
Carnival
fans signed up for that first sailing from Galveston. The company draws a spirited, fun-loving crowd; if you cringe at conga lines and sneer at silly hats, this may not be for you. But if you love the camaraderie of cruising and the wealth of recreation, socializing and diverse dining found aboard a big, dazzling new ship, read on. Below are six reasons to let the Magic cast its spell on you.
You will not be bored during days at sea.
The packed schedule of activities can start with 7 a.m. stretches in the Cloud 9 Spa and end after midnight with a bawdy comedy act in the Spotlight Lounge. In between there are cooking demonstrations, basketball tournaments, movies on the giant poolside screen and dance instruction with the ship's performers. Card and bridge games are coordinated for interested passengers, and multiple themed trivia contests take place in the fifth-deck Ocean Plaza throughout the day.
The four-hour Behind the Fun tour, offered on the last sea day and restricted to 16 guests, ventures into areas that normally are off-limits to passengers, like the bridge, engine control room, main galley and staff dining areas. It costs $95 per person; sign up at the shore excursion desk.
After dark, passengers gravitate to the ever-popular Play It Again Sam piano bar, the casino and the Vibe disco, where nightly music motifs range from Motown tunes and retro '80s hits to the Latin beats of bossa nova, salsa and samba. The theater hosts large-scale song-and-dance productions.
You can find tranquility on a 3,690-passenger ship.
There's not a kid in sight on the uppermost Serenity deck. Restricted to passengers ages 21 and up, it's a stylish haven of black rattan loungers topped by teal cushions, two Jacuzzis and wide hammocks made for catnaps.
Two decks below is the spa, which has a full slate of facials, massages and body treatments as well as acupuncture, tooth whitening and salon services. Staffers lead yoga sessions, cardio classes and three-minute makeovers. The bubbling springs of the thalassotherapy pool ease sore muscles, as do heated tiled loungers in the thermal suite. After a cleansing detox in the steam grotto, try the DIY Scrub Experience: Select an herbal blend and either sugar or salt for a customized exfoliant mixed by a spa staffer.
Seeking a quiet bar for a predinner cocktail? One of my favorites was Escape, a small space of cinnamon walls and amber chandeliers that's easily overlooked. It's on Deck 4, tucked between the Northern Lights dining room and the photo gallery.
It takes onboard recreation to new heights.
Daring souls can navigate the first ropes course at sea, one of the most popular attractions dreamed up by Carnival. "We moved 700 people through that today," said senior cruise director John Heald on the second night of the Magic's first U.S. sailing.
Trussed to safety harnesses, guests traverse rope bridges and swinging steps suspended above Deck 12, with views to the ocean about 150 feet down. It's part of SportSquare, an expansive, open-air recreation complex with fitness stations, a minigolf course and a multipurpose lighted court for basketball, volleyball and soccer.
Nearby is the WaterWorks aqua park, a brightly colored, splashy spot with the 312-foot-long Twister waterslide, the funnel-shaped DrainPipe and the Power Drencher, a gigantic bucket that fills with water every minute, then dumps it on kids wriggling in anticipation below.
It has food to suit all moods.
Whether you want to dine in your swimsuit and flip-flops or dress up for a special night out, the Magic supplies a variety of culinary scenes. Grab a pizza or burger by the pool, or head to the barbecue at the Lanai on Deck 5. Two capacious restaurants serve dinners at two seatings per night. Cast your eye over the section labeled "food that makes you feel good" for comfort dishes like Southern fried chicken and bacon mac 'n' cheese. And do succumb to the chocolate melting cake at the end of the meal. Warm, dark and decadent, it held sway over me for the duration of my cruise. About 4,000 of these are served per ship each week. I'll own up to eating at least four.
For lunch, many passengers queue up at the buffet stations of the Lido Marketplace, but I found the lines too long and usually headed to the Tides Pool at the aft. Here, there was little to no wait at two dining niches: a deli for sandwiches made to order and Tandoor for Indian specialties.
An island vibe pervades the RedFrog Pub, a new Carnival bar where finger foods sell for $3.33 each. This is spicy, saucy stuff: Jamaican jerk pulled-pork sandwiches, chicken wings bathed in a rum-molasses barbecue glaze and Caribbean sliders with honey-ginger aioli. Wash it down with a Caribbean beer like Banks from Barbados, or ask for a pint of Carnival's proprietary brew, Thirsty Frog Red.
Set aside at least two hours for supper at the steakhouse, which embraces guests in a dimly lighted, clubby atmosphere. Expect classic fare -- prime rib, filet mignon, surf and turf and lobster bisque. Reservations are required, and there's a $30 surcharge per person, a fair price for the hearty, multicourse meal and superb service.
It honors its heritage.
Another new dining venue, Cucina del Capitano, pays homage to the Magic's Italian roots -- the ship was constructed in the Fincantieri shipyard in Monfalcone. Chefs have re-created the recipes that the Italian officers grew up on, like spaghetti carbonara, arancini (fried risotto balls) and brasato al Barolo, short ribs braised in a rich red-wine sauce until butter-soft.
I was won over by Cucina's charm, and not just because of the red-and-white checked tablecloths, the cute potted rosemary plants and the house Chianti served from a small barrel. Personal photographs from the line's captains adorn the walls, lending a warm touch to the surroundings. Ask your server to point out the 1964 picture of four boys playing in the surf in Camogli; each one grew up to helm a Carnival ship.
Reservations are necessary, and there's a $12 fee for dinner. However, Cucina is free at lunchtime, when the menu switches to a design-your-own-pasta format.
It's a great value.
You can sail away on the Magic for less than $100 a day. National cruise discounter Vacations To Go offers departures starting under $700 per person for a weeklong voyage.
On board, look for advertised specials that can help ease at-sea spending. Wine lovers should consider the Cruise the Vineyards package, which provides five bottles for $110 to $165, depending on the labels you prefer. It saves about 25 percent off regular wine list prices. A Bottomless Bubbles program caters to soda-swilling cruisers, promising unlimited beverages for the week for $31.50 for children 17 and under and $42 for adults. Spa promotions are delivered with the daily "FunTimes" program of activities, usually good for days in port.
Information:
Carnival Magic
sails three itineraries from Galveston. Visit the isles of
Jamaica
and
Grand Cayman
or beach havens in
Honduras
and
Belize
; both trips also stop at
Cozumel, Mexico
. A
Bahamian route
incorporates Freeport, Nassau and Key West, FL. For deeply discounted rates, contact Vacations To Go, (800) 338-4962, or
check sailings online
.
The information in this story was accurate at the time it was published in May/June 2012.
Send This Article to a Friend
Bookmark this Content
Digg it!
Reddit
Furl
del.icio.us
Spurl
Yahoo!