Caribbean Cruising, A to Z
26 great reasons to schedule a visit
to a tropical hot spot
By Madison G. Welch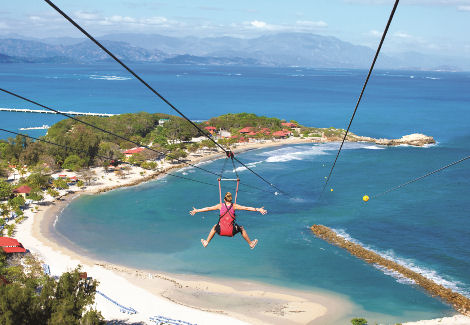 Royal Caribbean International
(Scroll down to see a slide show.)
W
hen Christopher Columbus first sighted Jamaica in 1494, he described it as "the fairest isle that eyes have beheld." Each Caribbean locale offers its own blend of tropical scenery, engaging culture and delicious cuisine, and while Jamaica may have been Columbus' top pick, it's difficult for most people to decide on a favorite.
Depending on the destination, activities range from watching native wildlife and snorkeling coral reefs to exploring underground caves and hiking through jungles. Beach bums are welcome, too, as white-sand shores are a hallmark of the region.
Our alphabetical guide to
Caribbean cruising
showcases some of the region's top attractions to help you discover the destination. For the best rates on Caribbean sailings, follow the links below or call the cruise specialists at Vacations To Go, (800) 338-4962.
A - Amber Cove
Savor sun and sand in the newest Caribbean port of call:
Amber Cove
on the Dominican Republic's northern coast. The scenic spot welcomes cruisers with mountain vistas and cobblestoned plazas leading to restaurants and shops. Amber Cove is the gateway to Puerto Plata, a town founded by Columbus in the early 1500s, and to Ocean World, an adventure park with marine animal encounters and waterslides.
Carnival Cruise Line
will be the first oceangoing company to call here when the
Carnival Victory
arrives on
Oct. 6
.
B - Bajan cuisine
Flying fish are a national symbol of sorts for
Barbados
, especially when steamed and served with couscous. The southeastern Caribbean island is famous for its cuisine, a flavorful blend of influences from Africa, Europe and the West Indies. Common seafood specialties feature salmon, red snapper, shrimp and lobster, while side dishes range from peas and rice to macaroni pie. Tasty produce includes papaya, cassava, mango and breadfruit.
C - Curacao Marine Park
Scuba divers and snorkelers discover nearly 1,500 acres of reef in the Curacao Marine Park, on the southeast coast of its eponymous Dutch island. This underwater playground harbors the remains of several shipwrecks and provides homes for sharks, manta rays, sea turtles, dozens of coral varieties and hundreds of fish species. Be sure to check out Willemstad, the
Curacao
capital, split into two parts by Sint Anna Bay and connected by the famous floating Queen Emma Bridge. Gabled homes and colorful architecture adorn the city.
D - Diving
With so many diving spots to choose from in the region, it's impossible to nail down a No. 1 destination for scuba enthusiasts. But
Aruba
tops the list, with a southern coast boasting plentiful coral reefs and several sunken vessels. The island is known as one of the Caribbean's wreck-diving capitals -- don't miss the buried Antilla, a World War II-era German freighter, with accessible cargo holds and boilers. Thanks to cool and constant trade winds, Aruba also is a favorite destination for kitesurfing.
E - El Yunque National Forest
Explore the only tropical rain forest in the U.S. National Forest System. Puerto Rico's El Yunque encompasses ferns, palms, waterfalls and natural swimming holes, along with tiny tree frogs and exotic birds like the endangered Puerto Rican parrot. Hike the paved Mount Britton trail -- about 45 minutes on the way up -- for views of the lush greenery from a lookout tower. Shore excursions from capital city
San Juan
typically include transportation and a tour guide.
F - Fort-de-France
Martinique's capital city
is a fascinating blend of cultures. European-style iron balconies and Creole cuisine coexist here, and nature plays a dominant role in the scenery and attractions. Near the center of Fort-de-France is La Savane, a relaxing park with a statue of a famous island native, Empress Josephine, consort of Napoleon Bonaparte. On the city's outskirts, Balata Botanical Gardens features thousands of flora and fauna species, including lively hummingbirds.
G - Grand Anse Beach
This 2-mile stretch of beach in
Grenada
welcomes sunbathers with pristine, white sands and relaxing turquoise waves. But the shore isn't the only lure: The Spice Island offers hiking opportunities in and around Grand Etang National Park and Forest Reserve, an area thick with bird species like the broad-winged hawk, Antillean euphonia and purple-throated carib. For a stunning photo backdrop and refreshing swim, check out the island's Annandale Falls near St. George's, the capital.
H - Harrison's Cave
Journey deep underground to the stalactites, stalagmites and serene pools of this
Barbados
attraction. The cave system measures at least 1.4 miles long, and its largest cavern is about 50 feet tall. Exploration of the site began in the 1700s but was largely unsuccessful until the 1970s, when it finally was mapped by a Danish engineer and two Barbadians. Today, electric trams carry visitors to view the grottoes, rock formations, streams and waterfalls hidden beneath the island's surface.
I - Illusionarium
Enter a world of enchantment and mystery on the
Norwegian Getaway
from
Norwegian Cruise Line
. The 4,028-passenger ship sails year-round to the Caribbean from Miami. In accordance with its home port's nickname, "Magic City," the ship offers an intimate dinner show in the mystical Illusionarium, which seats about 260 guests. Attendees are entertained by a combination of top-notch magicians and special effects from a "video dome" that forms the centerpiece of the theater.
J - Jerk seasoning
One of the largest islands in the Caribbean Sea is
Jamaica
, an iconic location for beach relaxation, jungle exploration and ocean recreation. While there, make sure to sample a jerk dish: chicken, pork and other meats are dry-rubbed or marinated with the unique seasoning, barbecued and served with fried dough and breadfruit for a flavorful meal. Recipes vary, but according to the Jamaica Tourist Board, the famous blend includes allspice, cloves, cinnamon, nutmeg, garlic, onions, thyme, salt and Scotch bonnet peppers.
K - Kingstown
The multi-island state of St. Vincent and the Grenadines is one of the Caribbean's less-traveled destinations. The country's capital is the seaside city,
Kingstown
; its colorful buildings extend up Berkshire Hill and provide a charming contrast to the thickly forested landscape. Sometimes called the "City of Arches," Kingstown boasts historic architecture and one of the region's oldest botanical gardens, which is celebrating its 250th anniversary this year.
L - Leatherback turtles
Summer months bring leatherback turtles to the beaches of
Trinidad
to nest. Enormous females -- the species can reach 6 feet in length and weigh more than 1,000 pounds -- laboriously pull themselves onto the shore, where they use their rear flippers to dig a hole and then deposit up to 120 eggs in a single nest. The beach at Grande Riviere, on the northeast coast of the island, has been known to host some 500 turtles on nights in May and June.
M - Mayan ruins
The Mayan people were one of the greatest civilizations in the Americas. Though infamous for practicing human sacrifice, they also built intricate stone temples, created books of hieroglyphics, studied astronomy and developed advanced calendar systems. Mayan cities occupied southern Mexico, Guatemala and northern Belize, and ruins from these once-powerful centers remain throughout the region. Cruisers that visit
Mexico's Costa Maya
, for instance, can discover Kohunlich,
with ruins like the Temple of the Masks and burial places for high-ranking officials.
N - Nelson's Dockyard
Antigua
might be best known for its 365 beaches, but mariners and history buffs cite an additional reason to visit: Nelson's Dockyard, a strategic harbor for the British Royal Navy in the early 1700s. The dockyard boasts buildings from the 18th and 19th centuries as well as a museum, shops and restaurants. During its restoration, the area was named after Horatio Nelson, a British naval commander who served on the island for a few years.
O - Old San Juan
Stone-paved streets and colonial architecture beautify Old San Juan, the historic center of
Puerto Rico's capital
. The Spanish settled the area in the early 1500s, making San Juan the oldest city under U.S. jurisdiction; it's home to forts that together have been designated a UNESCO World Heritage Site. Excursions visit the Castillo San Felipe del Morro, a triangular bastion finished in the 1700s, and the massive Castillo San Cristobal, designed to protect the city against land attacks.
P - Pitons
The lush landscape of
St. Lucia
is made even more majestic by the Pitons, a pair of volcanic peaks towering some 2,000 feet above the island. Named Gros Piton and Petit Piton, they provide venues for hiking and wildlife-watching -- not to mention gorgeous photo ops. Popular excursions including boating, scuba diving or fishing at Marigot Bay and relaxing in the heated waters of Sulphur Springs Park, billed as the Caribbean's only drive-in volcano.
Q - Queen Elizabeth II Botanic Park
In 1994, Queen Elizabeth II opened a botanical park on
Grand Cayman
, the largest of the Cayman Islands. What began as a simple park with a woodland trail has grown into a recreational facility that encompasses a scenic lake and wildlife refuge, a butterfly habitat, intricate flower gardens arranged by color and a breeding facility for the exotic blue iguana. Nature lovers should keep an eye out for the wild banana orchid, the islands' national flower.
R - Reggae
Jamaica has a reputation for marching to the beat of its own drum, or in this case, to the beat of its own music style. Reggae originated here in the 1960s and became a powerful outlet for addressing social and economic issues. The island also is the birthplace of the genre's biggest star, Bob Marley, and many cruises that visit
Falmouth
offer excursions to his hometown, Nine Miles. Participants experience a scenic tour complete with reggae tunes and jerk chicken.
S - Stingray City
Feed stingrays by hand in their natural habitat off the north-central coast of
Grand Cayman
. Stingray City welcomes snorkelers with crystal-clear waters and a sandbar that's home to plenty of friendly bottom-dwellers. Shore excursions include a short boat ride from George Town, the island's capital and cruise port, and a snorkeling interaction conducted by experienced guides.
T - Treasure Island
"Seaward ho! Hang the treasure! It's the glory of the sea that has turned my head," Robert Louis Stevenson wrote in his classic 1881 novel, "Treasure Island." Via shore excursion, cruisers can visit the isle that allegedly inspired Stevenson's wild tale of buccaneers and buried gold. Set sail for the British Virgin Islands, landing in
Tortola
, where a short boat trip takes snorkelers to explore the protected bays and infamous caves of Norman Island, a legendary pirate haunt.
U - U.S. Virgin Islands
Comprising three main islands and dozens of cays, the U.S. Virgin Islands are
a tropical paradise with attractions for all interests.
St. Thomas
boasts beautiful Charlotte Amalie, the capital city, with stylish shops and restaurants;
St. John
encompasses a 7,000-acre national park with outdoor activities like snorkeling, sailing, hiking and bird-watching; and
St. Croix
offers Danish-heritage towns and a rum distillery.
V - Volcano views
In 1995, a dormant volcano erupted on the island of Montserrat, coating the land in ash and forcing thousands to evacuate. Not quite two years later, a second volcano erupted and caused even more damage, leaving the majority of the island uninhabitable. Tourists can take a flightseeing tour of this modern-day Pompeii from nearby
Antigua
; it offers an up-close look at the ruins with a pilot-narrated helicopter ride.
W - Whale sharks
The largest fish in the sea is the whale shark, averaging 39 feet in length and weighing about 15 tons. These creatures pose no threat to humans, as they feed on plankton, algae and other tiny organisms through a sieve-like filtration system. From May to September, several hundred whale sharks migrate to the warm waters
off the Yucatan Peninsula, and shore excursions from
Cozumel, Mexico
, allow snorkelers to swim with these "gentle giants."
X - Xcaret Eco-Archaeological Park
Also near
Cozumel
is the Xcaret Eco-Archaeological Park, which emphasizes the region's cultural heritage and natural beauty with attractions as varied as Mayan ruins, underground caverns, tropical jungles and history museums. For an additional cost, the park offers activities like swimming with dolphins or sharks, interacting with stingrays or snorkeling near a coral reef. Don't miss the gorgeous vistas from the top of the park's rotating 260-foot observation tower.
Y - Yacht racing
Feel the sea breezes from the deck of a sleek sailing yacht in
St. Maarten
, the Dutch side of what's billed as the Friendly Island (
France owns the other half
). In this popular boating destination, a favorite activity is the America's Cup 12-meter regatta; participants get to trim sails or mind the winch in a yacht race among three teams on a shortened version of an America's Cup course. No prior sailing experience is necessary, with several cruise lines offering shore excursions that match passengers with expert guides.
Z - Ziplining
Soar above lush green jungle, turquoise water and white-sand beach on a 2,600-foot-long zipline in
Labadee, Haiti
. Launching from 500 feet above the shore, the Dragon's Breath Flight Line offers a stunning view of the surroundings and some heart-pumping excitement as it reaches speeds up to 50 miles per hour. Labadee is the private beach destination of Royal Caribbean International; other activities include a roller coaster, aqua park, 300-foot-long waterslide and plenty of oceanfront relaxation.
The information in this story was accurate at the time it was published in March/April 2015. Please visit
Vacations To Go
or call (800) 338-4962 for current rates and details.
Send This Article to a Friend
Bookmark this Content
Digg it!
Reddit
Furl
del.icio.us
Spurl
Yahoo!