Better Wi-Fi on the Waves
Share vacation fun in real time
as cruise lines amp up connectivity at sea
By Brent Stoller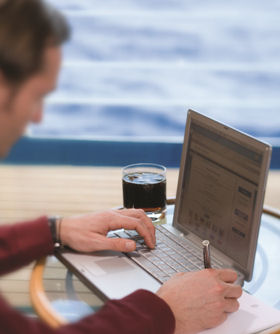 Silversea Cruises
A
mid postcard-worthy sunsets and miles of blue water, sailing the open sea is a time to disconnect from daily life. Cruise liners make it easy to do so, creating a fantasyland of recreation and relaxation, offering everything from first-class dining and entertainment to spa treatments, casino games and indoor skydiving -- all of which help passengers leave the real world in their wake.
But in today's climate of connectivity, many travelers no longer want to unplug. Some have business to conduct, while others simply like sharing snapshots with family and friends across social media. To meet this demand, cruise lines are ramping up their Internet infrastructures and extending unprecedented Wi-Fi access to ensure passengers remain as plugged in as they wish.
Setting the pace is
Royal Caribbean International
with the advent of its
revolutionary Wi-Fi service, Voom. "A ship with Voom technology is faster than all other cruise ships combined," says Mark Tamis, senior vice president of hotel operations for Royal Caribbean.
Tamis explains that such lightning-fast connectivity is achieved thanks to an exclusive partnership with O3b Networks, a global satellite service supplier that enlists dedicated satellites solely for Royal Caribbean ships. "This gives
us the opportunity to provide fiberlike speed to our guests without any interruptions," he says.
The result is that whatever passengers can do at home, they now can do at sea. "Whether they are posting images of their amazing vacation on Instagram
or Skyping, guests can share their experiences with everyone," Tamis says.
"In addition, guests can stream their favorite movies or TV shows to stay up to date on the latest happenings."
Voom currently is offered on the company's Oasis-class and Quantum-class ships for itineraries in Asia, the Caribbean and the Mediterranean, but not on repositioning and trans-Atlantic sailings. Unlimited use of the service can be purchased by the day ($29.95 per device) or in a multiday package ($15 per day, per device), with the option to add a second device to the plan at half off. For example, connectivity for one device on a seven-night cruise costs a total of $105, while service for two devices costs $157.50.
In addition to getting a revitalized casino, dazzling new water slides, an enhanced menu of restaurants and other refurbishments, Royal Caribbean's
Majesty of the Seas
also is slated to upgrade to Voom, which will be free for passengers on the ship's short
Bahamas cruises
out of
Port Canaveral, FL
, starting May 27. Installation of Voom on the rest of the company's fleet will continue through 2016.
Crystal Cruises
has bettered its technological capabilities as well, thanks to
a multimillion-dollar investment in its two current liners, the 922-guest
Crystal Symphony
and the 1,080-guest
Crystal Serenity
. Upgrades included increasing satellite bandwidth to maximize the number of possible Internet users while minimizing service interruptions, and extending the Wi-Fi signal to cover all corners of the ships. These enhancements allow guests to surf the Web whether they're dining on gourmet pizzas poolside, sipping a daiquiri in
the saloon or taking in the view from their cabin's private balcony. Beyond the improved accessibility and connection speeds, the Internet also has been made available on additional itineraries to destinations such as Japan.
Earlier this fall, Crystal began offering free Internet usage to all passengers, a benefit that previously was reserved for the line's loyalty program members. Each traveler in a deluxe stateroom or penthouse stateroom is allotted one hour of online time per day, while those in penthouse suites receive an hour and a half every day. Guests can log in using their own devices, at a work station in the state-of-the-art computer lab or on one of the ship's rental laptops.
This perk also will be offered on the
Crystal Esprit
, a 62-guest yacht scheduled to make
its initial sailing this December in the Seychelles islands
. Additional Web time can be purchased through four different per-minute plans; the more time you pay for upfront, the less you pay per minute.
Silversea Cruises
, which features voyages to exotic locales like
Antarctica
,
New Zealand
and
the Galapagos Islands
, will be extending a minimum of one hour of complimentary Internet to all passengers -- and unlimited access to those in certain guest quarters -- beginning in January. Tiered packages for
further Wi-Fi access will be available for purchase.
Making its own waves,
Carnival Cruise Line
has boosted bandwidth on 19 of its ships to support two innovative Internet initiatives. Its new social media package, the first of its kind in cruising, allows passengers to log on to popular sites such as Twitter, Facebook, Instagram, Snapchat, Pinterest and others. For just $5 a day, they can post pictures of the kids at Seuss-a-palooza Story Time, tweet about the band playing at the RedFrog Pub or upload a video of a spouse's karaoke number, and they can do it all in real time.
As of now, the social media package is offered on most Carnival ships, though fleetwide integration is expected to be completed before summer 2016. Discounts are available for passengers who subscribe for the duration of their cruise. For those who desire additional Web service, a "value" plan can be bought for the use of select applications to check email, weather forecasts, sports scores and more. The "premium" plan, meanwhile, grants access to even more apps such as Skype and provides the highest browsing speed available on board.
If the social media subscription doesn't keep you connected enough, the line also has developed the Carnival Hub mobile app. In addition to providing intel on the ship's layout and facilities, daily activities and the status of your onboard account, the application includes a chat feature, meaning traveling parties can spread out without losing touch with each other. Deciding between a sushi dinner or Guy Fieri's burger joint? Curious if anyone wants to see the talented stand-up who's performing at the comedy club? Organizing a snorkeling excursion at the upcoming port? Simply log in to Carnival Hub, communicate with the members of your travel party and hammer out the details of your next adventure.
While the chat feature runs $5 for the entire cruise, the mobile app itself is free and can be downloaded from iTunes and other app stores. It's presently offered on just the
Carnival Breeze
, but the cruise line anticipates Hub to be operational on all of its ships by 2017.
The information in this story was accurate at the time it was published in November/December 2015. Please visit
Vacations To Go
or call (800) 338-4962 for current rates and details.
Send This Article to a Friend
Bookmark this Content
Digg it!
Reddit
Furl
del.icio.us
Spurl
Yahoo!