At Sea on the Breeze
Find fun for every type of traveler
aboard Carnival's newest ship
By Kimberly Garza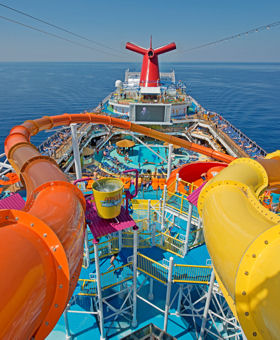 Andy Newman/Carnival Cruise Lines
(Scroll down to see a slide show.)
"Excuse me, miss?"
I looked down at the brown-haired boy next to me who was fidgeting with impatience. We were side by side high above the deck of the
Carnival Breeze
, sharing space on a tiny platform with only harness clips keeping us from dropping into empty air. We were two brave souls trying out the ship's challenging ropes course. And apparently, I was in his way.
"Sorry, go ahead." I yanked the clip linking me to the safety line above and moved aside. The path before him now clear, the boy shot past me and onto the web of ropes that separated our platform from the next one. He moved easily, his hands stretched out for balance instead of grasping his safety line for dear life the way I was. In a matter of moments he was across and on the next platform.
A gust whipped at my T-shirt; I tightened my grip and watched the ropes sway. My time as a thrill-seeker aboard the Breeze was not off to a great start.
On the Breeze, the newest ship from
Carnival Cruise Lines
, entertainment comes in all forms. Gaming enthusiasts can head to the 500-capacity casino, populated by card tables and the electric jingle of slot machines. A sprawling SportsSquare features a basketball, volleyball and soccer arena, drawing athletes of all kinds. Filmgoers can catch big-name movies poolside every night on the Lido Deck's 270-square-foot screen or head down for a 4-D experience in the new Thrill Theater. And the ropes course lures plenty of fearless kids, bold adults and, on its inaugural Caribbean sailing out of
Miami
, one nervous travel writer.
Luckily, the Breeze -- not only Carnival's newest but also one of its largest ships, at 130,000 tons and holding 3,690 passengers -- has plenty to offer other than thrills. From the heated-tile loungers of the onboard spa to more than 10 eating venues of all cuisine styles, the Breeze is the latest in a long line of vessels tailored for every type of traveler. Whether you're looking for pampering indulgence, gourmet food, dazzling shows or an adrenaline rush, read on to find the hottest spots and can't-miss activities aboard the Carnival Breeze.
Spa Savant
In the lounge of Cloud 9 Spa, large windows offer a panoramic vista of the sky and ocean, both an eye-searing blue. Snack tables provide cups of hot tea or ice water, and guests waiting for spa treatments relax in thick white robes, chatting softly or admiring the view.
Beyond the lounge, 21 private treatment rooms are available for services ranging from a lime-and-ginger salt scrub to a 75-minute Thai herbal poultice massage. Between treatments, spa-goers have the option of unwinding in the three steam and sauna grottoes of the thermal suite, modeled after a Turkish bath with tiled benches and seats, or the thalassotherapy pool. Mimicking the therapeutic bubbles of natural hot springs, the jets of the heated thalassotherapy tub soothe sore muscles. The 22,770-square-foot spa also includes a full-service salon with hair, nail and makeup technicians and a men's grooming area, and a fitness center with instructor-led classes like yoga or spinning.
On the uppermost deck above Cloud 9, a relaxing retreat for passengers age 21 and up awaits. In Serenity, guests stretch out on turquoise-cushioned lounge chairs or curl up in a rattan cocoon perfect for a nap or a cocktail with an ocean view.
Wrapped in a robe, sipping tea laced with lemon in the Cloud 9 lounge, I would have been happy staying there all day. Guests who have purchased a spa treatment have free use of the facilities, but passengers who just want to try the thermal suite or thalassotherapy pool can do so by purchasing a daily or weekly pass. Or for the full experience, book a stay in one of the
Breeze
's 85 spa staterooms and suites, which offer unlimited access to the thermal suite and thalassotherapy pool as well as priority spa appointments and complimentary fitness classes and goodies.
For my time as a spa connoisseur, I booked a Swedish massage and a facial during a day at sea. First up, the massage. In a treatment room with soothing music and a gorgeous view of the ocean, I lay facedown as a friendly technician worked out the knots in my back so thoroughly my muscles felt as loose as water when she was finished. "You need to relax more," she suggested when I explained that I mostly spend my time sitting at a desk. I vowed to do so -- at least for that day.
Afterward was the triple-oxygen facial, which employs the Bliss brand of products and is one of the spa's more popular services. The cool cream sank into my skin, tingling as it concentrated in my pores. "The treatment bubbles where your skin needs the most oxygen," my therapist explained as foam tickled my nose and I tried desperately not to giggle.
A brief consultation and a relaxing scalp and neck massage later, I felt utterly indulged as I made my way back to my stateroom. I capped off a spa day at sea on my balcony, with a flute of chilled Champagne and a best-seller.
Food Fiend
Like its Carnival brethren, the
Breeze
is a food lover's dream. From two expansive dining rooms for sit-down dinners to the Lido Marketplace's eight stations serving up dishes like tandoori chicken and stir-fry, there's something to satisfy any appetite.
The Breeze also offers three specialty restaurants for cruise-goers. At Cucina del Capitano -- a nod to the home country of the ship's officers -- red-checked tablecloths cover the tables, with potted plants and wine bottles lending an Italian countryside vibe. Guests enjoy heaping plates of pasta, appetizers like calamari and bruschetta and dishes with personal twists. For example, the Piatto della Nonna entree, penne with vodka cream sauce and crispy shrimp, honors the grandmother of the Breeze's Capt. Vincenzo Alcaras. Everything is served family style, with occasional serenades from the staff. There's a flat $12 surcharge per person during dinner, although the restaurant has a complimentary pasta lunch.
Fahrenheit 555, meanwhile, supplies gourmet American steakhouse fare. As a Texan raised on beef from birth, I approached a dinner there with a bit of skepticism but was soon reassured: My ribeye was cooked to perfection, tender and marble-veined, bursting with a garlic-spiced rub. Each bite melted on my tongue, which was just as well, because there was plenty of it, in addition to sides of grilled vegetables and an array of desserts. Reservations are recommended, and there's a $35 surcharge.
The Breeze marks the debut of Bonsai Sushi, Carnival's first full-service restaurant to serve the Japanese specialty. Behind the bar, experienced chefs slice up a range of fresh sushi and sashimi. Guests can order any combination or choose among bento boxes and a sushi "ship" for two, plus sake offerings. Prices range from $1 for appetizer-size portions to $15 for the sushi ship.
Of course, plenty of options abound for casual dining. At Fat Jimmy's C-Side BBQ, nosh on kielbasa and pulled-pork sandwiches, or head to Guy's Burger Joint, created in partnership with Food Network personality Guy Fieri. It serves burgers hot off the grill with a variety of toppings. Diners also can build their own burritos or tacos at BlueIguana Cantina.
The happy-hour crowd has numerous venues to keep the drinks and snacks coming. I sipped a spicy margarita poolside at the BlueIguana Tequila Bar one night, and tried conch fritters and rum at island-themed RedFrog Pub (where all dishes are $3.33) the next. Live music wafted through the air, along with the sounds of laughter and chitchat. At The Taste Bar, a swanky indoor lounge, guests can sample specialty cocktails and bite-size offerings from other Breeze restaurants, like rolls from Bonsai Sushi or desserts from Fahrenheit 555. And to satisfy any late-night cravings, room service and the ship's pizzeria are open 24 hours.
Show-Goer
On stage at the Ovation theater, a young audience member spun the basketball in her hands and concentrated. She aimed, then released. The ball bounced into the net and zipped into the winning slot of the gigantic Connect 4 prop, and the audience went wild.
Connect 4 Basketball is just one part of Carnival's latest offering, "Hasbro, the Game Show." Modeled after The Hub network's "Family Game Night" TV series, the live-action game show, led by the ship's cruise director, pulls the audience into an interactive performance of popular pastimes like Sorry!, Operation and Yahtzee. Teams are formed from randomly selected audience members (if you can answer a trivia question correctly, you're in) and compete in giant-scale games with fun twists. During Connect 4 Basketball, participants shoot balls instead of checkers to get four in a row. Simon Flash has team members running around laughing as they try to repeat a color sequence based on the big light-up boxes each person is wearing.
"Hasbro, the Game Show" is a component of Carnival's latest initiative, Fun Ship 2.0, which includes entertainment packages that engage the audience and technology in surprising ways. In the Thrill Theater, guests get a 4-D movie-watching experience, with a 3-D film plus physical elements designed to draw you in. I watched a screening of "The Polar Express." When the on-screen train plunged across an icy lake, water sprayed viewers lightly; later, the train sped down a mountain, and our chairs tilted forward to mimic the motion.
The
Breeze
's new Playlist Productions mix high-tech staging with live shows for dazzling 30-minute performances. During "The Brits!" artists dance and sing along with such hit-makers as the Beatles and the Who. These singers share the stage with large LED screens portraying a '60s-era London streetscape in brilliantly colored animation. Throughout the performance, I watched as dancers ducked offstage only to reappear on screen in cartoon form, or even interact with their animated counterparts. The result was a delightfully fun fusion of tech and real-life talent.
For those who like traditional ship shows of strong voices and choreographed spectacles, the Breeze has you covered. In "Divas," rock along to ballads from female icons like Madonna, Cher and Lady Gaga, accompanied by funky backdrops and light shows. Infectious dance beats will have you grooving in your seat to renditions of Gloria Estefan, Santana and Shakira during "Latin Nights."
Carnival's onboard comedy offerings have proved to be popular, and the trend continues on the Breeze with several locales where guests can get a fix of funny. At the Punchliner Comedy Club, Carnival's partnership with comedian George Lopez presents established comics doing limited hourlong shows throughout the cruise. The dark, cavelike venue, with swivel seats and a bar, offers a small-scale feeling and allows plenty of interaction with the onstage personalities. And guests also can get breakfast with their stand-up. At the Punchliner Comedy Brunch, comedians entertain with five- to six-minute performances every hour in the main dining rooms while cruise-goers sit down to favorites like French toast and omelets.
Action Adventurer
Heralded as the home of the "fun ship," Carnival prides itself on providing plenty to do. A packed schedule of activities runs the gamut daily, from morning stretching classes, shopping seminars and rounds of trivia at the Ocean Plaza to a mixology competition on the Lido Deck, a dance-off with the ship's performers and a game of blackjack in the casino. The
Breeze
also boasts the WaterWorks aqua park, featuring two giant waterslides and a splash zone. At the aft is the sprawling SportsSquare, an outdoor recreation area that includes nine holes of mini golf, a jogging track, pingpong tables, sports courts and a fitness station -- all topped by the circular ropes course high above Deck 12.
"You have to do it," I was told repeatedly throughout the cruise, but I'd put it off until our last day at sea before arriving in Miami. Now, strapped in a safety harness on one of the platforms, looking down at the deck and the expanse of ocean all around me, the moment had come.
I let that brown-haired kid pass me by, watching him move so swiftly across the challenging ropes and swinging steps that he might have done it a dozen times before. Actually, he very well may have -- many adventurous guests, once strapped into their harnesses and latched to the protective cord above their heads, made the round of the ropes course several times in a row.
There are two options for the course, positioned side by side. The one on the left was the easier; the right side, the more challenging. As a thrill-seeker for the day, I had sworn I'd only go the hard route. After all, the kid made it look so easy. But now I stared at a stretch that had no sturdy beam to walk across, just a flimsy spider web of ropes.
I took a deep breath. I stepped off.
The ropes course is just one of many activities for families. At the water park, try a spin down the 312-foot-long slide, Carnival's longest, or wait beneath the 300-gallon tipping bucket for an epic splash. The Breeze has more than 19,000 square feet of space designated for kids and teens, including indoor play areas and an outdoor EA Sports gaming system. Camp Carnival, on Deck 11, offers a 5,000-square-foot playground for kids in different age groups. Video game consoles, scavenger hunts, arts and crafts and a variety of toys and games keep kiddos occupied while mom and dad explore the ship.
That day on the course, the SportsSquare was bustling. People everywhere enjoyed the warm, breezy day at sea, playing three-on-three basketball, jogging along the deck encircling the ship, or going head-to-head in pingpong. On the Lido Deck, the cruise director led guests in a line dance. Somewhere, people were eating fish tacos, getting a massage or watching a show. On the other side loomed the orange drainpipe spiral of one of the waterslides that made up WaterWorks. Beyond that lay the adults-only retreat, Serenity.
The ropes shimmied beneath my shoes. Even knowing I was perfectly safe in my harness, I felt the heady rush of adrenaline. I clambered over the rope web, relying on my safety tether several times to keep my balance. Finally, I was off the web and on the solid floor of the platform.
A young girl already there gave me a high-five as she waited her turn on the next stretch of rope. Behind me, other brave guests made their way across. I had already come this far -- a whole week of trying different styles of traveling, from unwinding in a thalassotherapy pool to sampling fresh sushi to singing along to Elton John during a whimsical stage show. All that was left were two more stretches of rope, each more challenging than the last.
I stepped off the platform, ready for whatever else the Carnival Breeze could throw at me.
Cruises on the Breeze
The
Carnival Breeze
sails in the
Caribbean
year-round from Miami, with six- and eight-night cruises stopping at such islands as Grand Turk, Jamaica, St. Thomas and Antigua. Vacations To Go specializes in
deeply discounted itineraries
; online prices for an inside stateroom on a six-night Breeze sailing started as low as $379 at press time, a markdown of 75 percent. You also can contact the cruise specialists at (800) 338-4962.
The information in this story was accurate at the time it was published in March/April 2013. Please visit
Vacations To Go
or call (800) 338-4962 for current rates and details.
Send This Article to a Friend
Bookmark this Content
Digg it!
Reddit
Furl
del.icio.us
Spurl
Yahoo!