All Ashore in the Islands
These excursions help cruise guests connect
to Bahamian and Caribbean ports of call
By Jennifer Davoren and Alexis Hilts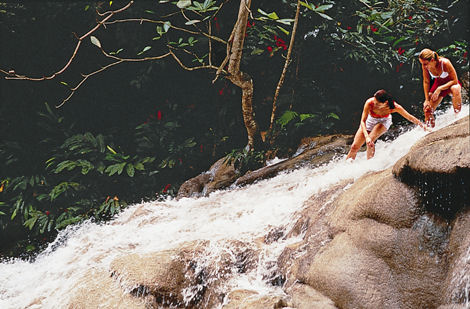 Charles Harris/Royal Caribbean International
C
ruise ships are never short on entertainment. Guests will find plenty of onboard activities and amenities, from hosted trivia games and Broadway-style stage shows to swimming pools, sports courts and state-of-the-art spas. The fun continues in port, too, with shore excursions that range from private island visits to Jeep tours of tangled rain forests.
But the Bahamas and the Caribbean call for something more. These fascinating destinations deserve your full attention, and the backseat of a speeding Jeep isn't always the best vantage point for their awe-inspiring scenery. Instead, cruisers should consider shore excursions that explore the rich histories and vibrant cultures of their host ports.
With dozens of optional day trips available in each stop, however, it can be hard to decipher which activities are best. An island's architecture, cuisine and native creatures can provide tourists with an authentic sense of place, making walking tours, wine tastings and visits to wildlife centers ideal ways to delve into a new locale.
The following are our favorite meet-and-greet activities -- shore excursions that will introduce and connect you to the best of the Bahamas and Caribbean. For more information on destinations and available shore excursions, visit Vacations To Go's
Bahamian
and
Caribbean
sites or call the cruise specialists at (800) 338-4962.
Pirate treasure troves dot the Bahamas, an archipelago that starts just 50 miles off the coast of Florida. The islands'
sunny capital
was an especially appealing spot for 17th- and 18th-century marauders, as the waters surrounding it were too shallow for the law -- that is, the enormous battleships favored by the English navy -- to navigate without getting stuck.
Pirates of Nassau is a museum and interactive attraction dedicated to this notorious side of Bahamian history -- namely the Golden Age of Piracy between 1690 and 1720, when the city hosted the world's largest concentration of seafaring rogues. Exhibits and artifacts surround a replica of the pirate ship Revenge, and a gift shop stuffed with swords, flags and other souvenirs will rob your little ones of their allowances.
Carnival Cruise Lines
wraps several
arr
-ttractions into a daylong shore excursion, "Pirates of Nassau and Historical Highlights Tour." Participants see the museum as well as Fort Charlotte, one of three seaside strongholds around the city, and the Queen's Staircase, built in 1790 for those keeping watch for pirates and lawmen alike.
A more genteel look at Bahamian pirate lore awaits at the five-star Graycliff Hotel, founded in 1740 by buccaneer Capt. John Howard Graysmith. Legend has it that this Nassau institution was built with the proceeds of many high-seas attacks. It has also served as an American naval garrison, the private home of British royalty and a romantic hideaway for Al Capone over the years. Today, luxury lodgings join a cigar company, renowned restaurant, culinary academy, the Cognateque and wine cellar -- the former boasting some 9,000 bottles of cognac, Armagnac, rum and port, and the latter offering around 250,000 bottles -- among amenities.
Passengers of
Disney Cruise Line
can opt for a Graycliff shore excursion, a property tour and wine-and-cheese tasting with the hotel's master sommelier. Four red and four white wines are sampled, and each is paired with a complimentary curd. Afterward, participants explore the wine cellar and receive a small souvenir, and those who wish to stay and dine at the hotel can do so for an additional fee.
But the best approach to Bahamian cuisine might be through independent means. From Nassau, you can catch a taxi or bus to Arawak Cay, home to a strip of no-frills, candy-colored seafood shacks known locally as the Fish Fry. Here you can sample a Bahamian specialty, conch, in a variety of ways, though you'll most often see it deep-fried and served as fritters. Lobster, shrimp, snapper and grouper also are common entrees, usually paired with hearty helpings of rice, beans or a sweeter side dish, fried plantains.
Most of Arawak Cay's restaurants serve dinner and daiquiris at streetside picnic tables, so expect a laid-back introduction to Nassau's fast-food scene. Bring cash, as credit cards aren't always accepted. Those dollars also might come in handy when tipping local musicians, a common sight around the Fish Fry. Bands often prepare for annual Junkanoo festivals, the Bahamas' answer to carnival or Mardi Gras, by playing for feasting tourists.
Known to many cruisers as
Port Lucaya
, the sailing hub of Grand Bahama Island offers an attractive marina, miles of duty-free shopping and plenty of unspoiled stretches of tropical beauty. A particularly popular spot is Lucayan National Park, where six miles of caves and underwater tunnels twist beneath shady mangrove swamps, palm clusters, orchid blooms and even pine forest. This spot also is known for its indigenous artifacts, including the burial grounds of the Bahamas' pre-Columbian cultures.
Norwegian Cruise Line
offers a kayak and hiking tour of the park complete with a picnic lunch among the tropical greenery. After paddling through the mangroves for 90 minutes, participants can go on a guided walk through the caves or spend a few hours swimming and sunning on Gold Rock Beach before returning to their ship.
Another eye-catching escape, Peterson Cay National Park, lies a few miles offshore. It's one of the smallest preserves in the Bahamas, a mere 1.5-mile-long isle where shallow surf beckons beginning divers. Carnival visits this collection of coral reefs and white-sand beaches on a kayak and snorkel excursion; travelers paddle out to the park for an afternoon of underwater wildlife watching, which may include dolphin, barracuda and stingray sightings. Norwegian also offers a snorkeling excursion and picnic in the park, though passengers are ferried out by catamaran instead of kayak.
Want a closer look at underwater life? The Bahamas are a hub for scuba diving, and both Carnival and Norwegian provide opportunities here. Choose between one- and two-tank trips depending on your skill level and desired ocean depth. Dive sites vary by season and with weather, but repeat visitors often tout Theo's Wreck, a sunken freighter that now serves as a thriving habitat for tropical fish and encroaching coral, and Shark Junction, where Caribbean reef sharks are hand-fed by fearless divers. It's also possible to dive submerged caverns in Lucayan National Park, though local authorities must grant permission first.
But cruisers hoping for some time on dry land -- and maybe a chance to stretch their legs, too -- might opt for a guided tour of Grand Bahama's West End, just a few miles west of Freeport. The oldest town on the island, it was known as a rumrunner's paradise in the 1920s, when boats loaded with spirits would sneak into U.S. harbors to skirt Prohibition laws. While cruise lines provide excursions here, plenty of homegrown tour guides can offer an insider's look at West End's curious history and fascinating culture.
Ocho Rios and Montego Bay, Jamaica
Whether your ship docks near
Ocho Rios
or
Montego Bay
, your onshore stay can include two uniquely Jamaican activities: climbing Dunn's River Falls and sampling some jerk. While not quite an off-the-beaten-path attraction, the 600-foot stone staircase beneath cascading mountain waters is a stunning example of the country's natural assets. And as the safest way to get to the top involves forming a chain by holding hands with your fellow travelers, the falls might also be a fun bonding experience.
Many cruise lines with stopovers in Ocho Rios or Montego Bay offer day trips to Dunn's River Falls, including a package from
Royal Caribbean International
that tacks on a tour through the ancient stalactites and stalagmites of Green Grotto Caves, said to have harbored runaway slaves in the 18th century.
Cooks across the island tend sizzling grills at roadside stands and beach huts that serve jerk, a Jamaican version of barbecue originating from an Arawak Indian tradition. There are plenty of tasty local eateries offering chicken, pork or fish rubbed or marinated in a combination of spices with three basic ingredients -- Scotch bonnet peppers, allspice and thyme. But for a sure thing, try Scotchie's in Montego Bay or Scotchie's Too in Ocho Rios, sister spots with a flair for the spicy and yummy sides to boot, such as buttery roasted breadfruit or fried cornmeal dumplings called festivals.
If your personal spiritual mantra is "One love, one heart," then a stop in Ocho Rios means a chance to pay tribute to reggae legend and local hero Bob Marley at his village hometown, Nine Mile.
Celebrity Cruises
offers Marley fans a Rastafarian-led tour of the singer's two-room childhood home, decorated with photos and memorabilia, and adjoining mausoleum where he is interred. Irie rum punch and a light lunch are included, and participants must be age 18 or older.
Ghost stories and historic island architecture intersect at Rose Hall Great House near Montego Bay. Rumors abound that the grand plantation, built in the 1770s, is still haunted by the roaming spirit of its former mistress, Annie Palmer. A striking English woman who dabbled in voodoo, Palmer came to be known island-wide as a vicious slave owner, said to take her slaves as lovers and then do away with them on a whim. Legend has it that three husbands also met their deaths at her hand, though her ways caught up with her in 1831, when she was found dead in her chambers.
After years of disrepair, the mansion has been restored and furnished with 18th-century antiques, allowing guests a glimpse of Jamaica's past and, just maybe, the notorious "white witch." Various cruise companies, including Carnival and Royal Caribbean, provide optional tours of Rose Hall, often in conjunction with a beach stop and scenic drive.
Grand Turk, Turks and Caicos
Maybe you're more of a treasure hunter than a ghost hunter, in which case the Turks and Caicos National Museum on
Grand Turk
has the exhibit for you. The first floor of the museum is dedicated to piecing together the story surrounding a mysterious shipwreck that occurred roughly 20 miles south of the island of Providenciales around 1515 -- the oldest European wreck excavated in the New World. The entire catalog of preserved artifacts from the Spanish caravel's resting place, known as the Molasses Reef Wreck, is housed here, from parts of the hull to centuries-old surgical instruments.
Treasures of another kind can be seen in the collection of messages in a bottle here, acquired over 40 years by the institution's founder, Grethe Seim. Letters written by bored sailors, pen pals and adventure seekers from all over the world washed up on this island, and they are now on display for visitors to peruse.
Princess Cruises
-- which offers a tour of historic architecture on Grand Turk, including a functional mid-19th-century lighthouse -- is one of several companies with shore excursion itineraries providing stops at the museum.
St. Thomas, U.S. Virgin Islands
Tranquil, turquoise waters lapping a white-sand beach dotted with relaxed travelers, book or fruity cocktail in hand: This is the quintessential image of a tropical vacation and, for many, it's the most alluring part of a Caribbean escape. For those cruisers wanting to bask in the sun,
St. Thomas
has one of the world's top-rated stretches of coast, Magens Bay.
Protected by flourishing hillsides, this heart-shaped cove is three miles north of island capital Charlotte Amalie and has all the necessities for a perfect day at the beach: picturesque views, clear waters, velvety sands, water-sports facilities, snack vendors and a changing area. You'll need to pay a minimal entrance fee for beach access if you go on your own, or consider tagging along on an excursion like Norwegian's beach-and-town combo, which splits the stay between sun-and-sand time and duty-free shopping.
Grand Cayman, Cayman Islands
Caribbean travelers wanting to do more than just splash along the shore will have their moment in
Grand Cayman
. With wreck sites and large coral formations close to the surface, the waters surrounding this tropical island aren't just for divers. Roughly 20 feet below the water level and just off George Town's coast, the wreck of the Cali schooner boasts easy access for snorkelers.
Eden Rock and close-by Devil's Grotto are two other supreme shore snorkels not far from Grand Cayman's cruise dock. Sponges, interconnecting caves and tunnels teem with colorful creatures like parrotfish, giant tarpon and barracudas. Carnival cruisers can choose a snorkel excursion here, or opt for a catamaran sail to another favorite among snorkelers: Stingray City, a sandbar where dozens of stingrays let visitors get close enough to feed them.
The information in this story was accurate at the time it was published in March/April 2011. Please visit
Vacations To Go
or call (800) 338-4962 for current rates and details.
Send This Article to a Friend
Bookmark this Content
Digg it!
Reddit
Furl
del.icio.us
Spurl
Yahoo!