Alaska Cruising A to Z
Here are the highlights
of a seagoing vacation in the Last Frontier
By Alexis Loyd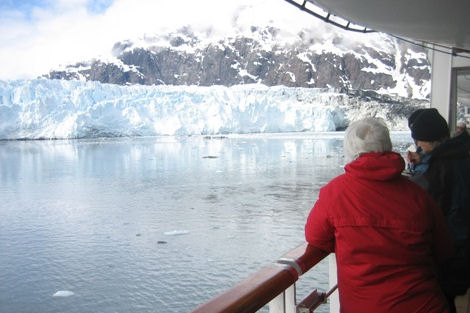 Tom Vandenberg/National Park Service
(Scroll down to see a slide show.)
"K
eep close to Nature's heart ... and break clear away, once in awhile, and climb a mountain or spend a week in the woods," wrote Sierra Club founder John Muir. "Wash your spirit clean." Considering Muir's spiritual connection to the outdoors, it's no surprise that Alaska -- with snowcapped peaks, verdant forests, enchanting ice fields and a myriad of animal species -- was one of his beloved escapes.
Plan your own journey to the wild Last Frontier with our alphabetical guide to Alaska cruising. For the best rates on Alaska sailings, call the travel specialists at Vacations To Go, (800) 338-4962, or
visit the company online
.
Anchorage
Gulf of Alaska itineraries start or end near
this gateway
, nestled between the Chugach Mountains and the waters of Cook Inlet. What began as a tent city in the early 20th century has grown into the state's largest urban center with museums, sports arenas and heritage sites. Shore trips here include a scenic ride in a domed railcar, a historic tour and a simulation of the "Ice Road Truckers" experience.
Bear viewing
This is bear country, with all three North American species -- black, brown and polar -- flourishing in Alaska's parklands. If viewing these hefty predators (brown bears can reach up to 1,500 pounds) in their natural environs is a top priority on your vacation, opt for a bush-plane excursion to Redoubt Bay from
Anchorage
, or to Neets Bay from
Ketchikan
, to capture up-close snapshots.
Calving glaciers
Glaciers
form over many years. Snow accumulates faster than it can melt, pressurizing and compacting into a frozen mass. Large chunks of ice periodically break off and crash into the water below. Alaska cruisers are perfectly poised to catch this exhilarating display of nature's force; just listen for the loud cracking noise that often precedes a calving.
Denali National Park and Preserve
Spread across 6 million acres encompassing North America's tallest peak -- 20,320-foot Mount McKinley -- Denali is one of the 49th state's top stops. It's frequently incorporated into
Alaskan cruise-tour packages
, with overnight stays in a park lodge. Grizzly and black bears, caribou, moose, Dall sheep, wolves and foxes are some of the 39 types of mammals found here. A rainbow of blooms, from blue Alpine forget-me-nots to pink fireweed, blankets the park during the summertime.
Eagles
Two types of this graceful hunter make their home here, the golden eagle and the bald eagle. Golden eagles migrate to Denali National Park for the spring and summer, building nests on cliffs in the sanctuary's mountainous regions. The distinctive bald eagle, however, prefers lower locales near rivers or lakes and is more likely to be seen at the Chilkat Bald Eagle Preserve in southeastern Alaska, known to have the largest concentration in the world.
Floatplanes
Traveling around Alaska has its challenges. Limited transportation and rugged terrain make flying in a bush plane, equipped with floats or skis for water landings, a necessity for reaching the state's remote areas. Go aloft in one of these petite aircraft on a flightseeing tour over massive glaciers or through the clouds near towering Mount McKinley.
Gold rush
When Secretary of State William H. Seward agreed to purchase Alaska from Russia for $7.2 million, the move was dubbed "Seward's folly" by critics unimpressed with this frigid, unexplored territory. But a string of gold discoveries piqued national interest and changed minds, launching a gold rush in the 1890s. Would-be prospectors today can try panning for treasure themselves on shore excursions in
Juneau
or in the interior city of Fairbanks, a terminus of cruise-and-land vacations offered by several lines.
Halibut Capital of the World
Between commercial angling and sportfishing, millions of pounds of this sideways-swimming flatfish are caught every year off the shores of
Homer
, a small artists enclave on the Kenai Peninsula. Bait your hook, cast your line and see what you can reel in. Your guide might even grill up your catch for you.
Iditarod Trail Sled Dog Race
Hardworking canines and their musher masters compete every year in a 1,150-mile race from Anchorage to Nome on the Bering Sea coast. This year's contest begins March 3, but for those who can't make it, cruise lines provide meet-and-greet opportunities with playful huskies and their expert trainers, often accompanied by your own dogsled ride.
Juneau
Led by Tlingit Chief Kowee, Joe Juneau and Richard Harris struck gold in 1880, changing the history of what would become Alaska's
state capital
. Stop in at the famous Red Dog Saloon for a taste of local brews and frontier life. Cluttered with fun memorabilia, the watering hole's most prized possession is on the wall behind the bar: a pistol believed to be left behind by Wyatt Earp in 1900.
Kenai Fjords National Park
Boat tours bring passengers close to glaciers and marine animals in this sanctuary dominated by Harding Icefield. Otters, puffins, whales and sea lions are possible photo subjects. Grab your camera and find a spot on the deck, but keep warm: The National Park Service recommends a wind- and waterproof outer layer, gloves or mittens and a hat. Travelers also can sign up for a hike on the preserve's Exit Glacier.
Lumberjacks
Woodchopping, log rolling, sawing and speedy tree climbing are all par for the course at the Great Alaskan Lumberjack Show in
Ketchikan
. Athletic ax slingers duke it out in a variety of timbersports events for the entertainment of families looking for some good old-fashioned muscle flexing.
Mendenhall Glacier
Glide above breathtaking forests and mountain vistas during a helicopter ride to
Mendenhall Glacier
, which extends from its source at the Juneau Icefield into its namesake lake. After taking in a bird's-eye view of the massive, blue ice formation, vacationers on select cruise excursions have the chance to explore the glacier's surface by foot, with the help of an experienced guide.
Native culture
There are 11 major cultural groups of Alaska Native peoples, each with their own language and heritage: Athabascan, Inupiaq, St. Lawrence Island Yupik, Yup'ik, Cup'ik, Aleut, Alutiiq, Eyak, Tlingit, Haida and Tsimshian. At the Alaska Native Heritage Center in
Anchorage
, storytelling, singing, dancing and playing games teach travelers about traditional ways of life.
Otters
Hunted nearly to extinction for their fine furs, sea otters are now a protected species, and 90 percent of the world's population lives in coastal Alaska. The best places to find these endearing creatures floating on their backs or chilling on an ice float are Prince William Sound and
Glacier Bay
and Kenai Fjords national parks.
Prince William Sound
Off the Gulf of Alaska, surrounded by the wilderness of Chugach National Forest, the peaceful waters of Prince William Sound boast Alaska's highest concentration of tidewater glaciers. Cruises here allow travelers spectacular views of calving ice walls and chances to spot harbor seals and sea otters basking on icebergs.
Qiviut
Musk oxen are insulated from frigid tundra temperatures, thanks to their soft undercoats. Their hair is shed naturally in the spring and used by Alaska Native women to knit warm yet lightweight hats, scarves and tunics in the traditional patterns of their villages. Travelers can purchase these handicrafts from Oomingmak, an Anchorage-based cooperative.
Rock climbing
While their ship is ported at
Skagway
, visitors can learn the ropes of rock climbing from a professional mountain guide. Get geared up in climbing shoes, harness and helmet for an adventure in scaling the granite walls of White Pass. A sweeping view of the Skagway River and beyond awaits at the top, but the real thrill comes for those who choose to rappel down the steep cliff.
Salmon bake
From May through October, eager bears and anglers head to Alaska's waterways for the region's salmon runs, when fish that have matured in the sea return to their freshwater homes to spawn. Five types of salmon can be found here, and dining on this dish -- fired on a wood grill and accompanied by local specialties -- is an onshore tradition.
Totem poles
In native culture, totem poles are storytellers. Carvers craft stylistic animal and human figures and paint them in emblematic reds, greens and blues to illustrate legends. Totem Bight State Historical Park, which contains duplications of totems abandoned across the state in the early 19th century, and Saxman Native Village, with its large collection and carving studio, can be visited on
Ketchikan
stops.
Ulu
Invented by native Alaskans more than 5,000 years ago, this crescent-shaped cutting tool was originally created from slate or copper, often with a bone or horn handle. Used by Inuit women to slice and skin fish and game, it's a unique memento that doubles as a handy kitchen item.
Vancouver
Many Inside Passage cruises of Alaska start and end in neighboring British Columbia's metropolis of
Vancouver
. Consider adding a pre- or post-cruise night or two in this cosmopolitan Canadian city, an amalgam of natural beauty and ethnic enclaves. Visit 1,000-acre Stanley Park for a serene escape amid downtown attractions, or meet the farmers, craftspeople and artisan food purveyors of the Granville Island Public Market.
Whale watching
From April through September, several whale species find sanctuary here, including gray, humpback, minke, sperm and beluga. Most ships have onboard naturalists that announce whale sightings. Pay attention and you might spy a breaching beast or the flip of a fluke. Pods of toothy killer whales (technically in the dolphin family) also swim Alaskan seas; they're considered to be at the top of the food chain.
eXpedition in survival
The Last Frontier is an ideal training ground for amateur survivalists, and select cruise itineraries offer the chance to pick up some valuable know-how in the old-growth forests surrounding Ketchikan. Board a jet boat bound for a remote island where a wilderness skills instructor awaits to guide you through constructing a debris shelter, gathering edibles and starting a fire.
Yukon
In Skagway, cruisers can gain a sweeping perspective by boarding the White Pass & Yukon Route Railroad. Built during the gold rush, it is an engineering marvel that climbs nearly 3,000 feet in just 20 miles. Passengers traverse rugged mountain ranges linking Alaska and Canada's Yukon, past peaks, glaciers, waterfalls and gorges.
Zip lining
At 5,495 feet long and with a vertical drop of 1,320 feet, the ZipRider at
Icy Strait Point
claims to be the world's largest zip line. Adventurers reach speeds of up to 65 miles per hour (and may even soar by a bald eagle) while gliding above Alaska's treetops.
The information in this story was accurate at the time it was published in March/April 2012. Please visit
Vacations To Go
or call (800) 338-4962 for current rates and details.
Send This Article to a Friend
Bookmark this Content
Digg it!
Reddit
Furl
del.icio.us
Spurl
Yahoo!