Adventures in Antarctica: Part 1
Sail to the bottom of the Earth and step ashore in an ethereal, icy wonderland
By Alan Fox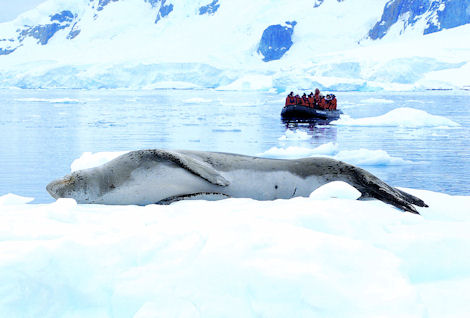 Alan Fox
Paying Drake's Toll
"The old man knew he was going far out and he left the smell of the land behind and he rowed out into the clean early morning smell of the ocean."
-- Ernest Hemingway
Crrrreeeeeeeeeeeekkk.
The walls and decks grind and groan.
ShuuuweeeuuuWEEEE!!!
The frigid wind howls at our window.
Whump, whump!
The bow of the Minerva rises on the crest of a massive wave before crashing back into the froth and spray, sending shudders from bow to stern.
I am writing today from the heart of the notorious Drake Passage, en route from
Port Stanley
in the Falkland Islands to
Antarctica
. After a lifetime of dreaming, a year of anticipation and thousands of miles covered since leaving Houston six days ago, I am 36 hours from setting eyes on the white continent.
Today is our first full day in the passage (a crossing takes two days and two nights), and we are bouncing about in what is referred to as a "whole gale," a 10 on the 1-to-12 Beaufort scale, where 12 is a hurricane. The Drake is known for the world's roughest water, and it is said that crossing her is the tax one must pay to see Antarctica. The Drake Tax is paid in two installments, one down and one back, and some passengers pay more than others.
When we reach the
Antarctic Peninsula
, we will be protected from high seas by the mountainous coastline, but in this 500-mile stretch of open water, motion sickness is a real possibility. About half of the 198 passengers on board have failed to make a public appearance since we departed Port Stanley last night. At least their cabins are comfortable and cozy, and those who can raise their heads are able to watch ship lectures, movies and DVDs on TV.
The ship's crew takes numerous precautions before entering such a storm. Metal covers have been installed over portholes on the lowest passenger deck to prevent water from entering as waves slap the sides of the ship. "Sickness bags" have been placed every few feet along handrails throughout the vessel.
In the sparsely occupied dining room, chairs and tables are permanently chained or bolted to the floor, along with most of the rest of the ship's furniture. Tablecloths have been dampened to prevent plates and glasses from sliding, but unattended silverware will dance off your plate in seconds.
Items in our cabin seem to have sprung to life. Drawers swing open and then close on their own, as does one of the closet doors, and hanging clothes slide back and forth on the bar. The curtain over our window hugs the wall as the ship leans to port, but as she tilts to starboard, the bottom of the curtain swings away from the wall and the twilight fills the room.
It's impossible to capture the size of these waves in a photograph, so I went to an exposed wing of the bridge and took a series of shots of the bow of the ship to capture a sense of the motion we are experiencing. Yes, I was soaked head to foot in the process!
Those of us who were out and about today have learned to work with the pitch and roll of the ship rather than fight it. With feet splayed outward like a penguin for extra stability, we rush forward when our path slopes downhill and pause momentarily when it tilts uphill, and weave from wall to wall as we move along hallways.
Secretly, I am enjoying this new way of walking and also found the shower experience entertaining, slipping and sliding from one side -- thump -- to another -- thump -- of the small enclosure. No doubt sensible people skipped their showers altogether.
Our trip began with an overnight flight from Houston to
Buenos Aires, Argentina
, where
Regent Seven Seas Cruises
had arranged a pre-cruise stay at the upscale and ideally located Melia Hotel. Buenos Aires is a friendly, walkable city, with nice restaurants, spacious parks and pedestrian-only shopping streets. The highlight of our afternoon stroll was the sprawling and immaculately maintained Recoleta Cemetery, final resting place for Eva Peron and Argentina's famous and well-to-do of the past 150 years.
Mausoleums looming 10 to 20 feet high are packed tightly in a maze of paved sidewalks and alleys that are oddly reminiscent of a 19th-century European town, about two-thirds scale. When the gates close for the evening, a colony of feral cats remain behind, Recoleta's only living inhabitants.
For dinner, we enjoyed Argentine steaks and local wines, but with a 3 a.m. wake-up call, we were not able to take in the city's most popular tourist entertainment, a tango performance.
The next day, our chartered flight rumbled down the runway well before dawn, and four hours later, we found the southern tip of South America shrouded in clouds. We descended through the soft, white light and emerged to find the snowcapped mountains of the Andes on the right side of the plane, towering above our heads.
Moments later, we touched down in
Ushuaia, Argentina
, the southernmost city in the world. It was cool and gray and drizzling rain as we boarded buses for a tour of the area.
Ushuaia has a population of 65,000 and is built around a harbor in the Beagle Channel and ringed by soaring mountains. We and our fellow passengers enjoyed a gaucho dance performance and stopped by the origin (or termination point) of the Pan American Highway, which runs more than 16,000 miles north to Prudhoe Bay, Alaska.
Ushuaia refers to itself as "The End of the World," and with its isolation and 160 days of rain or snow each year, it does feel a bit like that. But as the jumping-off point for most Antarctic cruises, it is perhaps more accurate to say that Ushuaia is the end of one world and the beginning of another.
That evening we sailed for Port Stanley in the Falkland Islands, our only planned port call outside Antarctica. We spent a day at sea photographing the albatrosses and petrels following the ship and attending interesting lectures from the ornithologist, marine biologist and other experts and specialists on board.
Shortly before arriving in the Falklands yesterday, the leading edge of the storm we're now in caught up with us, preventing the ship from docking in Stanley and making the harbor too rough for tender operation. We were in sight of the town but unable to reach it, so we spent the day tethered to a tanker, refueling, a very delicate operation in such high winds.
It was early confirmation of what our expedition leader, Suzana, had told us, that in this part of the world, we will always have a Plan A, a Plan A and another Plan A.
Last night, after dinner in the protected waters of the Falkland Islands, we battened down the hatches (literally) and sailed into the gathering storm.
Crrrreeeeeeeeeeeeekkk.
ShuuuweeeuuuWEEEE!!!
Whump, whump!
The adventure has begun.
To see photos from this portion of my cruise, click here.
Landing in Antarctica
And now there came both mist and snow
And it grew wondrous cold:
And ice, mast-high, came floating by,
As green as emerald.
-- "The Rime of the Ancient Mariner," Samuel Taylor Coleridge
I knew when I opened my eyes in our darkened cabin that we had reached Antarctica -- the smooth ride gave it away. Drake Passage was behind us and would not be a factor again, at least until our return to Ushuaia.
I fumbled for my watch -- 5 a.m. -- and moved quietly to the curtains for a peek. In latitude, we had survived the Furious Fifties and entered the Screaming Sixties. This far south, it would be light nearly 24 hours a day, but alas, from the port side, there was only the Southern Ocean to see.
Ten minutes later, dressed and laden with camera gear, I had the outside decks of the Minerva entirely to myself as I stood silent, mesmerized by the soaring white peaks of the South Shetland Islands and a massive iceberg -- taller than our vessel -- off our starboard side.
The sea and the sky were gray, with a temperature in the low 30s (Fahrenheit) and a brisk breeze that made it feel much colder. Suddenly, in the distance, a whale spouted, and almost simultaneously I was pelted by snow, horizontal snow that in five minutes had turned my gloves white as I fought to hold my camera steady against the wind.
My heart pounding, I was as excited as a child, desperately wanting to run back inside to scream to my traveling companions to get up, we're here, but unable to tear my eyes away from the view. I saw six more whales that morning as the ship came to life -- humpbacks and minkes -- giant animals in a giant land.
By the time the Minerva cut her speed and began to approach Penguin Island, our first landing spot, I had missed breakfast altogether. Not to worry, in four days at sea I had eaten more than enough to tide me over.
I booked the Minerva because she is the finest of the ships that put people ashore in Antarctica. Twice a day for four days we were to spend one and a half to two hours exploring the shore or in motorized, inflatable rafts called Zodiacs, cruising through icebergs. Both of today's excursions were to be shore landings, and our excitement was palpable.
We met at the appointed place and time, climbed down temporary stairs on the outside of the ship and were helped into our Zodiacs, 10 guests per raft, along with a driver who was also a skilled naturalist. We were bundled in new red parkas provided by the ship, ours to keep, waterproof pants and boots, gloves, caps and two or three layers underneath. The right gear is a necessity as every one of these items made a difference.
Five minutes later, we reached the rocky beach, threw our legs over the side of the raft and slipped into the ankle-deep water. We were met by our expedition leader, Suzana, who gave us the lay of the land, reminded us to stay at least 15 feet from the animals and birds so as not to disturb them, and warned us to steer clear of potentially aggressive fur seals that dotted the beach.
It was snowing again, but the wind had nearly died as I stepped away from the group, cleared my head and took in the panorama. To my left, the rocky beach gave way to water and a distant island with snow-covered peaks and calving glaciers. Dead ahead, the Minerva was several hundred yards offshore, and there were three ship-sized icebergs a mile or more beyond. To my right, not far from the water, there were fur seals, elephant seals and a Weddell seal, and in the sky, giant petrels, skuas (penguin-eaters) and Antarctic terns.
Farther down the beach, the rocky shore led to an elevated plateau that was covered with hundreds of chinstrap penguins -- adults and chicks -- continuously squawking and chirping. I did not have to hike all the way to the rookery for a close-up view, though, as solos and groups of two or three or four chinstraps were solemnly marching in every direction -- including mine.
Penguins in Antarctica have no fear of humans and are as curious about us as we are about them. It seemed almost as if individual penguins had been assigned to watch each of us. Several times that day I had to back up as the adorable little creatures -- apparently unaware of the 15-foot rule -- waddled right up to my camera as I knelt to take their pictures.
The exploration of Penguin Island was filled with "firsts" for me, including the first time I have ever been charged by a yelping fur seal. I don't know why he took an interest in me -- I was giving him a very wide berth. I wondered if he'd sensed weakness from that meal I had missed, and resolved not to miss any more.
I had been instructed by Suzana to clap my hands above my head in such a situation, which is easier said than done while holding a camera with a foot-long lens. Still, it worked, and I was able to take a slightly out-of-focus picture of the fellow as he was backing me into the ocean.
At the rookery, we watched adult chinstraps feeding their young with regurgitated krill, a shrimplike creature that is the main food for whales and seals as well. Chicks are gray and furry, and they must molt into their black-and-white, waterproof plumage before the summer ends.
In only a few months, summer will close like a curtain and every drop of water within sight of this island will be frozen over for the long, dark winter. Young and old penguins must make their way far out to sea before that happens.
By the end of the excursion, the sun broke through the clouds and added color to the landscape. For the first time, I noticed an extinct volcano on nearby King George Island, and I was flabbergasted to hear that its red cone is called Deacon Peak. Five thousand miles away, on that very same morning, the Deacons of Wake Forest University (my alma mater) had been elevated to the No. 1 position in men's basketball. It occurred to me that I was the only Deacon looking at Deacon Peak as the Deacons peaked.
Clearly, lack of food had begun to affect my mind.
We returned to the ship and remedied that situation with a hearty lunch of grilled German sausages on the aft deck. The bright sun turned the morning's gray water to near-tropical blues and greens.
With the ship's band playing and a whale breaching off our stern, the Minerva set sail for our next destination. We'd packed an awful lot into our first half day in Shangri-La, but we were only beginning.
To see photos from this portion of my cruise, click here.
Adventures in Antarctica: Part 2
The information in this story was accurate at the time it was published in May/June 2009. Please visit
Vacations To Go
or call (800) 338-4962 for current rates and details.
Send This Article to a Friend
Bookmark this Content
Digg it!
Reddit
Furl
del.icio.us
Spurl
Yahoo!