8 Unplugged Escapes
Embrace the simple pleasures of a low-tech vacation
By Jennifer Davoren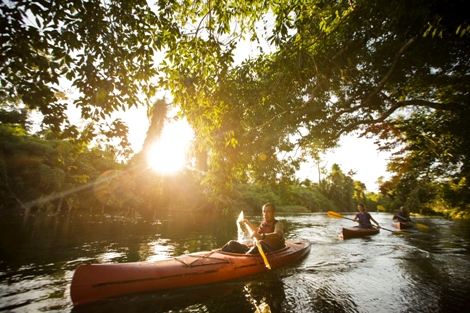 Belize Tourism Board
A
fter years of fantasies -- of a Hawaiian Islands cruise, a Tuscan villa stay, maybe a South African safari -- you discover that your dream trip doesn't provide Internet access. Would you still go?
According to a recent survey by tour operator
Intrepid Travel
, 6 percent of the respondents wouldn't. An additional 11 percent stated they just weren't sure if they would book a Web-free vacation.
But what if your getaway came complete with Internet connectivity? Out of 1,000 people surveyed by Intrepid, 52 percent said they felt the need to check their email or social media outlets at least once a day while away from home. And 9 percent claimed they would interrupt their travel itinerary at least five times daily to check in with Facebook, Twitter and more.
It can be hard to disconnect from your favorite online destinations, even during a much-needed vacation. The following are our eight suggestions for "unplugging" on your next outing, from green and extreme -- a solar-powered lodge in Uganda and cave camping in Costa Rica -- to more relaxed programs, like small-scale Caribbean cruising and tropical kayaking tours. Follow the provided links for pricing and other details from
Vacations To Go
, a Houston-based travel discounter, before backing away from the computer, putting that phone down and weaning yourself off your wireless devices to prep for your trip.
Old World walks
First step of a truly unplugged vacation: Get outside. Second step: more stepping.
Intrepid
offers trekking tours around the world, but some of the company's most engaging options explore Europe. "
Walking in Andalucia
" is an eight-day itinerary in southern Spain with four guided group hikes through olive groves, canyon lands and Moorish villages, plus free time to see Seville and an optional stop for tapas. "
Turkey Active
" is a 12-day journey to seaside towns like Fethiye, a fishing, boating and sunbathing haven; the solemn battlefields of Gallipoli, a hard-fought territory during World War I; and the ancient ruins at Hierapolis, founded as a Greek spa retreat in the second century B.C. Your nightly accommodations might boast Wi-Fi, but you'll be too worn out from a day on the trail to level up in "Candy Crush."
Coastal kayaking
Tempted to tote your cell along, even through the great outdoors? Look to
G Adventures
and its series of guided paddling trips through the tropics. Maybe the threat of a waterlogged iPhone will keep you focused on your travel itinerary.
Besides, G's activity-rich trips deserve your full attention. Try "
Kayak Belize
" and you'll spend four of eight vacation days touring one of the largest coral reef systems in the world as you island-hop in the Western Caribbean. There's even some beach camping involved, just to up the unplugged ante, and an optional snorkeling excursion helps you commune with the local sea life.
You can add hiking and biking to your kayak itinerary with G's offerings around southeast Asia. In
Thailand
, for instance, you'll pedal through Bangkok, walk hillsides to meet rural villagers, swim in Erawan National Park's natural, waterfall-fed pools and spend a night in a rustic, floating "raft house," a popular lodging option in the Kanchanaburi area.
Lights out at Ndali Lodge
For a truly unplugged escape, look to
Ndali Lodge
, set on the shores of Lake Nyinambuga in western
Uganda
. As there's no electricity or generator power in the main dining and sitting rooms, guests spend their evenings eating and chatting by candlelight. You'll find solar-powered lights in the thatched-roof guest cottages, but there's just enough juice for you to shower and prepare for bed before things go dark. Owners say this system cuts down on light and noise pollution that would otherwise distract from views of the lake and the Rwenzori Mountains.
Vacations To Go's
safari division
has several options for exploring Uganda, and four tour operators offer at least one night at Ndali. Look into "
The Pearl of Africa
" an eight-day adventure with
African Travel
that also includes a hike through
Bwindi Impenetrable National Park
. This tangled forest preserve is home to about 400 mountain gorillas -- nearly half the world's population of mountain gorillas, a species that continues to be threatened by poachers and a dwindling habitat. On your last full day of this tour, an expert guide will treat you to a once-in-a-lifetime encounter with these rare apes.
Kid-free in the Keys
No phones. No TVs. No children under 16. These three simple rules mean no distractions during your stay at
Little Palm Island Resort and Spa
, a 30-room boutique property in the
Florida Keys
. Instead, you'll focus on sun-warmed sands and your significant other -- among Little Palm's many awards is its status as the best honeymoon spot in the continental U.S., so named by Brides magazine in 2012.
The remote location calls to guests in need of a true getaway. It is accessible only by seaplane or boat -- dock your own vessel at Little Palm's private marina or take a complimentary ride aboard the resort's motor yacht, which travels round trip from Little Torch Key at mile marker 28.5 on U.S. Highway 1 (the Overseas Highway). Your thatched-roof bungalow comes equipped with a king-size, four-poster bed and ocean views. By day, swing in a secluded hammock, with plenty of breezy options stationed throughout the 5.5-acre property. By night, follow the glow of tiki torches to Little Palm's restaurant, where an eclectic menu melds surf-and-turf staples with French and Latin culinary influences.
Barge benefits
The phrase "
barge cruising
" doesn't immediately conjure an image of a luxury vacation, but
European Waterways
is doing its part to win the hearts of river-goers. No rusty cargo-haulers here -- just chic ships built for small groups, usually between six and 20 travelers and a handful of crew members. More than a dozen vessels ply riverways from the Scottish Highlands and Holland's tulip country to the intoxicating wine regions of Italy and France.
Favorite itineraries have an aristocratic bent; try "
A Classic Cruise in England
" traveling round trip from London to spend seven days on the Thames and its tributaries. You'll see Hampton Court Palace, former haunt of King Henry VIII; Windsor Castle, one of several residences in rotation for Queen Elizabeth II; and Highclere Castle, the real-life home of the Earl and Countess of Carnarvon but better known as Downton Abbey. The stately Victorian exterior and expansive grounds are used as filming locations for the popular PBS drama. Stroll the estate like the Crawley family's dowager countess, turning up your nose at the idea of telephones and electricity.
Bahamas by Blount
Blount Small Ship Adventures
is largely known for its U.S. river-going itineraries in New England, the Great Lakes region, the antebellum South and more. But a new itinerary for 2014 transports Blount guests to the tropics for 12 days of island atmosphere.
"
Bahamian Out Islands
" begins in the archipelago's capital, Nassau, where you'll board the 88-passenger Grande Caribe. It's a stylish, recently renovated vessel complete with wireless Internet access, but just ignore that for our unplugged purposes. This should be easy to do, considering your destinations -- Blount prides itself on small, far-flung ports of call often skipped by larger cruise lines. You'll visit Thunderball Grotto, a backdrop for two James Bond films. You'll sun yourself on the sparkling, pink beaches of Harbour Island. Then there are optional excursions that allow you to choose your preferred wildlife interaction. For example, you can hand-feed the famous swimming pigs of Big Major Cay, then head to Compass Cay to swim with nurse sharks. Blount even hosts a pirate-themed beach party for would-be buccaneers looking to get into the spirit of the islands.
Sail away with SeaDream
If you can't swing the cost of your own private craft,
SeaDream Yacht Club
offers the next best thing. Big on amenities (designer linens, gourmet dining, ship-top Bali beds for open-air lounging) but small in scale (room for just 112 passengers), SeaDream will explore the Caribbean
from January through April
on a host of high-end itineraries. If you're interested in unplugging, you'll appreciate the company's dialed-down approach to ocean travel. Its vacations renounce the splashy, Vegas-style stage shows and over-the-top shipboard lures of its competitors in favor of quiet luxury.
Some of SeaDream's most exotic destinations are found on the eastern edge of this storied sea. Traveling round trip from the U.S. Virgin Islands, the
SeaDream I
departs St. Thomas on
Jan. 18
to visit spots like St. Barts, Nevis and Anguilla. On
March 20
, the same ship will shove off from Barbados and call at St. Lucia, Dominica and the Grenadines, an archipelago hailed for its secret snorkeling venues.
Call on Costa Rica
With a quarter of its terrain protected as rain forests, wildlife refuges and other revered preserves,
Costa Rica
might be the ultimate in unplugged escapes. And you have plenty of options for exploring this ecotourist's dream, from adventure tours to volcano-front lodgings.
Tabacon Grand Spa Thermal Resort
is an all-natural, carbon neutral destination where hot springs offer Mother Nature's version of hydrotherapy. The pools are warmed by Tabacon's neighbor,
Arenal Volcano
, still working its underground magma magic on the region. Cold pools also await, as do waterfalls, lush tropical gardens and creatures such as the red-eyed tree frog.
If you're looking to get away from it all, consider G Adventures' 12-day "
Trek Hidden Costa Rica
." Destinations include Diamante Verde, where you'll swim, climb and spend two nights camping out in a cave hidden by two towering waterfalls. In need of all-ages action? Intrepid Travel's 15-day "Costa Rica Family" highlights "natural magic" with stops in several national parks, including Tortuguero, a renowned turtle sanctuary.
The information in this story was accurate at the time it was published in November/December 2013. Please visit
Vacations To Go
or call (800) 338-4962 for current rates and details.
Send This Article to a Friend
Bookmark this Content
Digg it!
Reddit
Furl
del.icio.us
Spurl
Yahoo!