8 Tempting Cruises
These at-sea options range from short circuits of the Bahamas
to adventures in Southeast Asia
By Michelle Chumbley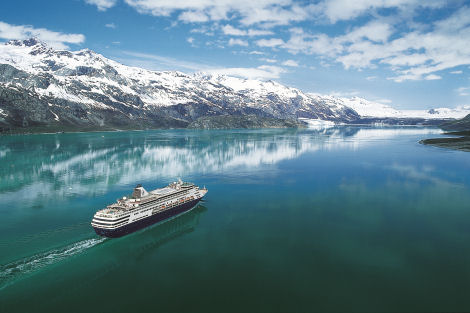 Holland America Line
I
've boarded many a boat, ferry, pontoon and canoe. I've rafted through white water and made waves with a Jet Ski. I've even drifted through Venice's canals on a romantic gondola. But, surprisingly, I've never set foot on a cruise ship.
I'm ending that streak this January, leaving the land to test out my sea legs on a short three-night jaunt to the Bahamas. Will you join me?
The new year is the perfect occasion to set sail for the first time, or head to a region you've yet to survey and check some striking sights off that bucket list. We've rounded up eight ideas for you to consider -- some far-flung voyages in Asia and Croatia, others a quick dash from U.S. ports.
You can learn more about these itineraries online
or by calling the Vacations To Go cruise specialists at (800) 338-4962.
Yacht in the Seychelles
Tucked away in the Indian Ocean, about 1,000 miles off the eastern coast of Africa,
the Seychelles archipelago
tantalizes with verdant vegetation and enviable year-round temps in the 70s and 80s. The small country is comprised of approximately 115 islands -- an inner cluster with mountainous centers rolling into stunning rocky beaches, and an outer group known for its coral reefs.
Crystal Cruises
' new yacht-style
Crystal Esprit
navigates this serene setting on seven-night trips that include
Mahe
, the largest and most populated of the islands. You also will call on
La Digue
, home to rare black paradise flycatchers;
St. Anne
, lush with wild cinnamon; and
Praslin
, with native coco de mer palms that grow one the largest fruits known to man.
Limited to 62 travelers, the luxurious Esprit experience includes butler service, a 24-hour bistro and wine bar, in-room iPads and a number of complimentary shore excursions, like a glass-bottom boat ride along St. Anne Marine National Park. Borrow Jet Skis, kayaks, fishing gear and wakeboards to venture out on your own, or pay a fee for paramount underwater views in a pressure-controlled submersible guided by an expert.
Suite accommodations cost $4,410 on
weeklong departures through March 6
. A
nine-night version
incorporating a stay in
Dubai
starts at $4,760; these itineraries also are available through March and
resume Jan. 13, 2017
, with prices from $5,105.
Cross the pond
Some vacations are all about the destination, while others focus on the journey. A
classic trans-Atlantic crossing
with
Cunard Line
certainly has attraction-packed starting and ending points in
New York City
and
Southampton, England
, a hub for nearby London, but it's the days of wining and fine dining at sea that ice the cake.
Aboard the flagship
Queen Mary 2
, guests join shuffleboard tournaments on the sports deck, relax with detoxifying seaweed wraps in the Canyon Ranch Spa, peruse the 8,000-volume library and sip cups of Earl Grey during afternoon teatime. In the evening, the Veuve Clicquot Champagne Bar serves seven sparkling wines in crystal flutes while the Golden Lion Pub provides ales, darts and karaoke.
The 2,620-passenger QM2 will emerge from dry dock early this summer with an elegant new lounge for specialty coffees and light breakfast and lunch fare. The multimillion-dollar refurbishment also focuses on accommodations, revamping suites to maximize space, styling staterooms with art deco designs and adding 15 single-occupant cabins.
Weeklong trips between the U.S. and U.K. resume July 6
. More than a dozen dates are offered through the end of the year with prices beginning at $999.
Island hop in the Caribbean
Sprinkled in a north-south arc where
the Caribbean Sea meets the Atlantic Ocean
, the Lesser Antilles epitomize the dream of swaying palms and sparkling waters. As a bonus, most of these small havens, stretching from the Virgin Islands to Grenada, see less cruise traffic than their northwestern neighbors closer to the U.S. mainland.
Leaving
San Juan, Puerto Rico
, the
Adventure of the Seas
roams the region on jampacked seven-night vacations. Visit Friars Bay on
St. Kitts
to dip your toes in both the Caribbean and Atlantic; stroll the colorful, shop-lined streets on
St. Maarten
; soak in hot springs and admire the volcanic Gros and Petit Pitons on
St. Lucia
; book a helicopter tour over
Antigua
's yacht-filled harbors; or admire the colonial landmarks of
Bridgetown, Barbados
.
A final full day at sea allows you to discover the 3,835-passenger
Royal Caribbean International
vessel's endless amenities: an ice skating rink, mini-golf course, adults-only pool, water slide, sushi restaurant and three-story dining room, to name a few.
Sixteen departures are available between May 7 and Dec. 31
, from $527.
Sail Southeast Asia
From floating markets to dazzling temples, the waterfront cities of Southeast Asia provide plenty of places to connect with local culture. Congregating around the South China Sea, countries like Thailand, Vietnam and Malaysia display their storied histories in Chinatown districts, Hindu and Buddhist shrines and the leftover architecture of European colonization.
Using the diverse city-state of
Singapore
as a launching point,
Princess Cruises
traverses the area on a 13-night itinerary this fall. Among the stops are
Ko Samui, Thailand
, where you can ride an elephant through coconut groves;
Bangkok
, Thailand's capital and home to the famous 15th-century Emerald Buddha; and
Kuala Lumpur, Malaysia
, where limestone caves are guarded by macaque monkeys. In
Ho Chi Minh City, Vietnam
, choose between two tempting options: travel to the countryside to meet a local farmer and see rice turned into wine, or ride a pedicab to the Ben Thanh Market where a chef will help you select fresh produce and meat to fashion into delicious dishes.
On board the 2,670-guest
Diamond Princess
, snuggle up with milk and cookies for evening poolside movies or enjoy a pint of Seawitch, a craft beer exclusive to the line. The
Nov. 29 journey
starts at $1,699.
Discover ancient seaports
Due east of Italy along Europe's Balkan Peninsula, the Adriatic Sea washes onto shores guarded by timeworn fortresses. Here, we find Croatia's picturesque Dalmatian coast, separated from the country's interior by rugged limestone mountains and fringed with islands, bays and fishing villages.
Three Dalmatian ports are wrapped into weeklong summer voyages of the Adriatic with
Azamara Club Cruises
. Circling the sea from
Venice
, the
Azamara Journey
docks overnight in
Hvar
, a resort island inhabited since the Neolithic period, where you can join an olive oil tasting excursion. On a nearby peninsula,
Split
displays third- and fourth-century palace ruins still used as a city center.
Dubrovnik
, known as The Pearl of the Adriatic, welcomes visitors to walk on its waterfront ramparts and admire Franciscan and Dominican monasteries.
A final stop in
Durres, Albania
, founded in the seventh century B.C., precedes a full day of cruising. Use this time at sea to soak in the Azamara Spa's thalassotherapy tub, savor mushroom risotto in the Italian-style Aqualina restaurant and sip complimentary boutique wines from New Zealand, South Africa and Portugal. Staterooms and suites on the 686-guest ship add special touches like fresh flowers and soft terry robes to enhance comfort.
Departures are available on
July 3
and
Sept. 9
, with prices opening at $2,549. These vacations include a special cello concert at the Mestrovic Gallery, a sculpture museum in Split.
Escape to the Bahamas
The sun-washed beaches of
the Bahamas
tempt even the tensest tourists to kick off their shoes and plop down on the sand. In an archipelago of almost 700 islands and cays, it's easy to forget there is a wider world out there.
Luckily, this enclave is a convenient neighbor to Florida's ports, and there are many options for a quick break, family getaway or romantic rendezvous. Four-night jaunts with
Carnival Cruise Line
leave Port Canaveral, FL, to call on the capital city of
Nassau
on New Providence Island and golf course-filled
Freeport
on Grand Bahama Island. You'll have the option to swim with dolphins, kayak through mangrove-heavy creeks, snorkel along colorful reefs and peruse outdoor craft markets. Relaxing oceanside always is encouraged, too, and Nassau's pink-sand Cable Beach poses the perfect setting.
On the 2,754-passenger
Carnival Victory
, kids squeal their way around the twists and turns of a giant water slide while adults lounge on padded hammocks in the private Serenity area. At mealtime, The Taste Bar doles out predinner samples of the line's favorite dishes, and Chopsticks serves mouthwatering shrimp fried rice and more.
Fares start at $279 for
dozens of departures between February and October
.
Gawk at giant glaciers
The summer sun shines generously in
Alaska
, sharing 20-plus hours of light in the state capital,
Juneau
, during the June solstice. With all of these extra daytime hours, visitors flock to the region to kayak along ice fields, witness humpback whales breach the deep blue sea and explore miles upon miles of preserved parklands teeming with wildlife.
The
Amsterdam
from
Holland America Line
steers alongside massive glaciers here, stopping in quaint fishing towns and adventure-packed harbors. Some weeklong forays head to Juneau, where helicopter and dog sled rides introduce you to nearby Mendenhall Glacier;
Sitka
, which displays its Russian roots with an onion-domed cathedral; and
Ketchikan
, a gateway to Misty Fjords National Monument. You also will pause in Canada to see the immaculate gardens and English pubs of
Victoria, British Columbia
.
Claim a spot in the Crow's Nest observation lounge during scenic cruising through Stephens Passage to spot orcas putting on free shows, and listen for the thunderous crash of ice as you float by fast-moving
Hubbard Glacier
. With a capacity of 1,380, the Amsterdam is a midsize vessel featuring basketball and tennis courts, two swimming pools and hot tubs, and a Culinary Arts Center with cooking classes and wine tastings.
Round trips from
Seattle
are offered
between May 22 and Sept. 18
and priced from $799.
Tarry in Bermuda
Pristine pink beaches tinted by crushed coral and shells, impeccable golf greens along the Atlantic, an English colonial town dating to the 17th century -- this is
Bermuda
. The fishhook-shaped collection of islands is about 650 miles east of North Carolina's Outer Banks, and its unique blend of African and British heritage means you might run into a parade of colorfully costumed dancers or a cricket match.
Norwegian Cruise Line
has seven-night options on the
Norwegian Breakaway
that allot three full days on the ocean and three more parked as a floating hotel at the
Royal Naval Dockyard
on Bermuda's western tip. Passengers can catch a ferry to
St. George
, a UNESCO-listed 1612 settlement, or
Hamilton
, where kilted bagpipers perform at an 1800s fort in the summer.
After a busy day of sightseeing, dine on board at Shanghai's Noodle Bar for dim sum or Moderno Churrascaria for endless skewers of slow-roasted meats. The 4,028-guest Breakaway sails from New York City and channels urban vibes with its ice bar, shop-lined promenade and exclusive performances of the Broadway musical "Rock of Ages."
Prices begin at $649, with
25 itineraries scheduled between April 24 and Oct. 23
.
The information in this story was accurate at the time it was published in January/February 2016. Please visit
Vacations To Go
or call (800) 338-4962 for current rates and details.
Send This Article to a Friend
Bookmark this Content
Digg it!
Reddit
Furl
del.icio.us
Spurl
Yahoo!