8 Favorite Places for a Cruise Vacation
From Bermuda to Alaska, these spots are best explored
on a seagoing getaway
By Emily Coleman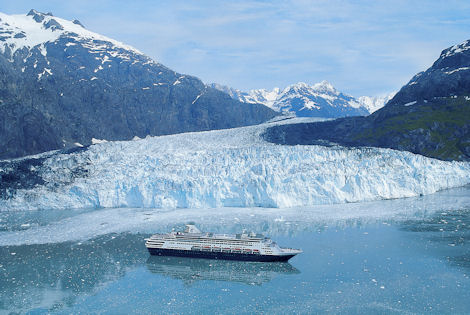 Holland America Line
T
here's so much to see in this world that sometimes it's hard to know where to start. If you have a long list of sights on your travel wish list, consider a cruise. A cruise ship will deliver you to numerous enticing destinations in a week's worth of vacation time. Explore the Mediterranean gems of the French and Italian rivieras, for example, or the celebrated resort towns along Mexico's Pacific Coast.
On a cruise, you'll have comfort and consistency throughout your trip because the ship serves as your floating hotel. Accommodations, food, entertainment and many onboard activities are covered in a single rate that's paid up front, which means less worry about day-to-day travel expenses.
We've highlighted eight fascinating destinations to visit on a cruise. To learn more about itineraries in these regions, call national cruise discounter Vacations To Go, (800) 338-4962, or visit the sites linked below.
When to go:
The
Alaska
cruising season begins in May and lasts through September. Travel peaks during the warmer summer months, but you'll find lower rates in the shoulder seasons of May and September. Most cruises sail for one week, although there are itineraries that last up to 14 nights.
Where to board the ship:
Round-trip sailings leave from
Seattle
and
Vancouver
, British Columbia, and traverse the protected waters of the Inside Passage. You also can choose a one-way northbound or southbound route that ventures beyond the Inside Passage and into the Gulf of Alaska; these itineraries travel between Vancouver and either
Whittier
or
Seward
, port cities for Anchorage.
Why you should go:
The scenery is awe-inspiring, and the state has a rich and fascinating history. When the United States purchased the land in 1867, it was considered an unwise move that soon became known as "Seward's Folly," after William H. Seward, the secretary of state who engineered the deal. But time would prove the opposite, as the region is flush with natural resources. A trip to the rugged north unveils stories of gold rush pioneers, Russian settlers and Alaska Natives. The staggering panoramas of glacial ice, national parks, snow and water are all part of the state's unspoiled beauty.
Activities ashore:
Alaska provides unparalleled opportunities for those looking to embrace the great outdoors. Lakes, rivers and coastal waters are a veritable playground for kayaking and salmon fishing in ports like Sitka and
Ketchikan
. Many North American
wildlife
populations thrive here, and it's possible to spot black and brown bears, bald eagles, wolves, orcas and humpback whales. Take in the majestic views from the White Pass & Yukon Route Railroad in
Skagway
, or fly over massive ice fields on a floatplane excursion. Click
here
for examples of shore excursions in Alaska.
When to go:
Cruises to these tropical isles are offered year-round. Most
Caribbean
sailings last a week or longer, but there are quick trips to the
Bahamas
of just three to five nights.
Where to board the ship:
Departures are plentiful from Florida ports, especially
Miami
,
Fort Lauderdale
and
Port Canaveral
. You'll also find island-bound sailings from
Baltimore, MD
;
Norfolk, VA
;
Charleston, SC
;
Mobile, AL
;
New Orleans, LA
; and
Galveston, TX
-- although the choice of ships and itineraries is limited in these cities.
Why you should go:
For the sun, sand and sea. These cruises emphasize relaxation in tropical havens, with clear waters perfect for snorkeling and swimming. On Bahamas cruises you'll likely stop at the cruise line's private island for an idyllic beach bum experience. You can spread out in hammocks or lounge chairs and enjoy a barbecue lunch. But towns in the Caribbean and Bahamas have plenty to offer beyond the beach, from food and shopping to music and festivals. Each destination has a story for visitors to discover, from the cobblestoned Old San Juan district of
Puerto Rico
to Willemstad, the delightfully Dutch capital of
Curacao
.
Activities ashore:
See underwater life without getting wet in a semisubmersible in
St. Thomas
or
Aruba
. Browse local markets, like the straw market of
Nassau
, or do some serious shopping in the duty-free stores found throughout the Caribbean and Bahamas. You also can learn about what goes into your tropical drinks on the ship by touring a rum distillery in
Grand Cayman
,
Barbados
or
Jamaica
.
When to go:
Mexico
's sunny climate beckons year-round, and you can find a cruise that's headed south of the border at any time. Travel is heavier from the end of December through spring. The influx of visitors settles down after Easter but picks up again after Memorial Day as families embark on summer vacations.
Where to board the ship:
Cruises to the western coast of Mexico, known as the Mexican Riviera, leave from Southern California cities, typically
Long Beach
,
San Diego
and
Los Angeles
. Visitors will find a mountainous terrain and a drier climate as they visit towns like
Ensenada
,
Cabo San Lucas
,
Mazatlan
and
Puerto Vallarta
. Itineraries to the Caribbean side of Mexico, known as the Riviera Maya, start in Florida ports and the Gulf Coast cities of Galveston, New Orleans and Mobile; these call at
Cancun
,
Cozumel
,
Costa Maya
and
Merida
.
Why you should go:
Mexico is a convenient cruise destination for many residents in the U.S. There are numerous departure ports and a variety of itineraries, from three-night budget getaways to weeklong trips that also incorporate stops in Belize and Honduras. Mexico's established resort industry makes many of the ports comfortable destinations for relaxing with all the amenities.
Activities ashore:
Water-based recreation like sailing, fishing, snorkeling and swimming are common pursuits. Visit the remains of the Mayan empire at Chichen Itza, where you can walk in the shadow of the towering pyramid and learn about the history of the indigenous people. Tour the historic towns and villages and shop for locally made jewelry, ceramics and art. Or, sign up for an excursion that includes a cooking class and learn how to make a few local specialties. You also can head inland from the coast and explore the landscape via an all-terrain vehicle. Click
here
for examples of shore excursions in Mexico.
When to go:
The primary cruising season for the
Mediterranean
lasts from April through October. Some ships sail the region year-round, but there are fewer itineraries to choose from in the winter and early spring. Ships often sail for a week or longer and call at ports in several countries.
Where to board the ship:
There are many jumping-off points for weeklong round-trip cruises in the Mediterranean. You can start in
Rome
,
Genoa
or
Venice
in Italy, or
Barcelona
in Spain. Ships also depart from cities at the eastern end of the sea, typically
Istanbul
and
Athens
.
Why you should go:
Itineraries pack in a variety of ports, languages, cultures and cuisines. Those who seek the beach can absorb the rays on the French Riviera, while anyone keen on cultural pursuits will find plenty to kept them busy at ancient sites in Rome, Athens and
Ephesus
. A cruise of the Mediterranean gives travelers access to some of the most popular cities in Europe, without the stress of navigating roadways or train schedules, or checking into a series of hotels.
Activities ashore:
From cultural and culinary to indulgent and intriguing, there's an endless array of diversions in the ports of the Med. Stop in Rome to see the treasures of Vatican City -- the Sistine Chapel and St. Peter's Basilica. An experienced guide can lead you through the crowds and fill in the details of Roman Catholic history. In Barcelona, sample the small savory bites known as tapas with a glass of wine. If you're feeling lucky, head to the Grand Casino in
Monaco
. Spend your winnings at a prime attraction in another Mediterranean hot spot, Istanbul's Grand Bazaar, one of the world's largest covered markets. Click
here
for examples of shore excursions in the Med.
When to go:
These cruises
, sometimes called
Baltic
or Scandinavian cruises, are limited in their sailing season because of the region's cooler climate. Ships sail from May through August. For seven to 14 nights, you can visit ports in the
British Isles
,
Norwegian fjords
and
Russia
. Skimming along the top of the continent, guests will experience long hours of daylight during the summer months.
Where to board the ship:
Many European cities serve as departure ports for these cruises, including
Amsterdam
,
London
,
Stockholm
and
Copenhagen
.
Oslo
and
Bergen
are two common ports in Norway, and you can also start your voyage in
Kiel, Germany
.
Why you should go:
A distinctive mix of culture and scenery draws crowds to destinations in northern European. Ornate palaces, eye-catching cathedrals, museums and dramatic landscapes make for an experience to remember. Fine goods like handmade sweaters, top quality crystal, silver, antiques and porcelain are all sought at these ports, though they can be pricey.
Activities ashore:
While in Amsterdam, tour the Heineken Brewery and sample the product, or learn about one of the 20th century's most famous diarists at the Anne Frank House. In Copenhagen, witness the changing of the guard at Amalienborg Palace or venture to nearby Elsinore and Kronborg Castle, the setting of Shakespeare's "Hamlet." Some ships stay overnight in
St. Petersburg, Russia
, so you'll have plenty of time to take in the numerous galleries of the Hermitage Museum, the elaborate Winter Palace and the 300-foot cupola of St. Isaac's Cathedral.
When to go:
Cruises of
Hawaii
are available year-round, although the high season is mid-December through March. Families often schedule trips in July and August. The islands are less busy April through June and September through mid-December. Warm weather is the norm whenever you visit.
Where to board the ship:
Honolulu
is the starting port for the weeklong island-hopping cruises sailed by
Norwegian Cruise Line
's
Pride of America
. Other cruise companies position ships in
San Diego
and
Los Angeles
for round-trip sailings across the Pacific Ocean; these last at least two weeks and spend more days at sea.
Why you should go:
The warm water and beautiful beaches are just as perfect in person as they seem on a postcard, and the interiors of the islands are natural sanctuaries. Visitors can peer into the remarkable 3,500-foot-deep Waimea Canyon on
Kauai
or watch active volcanoes at work on the
Big Island
at Hawaii Volcanoes National Park. Foodies get their fix on plantation tours and in local markets where pineapple, papaya and potent coffee are plentiful.
Activities ashore:
When the ocean becomes too cold for humpback whales in Alaska, they migrate to Hawaii's warmer waters and spend November through May there; whale-watching excursions are available at most ports on the islands at this time of year. The best way to get the full scope of Hawaii's terrain is from a helicopter. On a flightseeing excursion, you can photograph the volcanoes, waterfalls, rain forests and craggy cliffs from a soaring viewpoint. For Hawaiian fun and flavor, sign up for a luau that showcases music, storytelling, hula dancing and local delicacies. In Honolulu, many passengers head to the USS Arizona Memorial, which marks the resting place of 1,177 crew members who died in the Dec. 7, 1941, attacks on Pearl Harbor. Click
here
for examples of shore excursions in the islands.
When to go:
Panama Canal
cruises are offered from September to April. This overlaps with the region's dry season, a sunny stretch lasting from mid-December to mid-April. Most itineraries are 10 nights or longer, and a full transit through the canal, from Florida to Los Angeles, takes about two weeks.
Where to board the ship:
Full-transit itineraries
typically leave Miami or Fort Lauderdale, FL, traverse the canal and end in Los Angeles or San Diego. Itineraries that sail the reverse route, from California to Florida, also are possible.
Partial transits
of the canal are another option for travelers interested in the historic waterway but short on travel time. These itineraries last roughly 10 days and usually sail round-trip from Fort Lauderdale.
Why you should go:
The Panama Canal, completed in 1914, was carved out of the land to allow large vessels to pass between the Atlantic and Pacific oceans. The canal itself is a marvel, a significant feat of engineering that took 10 years and $387 million to complete. Passengers line the decks to learn about the history of the waterway from an expert as the ship navigates eight state-of-the-art locks. A cruise to Panama also takes visitors to alluring vacation spots in Mexico and the Caribbean.
Activities ashore:
On the edge of
Panama City
, the 55,000-acre Soberania National Park is a perfect stop for hikers and bird-watchers.
Colon
in Panama is best known for the Colon Free Zone, a bustling duty-free marketplace. The
San Blas Islands
are unspoiled spots off Panama's Caribbean coast and home to the Kuna Indians, best known for their colorful handmade clothing. Visitors can photograph indigenous people in exchange for a small tip or learn more about them through cultural performances and lectures. Click
here
for examples of shore excursions in the region.
When to go:
Cruises to
Bermuda
leave between April and October and typically sail for seven nights, though
five-night itineraries
are possible as well. Bermuda limits the number of cruise ship passengers who can disembark on its shores, to ensure that ports aren't overrun by tourists. As a result, ships may have fewer cabins that can accommodate third and fourth occupants; families who want to cruise to Bermuda should book early to ensure they get a spot on their desired
vessel.
Where to board the ship:
Though some mistake Bermuda for a Caribbean destination, it actually lies about 1,000 miles north and roughly 600 miles east of Cape Hatteras, NC. It's easily accessed by ships in East Coast ports like
Boston
,
New York
and
Philadelphia
.
Why you should go:
Bermuda has all the makings of a dream getaway: convenient location, pink-sand beaches, cerulean waters and blooms of bougainvillea and hibiscus. As a self-governing British territory, the island mixes British traditions with early African and Caribbean influences.
Activities ashore:
Bermuda boasts more golf courses per square mile than any other destination in the world. Ships often stay at ports for one or two nights in a row, so there's ample opportunity to arrange for a tee time. Step off the boat in
St. George's
and stroll cobblestoned streets bordering 17th- and 18th-century structures. At
King's Wharf
, you can see the Maritime Museum, the towering cast-iron lighthouse and peaceful beaches.
The information in this story was accurate at the time it was published in January/February 2010. Please visit
Vacations To Go
or call (800) 338-4962 for current rates and details.
Send This Article to a Friend
Bookmark this Content
Digg it!
Reddit
Furl
del.icio.us
Spurl
Yahoo!