8 Alluring Island Cruises
These vacations showcase beaches, seafood
and outdoorsy pursuits in New England, the UK and beyond
By Madison G. Welch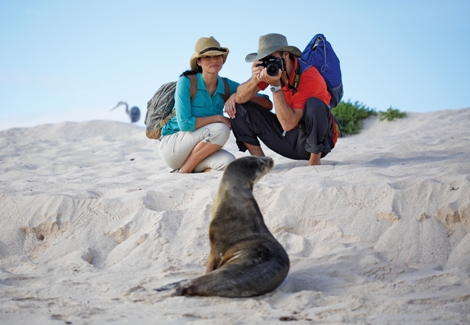 Tim Bieber/Celebrity Cruises
T
here's something inspiring about island scenery. Backdrops of forested mountains, volcanic rocks, sandy beaches and swaying palms -- all surrounded by tranquil ocean -- beckon travelers to explore, or relax, as they wish.
Consider the
Canary Islands
. On this archipelago belonging to Spain, you can tour a volcano from the back of a camel, or you can rest on unspoiled sands and listen to turquoise waves gently lapping the shore. Looking for something closer to home? Check out the isles of
New England
, a land rich with American heritage, fresh-caught seafood and jagged, cliff-lined coasts.
Read on to discover eight cruises that will have you embracing the natural side of your island getaway. For information on any of these voyages, or to book a sailing, call the cruise discounters at
Vacations To Go
, (800) 338-4962, or visit the sites linked below.
Spot Whales in the San Juan Islands
The Pacific Northwest
possesses one of the most diverse landscapes in the country. Snowcapped mountains and evergreen forests meet pebbly shores and azure water, and the contrast lends character to the region. Off the coast of Washington, the San Juan Islands attract visitors with a plethora of outdoor activities: hiking, fishing, boating, biking, ziplining and more.
They also present an ideal escape for wildlife watchers; here, you'll discover bald eagles soaring across blue-gray skies, sea lions lazing on rocky outcroppings and orcas blowing fountains of saltwater.
The trip:
American Cruise Lines
offers an up-close view of the dramatic setting during weeklong jaunts from
Seattle
. Sailings take place aboard the
American Spirit
, an intimate 100-passenger vessel that navigates narrow waterways with ease. Itineraries include a stop in
Friday Harbor, WA
, a charming seaport on San Juan Island.
Animal encounter:
Spot pods of killer whales from the deck of your ship. The black-and-white mammals have teeth measuring up to 4 inches long and are known to hunt fish, squid and sea lions -- but not humans, fortunately.
Photo op:
Take advantage of the majestic backdrop, since you'll be surrounded by the Cascade Range and Olympic Mountains.
Details:
Rates start at $3,735.
Departures are available through early November
, with a special "
Puget Sound Food & Wine Cruise
" itinerary scheduled for Sept. 19. Voyages also are planned for 2016.
Savor the Shores of New England
Fresh lobster, whaling museums and elegant mansions are mainstays of
New England and its islands
. The region is steeped in Colonial and early American history; in fact, the name "New England" came from Capt. John Smith, who explored the area in 1614. Today, tourists visit for heritage tours and succulent seafood, but cruises also make time for sandy beaches, dramatic coastlines and serene parks.
The trip:
Blount Small Ship Adventures
explores these shores on six-night cruises from
Warren, RI
. Hop aboard the
Grande Mariner
or
Grande Caribe
-- each serves just 88 guests -- and discover the cranberry bogs of
Nantucket Island, MA
; the red-clay cliffs of Aquinnah on
Martha's Vineyard, MA
; and
Block Island, RI
, with nearly half of it preserved as natural space.
Photo op:
In
Newport, RI
, strike a pose in front of the Vanderbilt family's lavish summer home. The Italian Renaissance-style palazzo features 70 rooms and is designated a National Historic Landmark.
Cultural connection:
Nicknamed the Whaling City,
New Bedford, MA
, claims the country's biggest museum dedicated to the historic whaling industry. The site features four whale skeletons and a gigantic ship model, named the Lagoda.
Details:
Prices start from $1,349.
A handful of departures are available in June, July and September
.
Meet Exotic Wildlife in the Galapagos
Named for the large and legendary tortoises found here,
the Galapagos Islands
were discovered in 1535 by Tomas de Berlanga and made famous in 1835 by English naturalist Charles Darwin. Darwin's groundbreaking theory of natural selection was largely inspired by Galapagos species, especially groups of finches with distinct beak adaptations. Today, the archipelago houses a research station named in his honor.
The trip:
Journey to the Galapagos with
Celebrity Cruises
and you'll explore the islands on the
Celebrity Xpedition
, a 98-passenger yacht with naturalists on board to guide your travels. The 10-night itineraries vary slightly, but all introduce cruisers to a variety of isles and animals; on
a Dec. 4 trip
, for example, you might spot blue-footed boobies on Daphne Island, fur seals on
Santiago Island
and flamingos on
Santa Cruz Island
. This itinerary also includes a pre-cruise land tour of
Quito
, Ecuador's capital city.
Photo op:
Located on
Bartolome Island
, Pinnacle Rock was created when an underwater volcano spewed magma, which exploded after cooling. The rock is a favorite backdrop for visitors and also served as scenery for the film "Master and Commander."
A little adventure:
Activities on the various islands include nature walks, swimming and Zodiac boat tours. Practiced snorkelers can enjoy a deepwater excursion off
Santa Cruz Island
.
Details:
The Celebrity Xpedition sails year-round in the Galapagos
. Rates start at $5,499 ($6,199 for the Dec. 4 edition mentioned above).
Seek Old World Elegance in Stockholm
Sweden's cosmopolitan capital,
Stockholm
, is scattered over 14 islands connected by 57 bridges. It dates to the 13th century and has a cobblestoned Old Town with buildings painted in a palette of golds. Attractions at its center include the gigantic Royal Palace, which boasts 600-plus rooms; Stockholm Cathedral, home to a 15th-century sculpture of St. George and the Dragon; and Stortorget, the city's oldest square.
Stockholm also is a favorite destination for outdoor activities, with 26 parks that offer wildlife spotting even in the middle of the metropolis.
The trip:
Royal Caribbean International
sails to Stockholm on
round-trip cruises from London or Copenhagen
; voyages that
start and end in Stockholm
also are offered. These itineraries also stop at ports like
St. Petersburg
;
Helsinki, Finland
; and
Tallinn, Estonia
.
Photo op:
Ride in a small orb-shaped gondola to the top of the Ericsson Globe, one of the largest spherical buildings in the world. From 425 feet above sea level, you'll find a panoramic backdrop of Stockholm.
Cultural connection:
Tour a 17th-century battleship at the Vasa Museum. The ship sank in 1628, was recovered in 1961 and has been restored and preserved over several decades.
Details:
A weeklong sailing from Copenhagen on the 2,501-passenger
Serenade of the Seas
starts at $1,129 for
an Aug. 15 departure
;
weeklong Baltic Sea cruises from Stockholm
aboard the same ship go for $1,064 and up.
Twelve-night voyages from London
on the similarly sized
Brilliance of the Seas
begin at $1,598.
Sail Ancient Waters in the Greek Isles
Sparkling seas surround
Greece
on three sides: the Aegean to the east, Ionian to the west and Mediterranean to the south. The abundance of brilliant blue water explains the country's penchant for seafood and makes it an ideal spot to visit by ship. Aside from the mainland, the country comprises thousands of islands and islets, many of which are dreamy destinations.
Consider a vacation to Santorini's iconic whitewashed villages, Mykonos' pristine beaches and windmills or Corfu's luxuriant hills, but be warned -- you may never want to leave.
The trip:
Discover the mystery and romance of the Greek Islands on a weeklong voyage with
Norwegian Cruise Line
. Departing from Venice, the 2,402-guest
Norwegian Jade
calls at
Santorini
,
Mykonos
,
Corfu
and
Katakolon
on separate days, allowing plenty of time to explore.
Photo op:
From Santorini, take an excursion to Oia, a cliff-top village with breathtaking views of the Aegean Sea. Pose in front of the unique undersea crater left by the volcano that created the island.
Cultural connection:
Katakolon is the port leading to the ancient city of Olympia, where the Olympic Games began in 776 B.C. Centuries-old ruins here include structures where Olympic events were held and temples dedicated to Zeus and Hera.
Details:
Seven-night cruises are scheduled through October
, with pricing starting at $669.
Many two-week iterations also are available
, priced from $1,119, and add ports such as Dubrovnik, Croatia, and Ephesus, Turkey.
Additional departures are scheduled from May through early October 2016
.
Ride a Camel in the Canary Islands
Moonlike crags and craters -- resulting from volcanic activity over millions of years -- are just one type of landscape found in Spain's
Canary Islands
. Located off the northwest coast of Africa, the islands encompass sand dunes and lava rock that lend contrast to verdant forests, turquoise waves and powdery beaches, making the Canary Islands a fascinating place to explore.
The destination also claims "the best climate in the world," with year-round temperatures often in the 60s and 70s, so there's no bad time to visit.
The trip:
Experience the varied topography on a 12-, 13- or 14-night sailing with
P&O Cruises
. Itineraries depart from
Southampton, England
, and call at the islands of
Tenerife
,
Lanzarote
and
Grand Canary
as well as Portuguese ports like
Lisbon
and
Funchal
.
Animal encounter:
Hitch a ride on a camel to explore the Fire Mountains in Timanfaya National Park on Lanzarote. But watch your balance -- some camels can reach 7 feet tall!
Photo op:
In Teide National Park on Tenerife, you can ride a cable car up the highest volcano in Spain for a bird's-eye view of canyons and craters.
Details:
P&O Cruises has
more than a dozen Canary Islands trips
through the end of the year, with prices from $1,166 for
a Dec. 1 voyage
. Two departures -- on
July 25
and
Sept. 25
-- will set sail on the line's brand-new, 3,647-passenger
Britannia
.
Watch for Nessie in the British Isles
The weathered stone walls and battlements of Castle Cornet have shielded
Guernsey
for the better part of a millennium, starting in the 13th century when King John of England needed to protect
the Channel Islands
from France. Medieval castles like this one are sprinkled across the
British Isles
, a region of rolling countryside and quaint small towns as well as bustling metropolises.
In addition to Guernsey, you might see cathedrals and country estates in
Dublin
; botanic gardens and dramatic cliffs in
Belfast, Northern Ireland
; and museums and a legendary golf course in
Edinburgh, Scotland
.
The trip:
Princess Cruises
introduces travelers to the British Isles on 12-night explorations that sail round trip from London on the 3,600-guest
Royal Princess
.
Photo op:
Pose in front of Loch Ness on an excursion from
Invergordon, Scot
land. The legendary lake measures about 23 miles in length and reaches a depth of nearly 800 feet. If you're lucky, you may catch a glimpse of an infamous monster's long neck or shiny scales.
A little adventure:
In
Cork, Ireland
, book an excursion to the 15th-century Blarney Castle. The story goes that visitors who kiss the Blarney Stone will receive the gift of eloquence; however, you have to lean backward and almost hang upside down to do it.
Details:
Prices start at $1,498 for
cruises that depart until late August
.
Swim With Dolphins in the U.S. Virgin Islands
Tranquil
Caribbean
scenery -- think cobalt waves, white-sand beaches and swaying palm trees -- beautifies the U.S. Virgin Islands, a territory purchased from Denmark for $25 million in 1917. The area comprises dozens of cays and three larger landforms: The isle of
St. Thomas
offers the stylish capital city, Charlotte Amalie;
St. John
is home to a national park packed with outdoor activities; and
St. Croix
has two main towns rich with Old World heritage and a rum distillery.
Activities range from catamaran sailing and snorkeling excursions to city tours and shopping -- or you can simply sit back and enjoy the view.
The trip:
Carnival Cruise Line
calls at the U.S. Virgin Islands in addition to
Barbados
,
St. Lucia
,
St. Kitts
and
St. Maarten
on weeklong sailings from
San Juan, Puerto Rico
. The 2,978-guest
Carnival Liberty
has a Seuss at Sea program for kids and the Serenity retreat for adults.
Animal encounter:
On an excursion from
St. Thomas
, swim and play with dolphins in the warm Caribbean Sea. These intelligent creatures have remarkable memories and are one of only a few animal species that have been known to recognize their own reflection.
Photo op:
Impress friends at home with a panoramic shot from the top of St. Peter Mountain, one of the highest points on St. Thomas. From its 2,100-foot elevation, you can photograph St. John and the nearby
British Virgin Islands
.
Details:
Pricing starts at $389.
Several dozen departures
are available through February 2016.
The information in this story was accurate at the time it was published in May/June 2015. Please visit
Vacations To Go
or call (800) 338-4962 for current rates and details.
Send This Article to a Friend
Bookmark this Content
Digg it!
Reddit
Furl
del.icio.us
Spurl
Yahoo!