6 Sparkling New Cruise Ships
These liners are ready to make waves in the industry
By Kathryn E. Worrall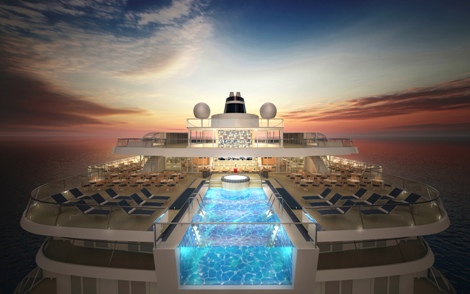 Viking Cruises
S
ix new ships from five cruise lines will hit the high seas this year, poised to break records and redefine luxury and entertainment. Prepare to "ooh" and "aah" at the first Imax at sea, rocket down a monster 10-story slide or roll up your sleeves for hands-on cooking demonstrations. Cruise lines have upped the standards for onboard lodging, too, adding more single-occupancy options, themed rooms and indulgences like patios with hammocks.
Regent Seven Seas Cruises is building its first new ship in 13 years, and Holland America Line and Carnival Cruise Line each are introducing a brand-new class of ship. Meanwhile, Royal Caribbean International is adding to its popular Oasis- and Quantum-class fleets, making a few enhancements in the process. Newcomer Viking Ocean Cruises readies itself for its second ship in two years.
Be among the first to sail these floating resorts. Call the cruise discounters at Vacations To Go for details, (800) 338-4962, or
check departures and rates online
.
VIKING SEA
Viking Ocean Cruises
The Scandinavian-themed
Viking Sea
hosts 930 passengers and is the second ocean vessel from the new seagoing division of
Viking Cruises
, a company best known for its
river voyages
.
Lodging:
A private veranda with seating comes standard in each of the 467 staterooms, while larger digs like the Explorer Suites have a spacious wraparound deck.
Life on board:
The two-story windows in the Explorer's Lounge provide sweeping views from the bow, while afternoon tea is served in the airy, serene Wintergarden. Enjoy a swim rain or shine in the main pool, which has a retractable roof. An infinity pool dangles at the ship's edge.
An icy retreat:
Snowflakes float down from the ceiling in the spa's Snow Grotto, chilling guests in the icy chamber. Pair it with a session in the nearby sauna; the hot and cold treatment is said to enhance blood circulation.
Cultural immersion:
Viking connects the cultural dots by screening destination-themed films in its indoor and outdoor movie theaters, hosting onboard talks and offering regional dishes, such as risotto off the coast of Italy and Turkish mezes (appetizers) in the Aegean Sea.
Routes:
The Viking Sea debuts
April 3
and roams
the Mediterranean and Northern Europe throughout 2016 and into 2017
, offering a variety of itineraries starting at seven nights. The Mediterranean sailings are the more affordable options, starting at $1,999.
KONINGSDAM
Holland America Line
The first
Holland America Line
ship in six years, the
Koningsdam
ushers in the company's new Pinnacle class and is the largest in the line's fleet, with a capacity for 2,650 passengers.
Lodging:
Guests in Neptune or Pinnacle suites have access to the Neptune Lounge, granting a private relaxation area and personalized concierge service.
Life on board:
Take in the view with a drink in hand at the top-of-the-ship Crow's Nest. Catch a show at one of three musical stages, such as B.B. King's Blues Club.
Sipping at sea:
Concoct your own red wine by mixing varietals from five barrels at Blend, the only purpose-built wine-blending venue at sea. Your creation will be bottled and tagged with your custom label to be enjoyed at dinner or in your stateroom.
Hands-on cooking:
During the day, the Culinary Arts Center offers classes and demonstrations, but at night, it transforms into a farm-to-table restaurant. Chefs use fresh ingredients, some of which are grown in a glass-enclosed area on the ship.
Routes:
The Koningsdam's
maiden voyage
leaves
Rome
on April 8. Then it will
zigzag throughout Europe
before traveling to its wintertime port of
Fort Lauderdale, FL
, where it will head to the
warm waters of the Caribbean through March 2017
. European cruises start at $1,199, and Caribbean itineraries begin at $599.
OVATION OF THE SEAS
Royal Caribbean International
One of two
Royal Caribbean
ships debuting this year, the
Ovation of the Seas
is the third Quantum-class liner and carries 4,905 passengers.
Lodging:
The Royal Family Suites accommodate up to eight people and come with a personal assistant called a Royal Genie. Single travelers' options include cabins with private balconies.
Life on board:
Adventure abounds with skydiving and surfing simulators, a rock climbing wall, ice skating rinks and more. Relax by one of the pools, including an adults-only spot, or tempt luck at Casino Royale.
Aerial awe:
Soar to new heights in the North Star, a capsule that elevates passengers 300 feet above sea level for sweeping 360-degree views.
Playtime:
As the largest activity space at sea, Seaplex has it all, with bumper cars, roller skating, sports courts and even a chance to attend circus school -- red noses optional.
Routes:
After
debuting on April 17
and making
a few inaugural season trips from London, Barcelona, Dubai and Singapore
, the Ovation repositions to its home port in
Tianjin
(the gateway to Beijing) to cater to the growing Chinese cruise market. In December, it journeys Down Under for a handful of
Australia and New Zealand sailings
. Asian cruises open at $783, and Australian prices begin at $1,799.
CARNIVAL VISTA
Carnival Cruise Line
The
25th and largest ship
from
Carnival
targets the Mediterranean and Caribbean with room for 3,936 passengers.
Lodging:
Certain room categories come with perks. Children dine free at most specialty restaurants when you book Family Harbor cabins, while the serene Cloud 9 Spa rooms come with complimentary fitness classes and private access to the spa. Swing in the breeze from a hammock strung across your private patio facing the Lanai Promenade in one of the resort-style Havana Cabana suites, which are close to a pool and bar reserved for Havana occupants.
Life on board:
The first Imax at sea is only part of the Carnival Vista's entertainment options. The neighboring theater thrills with 3-D experiences, while water slides and splash zones provide fun on the top deck.
A floating brewery:
Carnival introduced its RedFrog Pub and private-label beer, ThirstyFrog Red, in 2011 on the Carnival Magic. The line amps up its commitment to tasty ales and lagers by installing its first seagoing microbrewery at the RedFrog aboard the Vista.
Ride high:
The specially designed bikes of SkyRide, an elevated bike course high above deck, follow an 800-foot track and provide strapped-in cyclers with rare views of the ship and ocean below.
Routes:
The Carnival Vista pushes off from
Trieste, Italy
, on
May 1
. It sticks to
Mediterranean routes until October
, when it heads for the Caribbean, first out of
New York City
and then
Miami
. Mediterranean routes launch at $869, and Caribbean cruises start at $409.
HARMONY OF THE SEAS
Royal Caribbean International
At 226,000 tons, the third Oasis-class vessel from
Royal Caribbean International
topples its sisters' previous size records to claim the title of world's largest cruise ship. It has a passenger capacity of 5,200.
Lodging:
The
Harmony
has plenty of balcony cabins with ocean views, but if you're looking for prime people-watching, consider an inside stateroom with a veranda overlooking one of two interior public spaces -- the Boardwalk or Central Park.
Life on board:
Seven "neighborhoods" are spread through the ship, with bars and nightclubs, pools, 20 restaurants, a movie theater and even a carousel sprinkled among them. Sip drinks created by robotic bartenders at the Bionic Bar, and then wander around tree-lined Central Park.
Going down:
Take the plunge with Ultimate Abyss, a 10-story slide that's said to be the tallest on a cruise ship, with a 100-foot drop. Or stick to one of three chutes known collectively as the Perfect Storm.
Dive in:
Watch performers twist, flip and dive through the air into the deepest pool at sea at an AquaTheater performance.
Routes:
After
a May 22 debut
in London, the Harmony of the Seas
lingers in the Mediterranean until October
. It then crosses the Atlantic to Fort Lauderdale for
Caribbean jaunts
. European cruises begin at $521, and Caribbean dates start at $749.
SEVEN SEAS EXPLORER
Regent Seven Seas Cruises
Regent
claims the suite-only, all-inclusive
Seven Seas Explorer
is the most luxurious ship ever built. It's the company's first liner since 2003 and carries 750 passengers.
Lodging:
Even the lowest category of accommodations, Veranda Suites, boasts a separate indoor sitting area, private balcony and luxury linens and toiletries. More upscale staterooms come with a personal butler, daily canapes and the complimentary use of an iPad and iPod.
Life on board:
By day, lounge near the pool or indulge at the Canyon Ranch SpaClub. By night, hit the casino's slots, see a show at the Constellation Theater or enjoy a nightcap at the Observation Lounge.
Gourmet goods:
Sample Korean barbecued lamb chops at the Pan-Asiatic Pacific Rim restaurant, settle into leather chairs at the Prime 7 steakhouse and sip fine wines at the Italian Sette Mari at La Veranda.
Royal treatment:
Guests ensconced in the lush Regent Suite may never want to leave. The 2,917-square-foot pad boasts a grand piano, private garden, huge wraparound porch and en suite spa treatment area.
Routes:
After a
two-week inaugural cruise
that takes off from
Monaco
on July 20, the Seven Seas Explorer remains in
the Mediterranean through November
. It winters in
Miami and the Caribbean
, with transits through
the Panama Canal to Los Angeles and back
, before returning to
Europe in March 2017
. Mediterranean rates begin at $4,399, and tropical cruises start at $5,099.
The information in this story was accurate at the time it was published in January/February 2016. Please visit
Vacations To Go
or call (800) 338-4962 for current rates and details.
Send This Article to a Friend
Bookmark this Content
Digg it!
Reddit
Furl
del.icio.us
Spurl
Yahoo!