6 Easy-To-Budget Beach Retreats
Leave your cares behind and step off the beaten path
into an all-inclusive paradise
By Rebecca Matheson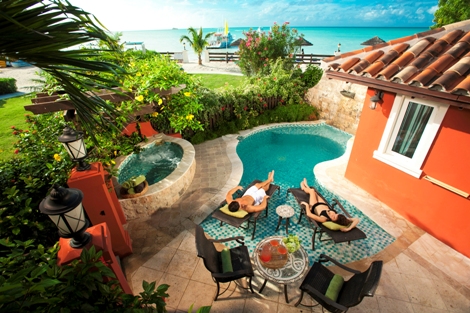 Sandals & Beaches Resorts
W
hy go with the flow when you can create your own waves? All-inclusive resorts crowd the shores of popular tourist destinations like Mexico and Jamaica, but those who prefer to stray from the well-trudged trail will find this type of easy-to-budget vacation option in some unexpected seaside locales, too.
Below, we profile six alluring resorts that offer warm hospitality amid pristine natural beauty, from the sugary shores of Aruba in the southernmost Caribbean Sea to the windsurfing waters of Panama's Pacific coast. Most are full-fledged all-inclusives, where your room, food, drinks, activities and entertainment are wrapped into one upfront rate; three of our choices are traditional hotels that give guests the option of buying a package that covers many of these essentials.
Follow the links below, then call the
Vacations To Go resort experts
at (800) 998-6925 to plan your trip.
Turtle Beach
Barbados
This resort
is true to its name: It's nestled along a 1,500-foot strip of sand on
southern Barbados
where sea turtles lay their eggs. Part of Elegant Hotels, the property provides all-suite accommodations with complimentary Wi-Fi and a balcony or patio facing the ocean, garden or pool.
Indulge in Turtle Beach's on-site gastronomy -- Italian fare, casual beachside eats and international buffets are in the all-inclusive rate. A dine-around program adds more options at sister resorts for a fee, though the water taxi that shuttles guests between destinations is free.
Embrace the local heritage through calypso dance lessons, an island trek and a culinary tour that delves into Bajan cooking. Sway under the stars to the beat of steel drums on themed nights. Little ones will enjoy the Kids' Kadooment activities, where they'll make costumes and participate in a festive parade. When the waves call, grab a bodyboard or take out a catamaran.
Hotel Riu Palace AntillasAruba
Bon bini!
Or welcome, in the native tongue of Papiamento, to the white-sand beaches of
Aruba
. The 20-mile-long, breathtaking isle rests in the Southern Caribbean, 15 miles north of Venezuela. Aruba boasts an average year-round temperature of 82 degrees, making it an excellent getaway at any time. It's also situated just below the hurricane belt and is less likely to be affected during the Caribbean hurricane season, which stretches from June through November.
Get acquainted with the hospitality of Riu Hotels & Resorts -- an international, family-owned chain founded in 1953 -- at its second all-inclusive Aruba property, the new
Hotel Riu Palace Antillas
. The adults-only retreat opened in fall 2014 with the promise of pampering and relaxation -- you might catch rays poolside or doze on the nearby sun terrace.
Sitting on pristine Palm Beach, this 482-room hotel provides meals at five eateries (including a steakhouse and Italian and Mexican restaurants), in-room minibars and nonmotorized water sports equipment like paddleboards and snorkel gear. For an additional fee, visitors can treat themselves to a day at the spa or a round on the links of a nearby golf course. Or, bring some cash to the casino and hope that Lady Luck favors you with enough winnings for a return visit.
Sandals Grande Antigua Resort and SpaAntigua and Barbuda
Grab your sweetheart and reignite the passion at the couples-exclusive
Sandals Grande Antigua
. Enjoy elegant meals served with white-glove finesse or a casual lunch by the beach; 11 eateries on-site tempt the taste buds. For an extra cost, enhance the romance and reserve a private, candlelit dinner for two near the surf, in a garden or on your room's terrace.
This all-inclusive resort offers an array of ocean activities like skimming the sea in a sailboat, pedaling a fat-wheeled aqua bike and even diving at a coral reef or the sunken remains of an old French freighter. Scuba beginners can take a diver certification course, and those with experience can dabble in the sea two times per day. Lounge by one of the six pools or the glistening Dickenson Bay while the sun shines, and enjoy the Charity Casino Night, live music or a decadent chocolate buffet at night.
For an added fee, guests can venture into the unspoiled beauty of Antigua on a tour with Island Routes Caribbean Adventures, which can be booked through the hotel. Soak up the vibrant charm of
St. John's
, capital of the twin-island nation of Antigua and Barbuda, swim with graceful stingrays or saddle up for a beachfront horseback ride with the one you love.
Windjammer Landing Villa Beach ResortSt. Lucia
From the balcony of a hillside villa perched amid the lush foliage of
northwestern St. Lucia
, guests of
Windjammer Landing
can take in the shimmering sands and aquamarine waves of the Eastern Caribbean. Resembling a village with its mix of private residences and visitor accommodations (many with private pools), the resort offers an all-inclusive package that incorporates dining and beverages as well as motorized and nonmotorized water toys.
In May, a $33 million renovation expanded the beach along Labrelotte Bay by 16,000 square feet, updated 19 villas and added a brand-new spa where visitors can utilize a fitness center, an outdoor yoga terrace, a relaxation garden and six treatment rooms for stress-relieving massages and other services (fees apply). Guests will find five restaurants, including Papa Don's, a posh Mediterranean tavern; Embers, a beachside spot for pizza, burgers and jerk chicken sandwiches; and Jammer's Beach Bar and Grill, where steel-drum music livens up the evening.
Families are welcome, and youngsters can mingle at the Jacquot Fun Club and a teen club while mom and dad get some precious moments to themselves. For an unforgettable journey by land, sea or air, splurge on an adventure with on-site excursion operator Jammin' Tours and explore the island's waterfalls, a drive-in volcano and the famed Pitons, twin volcanic spires marked as a UNESCO World Heritage Site.
Grotto Bay Beach Resort
Bermuda
Eleven cottages, designed in traditional Bermudian style and housing a total of 201 rooms, dot 21-acre
Grotto Bay
. This Atlantic island haven embraces three private beaches along Bailey's Bay, woodland preserves and two 500,000-year-old caves. For a memorable experience, visitors are invited into the caverns to swim among stalactites and stalagmites or savor a massage at a spa tucked inside a grotto (services cost extra).
Among its pricing options, Grotto Bay offers a package that includes three meals a day, the Tuesday night barbecue and the Friday evening surf-and-turf feast, as well as nonalcoholic drinks, beer, liquor and glasses of house wine. Nonmotorized water sports such as snorkeling and kayaking also are available.
Grotto Bay's all-inclusive plan provides guests with unlimited bus and ferry passes for traveling around
Bermuda
. You can spend a fare-free day exploring the attractions of this self-governing British territory, like the shops selling locally made wares at the Royal Naval Dockyard and the narrow lanes and picturesque cottages of St. George, settled in 1612.
The package requires a three-night minimum stay, which should be easy to accomplish -- once you get to Grotto Bay, you'll never want to leave.
Sheraton Bijao Beach ResortPanama
Centrally located in Santa Clara on
the Pacific side of Panama
, the Sheraton Bijao offers sweeping views of either ocean swells or the forested mountainside from its 293 rooms. With a comfortable, dry climate, this destination is well-suited for splashing about in the pools or sea all year.
At this all-inclusive resort
, sample Panamanian dishes and international fare during breakfast, lunch and dinner buffets. For a special treat, make reservations at one of the a la carte restaurants -- indulge in Japanese specialities at Sakura or a sumptuous Mediterranean meal at Olivos. Coco Solo Beach Bar and Grill satisfies with exotic drinks and sizzling options fresh off the flames. Multiple watering holes provide refreshments, from the swim-up bar in the pool to the piano lounge.
Vacationers can take advantage of kayaks and windsurfing gear, tennis courts, a fitness center and a game room for cost-free fun. You also can schedule a trip to the Panama Canal to see ships squeeze through the locks as they make their way between the Pacific Ocean and Caribbean Sea.
The information in this story was accurate at the time it was published in July/August 2015. Please visit
Vacations To Go
or call (800) 338-4962 for current rates and details.
Send This Article to a Friend
Bookmark this Content
Digg it!
Reddit
Furl
del.icio.us
Spurl
Yahoo!