5 Ways to Savor Your Cruise Destination
These shore excursions relish the culinary wonders
of host ports around the world
By Lucy Spicer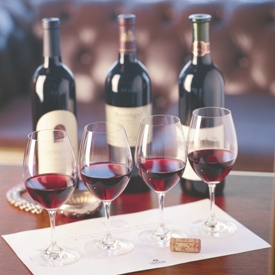 Crystal Cruises
O
ne of the best ways to immerse yourself in a new destination is to eat as the locals do. If you're in the mood for something more culturally nourishing than a simple restaurant outing, try taking advantage of land activities arranged by your favorite cruise line.
Some shore excursions serve homemade dishes whipped up by a friendly host family, while others offer expert pointers for re-creating authentic recipes in your own kitchen. You might stroll a vineyard, mix up a margarita or belly up to a beer-making class in an Old World brewer's haven. Follow your favorite foods to their source with a farm tour and you might have the chance to pitch in on a harvest, too, working alongside the locals to pick the ingredients for the group's next meal.
The following are five sumptuous methods for sampling the food, drink and cooking traditions of cruise ports around the world. For more information on these and other oceangoing adventures,
contact the Vacations To Go travel discounters online
or by calling (800) 338-4962.
Winery visits almost are as popular as historical walking tours when it comes to shore excursion offerings. Cruise passengers have their choice of land tours in grape-growing hot spots like Italy, France or Australia, but consider destinations with smaller production rates and rarer vintages. While docked at
Dubrovnik, Croatia
,
Celebrity Cruises
treats guests to "Dalmatian Coastline and Wine Tasting," which visits the "oyster capital" of the country, loads up on risotto and seafood pasta dishes and samples a few bottles from the prolific Peljesac region. Try it on a
Mediterranean voyage
this fall, including a
12-night, round-trip sailing
from
Istanbul
departing Sept. 30 and priced from $999.
Crystal Cruises
itineraries along
the East Coast and north to Canada
boast culinary opportunities a little closer to home.
A trip departing New York on Oct. 24
offers excursions in two cities to call on a total of five wineries: In
Newport, RI
, guests tour family-owned estates before tasting the local wares; in
Halifax, Nova Scotia
, the group visits one of the oldest wineries in Atlantic Canada and toasts with sparkling wines nurtured by the region's unique climate. Ocean-view cabins are priced from $1,995.
For those who have had their fill of vineyards but still crave some onshore libation education, many seafaring lines offer distillery excursions.
Princess Cruises
appeals to agave lovers with activities like "The Tequila Experience by Jose Cuervo," which includes a tour of the brand's operation, tequila tasting, taco buffet and margarita mixology class. Look for it on
a weeklong Caribbean cruise leaving Houston on Nov. 8
and priced from $504.
Beer drinkers need not feel left out, with
Royal Caribbean International
offering suds-themed excursions from several ports in western Europe. A tasting in Bruges, Belgium, might be of particular interest to those who enjoy ales, with a sightseeing tour of this cobblestoned city followed by a brewing lesson and samples; visit Bruges' entry port,
Zeebrugge
, while hopping around France, Spain and more next spring on
a 12-night cruise from London
. Departing April 17 and priced from $2,488, your host ship will be the new-for-2016
Ovation of the Seas
.
There can be magic in a perfect pairing. Several cruise lines seek that ideal combination of dessert and drink with excursions that match chocolate to regional wines or liqueurs.
In New Zealand,
Azamara Club Cruises
offers "A Taste of Marlborough," which kicks off at the Prenzel Distilling Company's tasting room. After sampling a wide variety of local liqueurs, fruit brandies, oils and vinegars, guests sip at the Clos Henri Vineyard, a slice of the French winemaking tradition warmed by the southern sun, and observe the chocolate-making process at Makana Confections. Available while porting in
Picton, New Zealand
, this excursion is offered on
a 16-night cruise
also visiting Australia and departing
Sydney
on Jan. 15. Prices start at $5,449.
For an indulgent break within easy reach of the U.S., consider a chocolate-and-spirits outing through
Celebrity
. One arranged in the Bahamian capital of
Nassau
includes a confection demonstration and the chance to taste candies paired with fine whiskey and rum at the Graycliff Chocolatier Factory. Another Celebrity excursion in
Cozumel, Mexico
, highlights the region's cocoa-cooking history while allowing guests to concoct their own chocolate bar, explore red wine pairings and mix up a sweet martini.
Go straight to the source
You strive to shop and eat like a local when sampling a new destination, so why not trace the roots of signature ingredients? Agricultural excursions, some with hands-on activities and many with tasty souvenirs for sale, explore farm-to-table efforts around the world.
Luxury operator
Silversea Cruises
visits organic outlets outside
Roseau, Dominica
, on select Caribbean cruises. Discover natural healing remedies and sample herbal teas enriched by volcanic soil in the farming community of Bellevue Chopin, then venture to a vegetable patch to pick and sample produce while a guide explains local growing practices. Stop by Roseau on
a weeklong, round-trip sailing
from
Barbados
on Nov. 13, with prices from $2,850.
Learn from the experts while visiting the U.K.-owned Channel Islands with
Cruise and Maritime Voyages
. At the family-run Meadow Court Farm in
St. Peter Port, Channel Islands
, the farmer himself guides visitors past pens for world-famous Guernsey dairy cows and on to a cheese tasting. Savor it on
a six-night, round-trip journey
departing London's
Tilbury
port on Sept. 25, with prices from $829 for ocean-view cabins.
But farms aren't just for cows and crops. Companies like
Princess
and
Disney Cruise Line
offer excursions to a turtle farm on tropical voyages that visit
Grand Cayman
. Visitors learn about breeding practices and the responsible way to raise the animals for their meat -- according to farm officials, selling properly harvested turtle meat to local restaurants cuts down on illegal poaching. An on-site snack bar provides brave guests with the opportunity to sample turtle products; swing by the island for a taste on
a seven- to 14-night Caribbean jaunt
from
Fort Lauderdale, FL
, aboard the
Regal Princess
, with rates as low as $649 for a November departure.
Break bread with the locals on a shore excursion that samples native dishes while forging unique cultural connections. This type of tour might encourage conversation in an intimate setting -- say, in a family home set up to receive small travel groups -- or invite the inhabitants of an entire village to turn out and treat guests to dinner as well as traditional songs, dances, storytelling and more.
Royal Caribbean
guests can take advantage of "Finnish Countryside Home Visit and Helsinki Highlights," a sightseeing adventure around Finland's capital with a time-out for Nordic pastry and coffee with a host family in a nearby agricultural enclave.
Helsinki
is featured on several Royal Caribbean itineraries in
the Baltic Sea
and along the coast of
Northern Europe
; though 2015 offerings peter out this August, prices for
weeklong Baltic expeditions
departing
Copenhagen
in May 2016 start at $728.
From
Azamara
, "Ancient Maori Rock Art, Marae and Family Lunch" uses a port call in
Tauranga, New Zealand
, to meet with the Ngati Manawa, also known as the Eel People. After an official welcome from a tribal elder, you will be able to enter the marae, a protected meeting ground, to hear more about the community's ancestry and connection to its namesake and main source of food, the eel. You'll pick up the finer points of weaving, try your hand at a stick game called mau rakau and dig into a meal cooked hangi-style using underground, rock-heated ovens. A Jan. 31, 2016, sailing aboard the
Azamara Quest
stops in Tauranga on its
13-night journey
from Auckland, New Zealand, to Sydney, Australia, and is priced from $3,599.
It's one thing to sample the best local dishes, but it's quite another to whip up a few of your own. Sign up for a shore excursion that includes a cooking class not only for the helpful tips from the experts, but to try your hand at constructing meals inspired by your travels.
These lessons often are accompanied by a tour that highlights the local culinary culture. For instance, a
Royal Caribbean
excursion from
Chan May, Vietnam
, mixes coaching from a local chef, lunch featuring regional dishes and sightseeing around Hoi An, a Vietnamese shipping and trading hub for more than 2,000 years. Try it on a 10-night cruise between
Singapore
and
Hong Kong
aboard the
Legend of the Seas
; departing Nov. 10,
prices start at $1,649 for ocean-vew cabins
.
On
Silversea
voyages that stop at the island of
St. Lucia
, passengers can book a trip to Spices Cooking Studio to pick up some authentic Caribbean techniques. Before the lesson and subsequent feast, guests tour the on-site herb garden and sip a glass of rum punch. Warm yourself on a cruise this winter, including
two weeklong, round-trip journeys
this February from
San Juan, Puerto Rico
, with prices for suite accommodations from $2,750.
For an immersive experience that carries from ship to shore, look to
Oceania Cruises
and its line of Culinary Discovery Tours. These excursions include cultural explorations and a cooking lesson directed by your onboard chef with the help of local guides. Choose from programs like "Michelin Chef Reine Sammut and Aix Market," which previews a port call in
Marseille, France
, with an introduction to Provence cuisine in your ship's culinary center; once on land, your chef leads a shopping trip to the Aix-en-Provence market for seasonal products, then on to an introduction to Reine Sammut, one of France's few Michelin-star female chefs.
Back on your cruise vessel, you'll finish your foodie day by tasting those local products purchased at the market -- be on the lookout for lavender, a fragrant herb that bathes Provence in its rich color and scent. Sail the southern coast of France and soak in other culinary influences of the Mediterranean on a cruise of the region this fall; departing
Venice
on Nov. 7 to visit
Rome
,
Florence
, Marseille and more over 11 nights, Oceania's
Riviera
offers plenty of onboard dining options and
cabins from $2,699
.
The information in this story was accurate at the time it was published in July/August 2015. Please visit
Vacations To Go
or call (800) 338-4962 for current rates and details.
Send This Article to a Friend
Bookmark this Content
Digg it!
Reddit
Furl
del.icio.us
Spurl
Yahoo!